You and a lucky plus-one could win a trip to visit England's award-winning The Lakes Distillery, located in Cumbria's spectacular Lake District!
Prize includes a two-night stay at the marvellous 4* Trout Hotel, tasting tour, three-course lunch, delicious drinks, and a numbered bottle of Steel Bonnets whisky hand-signed by master whisky maker Dhavall Gandhi!
Enter our Instagram comp too! Share your best Border Reiver and/or whisky-related snap and bag your very own signed bottle of Steel Bonnets!
Whether you're into whisky, walking or generally enjoying delicious things amid wonderful scenery, you are in for a right treat with this! We've teamed up with our pals at The Lakes Distillery to offer one lucky human (and their even luckier plus one!) the chance to visit the award-winning whisky, gin, vodka and liqueur-maker, which just so happens to be situated in one of the UK's most scenic national parks: The Lake District.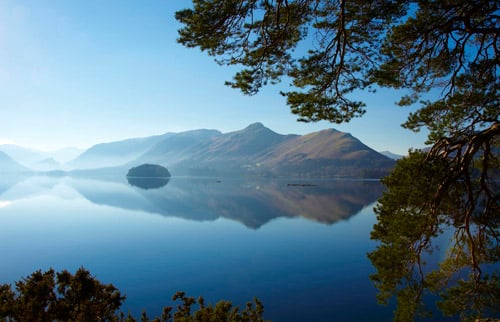 It really is very handsome
It's not just any trip: the fancypants VIP visit not only includes a super-duper enhanced tasting tour, lunch, all manner of delicious drinks AND a hand-signed bottle of Steel Bonnets whisky (with master whisky maker Dhavall Gandhi wielding the writing instrument), you'll also stay in the really rather lovely Trout Hotel in nearby Cockermouth (we should know, we rested our heads there ourselves when we visited The Lakes Distillery earlier this year).
So, it's a really rather marvellous prize!
How to enter? Simply snap up a bottle of Lakes whisky such as their new and award-winning Steel Bonnets, or indeed The ONE or The ONE Limited Edition PX Cask Finish, before 24 October and you'll automagically be entered into the competition! (For the nitty gritty details, see the competition terms below.) But wait, there's more…
Super keen to bag the prize and visit The Lakes Distillery? Once your bottle arrives, have a taste and leave a review back on the corresponding Master of Malt page for Steel Bonnets, The ONE or The ONE PX Cask Finish, and we'll pop your name into the hat again! Just be sure to leave your review with the same email address you used to place your order. Simples. So that's a bonus chance to win! We are good to you.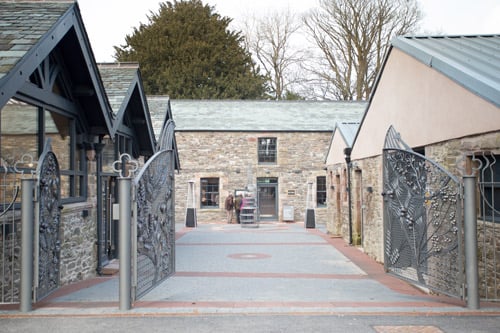 You could be walking through these gates!
Share your Reiver story on Instagram!
Feeling super lucky and/or creative and/or Reiver-y? Get on over to the 'Gram and share your best Reiver and/or whisky-related snap for an additional chance to win another hand-signed bottle of Steel Bonnets!
'What in the name of all things whisky is a Reiver?!' we hear you cry. Fret not. They are not in this instance those scary characters off of Firefly (although we reckon this may be where the producers got some of the inspiration from). 'Reiver' was actually the name given to the clans and families that lived, feuded and duelled in the border region of Scotland and England from the 13th to 17th century. There are a whole load of names associated with the Reivers of the region – you can read about many of them over on the Lakes' Reiver Clan Histories page or you can check out the full list here. It wasn't always pretty (the rivalries could be pretty fierce) but there are also some heart-warming stories and bonds to come from the Reivers, or 'Steel Bonnets' as they were also known.
Have a peruse at the names and post a related snap mentioning @masterofmalt and @lakesdistillery with the hashtag #ImAReiver before 24 October. Perhaps your family name is one of the ones on the list. Or maybe you visited the region before and have a killer snap you've simply got to share. Or perhaps you can capture a snap of whisky and the bonds of kinship and friendship! We'll reward the finest with that signed bottle.
MoM Lakes Distillery 2018 Competition open to entrants 18 years and over. Entries accepted from 10 October – 24 October 2018. Winners chosen at random after close of competition. Travel only provided from a UK location. Prizes not transferable and cannot be exchanged for cash equivalent. Entry also available with no purchase. See full T&Cs for details and additional terms which apply and terms for MoM #Imareiver 2018 Instagram Competition.

View Full Terms and Conditions.