The rumours are true – The Macallan Whisky Lounge has hit the UK! We fill you in on all the details, talk to the bar manager about what to expect, and walk you through an exclusive World Whisky Tour…
It's not often a celebrated whisky distillery opens a dedicated whisky lounge, but Speyside masters The Macallan have only gone and done just that. Located within Vauxhall-based European-Japanese fusion restaurant Four Degree, this is the brand's first UK lounge, with the other situated on the second floor of the Galaxy Hotel in Macau, China (the Vauxhall location is thankfully a far simpler commute).
More whisky than a Buddhist monk can bless…
The recently-opened restaurant has demonstrated its desire to celebrate craftsmanship in many forms – by showcasing art from around the globe as well as hosting three Tibetan monks, who were flown over to bless the venue and create mandalas (elaborate circular artworks made of fine coloured sand). The trio stayed at the restaurant for a short while, praying every day at a shrine to the Buddhist deity Red Tara in the whisky lounge and blessing any customers who sought to embrace Buddhist teachings.
Drams, glorious drams… As far as the eye (lens) can see…
The main feature of the lounge, however, is its rafts of incredible whisky. The venue boasts special Macallan menus that you can taste different versions and vintages from, and contains London's largest official collection of Macallan 40 Year Old.
Sleek and contemporary, for some the plush lounge undoubtedly provides an excellent setting to drink whisky with the benefit of a chic London location. For others, it's a haven stocked full of truly rare whiskies, built to give its members and guests a unique way to enjoy their desired drams, and a place where all can also enjoy an exceptional range of specially curated cocktails and tasting flights.
The Macallan is not the only star of the show, however. The lounge also stocks some of the most exclusive whiskies from around the world, including expressions from distilleries such as Bruichladdich, Highland Park, Kinahan's, Suntory, Old Pulteney, Tomintoul, Glenfiddich, Glenfarclas, Glencadam and independent bottler Samaroli. Bruichladdich, Tomintoul and Suntory also feature on the World Whisky Tour, but more on that later.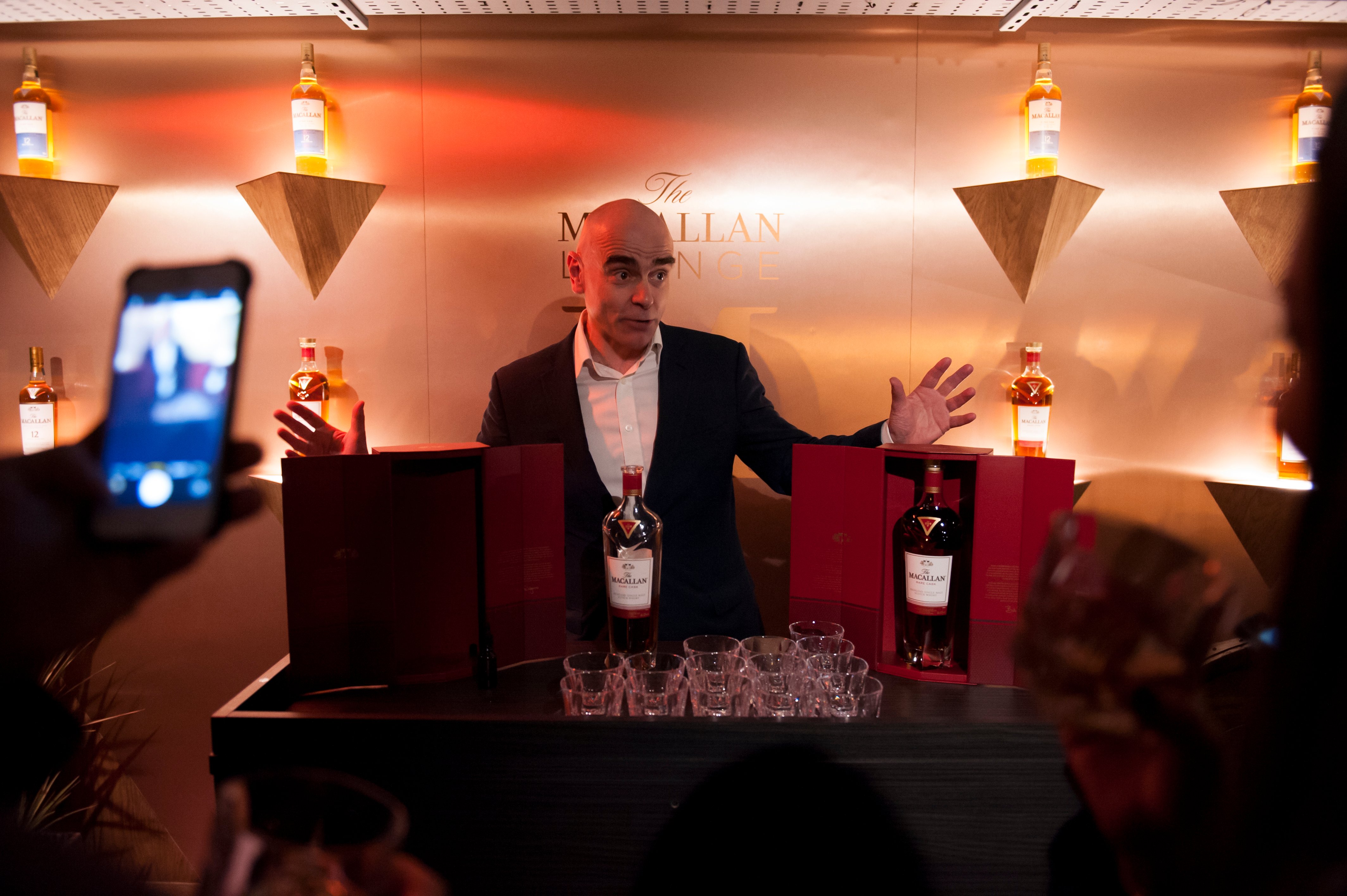 The masterclasses with David Miles will be an absolute must
Being a member of The Macallan Whisky Lounge has its benefits
For those who so chose, membership is available at the lounge, and comes with few distinct perks. Firstly, members will have access to their own private cabinet (complete with key, of course), which means they can assemble a personal collection and enjoy their desired dram in a completely unique environment.
Furthermore, members will have access to exclusive masterclasses led by Macallan ambassador David Miles. Four Degree expects to host a masterclass every two or three months, although this hasn't been confirmed yet. What is known is that each class will run all day and will include food pairings for the whisky.
Whisky collection aside, Four Degree (named in reference to the optimum temperature for Oysters to live in) is also gaining an impressive reputation for its Japanese-inspired menu, designed by celebrated chef Kyoichi Kai. All manner of delicacies and deliciousness are located just downstairs from the whisky lounge. Specialist Euro-Japanese cuisine and freshly-prepared sushi from a dedicated sushi bar are just a few steps away.
But that's just my two cents! I chatted with Four Degrees' delightful bar manager Michele Quarta, pictured in the rather fine blue suit below, for his perspective on the whisky lounge…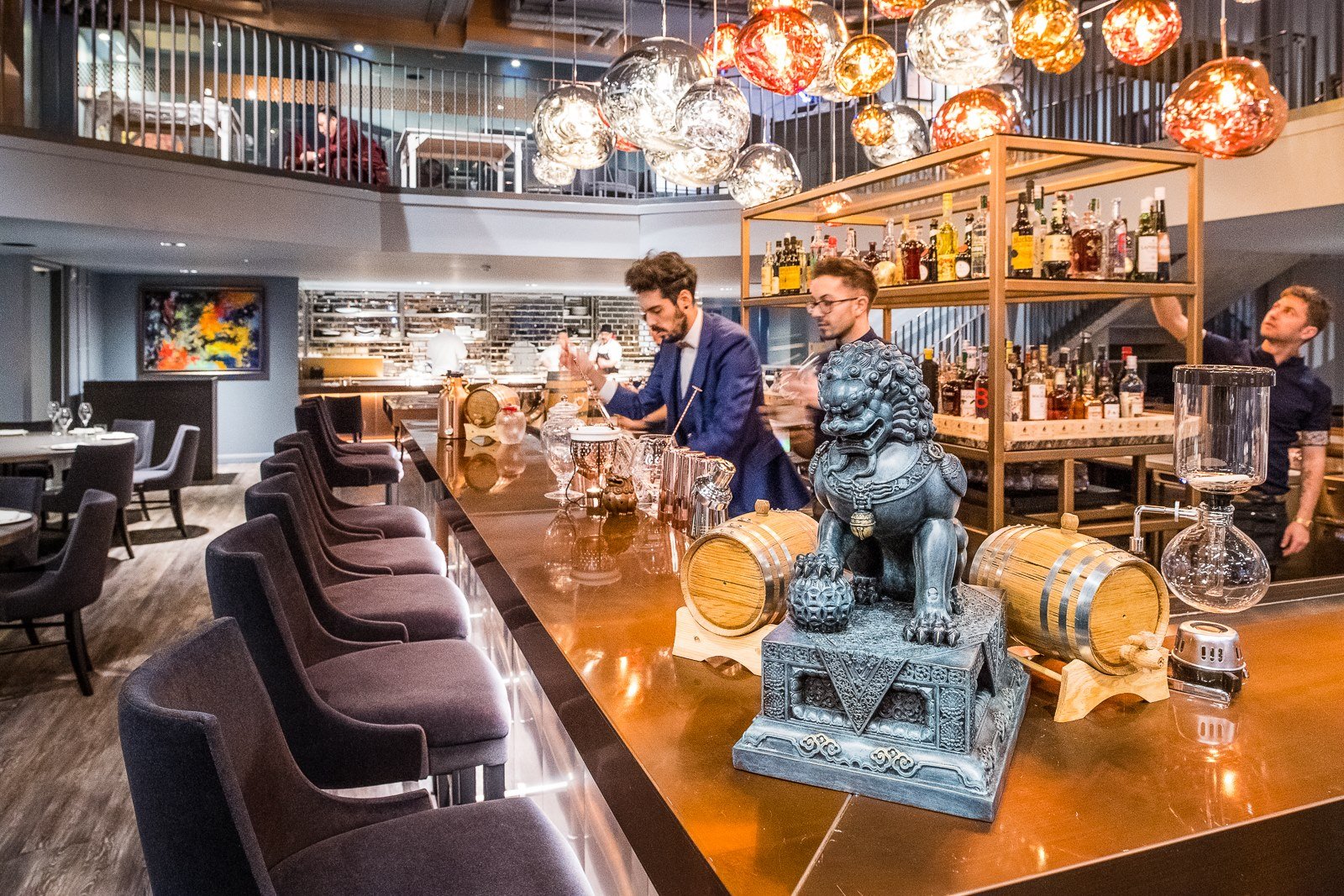 The cocktail bar is downstairs for all to enjoy
What would you say is the purpose of The Macallan Whisky Lounge?
Seven or eight years ago, whisky was presented as this tough spirit, only for men, after dinner, neat. We have moved away from this – nowadays, people are more educated. The purpose of the lounge is, of course, to spread the name of The Macallan, the lounge and Four Degree, but it's also to educate people. Let's chat about whisky, let me know your taste, let me know your experience with spirits in general. Let me create something for you that's not just, 'give me a bottle of 25 year old Macallan because its expensive'. That's not my style. I want to give you an experience, not just the bottle. I want to create something for you. So, this is my purpose, to have people here and to educate them to drink whisky, because whisky is love and whisky is special.
How many Macallan whiskies do you have in total?
We have around 25 different editions at the moment, but, as I say, we are always looking for something new. Of course it's not up to me, sometimes I say to my owner, 'I love this bottle', and he says 'ok, maybe next month'. This is always a work in progress. As I say, this is my passion, and I always want to grow my passion, and I always want to add something to this collection – although I don't even like to call it a collection, because I like to share. The whisky is something to me that you have to share with people, not just keep inside a cabinet. Open, smell it, and enjoy.
What is the most expensive or rare Macallan bottling here?
The Macallan 1946, because it is part of the Select Reserve. We have bottle number 32. It was distilled in 1946 and bottled in 1998, and it's quite difficult to find. We also have The Macallan Sherry Oak 30 Year Old with the blue label. This is a particularly rare edition of this bottling.
Can you recommend any serves?
I always ask my guests about their experience of whisky. Have they tried whisky before? Do they prefer Scotch whisky, Irish whiskey, Japanese whisky? This way I can [find out] what they like and their taste. For me, a really good entry level Macallan is the 12 Year Old Sherry Oak. The balance of this whisky is amazing.
In terms of cocktails, the Macallan Gold is really nice to mix with, and the Macallan 12 Year Old Sherry Oak as well. It depends on the kind of cocktail and flavour you want. The 12 Year Old is a bit more sweet, while the Gold is a bit more rugged, so I use those two bottles where appropriate. I like the classic Old Fashioned, and I also love a nice Boulevardier with The Macallan 12 Year Old. The Boulevardier is actually my favourite cocktail.
And how about pairing food with The Macallan whiskies?
The Macallan 12 Year Old Sherry Oak works really well with dessert. To me the Macallan Gold is quite amazing with fish, like sushi, sashimi and nigiri. If you are eating something a bit more complex like fat tuna or black cod, you can go for something a bit older – Macallan The Rare Cask and The 21 Year Old work really well with more complex dishes.
Is The Macallan Whisky Lounge something we will see more of?
Probably! Certainly we will always expand our collection. It's a never-ending job – I will always look to create something new, especially with The Macallan and with regards to the lounge, to offer the members a true whisky experience.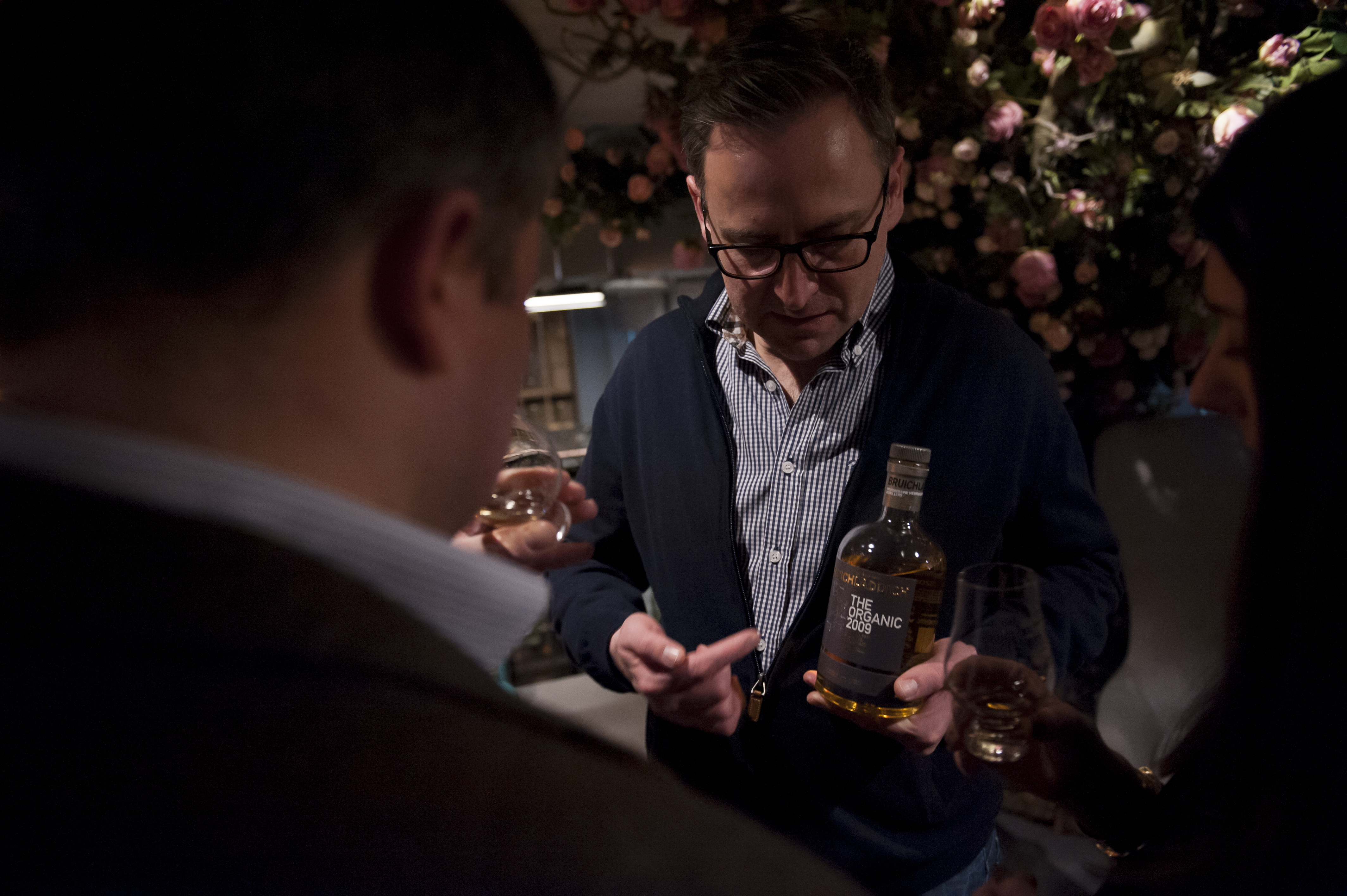 The tour featured expert advice and plenty of drams
Whisky World Tour: Around the world in five stands
Exploring the purpose and surroundings of The Macallan Whisky Lounge was not the only matter of intrigue that night, however. One particular highlight of the event was a collection of workshops and tastings called the Whisky World Tour.
The stellar line-up on show included Angus Dundee, Bruichladdich, Kinahan's, Suntory and, of course, The Macallan themselves, and a whole host of knowledgeable and friendly guests, including the aforementioned The Macallan Ambassador David Miles, the Angus Dundee Distilleries Director Robert Fleming, Zak Oganian, Managing Director of Kinahan's and many more. To give you, the good reader, an insight into this experience, I have collated my standout dram from each stand, and provided tasting notes. Enjoy!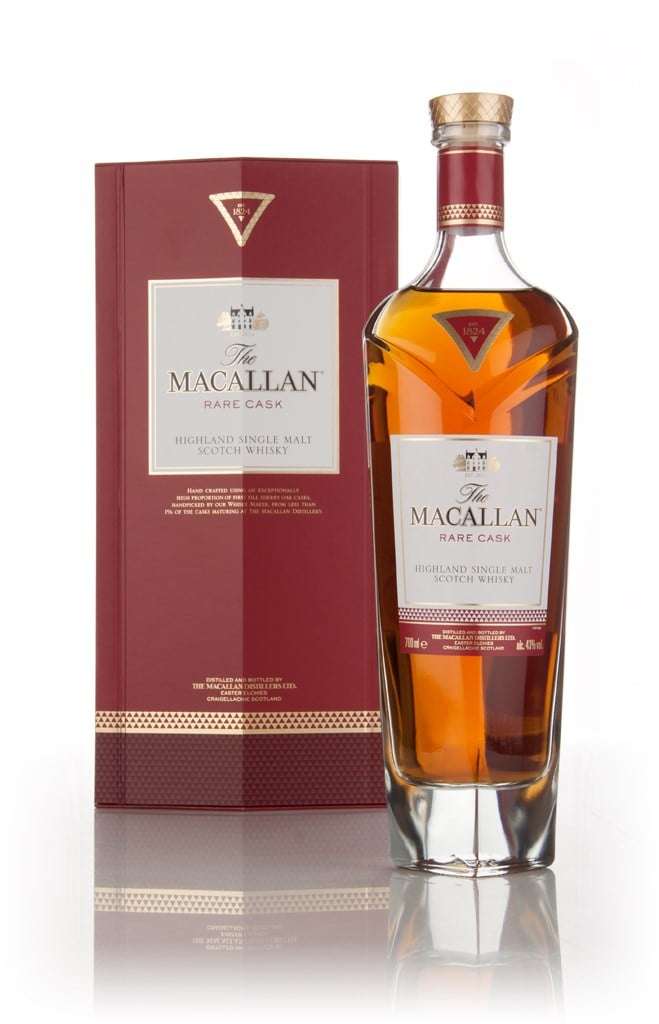 Macallan The Rare Cask
Tasting note for Macallan The Rare Cask:
Nose: A refined nose begins with fruity notes of yellow plums and honeydew melon, before vanilla nougat and ginger root rise. With rich, sherried spices and fruit loaf there's toffee apple and a whiff of tobacco smoke.
Palate: A good crack of black pepper cuts through old oak and thyme honey. Citrus zest adds complexity to the red berry fruitiness of dark cherry and juicy raspberries, while gingerbread percolates through oily malt.
Finish: Orange oil, walnuts and dark chocolate-coated-raisins conclude proceedings.
Overall: An elegant Macallan of variety – the Speyside maestros show their playful side.

Kinahan's Small Batch Irish Whiskey
Tasting note for Kinahan's Small Batch Irish Whiskey:
Nose: Citrus fruits, soft butter and bourbon-y vanilla lead, with sweet barley and a little papaya. Toffee apples, cereals and a slight hint of brandied cherry line the backdrop.
Palate: The palate brings spice, with cardamom and white pepper. The tropical fruit note develops, along with touches of thyme honey, milk chocolate and a suggestion of cigar box.
Finish: Digestive biscuit and sugared almond sweeten the finish.
Overall: Sweet, light and bursting with flavour, this is a very well balanced whiskey with not a note out of place.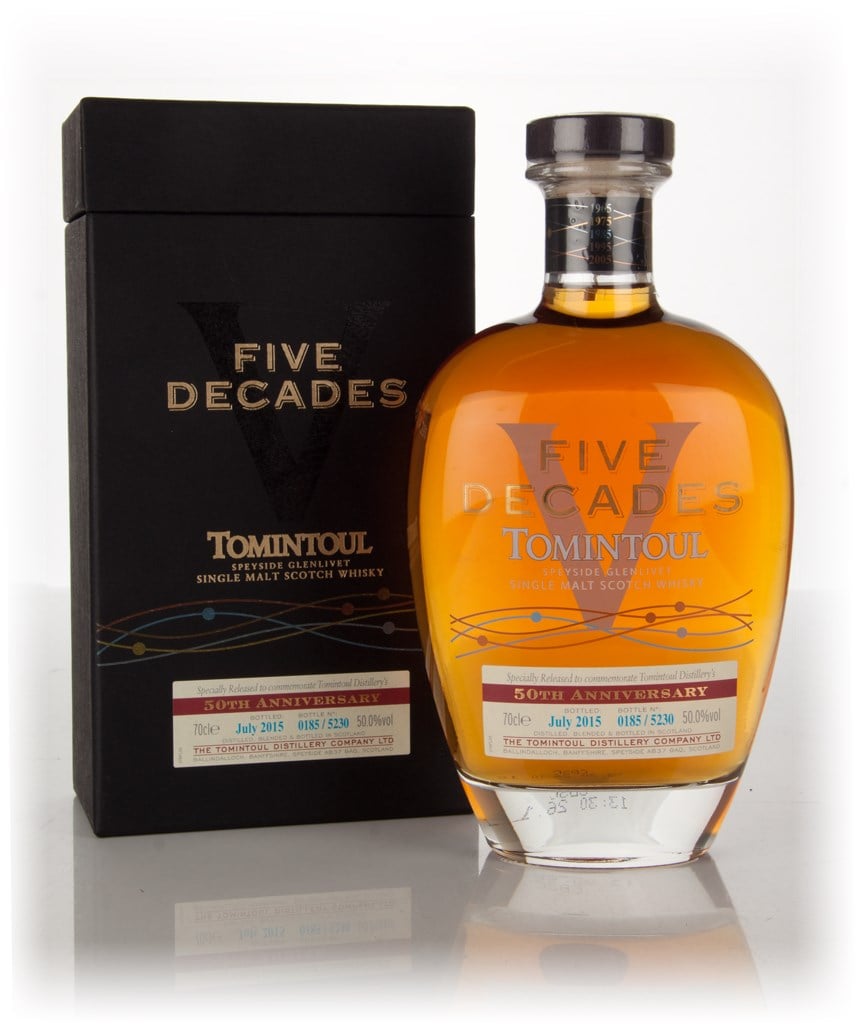 Tomintoul Five Decades 50th Anniversary
Tasting note for Tomintoul Five Decades 50th Anniversary:
Nose: Through well-aged aromas of polished oak, damp earth and moss, comes notes of dried banana and hints of exotic fruits. Mists of deep smoke carry sweet malt and cedar, before darker fruits and bramble berries rise.
Palate: The refined smoke continues, with honey, winter spices and more dark fruits on its tail. The palate retains the complexity of the nose wrapping tropical fruits in rich wood notes. Hazelnuts and toasted almonds provide nutty depth.
Finish: Long and understated, the gentle finish is livened by a soft oaky spice.
Overall: Dignified and delicious, this a heck of a blend.
Bruichladdich The Organic
Tasting note for Bruichladdich The Organic:
Nose: A fresh nose begins with aromatic barely, melted butter and a little macaroon note. Melon, stewed pears and lemon peel bring a soft, complex sweetness, which is complemented by toffee sponge cake and sugared almonds. A pinch of white pepper crackles through a hint of crème brûlée.
Palate: The fruity sweetness becomes more candied on the palate, with pear drops and lemon sherbets. A little crab apple jelly is present too, which is balanced by crunchy golden barley sugar and a note of salt and pepper crisps. Decedent vanilla fudge and a helping of salted caramel linger throughout, while wet peat moss provides depth underneath.
Finish: Candied orange works it way through the core of golden barley and peat smoke.
Overall: A beautiful dram of finesse that shuns big, thick notes for more delicate, rounded flavours.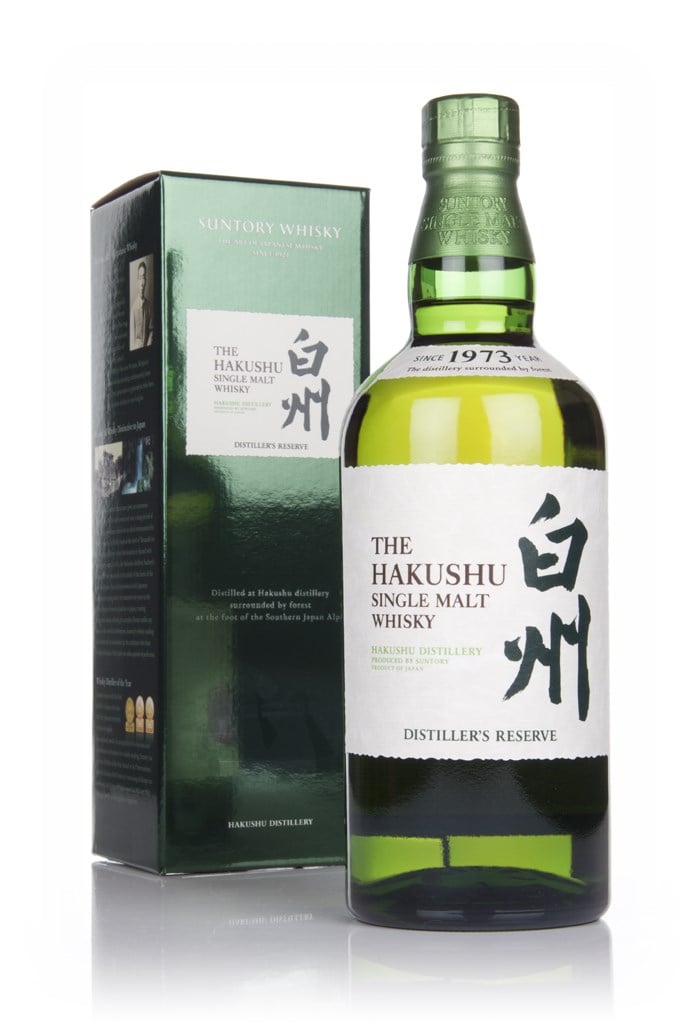 The Hakushu
Tasting note for The Hakushu:
Nose: A green, herbaceous nose begins with spearmint, pine and develops grassy notes and a little cucumber. Ripe yuzu provides a citrus edge among a pinch of smoke, which is softened by cherry plums. A blend of almond milk and acacia honey develop as the nose progresses.
Palate: The mint and citrus become sweeter, with candied limes and return of the yuzu fruit. A buttery chamomile note is joined by elderflower cordial and soft marshmallow, as a hint of smoke at the back adds depth. Galangal percolates throughout, lending an earthy, warm character to the velvety palate.
Finish: More honey coats the bright, dry sparks ginger and toasted almonds.
Overall: Centered and sublime, The Hakushu is so easy to drink. Should make a fantastic Highball.