Apparently it's Easter already. Quite frankly, this is madness! As 2018 proceeds to run away from us all, we've elected to make this the easiest Easter ever: by compiling a list of spectacular spirits and cracking chocolate-based delights in one eggsellent* blog. What more could you need?!
It's Easter people – and that means chocolate eggs, an enormous rabbit making an annual appearance for reasons I've never had fully explained to me, and a four day weekend(!)**. But not all of us want to spend the bonus time down the aisle of a supermarket, surrounded by screeching children high on sugar, trying to decide which marginally different brand of Easter-themed confectionery we'll shamefully gorge in one sitting (again…).
So, we've decided to come up with 10 amazing alcoholic alternatives to save you the time and effort of the Easter egg hunt this year. Below you'll find all manner of delicious goodness, whether it's downright chocolate decadence, bonafide classics of their categories, or subtle, suggestive spirits. We start, as well we might, with a particularly fine bottle of Scotch…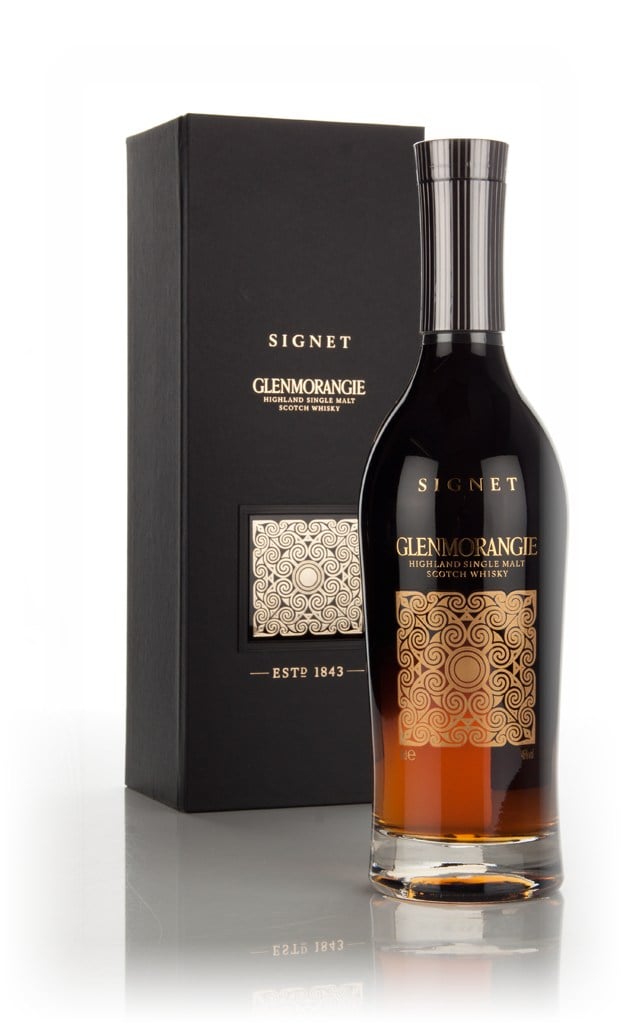 Glenmorangie Signet
Glenmorangie Signet
Signet was created with whiskies produced from two unique types of malted barley: one, a single estate Cadboll variety; and the other, a malted chocolate barley. Twice distilled before it was matured in bespoke American virgin oak casks, this is quite the stunning release from Glenmorangie that keeps things seasonal with notes of chocolate raisins and Terry's Chocolate Orange among sugared mixed peels, toasted spices, bread and butter pudding, and freshly roasted espresso beans. Wonderful stuff.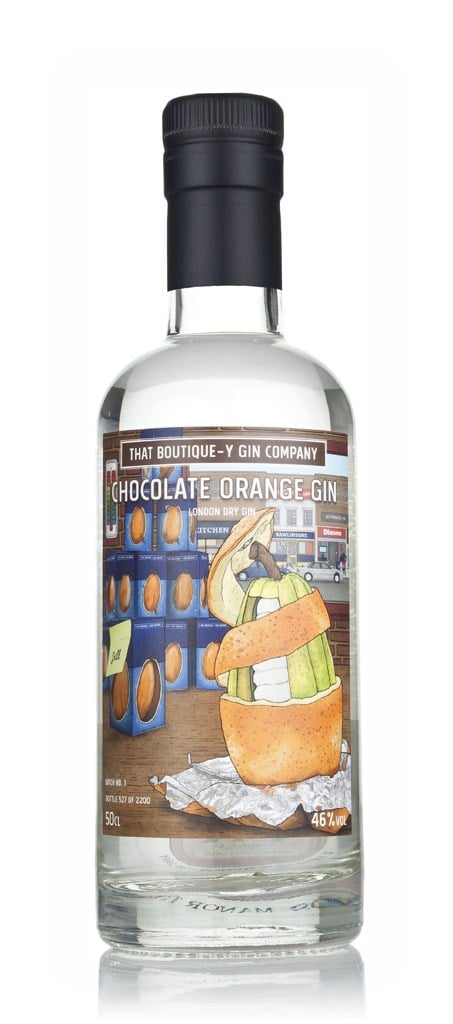 Chocolate Orange Gin (That Boutique-y Gin Company)
Chocolate Orange Gin (That Boutique-y Gin Company)
A brilliantly unique gin creation independently bottled by That Boutique-y Gin Company, this little delight means you can enjoy a classic combination of flavours that go together so well, all in one delicious drink! Helpings of fresh clementine, enjoyably bitter cacao and floral elements abound in this Chocolate Orange Gin, but if that's not for you, there's also Chocolate Cherry Gin – McQueen (That Boutique-y Gin Company), if that's more your thing!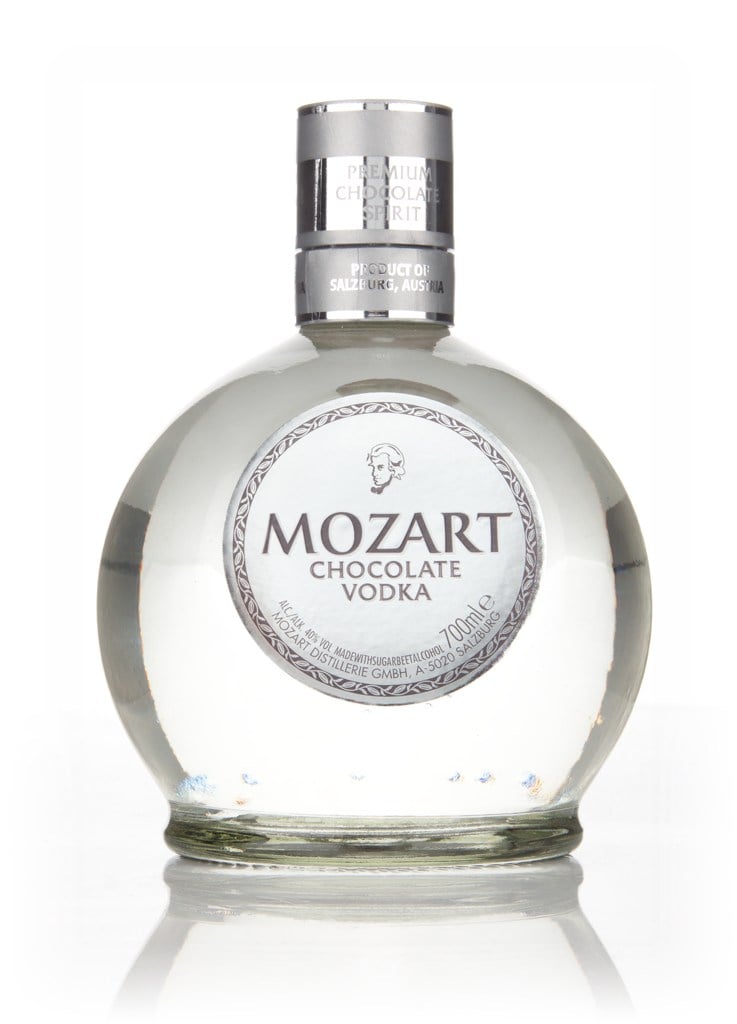 Mozart Chocolate Vodka
Mozart Chocolate Vodka
Chocolate vodka is sure to be music to a chocoholic's ears. Now you may think the subtle Mozart reference in that joke was really something (thank you), but it's nothing compared to making a vodka like this. We're not talking about a spirit that's sickly sweet or one dimensional. If you enjoy the complex bittersweet qualities of dark chocolate, subtle hints of floral vanilla and a smattering of mineral, earthy elements in a slightly dry, yet creamy delivery – this is the one for you.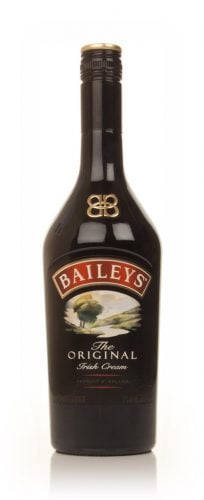 Baileys Irish Cream
Baileys Irish Cream
The classic. The original. The world's most popular liqueur, and for good reason. Baileys is made with cream, Irish whiskey and, you guessed it, cocoa. We recently compared it to the first Daft Punk record Homework in this cracking blog post, but I have to confess I'm not that cool, so I couldn't say. I think it's more like September by Earth, Wind & Fire, in that everybody loves it, but they sometimes forget that they do (or pretend like they don't – you're fooling nobody). Remind yourself how good this stuff is this Easter, it's the perfect eggscuse…*** Alternatively, Baileys Chocolat Luxe would also work a treat, and looks fabulous in its limited edition gold packaging.

Floris Chocolate
Floris Chocolate
Spirits aren't everybody thing, and neither are liqueurs for that matter. Some people just want to sit down after their Easter meal with a nice bottle of beer or a tall glass of wine. For those who favour the former, we thought you might enjoy this chocolate beer from Floris. We assure you it's no mere gimmick. A classic Belgian wheat recipe was used to create this beer, which pairs brilliantly with smoked food or berry-based puddings. What Easter egg could combine chocolate syrup, crushed hazelnuts and a touch of orange zest like this?

Boekenhoutskloof The Chocolate Block 2015
Boekenhoutskloof The Chocolate Block 2015
Wine lovers need not despair – we've got you covered too! South African producer Boekenhoutskloof's The Chocolate Block was made with different percentages of distinct grape varieties each year to take advantage of the best aspects of the growing season and it shows. This is a rich, refined red that's teeming with blackberry, orange oil and walnut notes, and a dusting of cocoa.

The Bitter Truth Spiced Chocolate Bitters
The Bitter Truth Spiced Chocolate Bitters
Did someone say Cocoa Old Fashioned? For those who want to make this Easter all about chocolate cocktails, we've got just the thing. These fantastic chocolate bitters from Germany courtesy of The Bitter Truth work exceptionally well with a range of spirits, particularly rich, well-aged examples. Hints of vanilla, cinnamon, gentian and wormwood can be detected among the brilliantly bitter dark chocolate profile here.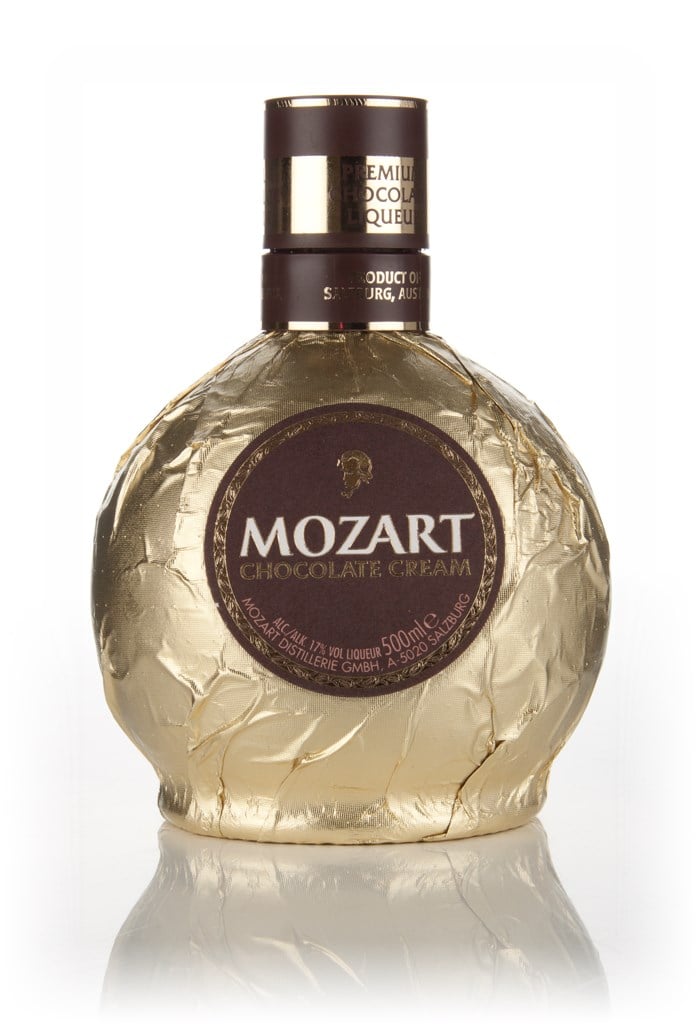 Mozart Gold Chocolate Cream Liqueur.
Mozart Gold Chocolate Cream Liqueur
We're back to Mozart, and why not? A devastatingly dreamy liqueur, Mozart Gold is made with cocoa that's a mixture of forastero and trinitario beans from West Africa. It also contains fresh cream, conched Belgian dark chocolate, genuine Bourbon vanilla from Madagascar, granulated sugar and the middle cut of sugar beet distillate. I can appreciate that Mozart wrote some seriously good music, but this just sounds better to me. Sorry.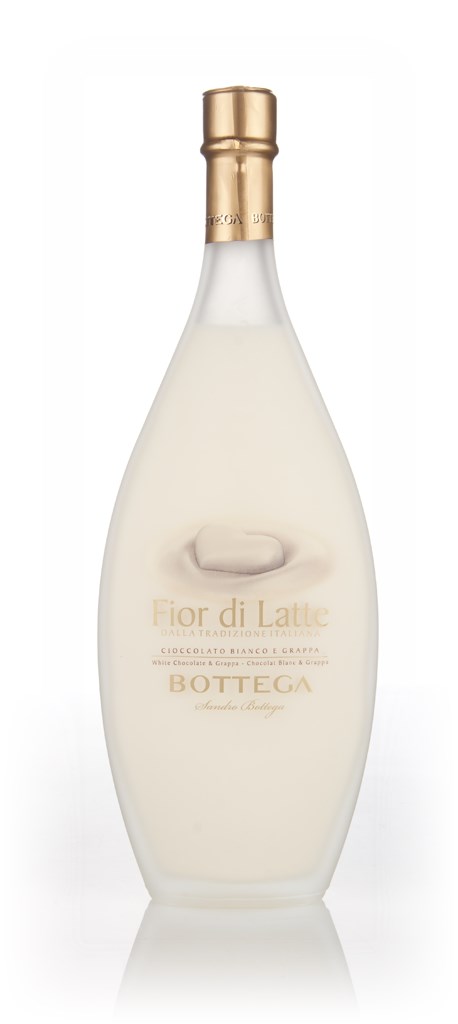 Bottega Fior di Latte – Cioccolato Bianco e Grappa (White Chocolate)
Bottega Fior di Latte – Cioccolato Bianco e Grappa (White Chocolate)
We simply couldn't compile a list of chocolate-based delights without making sure that white chocolate was represented. Forget the Milkybar Kid (the 'Wild West' is no place for his boy his age anyway), and dip into Bottega's range of grappa-based Italian liqueurs with Cioccolato Bianco e Grappa. It not only works as an after-dinner digestif, but it also adds a touch of class when drizzled over vanilla ice cream. Seriously, find me the Easter egg capable of that. It doesn't exist, I tell ya!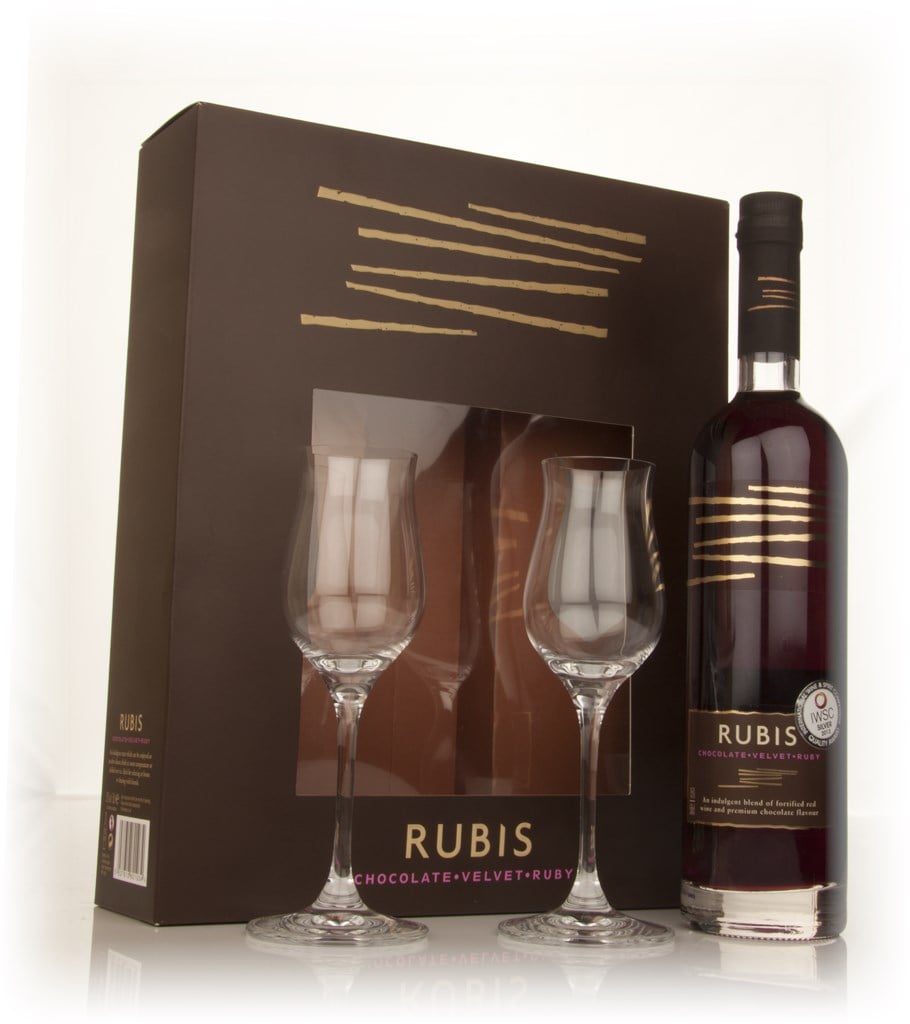 Rubis Chocolate Wine Gift Pack
Rubis Chocolate Wine Gift Pack
Last, but by no means least, is the Rubis Chocolate Wine Gift Pack. Sure, you could get your partner or parent another Easter egg this year, but why not dazzle your loved one with a stylish gift that still retains that seasonal spirit? With its stunning cherry and chocolate notes, Rubis Chocolate Wine is enough of a treat on its own, but with two very chic glasses this becomes the perfect set for sharing, wouldn't you say?
Well, that's all for this year folks! Is there something we missed? How good are you at typing the word 'chocolate' in the site's search function and scrolling? Have we just ruined the Lent diet you were supposed to be on? Don't be shy – leave us a comment below!
*Pretty certain I'm the first person to have made that joke.
**If you're lucky.
***I'll stop now.