Welcome to Friday, team! The weekend has arrived as so has The Nightcap, with our round-up of the newsiest booze stories of the week. Enjoy!
And what a week it's been! Among all the Black Friday excitement and the most dreamy, delicious deals, there's been loads going on over on the blog.
On Monday, #WhiskySanta revealed the next Super Wish he'd squirrelled away up his sleeve: a bottle of Midleton Method and Madness Single Pot Still 28 Year Old! And he's even selected one person who has CLEARLY been very good this year… all will be revealed at the end of the Nightcap.
Next, our Annie caught up with the one and only Salvatore Calabrese to get his take on how to store spirits. Opened something special? Want to keep it in its finest form for as long as physically possible? We got Salvatore's tricks of the trade to maxing out tastiness.
On Wednesday news broke that La Martiniquaise-Bardinet, the French drinks group that owns the likes of Glen Moray, had snapped up the Cutty Sark brand from Edrington, significantly bolstering its Scotch portfolio in the process. Exciting times. Later that same day we received word of some mighty exciting Scotch bottlings from That Boutique-y Whisky Company, including a 30-year-old Macallan expression and sibling 26 and 28-year-old Rosebanks. Delicious!
Rounding off the week (until now, that is), Henry took us on a journey to Herefordshire where he discovered Chase Distillery, purveyor of potato-based vodka and gin. Intrigued? Check out the post!
Marvellous stuff. But now: on with the booziest news from the week that was!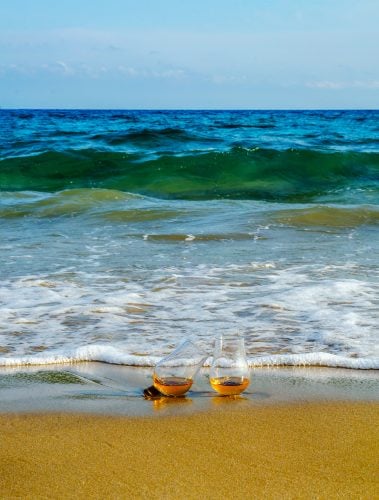 This is what most of my dreams look like
SWA secures Scotch whisky GI for Indonesia
Good tidings, Scotch whisky lovers of Indonesia! This week the Scotch Whisky Association (SWA) announced it had successfully registered 'Scotch whisky' as a Geographical Indication (GI) in the country. While it sounds like a load of legal guff (it kind of is), it DOES actually have a significant positive effect for all things Scotch. Up until now, Indonesia has had no legal definition of Scotch whisky, so those crucial 'made from cereals, yeast and water' and 'aged for a minimum of three years' rules didn't count. You could literally bottle ANYTHING and pop a 'Scotch whisky' label on it. No longer. Which is why the SWA and Indonesia's drinkers are celebrating. "Our successful application to register 'Scotch whisky' as a GI in Indonesia gives the industry a much greater level of legal protection and represents another important milestone for Scotch whisky as its popularity continues to rise in new and diverse markets," reckons Lindesay Low, the SWA's legal deputy director. Moazzam Malik, British ambassador to Indonesia, ASEAN and Timor Leste, added: "Indonesia is a rapidly developing G20 economy, the largest in South East Asia. Clear intellectual property protections and geographical indications will help British companies to expand their business and partnerships in Indonesia." We'll drink to that!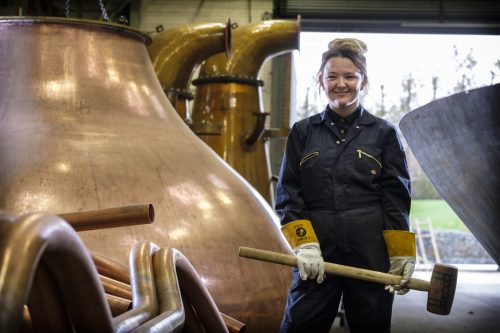 Rebecca Weir, Scotch whisky's first female coppersmith apprentice
Diageo announces STEM scholarships for women
Exciting news from Diageo this week. In a bid to address the gender imbalance in STEM (Science, Tech, Engineering and Maths) industries and ultimately tackle its own gender pay gap (more on that shortly), the drinks group has launched two scholarships with Edinburgh's Heriot-Watt University. The plan is that over each of the next three years, two women studying for a BSc in Brewing and Distilling or an MEng in Mechanical Engineering will receive funding, paid internships and mentoring. The announcement came as Diageo revealed its gender pay gap figures for 2018 (a requirement for large UK companies). Across both Diageo GB and Diageo Scotland the gap fell from 8.6% in favour of men to 5.4% in 2018. However, looking at Diageo Scotland alone, the gender pay gap actually increased from 16.7% to 18.0%, a trend the company attributes to "a reduction in the number of women opting for shift allowances for unsociable hours and the continuation of a long-term trend of manufacturing roles being filled by men". "We aim to be the best employer for women in the UK and are actively working to ensure we have a strong pipeline of female talent, across the broad variety of roles in our business," said Mairéad Nayager, chief human resources officer at Diageo. "While there is more work to do, we are proud that our work on inclusion and diversity is making Diageo a stronger company and I am pleased with the progress we have made this year towards closing the gender pay gap across our combined businesses in Great Britain and Scotland."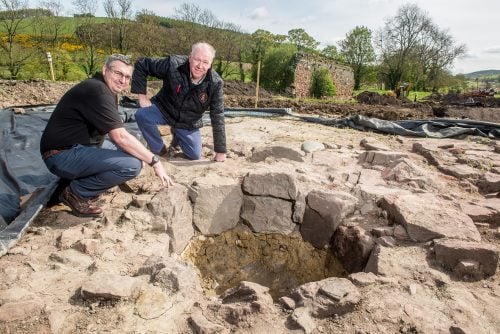 We dig this news! (Image credit: Nick McGowan-Lowe)
Has Lindores Abbey found the world's oldest whisky still?
History geeks, lend us your ears (eyes?). Revived Scotch whisky distillery Lindores Abbey summoned the archaeologists this week after what could be the remains of the world's oldest still were spotted! The structure is believed to date back to Medieval times, and careful excavations revealed traces of charcoal, barley, oats, wheat and pottery apparently from the period. It is known that Medieval monks used to distil 'bols of malt' (a forerunner to Scotch) around the same time, so the 'world's oldest' claim seems a reasonable one. "It is hard to overestimate the potential significance of this discovery," said Drew McKenzie Smith, Lindores Abbey Distillery MD and founder. "Many signs point towards this being one of the earliest stills ever discovered, and this is almost certainly the site referenced in the Exchequer Rolls of 1494 that include the first ever written record of aqua vitae or whisky, as we know it today. Lindores Abbey has long been considered the spiritual home of Scotch whisky, and this discovery underlines the historical importance of this site."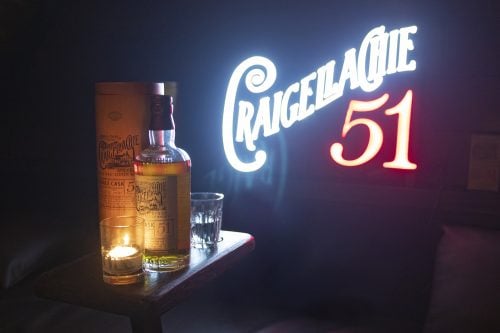 Craigellachie 51, looking like it starred with Ryan Gosling in 'Drive'
We checked out 51-year-old Craigellachie and HELLO!
Remember when Craigellachie announced it was giving away 51-year-old whisky? We have news. On Wednesday evening, the Speyside distillery launched its travelling 'tiny bar' experience in London, which served this newest, oldest whisky, among others from the range including Craigellachie 13 and Craigellachie 23. Instead of selling the 51-year-old expression, the team at Craigellachie decided to share it among whisky lovers from all over the world. With only 150 lucky individuals invited to this event, feeling "lucky" doesn't quite cover it… it was a once-in-a-lifetime experience, for sure! With only six seats at Bar 51, the intimate and cosy space brought together friends and strangers over delicious drams, including Craigellachie's exquisite 51-year-old whisky, which we were guided through by Georgie Bell, Craigellachie's global ambassador. We then enjoyed brilliant cocktails at the bar, including the highly recommended Old Soul which uses pineapple syrup to complement the classic tropical notes in Craigellachie liquid. Delicious! Bar 51 debuted in London's oldest whisky shop, Milroy's in Soho, London, and will be travelling to Australia, South Africa and the US. To the wonderful team at Craigellachie, thank you for having us!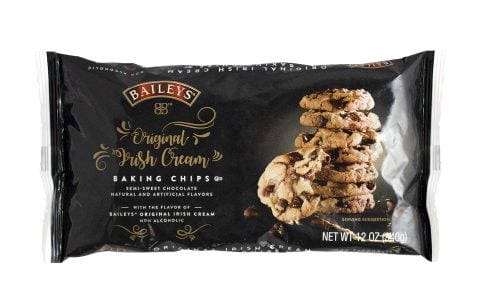 Two of the best things in the world, booze and biscuits, finally combined!
Boozy biscuits: Has a trend been born?
You know those smug sorts of people who are always ahead of the trends, effortlessly stylish and always know the cool new bands before they get big? Well. When it comes to booze and food, we reckon we've got a hot tip for you. This week, not one but TWO boozy baked goods stories landed in our inbox. We reckon this could be A Thing for 2019. First up: Sainsbury's (of UK supermarket fame) listed Drinks Biscuits from The Drinks Bakery, a range of savoury biscuits developed to be paired with various alcoholic drinks, shortly after the concept was pitched to investors on entrepreneurial TV show Dragon's Den. Then we received news that Baileys (the cream liqueur) had teamed up with Clabber Girl Corporation to launch Baileys Original Irish Cream Baking Chips. The snack/baking ingredient pairs the classic Baileys flavour profile with rich, semi-sweet chocolate for a "decadent" treat. Booze plus tasty snacks? Count us in.

The final Maturing Malt
Yorkshire's first whisky distillery releases its final Maturing Malt
It's not quite a whisky but it certainly sounds delicious. The Spirit of Yorkshire Distillery has just released the final spirit in its Maturing Malts series! This fourth expression, snappily called Distillery Projects 004, is described as being "elegant, fruity and aromatic with notes of salted caramel, crème brûlée, toffee apple, honey roasted nuts, orange sherbet and five spice." Yes please! Spirit of Yorkshire whisky director Joe Clark said: "A year on from our first bottling, we have watched our spirit continue to develop and soften as oak and time deepens the aroma and flavour. Cask selection for DP004 has been a real voyage of discovery taking us through our 2016 cask fillings, many of which continue to advance at an astonishing rate." But don't just take his word for it, we visited lasted year and were very impressed with the embryonic whiskies. This release will set you back £39.95, and only 2,000 bottles have been filled so have you'll have to hurry if you want to try Yorkshire's latest nearly whisky.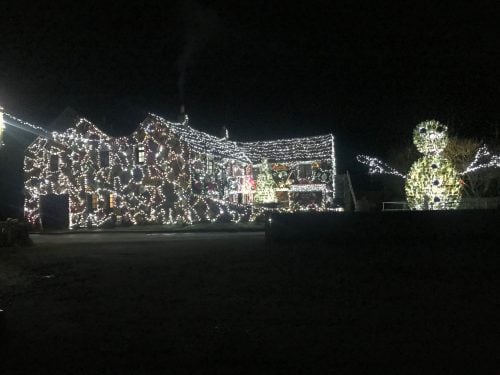 This would have made for a very different 'Jack Frost' film
Somerset landlord builds 20ft snowman… out of empty wine bottles
Taking recycling to the next level, Mark Walton, landlord of The Queen Victoria in Somerset, has built a 20ft light-up snowman made from 2,600 wine bottles. To help build the structure, he enlisted the help of one of his regulars, engineer Ben Selway. These special displays have become a seasonal speciality for the pub; last year the team put up a giant gingerbread house. This latest project took them nine days to finish. It's now a local landmark. Walton told us that people are "astounded by it… people stop to take pictures. It's very good for business, and the local children's hospice has done very well out of it as well." Not everyone is quite so happy about it. Walton told us about one "killjoy who can't be named who reported us to the fire brigade." Happily, the structure has been pronounced safe, though the recent windy weather has been a worry. According to Walton, it's like living next door to the "world's largest wind chime."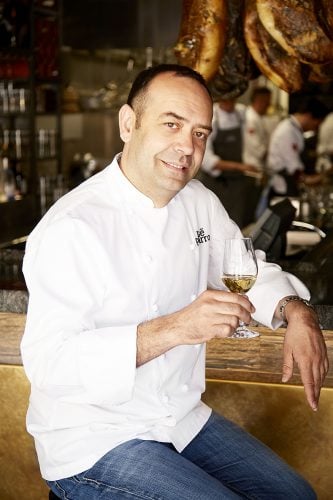 Prominent Spanish chef José Pizarro
Top Spanish chef, José Pizarro, launches his own wine
This week, MoM was given a first taste of an exclusive pair of wines just launched by restaurateur, author, and all-round television food personality, José Pizarro. Called, naturally, José Pizarro, there is a Syrah blend and a Chardonnay, both produced by the highly-rated Huerta de Albalá winery near Cadiz in southern Spain. "We have created two wines that I am very proud of," Pizarro said. "I am passionate about promoting Spanish wines, cava and sherries." At the moment they are only available in José Pizarro restaurants or online but Pizarro is planning more wider distribution soon. Huerta de Albalá makes some seriously swanky kit; happily, these two wines are a bit more down to earth, retailing at £16 for the white and £18 for the red. And how did they taste? Well, it's difficult to be objective when tasting at one of London's best tapas bars, José on Bermondsey Street, but alongside squid croquetas and Jamón ibérico, they both tasted splendid!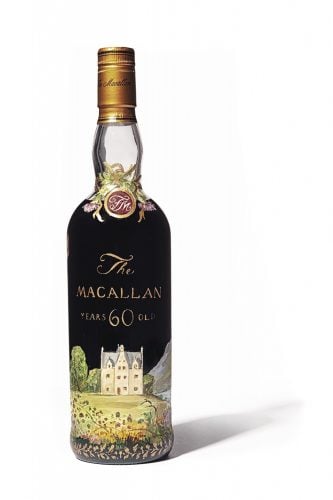 The million pound-plus Scotch…
Macallan smashes auction record with £1.2m sale
Another week, another record-breaking Macallan sale. In fact, it would be bigger news if a Macallan didn't fetch a record price at auction. But this latest lot, which went under the hammer at Christie's in London, was particularly exciting. The very special malt in question was a 60-year-old, distilled in 1926, and presented in a special bottle painted by Irish artist Michael Dillon. It's a genuine one of a kind. And how much for all this marvellous maltiness? £1.2 million! That's $1,528,800. Or several houses to normal folk. And it's the first time a single bottle of Scotch has crossed that all-important £1 million mark. "The results confirm the strength of the market for whisky and the continued success of Christie's in offering the finest spirits to our collectors across the globe," said Tim Triptree MW, Christie's International Director of Wine. This latest sale beats the previous world record of £848,750 which was paid in October for a bottle of Macallan (natch) 1926 in a bottle painted by Italian pop artist Valerio Adami. That's all the Macallan news for now, at least until the next record-breaking bottle goes under the hammer.
And finally… Stella Artois transforms a vacuum cleaner into a bartender. Yes, really.
Feeling lazy? A bit CBA? We get it. Us too. It's Friday. Chill time is nigh. But! If you're anything like us the weekend brings with it all the boring chores we simply couldn't be doing with in the week. Like hoovering. Beyond dull. We just want to kick back with a beer. But wait! It's almost like Stella Artois has been listening. The company has actually made an attachment that fits on top of a robotic vacuum cleaner with space for up to four beers and glasses. It's basically bonkers. But also genius. You get to kick back while DJ Roomba pauses the sweet tunes for a moment to keep you topped up, while still doing all the cleaning. Sounds too good to be true? It kind of is, as the Stella Artois B.A.R.T. (Bartending Automated Robotic Technology – we can see why they abbreviated) vacuum attachments have sold out. But fret not – got a 3D printer? Stella Artois is sharing the print file right here. You're welcome.
Before we sign off, it is imperative we send out congratulations to this week's Super Wish winner! Yep, folks, #WhiskySanta has spoken and the lucky individual about to become the proud owner of Midleton Method and Madness Single Pot Still 28 Year Old is… @sammfeld, off of Twitter! Merry Christmas!