Are you taking enough care of your top tipples? We tapped up world-renowned bartender Salvatore Calabrese, collector of rare spirits and creator of the world's oldest cocktail, for his advice on making spirits last a lifetime or longer. With his advice, your bottles are in safe hands…
Every dedicated spirits lover has a precious bottle. A spirit they're saving for the most exceptional of occasions. Liquid to savour. We'll call it The Bottle. Now, don't get us wrong, the booze within doesn't have to be particularly expensive, nor particularly rare, for the vessel to earn The Bottle status.
Perhaps it's a distillery exclusive from your trip to Japan, or maybe it contains the last drops of your mum's favourite dram. Whatever the reason, you want to take great care of it, and rightly so. Thankfully, MoM knows a man who is familiar with the concept of irreplaceable liquid, or 'Liquid History', as he calls it.

Known as 'the Maestro', Salvatore Calabrese has been making drinks for more than 40 years in top hotels, private members clubs and exclusive cocktail bars across the globe. In 1980, he moved to England and joined Dukes Hotel, where he penned the recipe for the venue's iconic Dry Martini.
In 2012, Calabrese broke the Guinness World Record for the world's oldest cocktail. Containing liqueurs with a combined age of 730 years, the record-breaking drink – named Salvatore's Legacy – is also the world's most expensive cocktail, at £5,500 a glass. The recipe combines 1788 Clos de Griffier Vieux Cognac, Dubb Orange liqueur that dates back to 1860, and a dash of Angostura Bitters from 1930.
The handsome Donovan Bar
Today, the drink is available for purchase at The Donovan Bar at Brown's Hotel in London (one of London's oldest hotel bars), where Calabrese has crafted an exclusive Vintage Cocktails menu made with his own personal collection of rare, historical spirits.
You could opt for a White Lady made with Gordon's Gin and Cointreau from 1930, the year the drink's creator, Harry Craddock, released his now world-famous Savoy Cocktail Book. Or take a trip across the pond with the Aviation, served with 1930s Gordons Gin, Crème de Violette and Zara maraschino.
There's the Vesper Martini, made just as Bond would have enjoyed it: Gordon's Gin and Smirnoff Vodka from the 1950s, with a measure of 1949 Kina Lillet. If rum's your thing, you could sip Ernest Hemingway's favourite tipple, the Daiquiri, created with Bacardi Santiago Cuba from the turn of the 20th century. The list goes on.
With 35 years' experience scouring auction houses for the world's oldest and rarest bottles, it's safe to say Calabrese knows his stuff. Follow his lead, and your favourite bottles will keep their charm for decades to come.
MoM: Thanks for answering our questions, Salvatore! First of all, how long can you expect an open bottle of spirits to retain its quality?
Salvatore Calabrese: There is a change in spirits over time, but it takes years before you really start to notice it, and it doesn't 'go off' unless stored incorrectly. If you look after your spirits they will change and evolve, but they can still be enjoyed. The most important thing to realise about ageing spirits is it isn't the same as ageing wine. The strength of the alcohol preserves the quality and doesn't allow oxidisation to eat away at them so fast.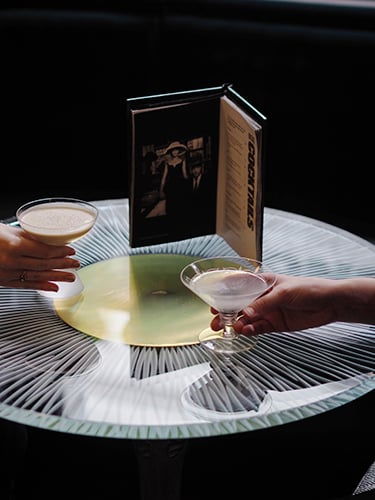 The Vintage Cocktails menu
Could you explain what happens when spirits oxidise?
Obviously if they oxidise, there is always a reason. Either it has been exposed to the air, has not been closed properly, but the most common thing for me is being stored incorrectly – exposed to extreme temperatures or lain on its side. Oxidisation can happen in a very, very old bottle. This has only happened to me a couple of times but often the liquid will become cloudy, milky, rather than the bright, earthy colour that a refined spirit usually has. This means it has been exposed to high temperatures and has split, which is why it is so important to look after your collection.
How does the liquid in the bottle change over time, and how can you expect the flavours to develop?
Like I said, this takes a very long time. Over time, the liquid will start to evaporate, like the famous 'Angels' Share' from a cask. But if you keep them well then this should take a long time and is not necessarily damaging to the liquid. The liquid will often reduce in alcohol content; it will become more mellow and softer as the punchiness of the alcohol starts to recede. Just the other day, I finished a bottle of 1972 Teaninich Cask Strength malt whisky which I have had for years. It was 64.2% ABV when I first bought it, and it was so strong I cut it with a lot more water, but even by the time I got to the last dram 10 years later I still added a little to open it up – it changed, but it was still enjoyable down to the last drop.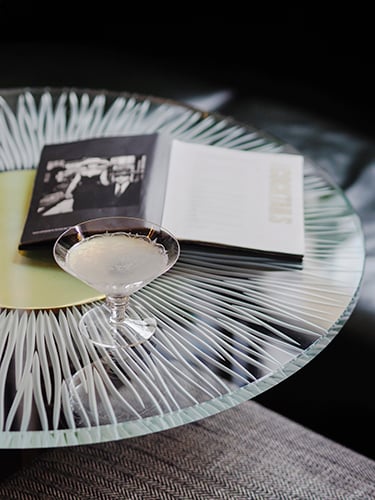 The Aviation serve
What's the best way to know whether a bottle of spirits is no longer good to drink?
As well as checking it has not gone cloudy or milky, another thing you can look at with an old, sealed bottle is the level – how much liquid there is missing from the neck. If there is a lot missing this should be your first alarm that you may need to take another look as it means it has not been stored correctly. It will still be drinkable as long as it is clear, but a bottle that has not been looked after is less likely to bring the enjoyment of bottles that have.
How often should you replace the cork on a spirits bottle?
In wine, the cork is an important part of the process, you keep a bottle "asleep" (lying on its side) because you want it to touch the cork, but this is the last thing you want to do with spirits. Spirits should always be stored upright, and if the cork is sealed well it should not be necessary to change it. I have a collection of bottles from the late 1800s that still has its original corks, and there is no need for me to touch it as it is still sealed correctly. As long as there is no evaporation through the cork or the seal, it is tight and fixed properly, then it is fine. Remember that dark spirits, such as whisky, Cognac, rum etc., will age in casks, which give it its true age. Once it has been bottled in glass and sealed, the bottle will preserve the spirit and it won't age further. That's why I can open up bottles that are 200, 300 years old.
If you're buying a vintage bottle of spirits, what should you look out for?
As I have said, it is important to check the clarity of the liquid, and it is important to look at the levels. If it is 100 years old, then you can expect some evaporation, but certainly don't buy half a bottle – this means it hasn't been stored correctly and the liquid may not be the best quality.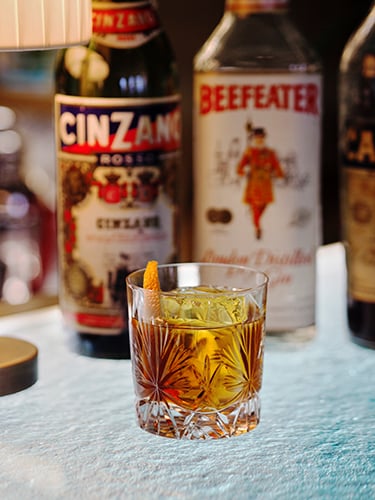 Vintage Negorni? Yes please.
Where is the best place to store spirits, and at what temperature?
Room temperature is always best for spirits, and the light should be consistent, definitely not in direct sunlight, and not give off any heat. The dark is even better for old spirits. A nice drinks cabinet, like I have in The Donovan Bar for my own collection, is the best. But remember, the last thing you want is to put it in a cabinet display and the lighting is a spotlight that is very hot and will cause evaporation. These things are important in wine also, but I keep my wine in a cellar because the dampness of a cellar is good for the cork and the condition of the wine, but there is no need for dampness in spirits. All this will serve to do is ruin the quality of your label, which will lower the value of the bottle.
If you've polished off most of a bottle, and want to protect the rest of the spirit, what should you do?
If you are really worried about the quality, and you want to keep it as close to its original quality as possible, then I recommend you decant the rest of your spirit to a smaller bottle and seal it so there is no air. Of course, you should keep the original bottle to showcase what you have, keep it next to your smaller bottle. But the most important thing is to enjoy it!