On Chase Distillery's 10th anniversary, we paid a visit and discovered how to make the 'World's Best Tasting Vodka' (and excellent gin) from the humble spud.
Chase Distillery is located on Rosemaund Farm in Herefordshire. This part of England is a food and drink-lover's paradise: there are cider apple orchards, Hereford beef cattle, and potato fields as far as the eye can see. The Chase family have been farming here for generations. In the early 2000s they weren't getting a good price from the supermarkets, so William Chase cunningly decided to fry his potatoes before selling them. The result was Tyrells crisps. Then, according to William's son James, "we started the distillery because we had a huge surplus of potatoes too small to make the crisps". It was such a success that the family sold the crisp brand in 2008 to concentrate on making vodka.

They family was inspired by the craft spirits movement in the US, but wanted to do it their own way, James told me. "We are kind of a pioneer of field-to-bottle distilling and we saw a really huge gap in the market for a brand that had a huge value in terms of its sourcing," he says. "We saw lots of brands on the market that were made in big anonymous distilleries and they had a huge price point." Chase Vodka was successful very quickly. In 2010 it won World's Best Tasting Vodka at San Francisco World Spirits Competition beating the might of Russia and Poland.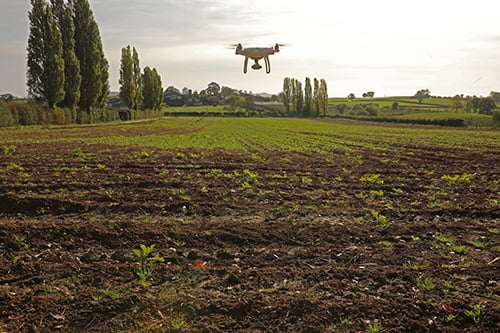 Checking out those all-important potatoes
When MoM visited last month, we caught the end of the potato harvest. The Chases have 1,000 acres. They need a lot of potatoes because, James Chase told me, "we have 250 potatoes in one bottle of vodka".
"Very few brands use potatoes because it's so bloody expensive," he continued. "But as farmers we want to be as close the crop as possible. And the closer you are to the source of your food and drink, the better it is for us and this environment."
James's brother Harry is the farmer, the man responsible for those all-important potatoes. It's a proper family business. I asked James whether having the family involved led to any difficulties: "Our name is above the door, so everything that we make means so much to us. But yeah, there's challenging days, but on the whole it's very good."
We were allowed a sneak behind the scenes to see how the humble spud is turned into liquid gold. First the potatoes are peeled, heated using steam, and enzymes are added. This stage smells a bit like a chip shop – i.e. bloody marvellous. Then yeast is added and the liquid fermented for between 36 and 48 hours. The result is rather tasty, salty and savoury, like a sort-of potato soup with about 8% alcohol by volume.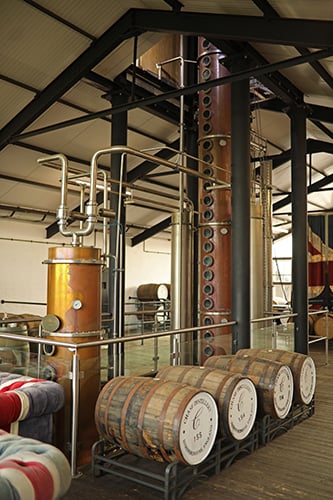 Chase's stills
Now, to turn it into vodka which means introducing Patricia the Stripper! No, not a burlesque dancer (calm down, folks), but the nickname for the column still which strips out the potato solids and water to create a spirit of about 86% ABV. Nothing is wasted: the leftovers from Patricia become fertiliser and the potato peel is fed to the cows. The spirit is then diluted with spring water before going through a pot still known as Fat Betty. This process separates the alcohols which go through a final stage, the mighty Maximus! This is a 22-metre column still, the second-tallest in Europe, and it dominates the distillery. It produces a spirit of 96% ABV. To turn this into vodka, it is filtered and diluted with spring water. The result is deliciously creamy with a subtle pepper note. It's a pleasure just to swill it around your mouth, and it's no surprise that James Chase's favourite drink is a Chase Vodka Martini made at Duke's Bar in London with only a tiny bit of vermouth.
That potato spirit is used to make a whole raft of drinks including a delightfully tangy Marmalade Vodka. This is made in a special machine that they call the Marmaliser (everything at Chase has a name). And then there's gin. The Chase GB Gin recipe is especially tailored to the potato spirit. "If you tried our potato vodka neat it's incredibly flavourful," James explained. "So we start on a base of flavour and then, it's a very silly saying, we paint the picture around that taste. So the botanicals match that potato crop. So we've got things in there like ginger and cinnamon, obviously with juniper, that pair amazingly with potato."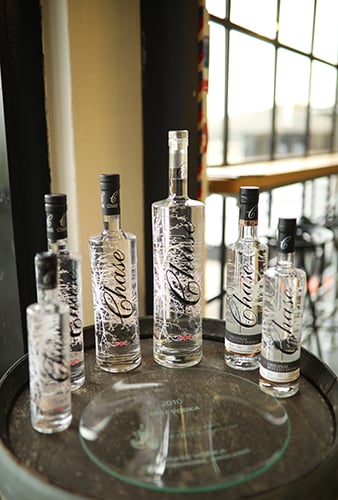 The result!
Almost next door to the distillery is Tom Oliver, one of the country's most revered cider makers, a reminder that Herefordshire is apple country, too. So Chase makes Elegant Crisp Gin using a spirit distilled from apples. "The botanicals are more citrusy-led to go with the apple tannins and the apple taste of the base spirit," James said.
He went on to describe the distillation process in the brand's imaginatively-named gin still, Ginny: "They're both London Dry one-shot gins, which means that there's nothing added after distillation. The GB Gin, we actually distil the juniper with the spirit and then the heavier botanicals then sit above. So as the spirit rises, you get much more of a delicate taste that comes through. Whereas our Elegant Gin, the apple spirit sits in the base and all the botanicals are stuffed in the chamber. So when that spirit rises through you get the most complex, lingering, softer kind of delicate tones that come through."
All the equipment at Chase Distillery is custom-built in gleaming copper and stainless steel by Carl of Germany. The whole setup looks amazing, especially as it's housed in a gigantic old grain store. Dotted around are curios that William Chase has collected, such as old deep-sea diving suits, motorbikes and Union Jack sofas. Some new distilleries can look a little clinical, but Chase distillery has the feel of a cabinet of curiosities more than an industrial facility. Outside there are vintage Land Rovers used for tours of the farm. No wonder it's one of Herefordshire's top tourist attractions; the weekend tours get booked up well in advance.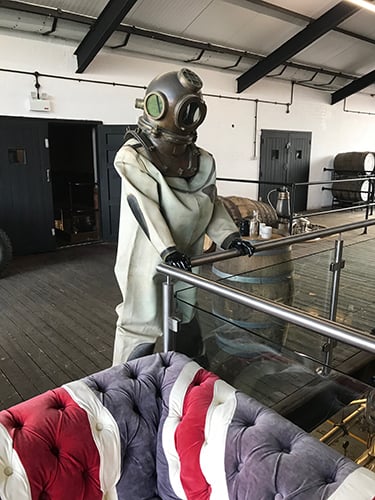 That deep-sea suit tho…
I couldn't help noticing among the bric-a-brac that there are barrels all over the place. Chase makes a vodka aged in old Cognac casks, a sloe gin aged in huge oak foudres from Chateauneuf-du-Pape, and a whisky is in the pipeline. "We've been putting quite a few casks down every year and I think we'll be ready to release our first drop of whisky early next year," James reveals. "We won't release it until it's ready." It's not made from potatoes or apples, of course, the wash (the beer made from malted barley) comes from a few local breweries. It is then put through Fat Betty twice, just as with a single malt Scotch whisky.
Chase is a very strong brand with highly recognisable products, but James also reckons that timing was important. "If we started the distillery in Herefordshire today, we probably wouldn't have had the success that we've had. I think because we were first mover into the market, you know, we were pioneers of the craft spirit scene in 2008."
Chase is now distributed all over the world, but the distillery remains a small outfit. "I think a lot of brands go to market and chuck the kitchen sink at two-for-ones in supermarkets," James says, "Because it's a family distillery we really want to be making sure that people are buying on quality and not price. This applies to export too, most of our distributors around the world are family-run, wine distributors." He told me that America is Chase's number one market, but adds that the family has big plans for Asia. "We've just signed with a new distributor in Hong Kong," he confirms.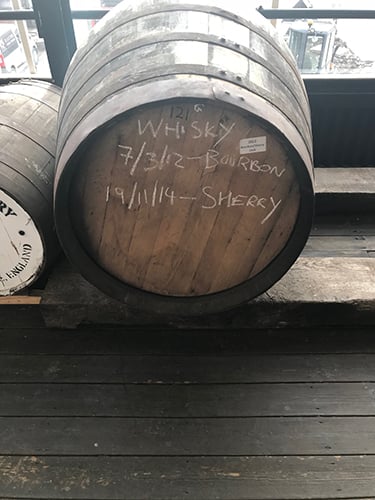 Chase whisky is coming!
The Chase empire stretches outside Herefordshire. The brand produces a range of wines in Provence including a rosé which, with its distinctive bottle, has become something of a cult wine. Again, James told me, it's all about organic growth. "We're not in supermarkets or any of the big players like Majestic or Waitrose. So we just sell in independent wine shops and places like The Pig and The Hurlingham Club, that sell the brand in a great environment. And that's the way that we like it."
Out of all the Chase range, it's the vodka that is James's favourite product, "it's our Burberry trench coat," as he puts it, though gin makes up around 70% of sales. The family has no plans to go back into crisps but there is another area close to home that has caught James's eye though he makes it clear that it is, at the moment, just an idea: "I think we'd love to look at wine in England," James comments. "There's huge opportunity here… I think the English still buy more Champagne than the Americans, which is crazy. So, yeah. Chase Distillery sparkling wine, you can almost picture it." We certainly can.