Well, well, well, what do we have here? This week's Nightcap features a 2,400 gallon cocktail shaker, George Clooney-approved mezcal, and the dawn of a new era in Canadian whisky!
But first, it's time to cast our minds back, waaay back to…. Well, yesterday evening actually, when we were delighted to be named Gin Magazine's Icons of Gin Online Retailer of the Year 2018! Cue celebrations, high-fiving, and cocktail toasting.
Elsewhere on the blog, we reconnected with nature at Oslo Håndverksdestilleri (OHD) in Norway's capital city, sipped on Beefeater's new strawberry-flavoured pink gin, visited The Macallan's first ever UK whisky lounge, and asked six drinks aficionados to reminisce over their first spirit love in the name of Valentine's Day.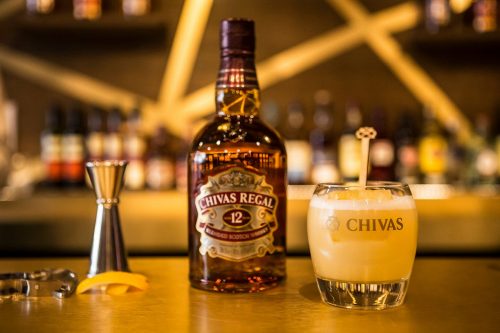 Chivas Brothers-owned brand, Chivas Regal
Pernod Ricard's Scotch innovation strategy 'similar to Diageo'
A few weeks ago, The Nightcap brought you news of Diageo's 'secret' Scotch whisky innovation plans, which included Tequila cask-matured drams, among others. Well, earlier this week executives from French drinks group Pernod Ricard, owner of Chivas Brothers, invited us to a roundtable meeting in London, where they were pressed for their views on the matter. Their answer? "I think it's our job to innovate," said Glen Brasington, marketing director – strategy, business development and services at Chivas Brothers. "Certainly we've had success where we've innovated and created products like Ballantine's Brasil – a flavoured spirit with a Scotch base – and I think that will continue." By limiting bottlings to age statements and "traditional references", he added, businesses become "out of touch" with whisky fans. "We're similar to Diageo in a way in that we're constantly challenging the Scotch Whisky Association, but working with them because we want to protect our industry," he said. At the same event, the team unveiled plans for a new £40 million bottling facility in Scotland that will see two existing bottling halls merged into one.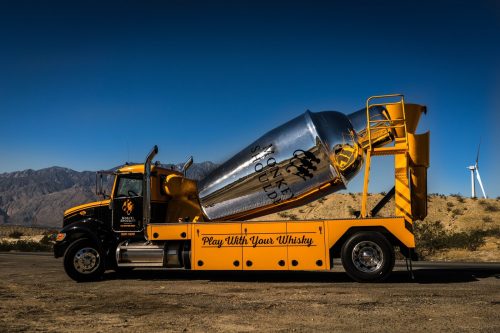 The Monkey Mixer…
Monkey Shoulder takes 2,400 gallon cocktail shaker on road trip
The folks at blended malt Scotch whisky brand Monkey Shoulder are aiming to "bring the fun back to serious cocktails in a big way" with their latest endeavour: a cement mixer-sized cocktail shaker attached to a truck. The Monkey Mixer, which can hold the equivalent of 123,000 bottles of booze, is about to embark upon a tour across the US, beginning at Arizona Cocktail Week, serving up the Mixed Up Monkey cocktail (Monkey Shoulder, mint simple syrup, fresh lemon juice, and soda) and generally looking cool as hell. This outrageous, extravagant and completely unnecessary device is more than 27 feet long, 13 feet tall and 8 feet wide, and we desperately want one of our own. "Many consider whisky sacred and precious," said Seb Derbomez, US Monkey Shoulder ambassador. "Many take their cocktails very seriously. We respect that, but believe people should play with their whisky, and enjoy the experience." Preach.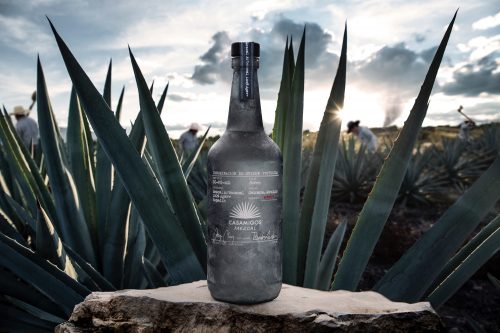 Fun fact: The bottle was designed by Gerber
George Clooney and Rande Gerber unveil Casamigos Mezcal
They sold Casamigos to Diageo for a cool $1 billion last year, but it appears co-founders George Clooney and Rande Gerber are still very much involved in the business, this week announcing a new introduction to the brand's core range in the form of Casamigos Mezcal. The Joven (young) expression is made from 100% Espadin agave, and is crafted by cooking the piñas in earthen pits lined with volcanic rocks heated by a slow burning oak wood fire for between four and six days. They're then cooled, crushed, fermented and distilled. As with the core Tequila expression, single batch will be tasted and approved by Clooney and Gerber before it goes anywhere – a strange/awesome fact to ponder while you're sipping it yourself. Given flavour notes include tamarind, pomegranate, banana and mango, as well as smoke, liquorice and mineral nuances.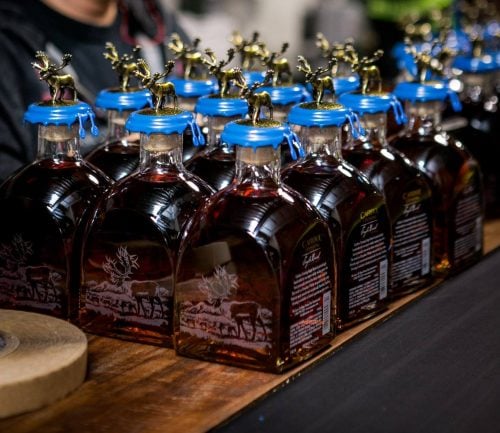 Another fun fact: Caribou Crossing whisky is bottled at the Old Montreal Distillery
Sazerac's Old Montreal Distillery in Canada kicks off production
For more than a year, Sazerac has been tinkering about with its Old Montreal Distillery, which dates back to 1929. Installing grain mills and a 4,000 gallon mash cooker, converting existing equipment, hooking up fermenters, fitting a brand new still… It's taken time and effort, but now the site has officially distilled its first run of Canadian whisky. As for which Canadian whisky or whiskies will be made at the Old Montreal Distillery? We'll have to wait and see, but the new set-up will enable Sazerac to innovate, we're told. "With over 500,000 Canadian whisky barrels in inventory, we're anxious to get started experimenting here in Montreal similar to what we do at our other distilleries," said Drew Mayville, Sazerac's master blender.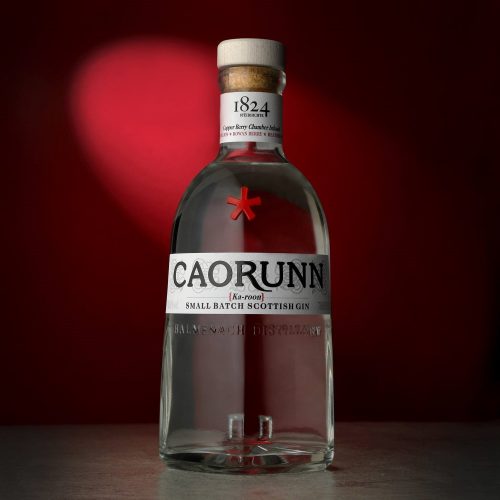 The new-look Caorunn bottle
Get your weekend off to a flying start with these Caorunn cocktails…
To coincide with the launch of its sleek new bottle design, Scottish gin brand Caorunn has partnered with famed bartender and author Tristan Stephenson to launch two bespoke cocktails: the fresh, herbal Caorunn Cooler and lemon and ginger-spiked Fireside. Full recipes below – whip out the good glassware and get cracking!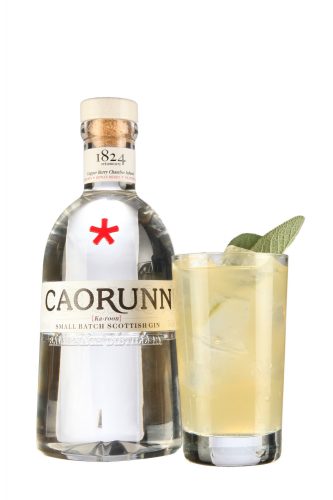 Caorunn Cooler
Caorunn Cooler
Ingredients: 50ml Caorunn gin, 150ml herbal apple soda (1 part lemon juice, 7 parts apple juice, 7 parts green tea)
Method: To make the soda, hot brew the green tea to extract the flavour and tannins, and allow to cool. Mix with lemon juice and apple juice and chill in a fridge. Carbonate using a SodaStream. To make the drink, build all ingredients in a highball glass and garnish with a sage leaf.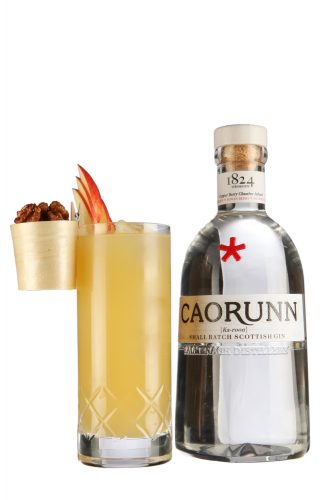 Fireside
Fireside
Ingredients: 50ml Caorunn gin, 10ml lemon juice, 10ml ginger juice, 80ml apple juice
Method: Build ingredients in a highball glass. Garnish with honey-roasted walnuts.
Happy weekend, all!