With its idyllic fjord, lush forested hills, bountiful indigenous botanicals and laid-back stance on foraging, Oslo is a city that practically lends itself to distilling. Last December I ventured to Oslo Håndverksdestilleri (OHD) for a tour and tasting during a trip to the country's vibrant capital.
They say that in Oslo you're never more than a 15-minute walk from nature, and there's not a single doubt in my mind that statement is true. But the city is much more than the wild and breathtakingly beautiful nature that surrounds it.
Cosmopolitan yet quintessentially Nordic all at once, Oslo's bustling cafe culture, eclectic architecture, and dynamic food and drink scene rival the likes of its hip Scandinavian sisters Stockholm and Copenhagen. Amid the coffee-slash-cocktail bars and microbreweries lies Oslo Håndverksdestilleri, which was established by Cask Norway's Marius Vestnes and Number One Drinks' Marcin Miller back in 2015.
No matter where you are in the world, it's a given that the ultimate way to experience a country – particularly if the visit is fleeting – is to eat and drink like a local. With that in mind, I found my way to a red brick building by the city's longest river, the Alna, where commercial manager, Elias Vega, and head distiller, Matt McMillan, greeted me with a cracking Nordic spread.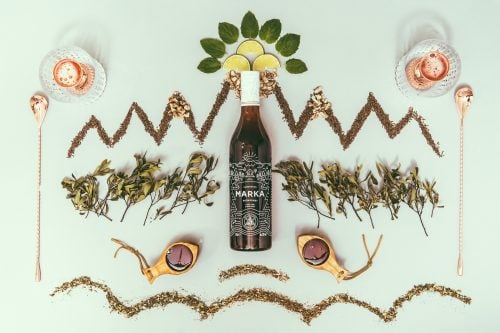 Marka Nordic Bitter
As we chatted over lunch, it became clear just how much Norwegian culture revolves around nature, and so, therefore, does the distillery. Every single ingredient used to produce its four-strong spirits range – which currently comprises unaged akevitt, cask-aged akevitt, gin and a bitter – is foraged or produced in Norway.
"Every opportunity that Norwegians get, they'll be out in nature," Vega says. "As soon as there's a bit of sun, they'll be out hiking, or in the mountains, or in the forests. It's really important to people. We want to make [spirits] that are as close to Norway as possible, so it's only natural that we would use nature as part of it."
Many of the berries, leaves, flowers, roots and stems that are key to each recipe are hand-foraged in wild woodland by a man with an axe named Gaute Vindegg. Norway has the 'right to access', which means that people – foreigners and locals alike – can camp, hike and forage (within reason) in the countryside and mountains, regardless of land ownership.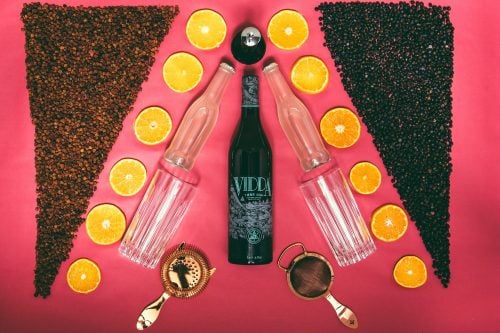 Vidda Tørr Gin
"Gaute was instrumental in building the project from the beginning," says Vega. "He went out and spoke to farmers and landowners, and they'd say, 'my ancestors used to use this leaf that grows on my land, why don't you pick it and see if you can do something with that?'. He'd come back with all these herbs and things that we'd never have thought to use."
Digestif-style bitter Marka came first, named after the protected forest around Oslo from which its botanicals are sourced. The spirit, created by founding distiller Dave Gardonio, contains 16 botanicals in total – bog myrtle the most prominent, along with yarrow, juniper berries, meadowsweet, heather flowers, chamomile flowers, elderflowers, rose hips, gentian, and rhubarb root, among others.
This was tailed by Vidda Tørr: Norway's answer to a traditional British dry gin, inspired by a winter excursion to Vestnes' cabin in the mountains which is depicted on the label. The deep blue hue of the bottle was inspired by the colour of native bilberries.
"A lot of gins have citrus peel and cardamom or coriander, which aren't natural to Norway, so Dave extracted the essential oils of different weeds, herbs and roots," explains Vega. "During the maceration process, juniper and pine shoots release a lot of lemon and citrus notes, so we started developing recipes around that."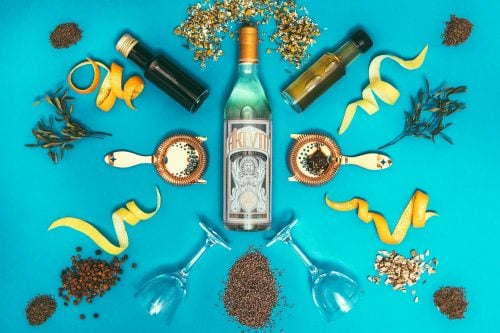 OHD Akevitt
Cask-aged OHD Akevitt came next, followed a few months later by Akevitt Blank. As a category, akevitt is little-understood outside its Scandi home (apart from within the odd high-end bar), but it's really quite straightforward. Imagine gin, but sub the juniper for dill or caraway, and boom: akevitt.
For Norwegian akevitt there are a few more rules – it must be made from potato spirit, it must be aged in oak, and it must be aged for at least six months (depending on how much you're producing). Since OHD's Akevitt Blank is unaged, it's not technically Norwegian akevitt; rather it's an akevitt from Norway.
The recipes for both expressions differ slightly; OHD Akevitt contains caraway, meadowsweet, hyssop, yarrow, heather, sorrel, St. John's wort, chamomile, calamus root, dandelion, wormwood, angelica root, and horehound, while Akevitt Blanc subs out six of those in favour of juniper and Angelica root to boost its cocktail credentials. The cocktails, however, would come later. It was time to hit the distillery floor.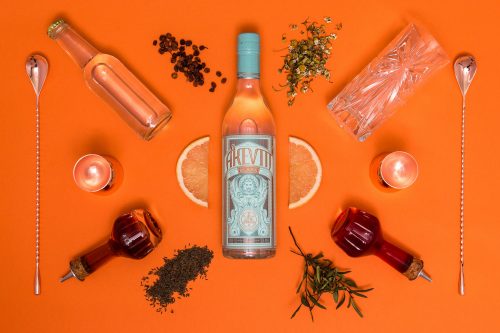 Akevitt Blank
We headed downstairs to admire Nicolette, an 850-litre CARL still from Germany. At present no fermentation takes place on-site; the team buys in neutral potato spirit from Norwegian producer HOFF Norske Potetindustrierand to use as a base for the range.
"It's just so much more expensive to do it on a small scale," explains McMillan. "If we were to do a whisky or a rum, I'd definitely want to start from the mash. But since we're flavouring the spirit with botanicals, we don't have to worry about that quite yet."
McMillan macerates the spirit with either juniper (for gin) or caraway (for akevitt) overnight before he begins distilling, since they're both "pretty resilient botanicals". "They're not going to fall apart like maybe a flower would, or stick to the side of the still," he explains.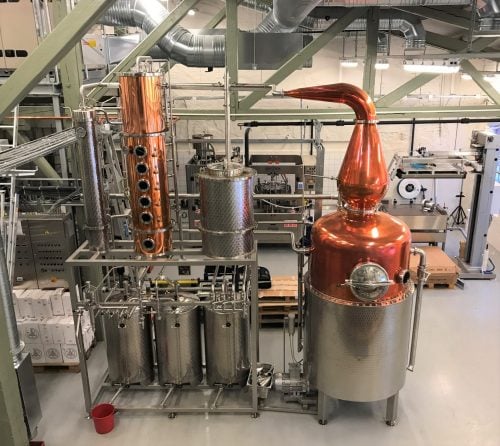 The distillery set-up
He heats the botanical spirit mix to around 78-80 degrees, and as the ethanol starts to evaporate and rise up the still, the cooler bulb-shaped metal reduces the temperature, turning it back into liquid. "We're trying to create as much recondensing as possible," McMillan explains. "As it works its way up, it's heating the metal and constantly redistilling itself."
Next, the ethanol travels through a gin basket containing all the additional botanicals, which vary from product to product. Thanks to its impressive size, the basket creates an "extremely potent distillate". "That way we can produce a lot more [spirit] using a lot less energy," says McMillan.
The distillate makes its way to the condenser and cools to form liquid alcohol. From a standard run, McMillan usually ends up with around 300-330 litres of delicious 'hearts'. The tails are stored to be added to future distillations in small amounts, and the heads are used as cleaner. Since OHD doesn't produce whisky or rum at present, that glorious seven-plate copper column still remains silent – for now.
If he's making unaged akevitt or gin, McMillan bottles it on-site using a super state-of-the-art machine. If the spirit is destined to become cask-aged akevitt, it's decanted into ex-bourbon barrels sourced from his old haunt, Colorado's Breckenridge Distillery. Each is monitored as the flavour develops. There's a small barrel room on site, but for the most part OHD ages its spirits in a storage facility 5km away.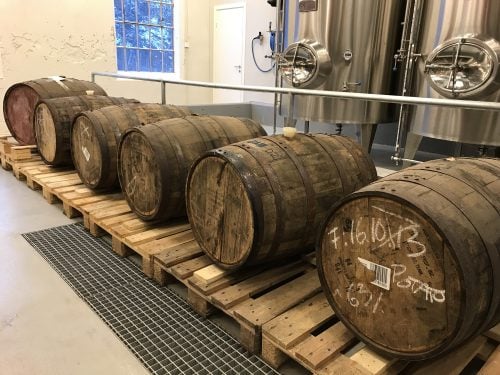 These barrels contain Marka bitters
"I'll go through and taste ten at a time and make a list of each barrel's characteristics," says McMillan. "Then I'll try to blend those flavours together, just like any other recipe, to make something as consistent as possible."
If he's creating Marka, however, McMillan macerates the botanicals with potato spirit for around two weeks – no distilling required – and then ages the entire infusion for six months in a cask previously used for OHD Akevitt. It's then sweetened with non-certified organic honey before bottling (the honey doesn't carry the certification, but the land that the bees pollinate is organic).
Despite having tasted akevitt for the first time less than 24 hours previously, and with absolutely zero distilling experience to my name, I felt ready to craft an akevitt of my own. We ventured to a small lab overlooking the distillery floor, where a rack chock-full of native Norwegian botanicals and a miniature still awaited me.
After spending a good 15 minutes cracking open each jar, inhaling its contents, and following some sterling advice from the experts, the recipe was complete: 20g caraway, 4g chamomile, 4g pors, 4g juniper, 4g bilberry, 2g pine, 2g rhubarb, and 2g horehound.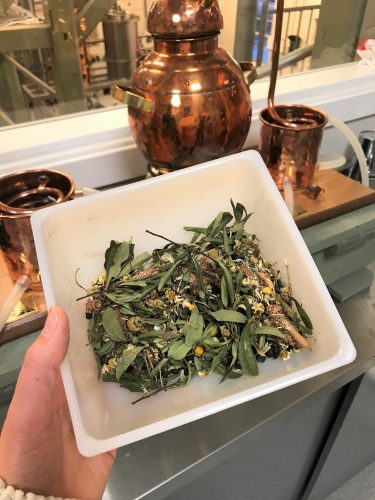 Before…
I left the mixture in McMillan's extremely capable hands, and he distilled and bottled my akevitt (aka Akevitty McSpice) the following week. I shall treasure her forever. Cheers – or should that be skål? – to our resident flavour legend Adam for these absolutely cracking tasting notes…
Nose: Very smooth and seductive, the nose is teaming with herbal spice – chewy caraway and a touch of thyme, which blend with fresh pine, floral jasmine, camphor, prickles of star anise and sticky lick of caramel beautifully.
Palate: Rich and aromatic spice from grains of paradise and herbal coriander kick the palate into life, before a syrupy liquorice sweetness settles. The backdrop is superb; there's orange peel, a little mulch, orris root and flickers of rhubarb and dill, with a slight peppermint edge.
Finish: The herbaceous notes sweeten under a recurring touch of caramel and some perfumed dried petals.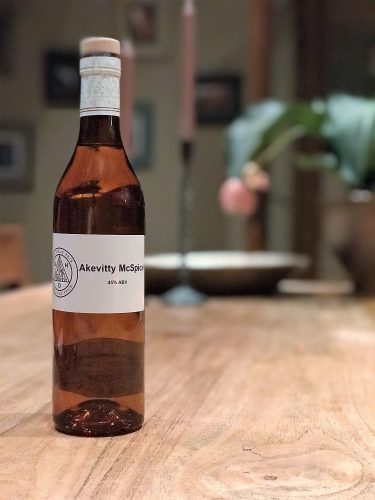 …And after!
Keen for us to experience lively Oslo nightlife in all its glory, Vega hailed a cab and we hit the streets of the city. If you're planning to visit anytime soon, the bars that follow come highly recommended…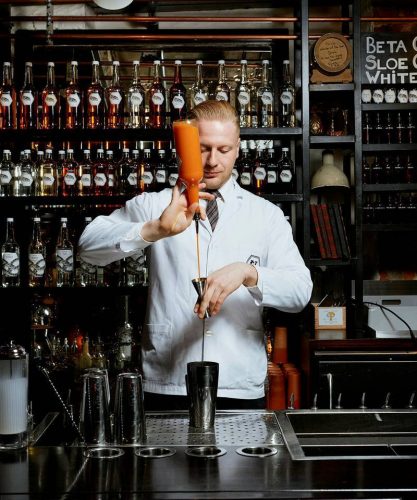 Himkok
Himkok
Storgata 27
I once heard Himkok described as a 'bartenders' playground', and upon entering I understood why perfectly. Split across three floors, the experimental speakeasy-slash-micro-distillery produces seasonal varieties of vodka, gin and akevitt, and grows herbs in a greenhouse on-site. Like OHD, Himkok celebrates Norwegian ingredients and the independent farmers and small producers that grow them. We were lucky enough to be shown around by head distiller Matthew Ensor (not pictured, FYI), who treated us to a tasting of his latest akevitt experiments. Don't miss the cider bar in the courtyard.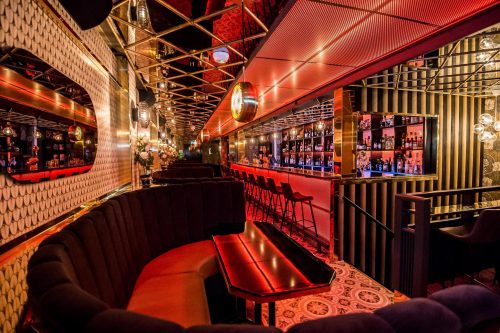 Bar*ISM
Bar*ISM
Stortingsgata 12
Two very different vibes across two very different floors, but trust me – you'll want to check out both. Upstairs we're talking neon everything, menus viewed through a plastic viewfinder, classic bangers and boilermaker-flavoured Old Fashioneds. Downstairs – entered through a photobooth – the vibe is more sophisticated: darker, quieter, and menu-less (share your preferences with the bartender and they'll recommend a cocktail), but whatever you end up with, you'll want to Instagram the hell out of it.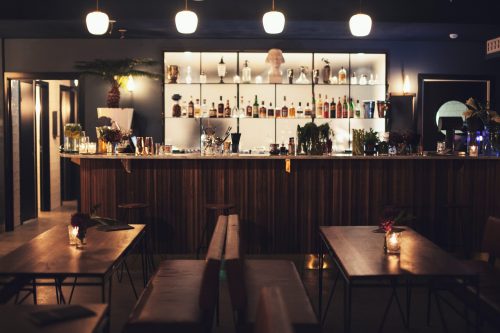 Bortenfor
Bortenfor
Brenneriveien 7
Perched on the banks of the picturesque Akerselva river in a former steel mill lies classy, cultured, and effortlessly cool Bortenfor. The bar is run by an all-female team, the cocktail menu is Norwegian-inspired, and the music is decent. It's nestled by uber-cool nightclubs Ingensteds and Blå, which eradicates the 'where to go next?' dilemma. Not that you'll want to leave, since the Espresso Martini here is like heaven on earth.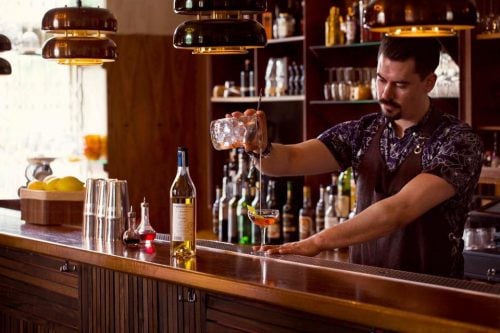 Bettola
Bettola
Trondheimsveien 2
Welcoming and friendly, Bettola is a staple on the Oslo bar scene. Inspired by sixties Italy and decked out with Scandinavian furniture, the bar is centred on classic cocktails made with (you guessed it) Italian and Norwegian ingredients. There are cocktails on tap and a changing daily special or two.