Burns Night is coming. You need some bonnie booze. We're here to help with the kind of Scotch whisky that will make Burns Night 2023 the best yet! 
One of the biggest dates in the year for Scotch whisky fans approaches – Burns Night! This commemorates Robert Burns' birthday, 25 January, and is a tradition upheld all over the world. Libation, literature and laggis – I mean haggis – will be enjoyed by many as we toast a man who loved a good Scotch himself.
Whether you're a seasoned Burns supper pro or you fancy experiencing one for the first time (you really should do it at least once in your life, it's great fun), you'll need to stock up on Scotch to do the night justice. And why not make a suitably Scottish serve while you do?
So, here's our traditional, watch-me-shoehorn-a-load-of-poems-into-a-whisky-round-up, whisky round-up! Filled with everything you need to toast Scotland's national bard.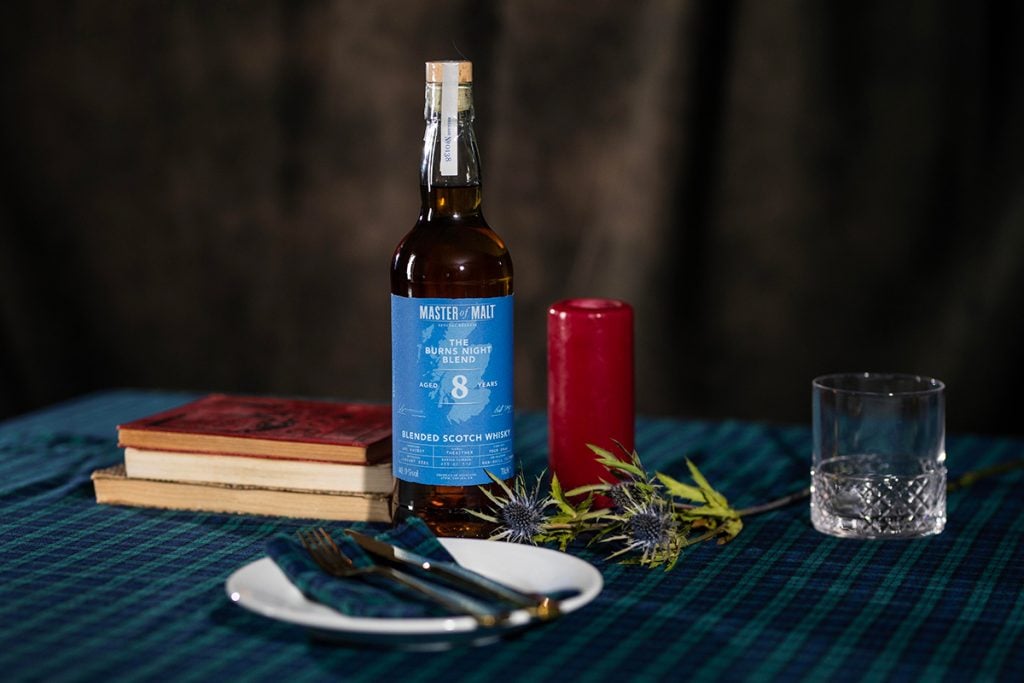 Auld Scotland wants nae skinking ware
That jaups in luggies:
But, if ye wish her gratefu prayer,
Gie her a Haggis
This year we introduce our own special Burns Night Blend. One that we whipped up for the occasion. There's more info where we break down the story of this Burns Night whisky here, but what you need to know is that it's very tasty, versatile, and has the man's name on the bottle. What more can you ask?
Scots serve: The Robbie Burns Roy
Celebrate two Scotch heroes for the price of one (Robert Burns and Rob Roy) at once with this serve. To make it you'll need a mixing glass, to which you add 60ml of Burns Night Blend 8 Year Old (Master of Malt), 25ml of Lustau Vermut Rojo and 3 dashes of Angostura Bitters. Stir well, then strain into a chilled cocktail glass and garnish with a Luxardo Maraschino Cherry. Serve, preferably at supper while reciting the Address to a Haggis. This means you'll need to get yourself some haggis (or whatever the vegetarian/vegan equivalent is, I can't even imagine) and, please forget any negatives you've heard, it is smashing.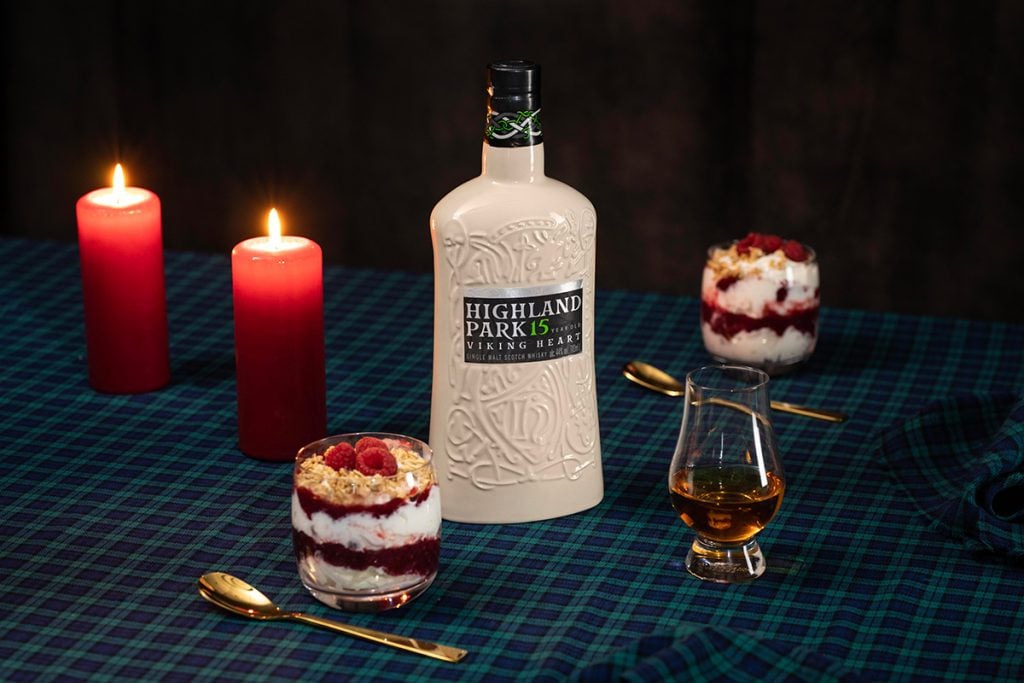 For auld lang syne, my jo,
for auld lang syne,
we'll tak' a cup o' kindness yet,
for auld lang syne.
Not only is Highland Park's 15 Year Old Viking Heart absolutely delicious (made using predominantly sherry-seasoned European and American casks, as well as a few refill casks), but it also comes in a beautiful vessel from Wade Ceramics, which was inspired by the earthenware vessels that whisky would have been stored in centuries ago.
Scots serve: The Auld Fashioned
The Auld (Old) Fashioned is a classic for a reason and this is a surefire recipe perfect to taste the Bard himself. Start by putting a level teaspoon of brown sugar into an Old Fashioned glass, then add a splash of hot water and two dashes of Fee Brothers Orange Bitters. Stir vigorously so that the sugar dissolves, then add 80ml of Highland Park 15 Year Old Viking Heart. Stir a bit more, add ice cubes, stir a bit more and garnish with a piece of orange peel. Serve while belting out a resounding edition of Auld Lang Syne.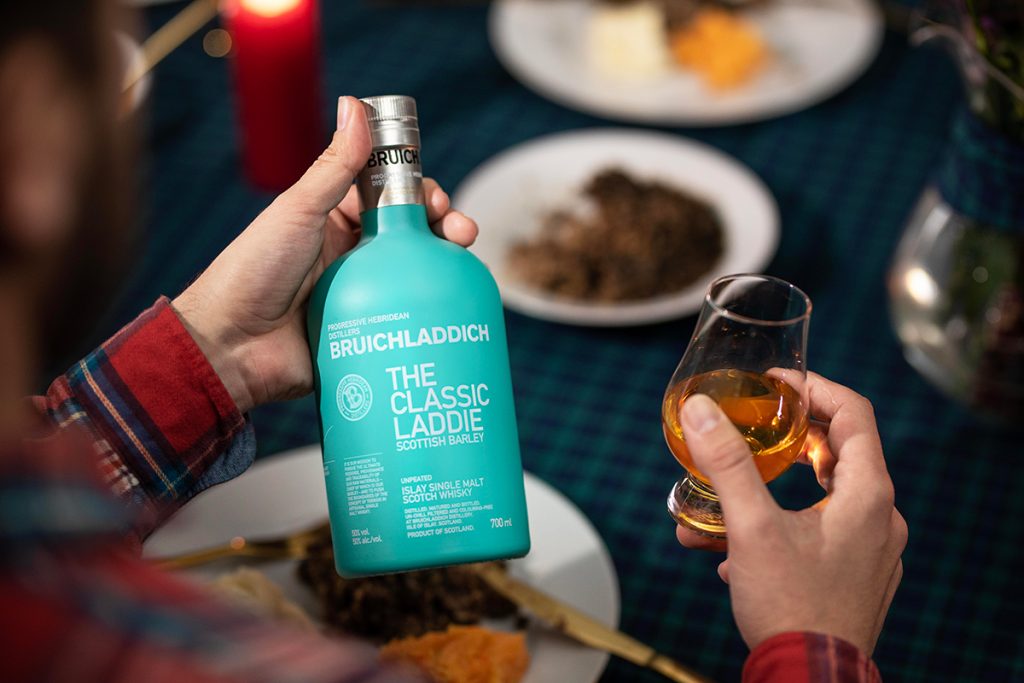 O Whisky! soul o' plays and pranks!
Accept a bardie's gratfu' thanks!
The signature bottling from one of our favourite distilleries, The Classic Laddie is made with 100% unpeated Scottish barley and matured in ex-bourbon casks, allowing all the wonderful Bruichladdich DNA to shine and make one genuinely original and distinct flavour profile.
Scots serve: The Scotch Drink Sour
A sensationally sour tribute to the Scotch drink, this Whisky Sour is made by adding 50ml Bruichladdich The Classic Laddie, 25ml lemon juice, 2 tsp orange marmalade, 2 tsp maple syrup and one egg white to your shaker and dry shake vigorously for 15 seconds. Fill with ice and shake hard again, then double strain into a chilled tumbler and garnish with a piece of orange zest. Serve and proudly recite the Scotch Drink poem in your best 18th-century Scottish to your entertained/slightly embarrassed guests.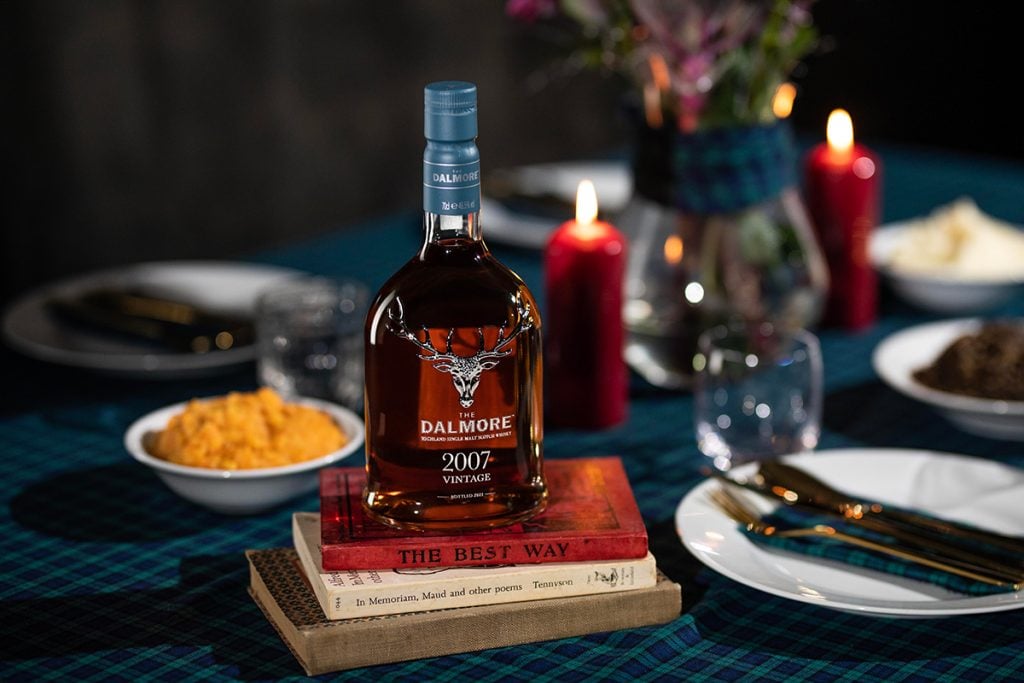 O my Luve's like a red, red rose
That's newly sprung in june;
O my Luve's like the melodie
That's sweetly play'd in tune:
Dalmore showcases some of its finest 2007 vintage whisky to be found in the distillery's historic sandstone warehouses with a dram created from a selection of bourbon-matured single malts and some from Matusalem, Apostles and amoroso sherry casks, and some Marsala barrels too. All expertly married in a cask, and bottled in 2022. Super stuff.
Scots serve: A Red, Red Blood and Sand
The Blood and Sand looks as good as it tastes and, luckily, it's easy to make. Begin by popping a coupe glass in the freezer for a few minutes before you start to get it nice and chilled. Then add 25ml of Dalmore Vintage 2007 (bottled 2022), 25ml of Martini Rosso, 25ml of Ableforth's Cherry Brandy (or Heering Cherry Liqueur) and 25ml of fresh orange juice to a shaker with ice and give your best hard shake for about 30 seconds. Then take your chilled glass out of the freezer, pop a Luxardo Maraschino Cherry in the bottom of it, and then strain the mix into the glass. Garnish with an orange zest before you serve and recite the beautiful A Red, Red Rose to what I can only imagine will be a room of people struggling to hold back the tears.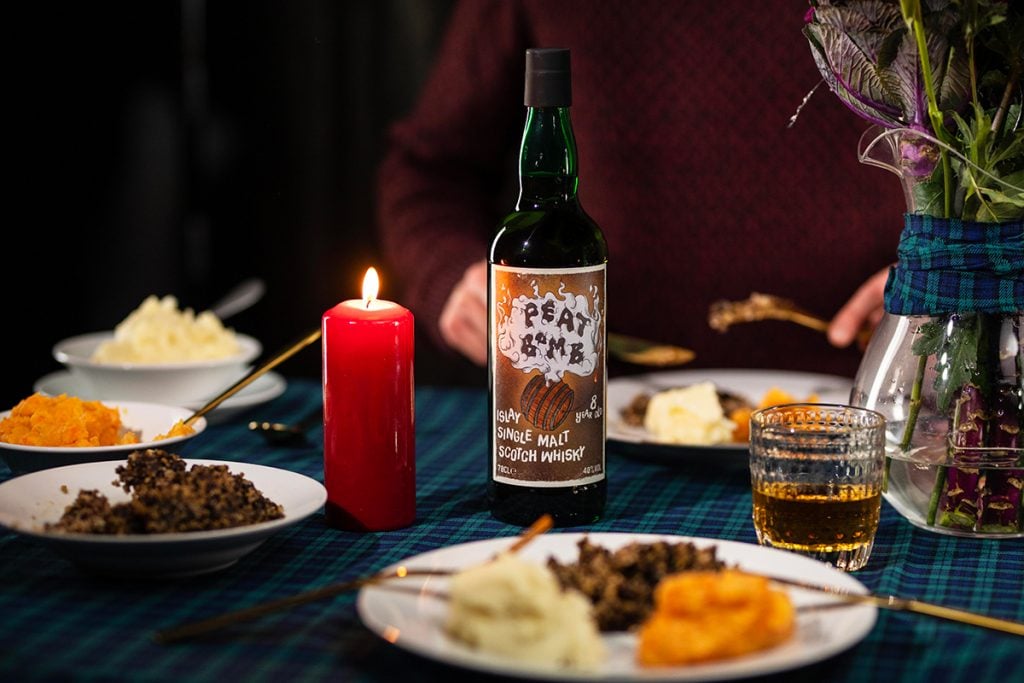 O were my love yon Lilac fair
Wi' purple blossoms to the Spring,
And I, a bird to shelter there,
When wearied on my little wing!
A whisky that packs a big ol' blast of smoky brilliance, as the name suggests, Peat Bomb is an 8-year-old single malt from an undisclosed distillery on the isle of Islay. Expect rich spice, citrusy sweetness, and lots of notes like bonfire embers.
Scots serve: The Drap O' Dew Penicillin
A Burns-tastic adaptation of the classic Penicillin cocktail, probably the finest of all peated whisky cocktails. Combine 50ml blended whisky (Dewar's 12 Year Old – The Ancestor would work well), 20ml freshly squeezed lemon juice and 20ml honey & ginger syrup into your cocktail shaker. Fill it with ice and give it a good hard shake, then strain into a chilled rocks glass over a large piece of ice. Then gently pour the 15ml of Peat Bomb 8 Year Old slowly over the back of a spoon so it floats delicately on the top of the drink. Garnish with candied ginger on a skewer and enjoy, while reciting, Ron Swanson-style, the beautiful O Were My Love Yon Lilac Fair to whoever your heart burns for.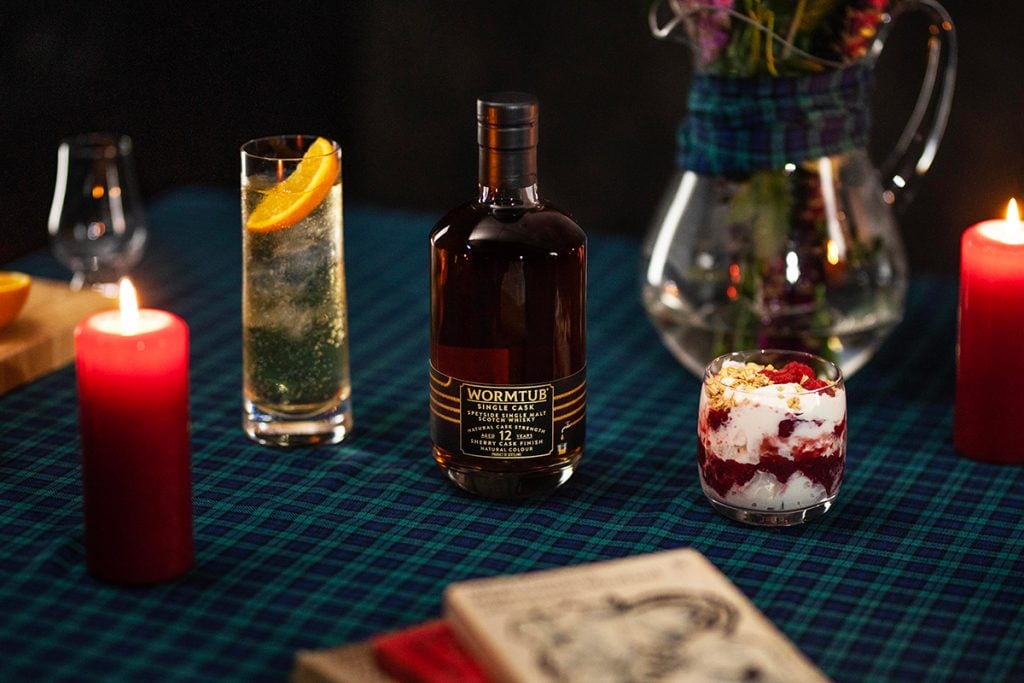 Wee, sleekit, cowrin, tim'rous beastie,
O, what a panic's in thy breastie!"
The original Wormtub is already a smashing whisky, but this one takes things up a notch by leaving the whisky for two more years and bottling it from a single cask, specifically the first-fill oloroso sherry hogshead it was finished in. For those who haven't had the pleasure, this Speyside single malt is named after the old-school condensers used to make it and it's been bottled at natural cask strength without any added colour, showcasing the big and bold character of wormtub condensers.
Scots serve: The Beastie Boulevardier
Essentially a whisky equivalent of a Negroni, The Boulevardier is a beautiful, rich and complex serve. To make, combine 45ml of Wormtub 12 Year Old Single Cask, 25ml of Campari and 25ml of Martini Rosso in a mixing glass with ice. Stir, then strain into a chilled tumbler over fresh ice. Garnish with an orange twist, serve and pay tribute to your creation with a rendition of To a Mouse.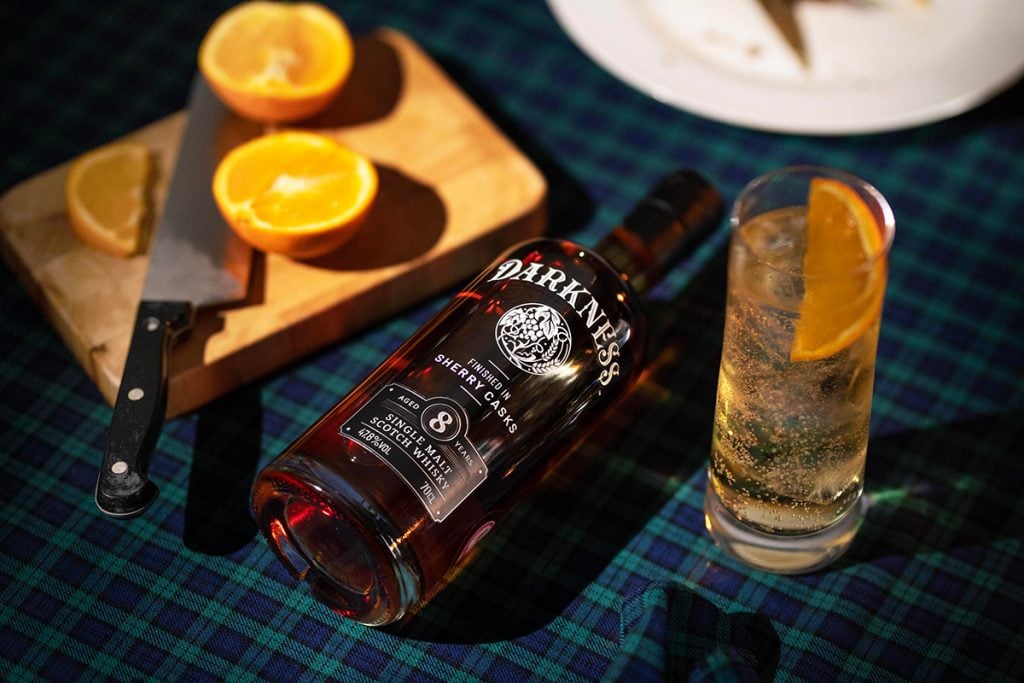 O Lord, Thou kens what zeal I bear,
When drinkers drink, an' swearers swear,
An' singing here, an' dancin there,
Wi' great and sma'
Darkness by name. This eight-year-old single malt Scotch whisky comes from an undisclosed distillery aged in ex-bourbon casks before spending a few months in custom-made oloroso sherry octave casks. Small casks make for a vastly increased surface area-to-volume ratio, leading to more cask influence. In other words: sherry time!
Scots serve: Holy Willie's Lasting Darkness
Add ice to a highball glass, and pour in 50ml Darkness 8 Year Old. Top and lengthen with soda, and garnish with fresh grapefruit. Enjoy while discussing what a great satirical poet Burns by recalling Holy Willie's Prayer, an expose of religious hypocrisy.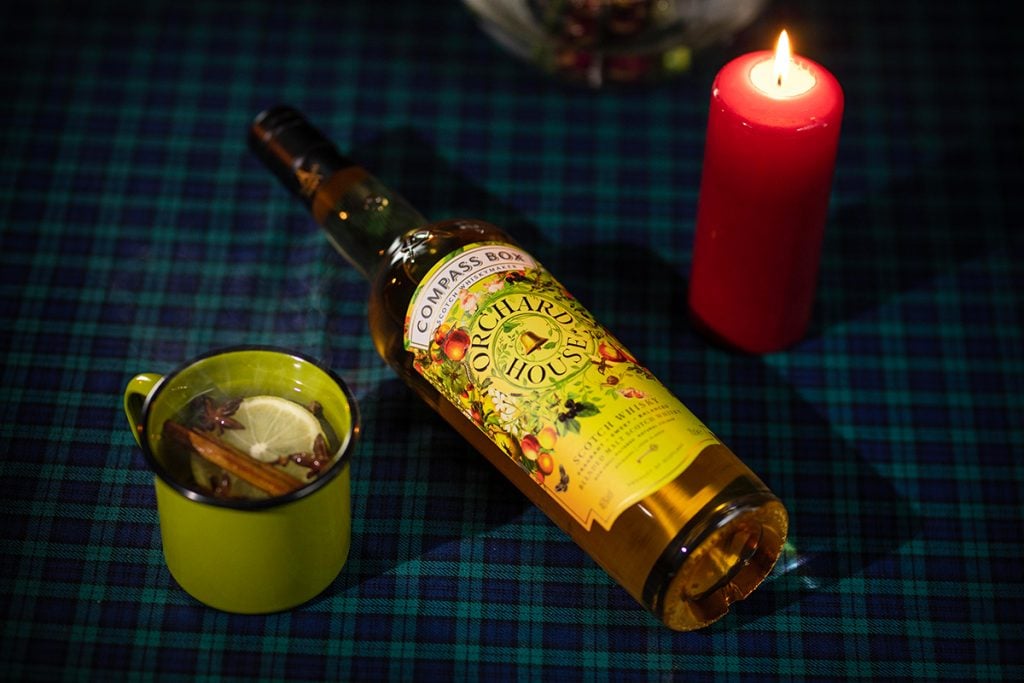 Inspiring bold John Barleycorn!
What dangers thou canst make us scorn!
Wi' tippeny, we fear nae evil;
Wi' usquabae, we'll face the devil!
There's a whole blog on Orchard House, so we'll just summarise here by telling you this is a tremendous blend of whiskies from the likes of Clynelish, Linkwood, and Benrinnes that won't let you down and looks beautiful. 
Scots serve: The Tam O'Toddy
The perfect winter warmer and an ideal treat if you're staying in this year, this Hot Toddy is made by filling a heat-proof glass with boiling water and letting it stand for 1-2 mins to warm. Empty the mug and half-fill with 150ml of boiling water. Add 50ml Compass Box Orchard House, the juice of half a lemon, ¼ tsp ground cinnamon, ¼ tsp ground nutmeg, 1 cinnamon stick and 2 cloves (slightly ground using pestle and mortar) to the glass and stir. Garnish with a slice of lemon and a cinnamon stick. Serve with the words of epic Tam O' Shanter to stoke a fire in your heart in tandem with the Toddy.