Our New Arrival this week is Orchard House, the newest core offering from Compass Box and the first to be made with whiskies entirely laid down by the bottler/blender. We tasted it with founder John Glaser, and found out how it earned its name.
It's as idyllic as a Zoom tasting could be – held on the autumnal equinox, and John Glaser is sitting in what was to be the last of the summer (or is it autumn?) sun in his garden, chatting us through a momentous new release for Compass Box called Orchard House. 
Whisky Exploder
Glaser likens what he's doing to the Song Exploder podcast, where each episode a musician takes apart their song, and piece by piece, tells the story of how it was made. He wants to create Whisky Exploder, and get whisky-makers to take you through the inception and creation of a whisky – you heard it here first. This won't surprise those of you who are already familiar with Compass Box however, as it's long been a champion for transparency within the whisky industry. 
The origins of Orchard House began in 2018, when Oak Cross, a long-standing blended malt, was going to lose one of its key ingredients due to stock issues. Glaser and fellow whiskymaker James Saxon couldn't lay down the whiskies in time to create an exact replacement for Oak Cross. "It's not trying to be Oak Cross," Glaser is quick to note, but it was in trying to replicate Oak Cross that Orchard House was born. Eventually, the team gave up on trying to get a replacement, and instead ran with the fruity spirits they were finding along the way.
It's all about distillery character
Orchard House is a "spirit-forward, fruity style" with the vanilla pastry cream, light oak character that you get from American oak allowing each spirit's distillery character to evolve over time, too. New oak maturation and sherry bombs are all over the place now, Glaser notes, but he believes that distillery character ought to be at the forefront of the flavour profile. 90% of the whisky is matured in first-fill ex-bourbon barrels, which allow exactly that.
It's a big step for Compass Box because Orchard House is the first release from the bottler to be wholly made with whiskies that were laid down and entirely matured by Glaser and the team. The core is made up of "perfumed, what the industry calls waxy" Clynelish and fruity Linkwood. Benrinnes comes in as a hefty support, "adding a bit of weight". There's also a decent percentage from a distillery in the town of Aberlour – he's not allowed to say exactly which distillery, but it's completely sherried, and described by Glaser as 'meaty', so you can probably work it out. There's also a minimal amount (just 2%) of Caol Ila bringing a smoky depth to an otherwise very bright, fresh spirit. 
We can see this being a brilliant whisky to introduce people to the spirit, as it's approachable while still packing in a lot of flavour – though that's not to say seasoned sippers won't enjoy it too. Unsurprisingly, given its orchard-forward flavour profile, it's apparently a wonder with cheese.
In classic Compass Box style, the label is something to behold. It was inspired by the work of a pair of Californian artists who go by the name Fallen Fruit, and is a pretty accurate visual representation of what you can expect from the whisky within the bottle. Stranger & Stranger created the finished packaging, a firm that Compass Box has been collaborating with for around 13 years now. 
This marks the start of an exciting future for Compass Box. Glaser is thinking long term into the next 10 and 15 years, laying down whiskies with future core products in mind – Orchard House is just the beginning!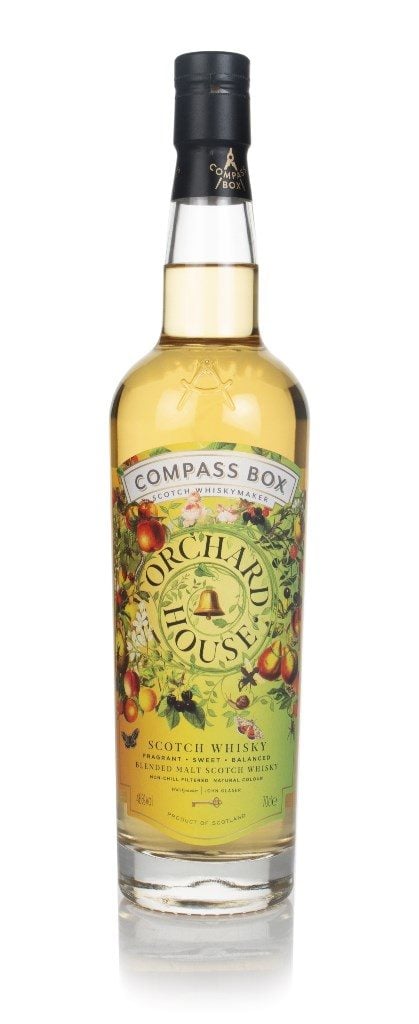 Tasting Note by The Chaps at Master of Malt
Nose: Fresh green and red apples almost hit you in the face, living up to its name. Underneath there's notes of grainy pear skin, bright lychee, and a faint hint of aromatic smoke.
Palate: Sweet and bright. Tart apple is balanced by pineapple, golden syrup, buttery pastry, with that subtle peat smoke appearing underneath. 
Finish: Creamier on the finish, with vanilla buttercream and fresh fruit lingering.
You can buy a bottle of Compass Box Orchard House here.