After the success of its first Australian whisky series, That Boutique-y Whisky Company (TBWC) is back with another selection of beauties from 'down under'.
Australia has a colourful and rich distilling history, which you'll remember if you read our last blog post in what has become a series. Yes, TBWC is revisiting the land of crocodile hunter dynasties and chicken salt, bringing the best and brightest whisky to your attention as it does so dutifully each year across so many categories and nations. 
Kicking off 2023 in style, there are a few familiar faces, a 'return to Oz' yellow brick road on the label, and some exciting newbies. There's no shortage of places to shop around right now, with Australia boasting 318 distilleries in operation producing whisky, gin, vodka, rum and other spirits. That's up from 294 when TBWC released its first collection in 2021. 
Obviously, the focus here is on whisky (ish, you'll see what we mean), and there are a few things to bear in mind when talking about Aussie whisky. One, whisky is aged for a minimum of two years in wood (the law doesn't specify oak). There are two releases in this cohort that we can't call whisky here, but in an Australian sense very much are. Make sense? Two, the category has its own variations of sherry and Port-style wines. The former is known as Apera, and its casks are widely used in maturation, while the latter is called Tawny, slightly confusingly for fans of the fortified wine. These barrels are also used to age whisky.
The Return to Oz Series 2023 releases
This release consists of eight single malts (well, six and two 'spirit drinks'. Sigh), one rye whisky, and an Australian brandy (see? 'ish'. They snuck a brandy in). If you recall, the first collection of Australian whiskies had the Southern Cross constellation theme running throughout the collection of labels, as well as lark on each label. That was to honour the 'godfather' of modern Australian whisky, Bill Lark. But TBWC has chosen a new theme here, employing the ever-talented Emily Chappell to create six brand new labels to tell stories from the distillery and distillers themselves.
That theme is: "crikey, Australia's bloody scary with all them insects, reptiles, and swimming knives, isn't it?!". This is to say that the releases in the Return to Oz collection feature a deadly animal that can be found around the area where each distillery is located. Among the most scary are the funnel-web spider, tiger snake, saltwater croc, great white shark, drop bear, and Rick Ponting. At least, a framed photo of him (that's Ponting, not the drop bear). 
You'll also be aware that every TBWC is accompanied by a complementary series of Boutique-y Rum. It's safe to say Boutique-y Pete (or Peter Holland, to those who describe rum by colour) was on top form here, selecting three Australian rums, and a fourth that you may have come across before from Thailand. Head over to TBRC's site for more on that! There's also the customary range of Scotch whiskies TBWC gives you as a little new series bonus, which is made up of the following: Blended Whisky #3 26 Year Old, Invergordon 25 Year Old Batch 22, Craigellachie 13 Year Old Batch 13, Glen Elgin 16 Year Old Batch 7, Macduff 21 Year Old Batch 9, and Caol Ila  6 Year Old Batch 22. Some bonus, that.
The new collection
Anyway, let's get to the reason you're all here. To see some delightful new Australian whiskies. Each features a tasting note from Boutique-y Dave himself and all are available from Master of Malt, just click the product's name and it will take you to the product page. Nice and simple.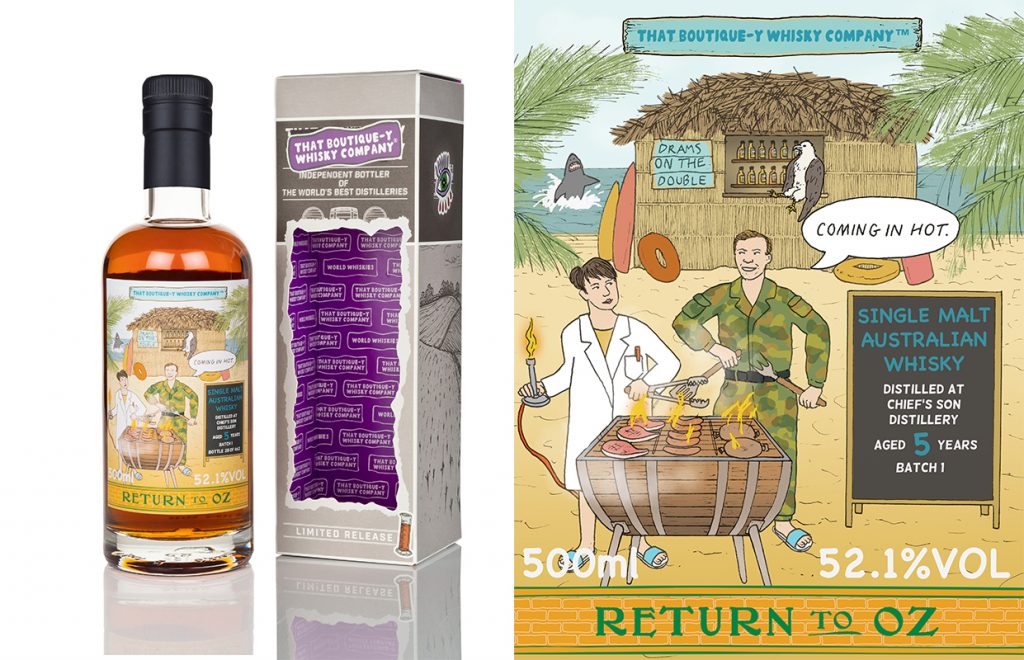 Who are they? The distillery, located on the Mornington Peninsula, near Melbourne, Victoria, was founded by husband and wife, Stuart and Naomi McIntosh in 2016 after an inspiring trip to Scotland. The distillery is named Chief's Son after the Scottish Gaelic name for McIntosh, Mhic an Tòisich, or 'son of the chief'. This really is a micro-distillery, with an annual capacity of just 5000 litres! Their wash is sourced from the nearby Mornington Peninsula Brewery, and they have just one 4,000 litre capacity, electrically heated still. 
What have we got here? TBWC's Chief's Son is a 5-year-old single malt whisky that's been matured in an Apera cask.
What does it taste like?
Nose: Rich, malty, and with a wood char smoke note drifting in and out. Cedar wood cigar box, toffee apples, cherry Tunes, with just a hint of liquorice too.
Palate: A rich, mouth-filling whisky. Burnt mint toffee, stewed plums, oak spices, and some soft earthy peat too.
Finish: Medium length with spices and a gentle smoke.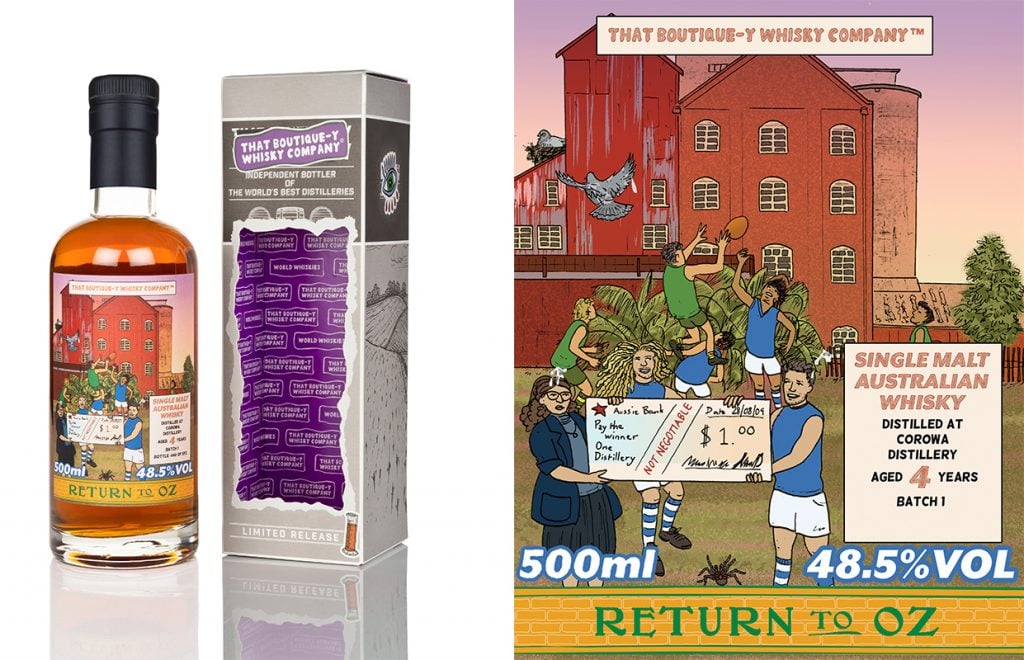 Who are they? Corowa is surrounded by the Rutherglen wine region, home to many fortified winemakers and the source of many of Corowa's barrels. The area north of Corowa is a renowned grain-growing region, and the founder's grandfather is a pioneer of organic grain farming in Australia.
What have we got here? This Corowa is a 4-year-old single malt whisky that's been matured in a Tawny cask. 
What does it taste like?
Nose: Toasted granary bread with a rich dark marmalade note. Dark Chilli Chocolate, with some woody spices. 
Palate: The rich dark marmalade comes through on the palate, a sweetness balanced by bitter dark chocolate, sour cherries, and oak spices
Finish: Chocolate lingers in the spicy finish.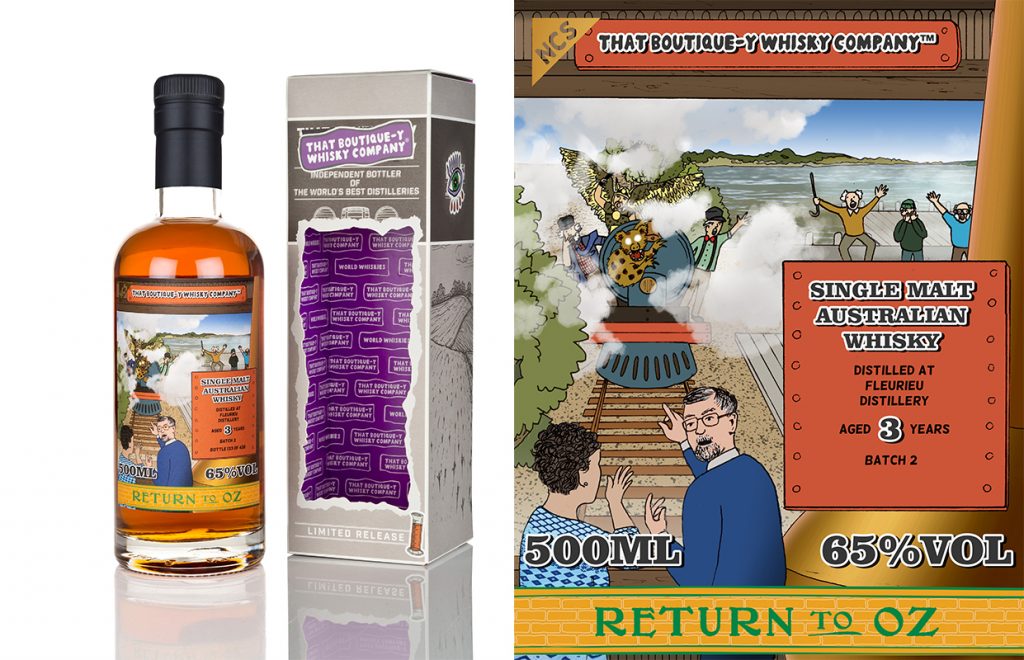 Who are they? A welcome return to Fleurieu, which is located around an hour south of Adelaide and run by husband and wife team Gareth and Angela Andrews. They have a great following in Australia. Being ex-brewers they work with a variety of malt types, including some which are commonly used to brew real ales.
What have we got here? The second cask from Fleurieu is one of the Andrews' peated malts. It's been matured in an Apera cask named "Mary Ann Watkins". It's a 3-year-old that TBWC bottled at natural cask strength.
What does it taste like?
Nose: Sweet plums, dark toffee, roasted nuts and hints of gentle smoke and sweet iodine peat.
Palate: Deep raisin and fig sweetness, lead to a briny coastal, umami, maltiness. Sweet smoky toffee, dried fruit, and hints of roast nuts and spicy oak. 
Finish: Sweet, spicy, and lingering smoke that slowly fades.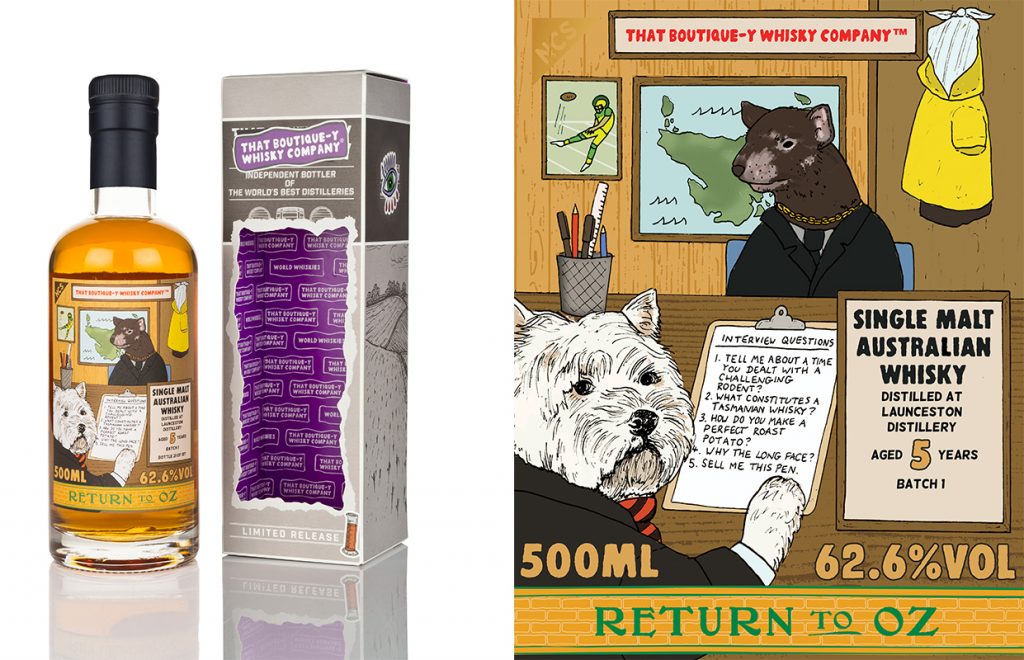 Who are they? This Tasmanian distillery is located in the historic Hangar 17 at Launceston airport. Built in 1932, Hangar 17 is the oldest surviving aviation building in Tasmania. It was used as a passenger departure point until the current terminal was built in 1968.
What have we got here? Local ingredients, local people, local production. Everything is matured in Hangar 17 too. This Launceston is a 5-year-old single malt that's been matured in a bourbon barrel.
What does it taste like?
Nose: Custard cream biscuits with hints of green banana and charred pineapple.
Palate: More sweeter banana notes with caramelised brown sugar, and a spicy, leafy herbal note.
Finish: Medium length, with a lingering vanilla sweetness.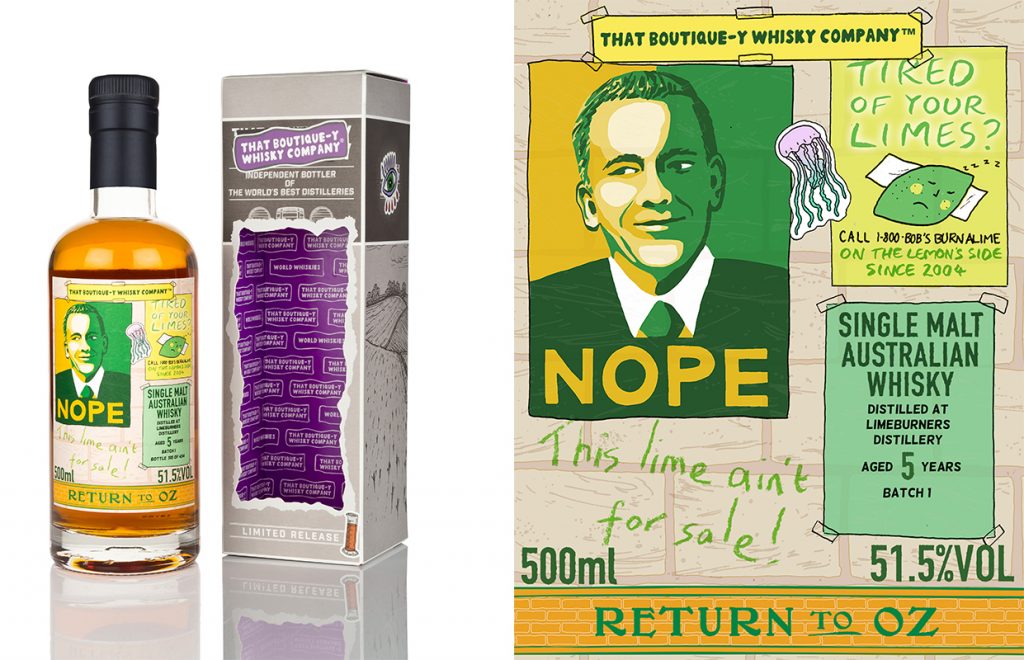 Who are they? The Limeburners Distillery is in the southwestern corner of Western Australia, in the Margaret River region. The area is famous for wine production and also hosts an annual event of the World Surf League. The site was chosen for its cool climate and access to high-quality water.
What have we got here? It's another small distillery, with an annual capacity of just 120,000 litres of pure alcohol a year. This Limeburners is a 5-year-old single malt, that's been matured in a Pedro Ximénez Apera cask.
What does it taste like?
Nose: Rich and Oily. With raisins, dark molasses, and maraschino cherry syrup. Some savoury notes too; ancho pepper and bitter dark chocolate, with just a hint of lavender.
Palate: Rich and weighty, but beautifully balanced. Velvety dark chocolate, mole sauce, black cherry and tobacco notes.
Finish: Long, with lots of rich chocolate notes lingering, until that lavender note returns.

Who are they? Overeem was the first Australian distillery TBWC  bottled, with two small batches released back in 2015/16. Founded in 2007 by Casey Overeem, Overeem was the fourth-ever whisky distillery in Tasmania. Casey taught his daughter Jane how to distil, and she shadowed him at shows. In 2020, much to the whisky world's surprise, Jane and her husband Mark announced they'd reacquired the Overeem brand from Australian Whisky Holdings, and Casey is continuing as a casual brand ambassador for the new venture.
What have we got here? So Overeem is back! With a solid pedigree behind it, there's a new hope. This Overeem is a 5-year-old single malt whisky, matured in an Apera cask.
What does it taste like?
Nose: Rich dark chocolate, dried fruits, plums and raisins, with notes of hazelnuts, nutmeg and cinnamon, and just a hint of mint coming through the chocolate. 
Palate: Viscous, bold, intricate and incredibly well-balanced. Dark chocolate leads hazelnuts and raisins, followed by peppery spices.
Finish: It's a deliciously long, spicy finish.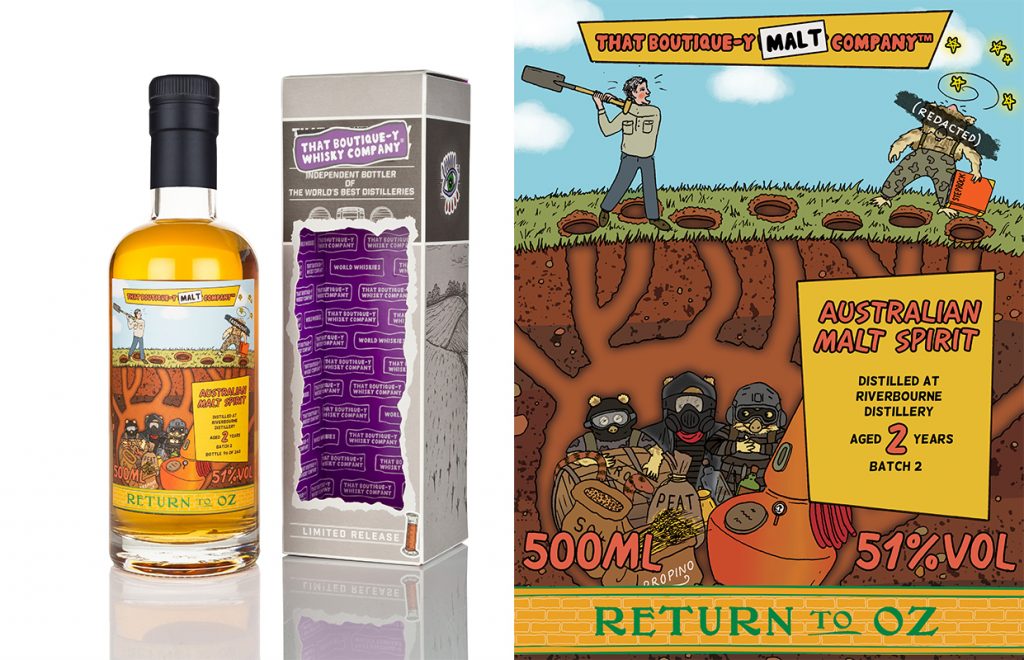 Who are they? Another welcome return from the first series. Riverbourne, located 60 km southeast of the capital Canberra, is run by Australia's oldest distiller, Martin Pye. Two types of barley are predominantly used, heavily peated Scottish malt, and a local malt from Australia. The casks are sourced from an Australian cooperage called Roll Out The Barrel, ROTB manufactures casks from recycled wine staves, stripped and charred in a similar process to STR.
What have we got here? The second cask TBWC has got from Riverbourne, one that uses that heavily peated Scottish malt, and has been matured in a 'Roll Out The Barrel' 100-litre cask, made from American and French oak staves. This is one of the 'spirit drinks' as it was bottled at 2 years old. Whisky in Australia, but not in the EU. What fun.
What does it taste like?
Nose: There's an immediate iodine hit, slightly earthy, and medicinal too, but softens to reveal heather honey, and hints of tangerine creams.
Palate: Big, and chewy! With waves of sweet smoke, candied citrus, and creamy vanilla toffees, followed by some earthy peat with a pinch of salt.
Finish: Long and lingering, with a salty quality to the earthy peat smoke.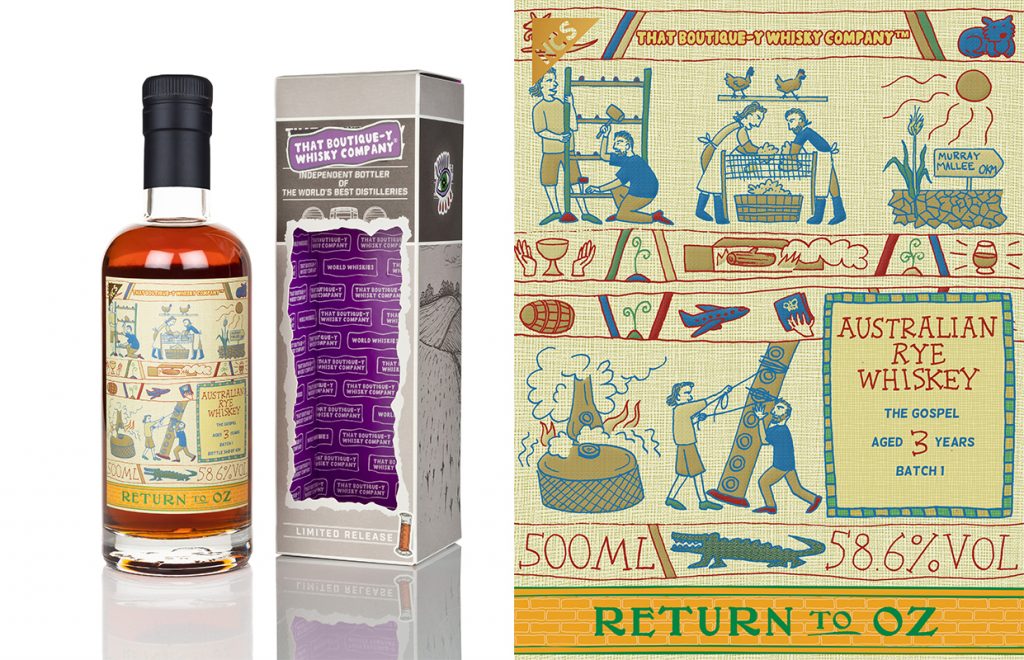 Who are they? From a distillery set in the backstreet's of Melbourne's eclectic Brunswick neighbourhood, a three-year-old Australian rye whisky, started life in a new American oak cask, as would be specified for a US rye whiskey. However, this cask has been given an Australian red wine cask finish which adds a very fruity dimension!
What have we got here? A whisky distilled from a mash bill of 51% Australian unmalted rye, and 49% malted barley, which has been cultivated and nurtured by a single farmer in the Murray Mallee region of South Australia.
What does it taste like?
Nose: Buttery dark rye bread, with hints of spice and light toffee, all with an underlying cherry compote note.
Palate: More rye bread notes, with caramel vanilla, sweet allspice, clove, pepper and rich red fruit.
Finish: Dry and lingering. Dried red fruit and crème caramel, with woody spices.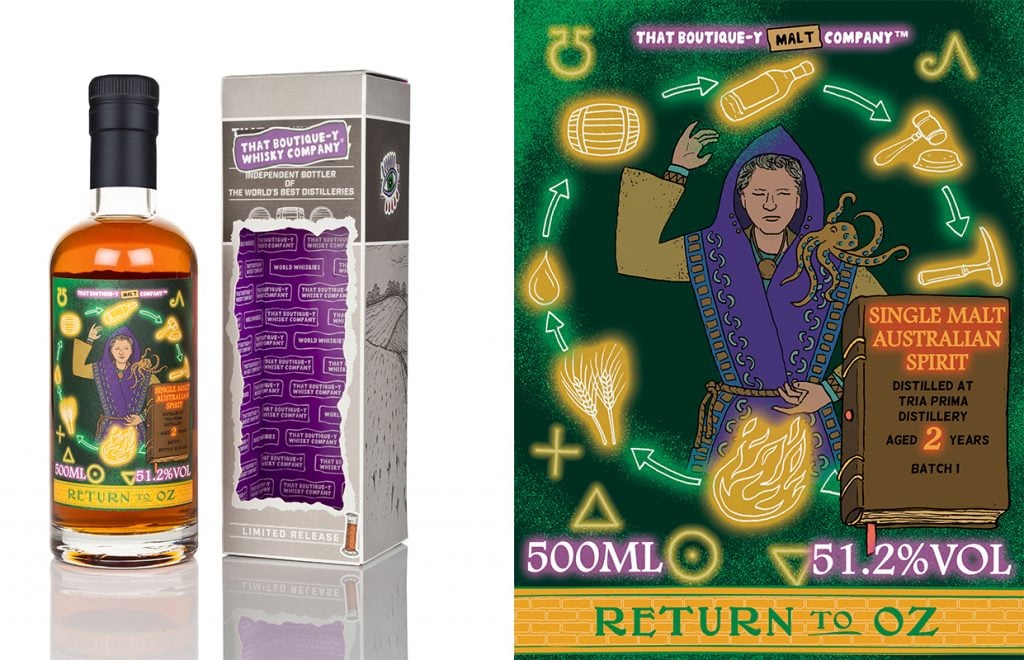 Who are they? The Tria Prima nano-distillery is run by Brit, and Boutique-y Whisky fan Paul Shand, and his wife, Trang. In 2017 they founded their distillery in Mount Barker up in the picturesque Adelaide Hills, launching their whiskies in 2021.
What have we got here? A 2-year-old single malt, the first independently bottled Tria Prima, and again a 'spirit drink' that is a whisky by Australian definition. It's been matured in a first-fill, Grant Burge, Tawny (Aussie Port) cask.
What does it taste like?
Nose: Rich and fruity; plum and apricot with dried fruits; sultanas, raisins, and peel. Sweet caramel toffee with a nuttiness coming through.
Palate: Rich and mouth-filling. Again, quite fruity, with figs and dried plums leading to a high cocoa-content dark chocolate. There's a spicy savoury note too, balsamic-BBQ sauce-like.
Finish: Medium length with fruit and nut chocolate, turning dry.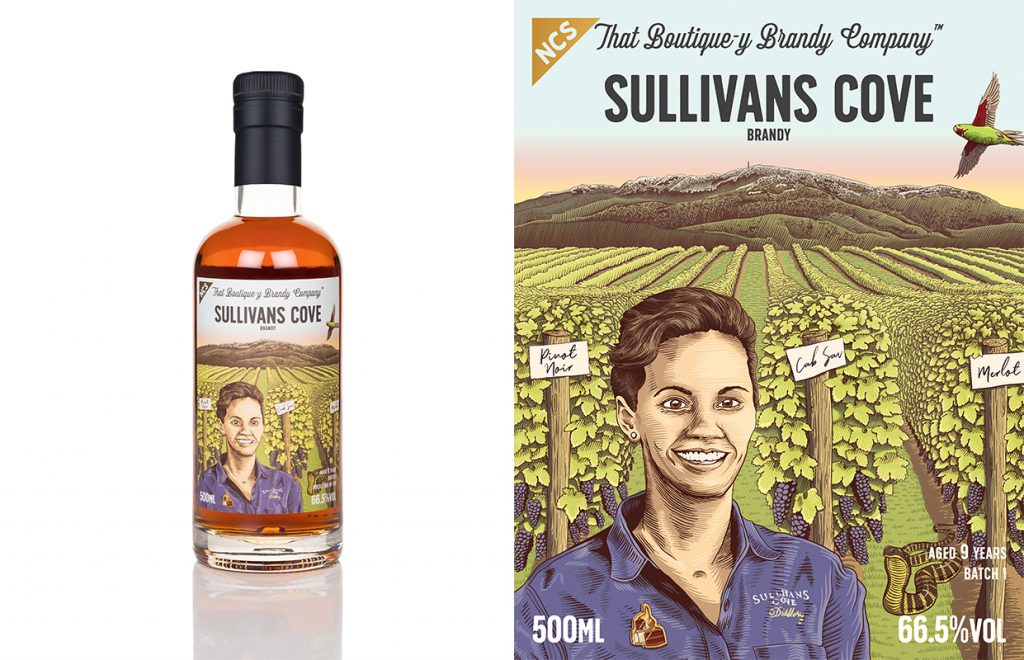 Who are they? Sullivans Cove in Tasmania could hardly be further from Scotland, but in double-quick time it has established a record that most distilleries around the globe would envy.
What have we got here? You wait almost 10 years for That Boutique-y Brandy Company to come along, and then two get presented in quick succession! This time it's a brandy from the much-lauded Sullivans Cove Distillery.
What does it taste like?
Nose: An incredibly rich, dense nose. Loads of aged brandy notes, spicy oak, wet earth, baking spices, and maple syrup. Lots of dried fruit, too; currants, figs, apricots and prunes. Spices; clove, liquorice, and a hint of black cherry pipe tobacco.
Palate: Sharp spices, rich and sweet oak, toffee and dark chocolate, light wood smoke char, and a really nice rancio.
Finish: Deep and long-lasting. Rancio, lots of dried fruit, light smoke, and even some dark chocolate.