Earlier this year we introduced you to dynamic English whisky distillery, Spirit of Yorkshire. To pacify impatient fans (ourselves included!) as its single malt comes of age, the independent producer has released a one year old blended spirit. We called whisky director Joe Clark for the lowdown…
Spirit of Yorkshire has stirred excitement among whisky fans since it fired up its stills in May 2016, and with good reason. Headed up by experienced brewer, farmer (and now distiller) Tom Mellor and longtime friend David Thompson, the "grain-to-glass" operation is as localised as it gets.
Mellor grows the barley for the whisky on his 350-acre farm, before milling, mashing and fermenting it at his own Wold Top Brewery, just two and a half miles from the distillery. All the water used in production is sourced from chalk aquifers below his farm.
Spirit of Yorkshire is kitted out with a wash still, a spirit still, and a four-plate column still. The team distill using the wash and spirit stills for six months of the year, employing the column still for the remainder to produce two distinctly different new-make styles.
Under the guidance of the late, great Dr. Jim Swan, the team set about filling all manner of casks, including his pioneering cask type – a reconditioned wine barrel referred to as 'STR' (sherried, toasted, roasted).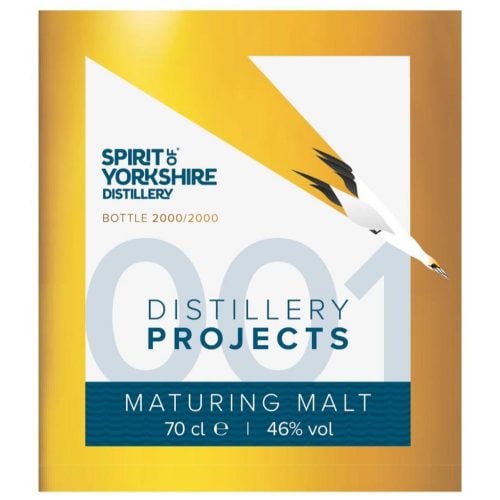 Up close and personal
Now, just seven months after opening its doors to the public, Spirit of Yorkshire has kicked off its Distillery Project range. "Maturing Malts are the forerunners to our whisky," explains Clark. "We're just offering a nice little glimpse into the warehouse and what's going on in the casks that we've laid down earliest."
So, what's in Maturing Malt 001? It's made up of liquid from five casks that were filled in July and September 2016: a first-fill fino sherry hogshead (column distillate), a first-fill Oloroso sherry hogshead flavoured with Seville orange peel (column distillate), a reconditioned STR wine cask (pot distillate), and two first-fill bourbon barrels (pot distillate).
Why now?
It turns out everyone's just really, really keen. "People are getting to the end of the tour, tasting samples of our one year old and going, 'So, er, can I buy this?' and we had to say no!". Clark laughs. "Honestly, people were genuinely getting annoyed!
"It was never an intention to release one year old, two year old spirit, but the maturation cycle we've got has been quite quick. They're tasting good, so we thought, 'Let's go for it'."
Flavour-wise, it's said to be "rich, sweet and spicy" with notes of baked apples, vanilla custard, butterscotch, cinder toffee, Battenburg cake, candied almonds and orange peel.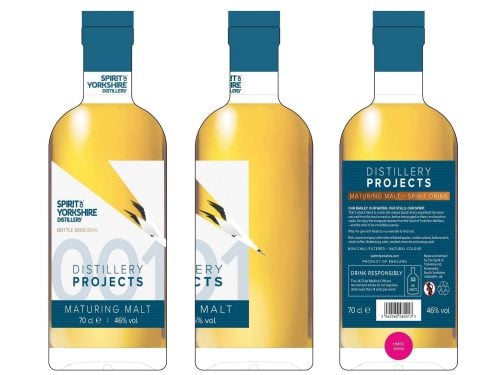 What the bottle will look like if you roll it along the ground
"It is still young, so it does have that prickliness to it, but flavour-wise it's very, very fruit driven and really quite impressive for its age," adds Clark.
The team are looking to unveil the next Maturing Malt release "potentially in spring next year. And then another one going through into the winter," he says.
Better still, they'll keep releasing them until their inaugural whisky has come of age. Huzzah! Until then, Maturing Malt 001 is here, and it'll be ready for delivery (or collection, depending on where you are in the world) in early December.