Cognac has the complexity, personality, history, innovation, and value to make it a great alternative to whisky. And these bottles prove it.
One thing whisky lovers understand is the joy of a great spirit. A humble-looking liquid in a glass that contains an entire world of culture and craft. But whisky doesn't have a monopoly on greatness in the spirits world, and with its ever-increasing cost, we're aware people are increasingly seeking alternatives.
Cognac makes for a great one. Ironically, part of the making of whisky as a category was actually how it was seen as an affordable, available, and capable alternative to Cognac, particularly in the wake of the phylloxera epidemic that destroyed most of the vineyards in France in the late 19th century. 
But these days Cognac doesn't quite get the spotlight it deserves. With individuality, variety, scale, value, and culture to rival any, that's surely due for a change. Whisky fans may have a perception that's all light and fruity, too delicate and floral for a whisky lover's palate. But that's simply not the case.
That's we've split this list into two categories, first three Cognacs that are on the experimental side when it comes to cask selection and maturation, an art whisky fans will be only too familiar with. Then there's three spirits that demonstrate great provenance and personality, proving the point that whisky is not the only distinctive spirit that can represent the place it's from and amaze with its complexity.
Here are six Cognacs for whisky lovers.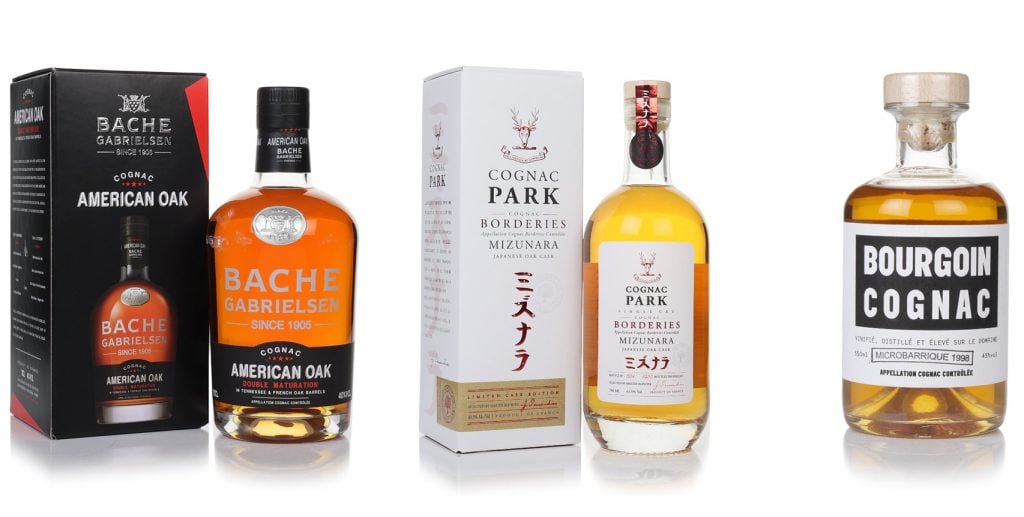 Cognac for cask lovers
Using American whiskey barrels for secondary maturation is the bedrock of the whisky industry, but the practice is also used by Bache Gabrielsen. Its American Oak Cognac is a great intro to the spirit for whiskey fans, thanks to its finish in new American Tennessee oak barrels for six months, bringing a wealth of creamy vanilla and coconut as well as oily toasted nuts.
How does it taste?
Notes of creamy coconut and oaky vanilla, with oily toasted nuts, chocolate-coated raisin, and a tang of passion fruit.
We've seen a few Mizunara-aged whiskies in our time, but a Cognac, well, this is intriguing! Cognac Park produced this bottling with grapes grown exclusively in the clay soil vineyards of Cognac's tiny Borderies cru, but that's not what you really care about. No, it's that six-month finishing period (part of a larger four-year maturation) in Japanese Mizunara oak casks, a rare variety prized by distillers, in particular Japanese whisky makers, for the spiced, nutty profile it imparts. 
How does it taste?
Orchard blossom opens the way for floral grapes and hints of violet sweeties. Honeyed plums and roasted hazelnut arrive bringing notes of praline alongside softly nutty oak.
This Cognac ticks a lot of boxes. It's from a small, exciting, independent producer. It's a vintage XO. AND it was treated to a finishing period in a ten-litre micro-barrel that had been heavily charred with a flame, a technique referred to as crocodile heating. Splendid for sipping and an excellent choice for whisky drinkers who are looking to branch out.
How does it taste?
Tropical notes of pineapple fritters, barbecued plantain, and mango bring gentle funk, balanced by rich oaken vanilla with a buttery finish.
Provenance and personality
We love this 2017 release from Martell. It's a VS Cognac made with spirits distilled exclusively at one distillery, rather than using eaux-de-vie from a selection of Cognac-based distilleries. The result is a richer, more intense style of spirit that should appeal to whisky fans.
How does it taste?
Juicy plum and prune, with waxy lemon and lime peels in tow.
Fanny Fougerat is from a family of producers who sold eau-de-vie to the big houses but she did things differently, creating her own brand to showcase the unique nature of each vineyard and harvest, a terroir-led process that focuses on making great wine as a priority and means never blends her spirit. Le Laurier d'Apollon was made using eaux-de-vie from the Petite Champagne region and only five barrels were chosen to create the blend.
How does it taste?
Fresh pear and apple, subtle cedar, vanilla pod, plum, almond, clove, ginger, buttery biscuits, and a hint of blackberry leaf.
Old, refined, and great value Cognac here that we bottled up ourselves, and we know a thing or two about what whisky lovers enjoy. From Brugerolle, this beauty was rested for 19 years in a French oak barrel and represents a choice for those who fell for whisky because they love the finer things in life. This is as complex as a single malt and affordable compared to many small-batch, independent bottlings you would find in the whisky world. 
How does it taste?
Hearty oak, heaps of cooked orchard fruit – apples, plums, and pears, and vinous pressed grapes, with vanilla cream joined by flakes of buttery pastry shrouded in leathery oak and woody, tannic spice.