Ben Ellefsen returns with another haul of Master of Malt exclusive bottlings including three from secret distilleries, five from Speyside, something English and something unusual from Canada. And if you've wondered why some distilleries want their identity to remain secret, then read on…
Well it's Thursday again already. How on earth did that happen? As promised – we've got another load of delicious whiskies for you, and as the nights get darker and the temperature drops, thoughts turn inevitably to snuggling up by the fire with a box set and a healthy measure of something delicious. 
Why the big secret?
This week we've got no fewer than three separate whiskies that come under the banner of 'secret bottlings', so I thought I'd take a moment to discuss why, and how this benefits you, us, and indeed the distiller / blender who are ostensibly being so secretive. 
Imagine for a second that you are a distiller. A reasonable-sized one. You've spent 200 years or so building up sales of your single malt to consumers across the globe, navigating through cycles of boom and bust, successfully protecting your brand through many periods of unrest and crisis. Consumers come to visit your distillery, you've made it super-appealing – a genuine brand-home. Invariably when these consumers come to visit the home of their favourite malt the stills are running full-chat – churning out millions (in many cases tens of millions) of litres of whisky per year. There is a secret lurking in all this productivity and industry though. Your brand (and I'm making an important distinction here between brand and production capacity) is nowhere near that big. Chances are that you are sitting on somewhere in the region of a 100% surplus. 
In an ideal world
In an ideal world you'd sit on that stock, wait for it to get nice and old, and then sell it for a pretty penny. That's not practical for all of it though for a couple of reasons. Firstly there's the issue of the cost of money. Borrowing isn't always cheap (and don't we just know it at the moment), so even in a business like yours which thinks generationally – you need that stock to get moving in order to generate a return. Second issue is potentially a trickier one: saturation. 
As much as it's theoretically brilliant to have warehouses full of 21 year old whisky to sell under your brand, because you get to charge hundreds of pounds a bottle for it, the reality is that the number of consumers for a whisky of that age (and price) is inherently limited by the number of people who have enough disposable cash. But in order to maximise returns from your older stock, you can't sell it off at a reduced rate as that would make your entry level bottling (which is where 95% of your volume comes from) look over-priced compared to the old stuff. And you risk losing the halo-effect of that pricier and highly-aspirational bottling, impacting the sales and market position of the entry-level workhorse. Complex all this isn't it? 
So what to do about it?
Well, even ignoring the effect of the perennial boom/bust cycle, you've still got an excess of inventory to move and you're probably going to sell it to blenders or brokers. There is a nightmare scenario here for you though: the stock you sell off in order to balance the books comes back to haunt you in a decade or two's time. It pops up as an independent bottling which is released by some enterprising young folks or other at a significant discount to your own equivalent bottling. This is potentially a bad thing*, as it eats up some of your loyal high-spending consumers and limits the amount of that halo-stock in the market.
So to protect against this happening, you do one of a couple of things: you sell the stock with a caveat prohibiting the purchaser from naming the distillery it was produced at, or you teaspoon the stock (put literally a teaspoon of another single malt in, so changing the category to 'blended malt') to remove the ability of the bottler to call it single malt (whilst leaving the blender for whom it was initially intended unaffected).
Who wins?
Whichever of these routes you choose, you secure your ability to protect your brand from those pesky independent bottlings. Win*.
We, as the bottler, can get our hands on the stock instead of it making its way into the huge multinational age-be-statemented blends, and can bring them to you at a tiny fraction of the price of an equivalent single malt (or close as dammit single malt in the case of teaspooned stock) from the brand in question. Win.
You, as the consumer get to purchase extremely well-aged and delicious malts at prices which would be unthinkable were you to look at the brands' original bottlings. Win.
Dropping hints is sometimes allowed
You'll notice that we are quite variable in our levels of tight-lippedness about these secret bottlings and this is with good reason. Some distillers are absolutely fine with their malts being named; a new consumer for their whisky is a new consumer, and they take the view that recruitment is recruitment. Some are very much at the other end of the spectrum, and will protect the source of the liquid at all costs and with very scary legal folk if needs be. Most sit somewhere in-between and a bit of well-placed discretion is the better part of valour. You can often find a pretty definitive answer as to where the liquid's from with a bit of digging (especially in the case of malts which come with a handy synonym such as 'Burnside'), and even when this isn't possible you can have an educated guess which will probably be correct more often than not. The key thing is that the people who are prepared to do the legwork here aren't really the ones that the brand seeking to protect itself / obfuscate the source of the liquid are bothered about. They understandably care about the other 99.97%. 
So, without further ado, welcome, the 0.03%, to this week's outturn: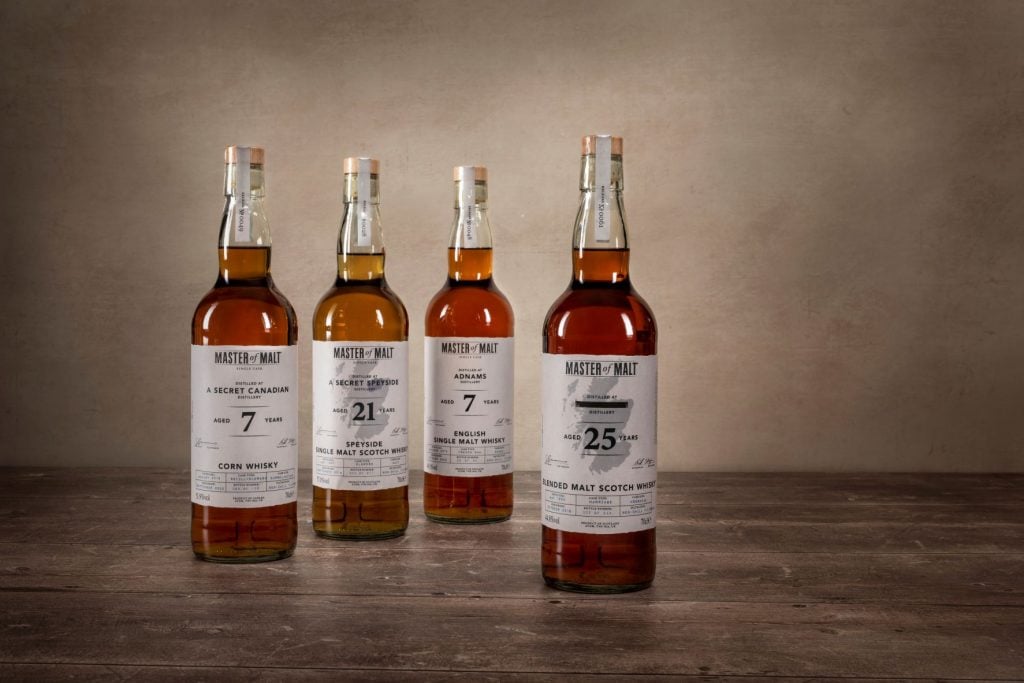 First up, we have one of those there secret bottlings. This is a 21 year old single malt, from the Speyside region, matured in a (comparatively relaxed) oloroso sherry butt. Expect silky-smooth spirit character augmented by lashings of dried fruit, tobacco and spice. Exceptional comparative, and absolute value. Bottled at 57% ABV.
Another secret one is next – this time a blended malt. Now we genuinely don't know a huge amount about this one; it came from a blender and was probably bound for a very well-aged blended expression before we managed to snag it. 25 years of age, with huge richness and depth from a wonderful marriage of different casks, we'd be shocked if there wasn't quite a lot of rum cask influence at play here. Bottled at 44.8% ABV.
The final secret bottling is a bit of a problem. A bit of an 'oh, I'm sure that bottle was full a few days ago' sort of a problem. Allegedly. This is a Canadian whisky, so think continuous distillation, very light spirit character, uncomplicated.  Where the traditional Canadian 'light and easy' formula takes a sharp left (or perhaps more accurately a tap of the brakes, a drop down into second followed by a 10 second powerslide to the left) is that it's been dumped into first-fill oloroso sherry octave casks (55 litres – tiny) for a final finish of a couple of years. The result is a depth and sweetness which arguably elevates it above the category of whisky. This really, really is worth trying. You'd be crazy not to, eh? Bottled at 51.9% ABV.
Next, a 49.1% ABV 7 year old single malt English whisky from Adnams Distillery up in Southwold. Seems like only yesterday that this distillery was the new kid on the block – do please delve into the blog that I wrote about their initial foray into the whisky world (I think this was an exclusive too!) a touch over 11 years ago. 11 years. 11. Eleven.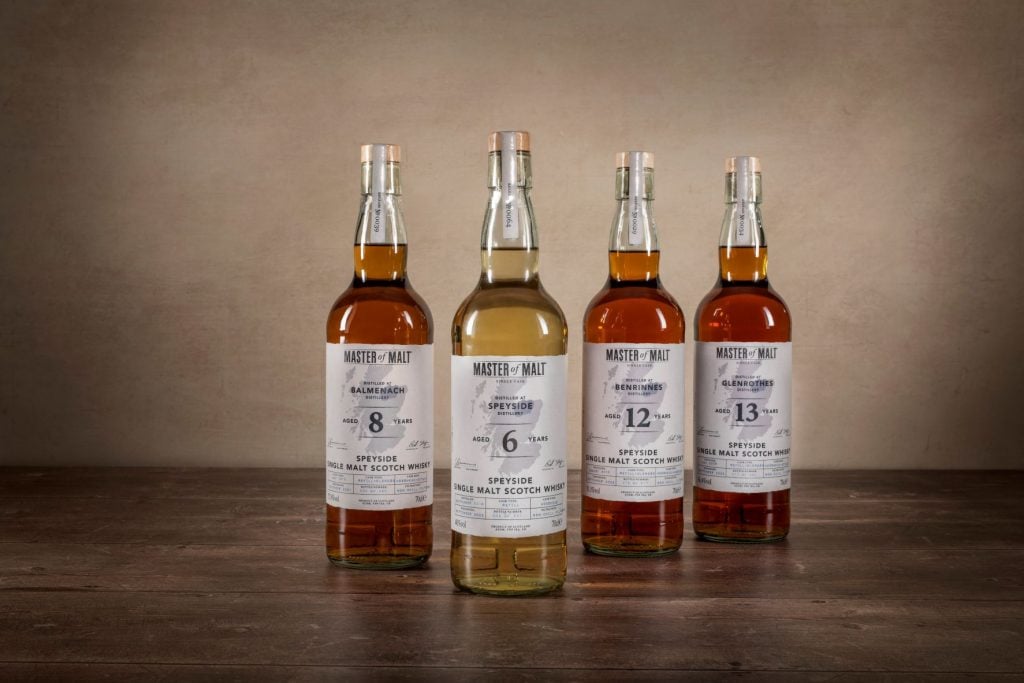 Next, an elevating run of Speysiders both in terms of age, ABV, and (at least to my nose) cask-influence. We start with a Speyside from Speyside Distillery no less, at six years old, and just a lick under £20. 40% ABV.
Moving up in terms of age and complexity (and also to a heady 57.8% ABV) with a good lick of sherry courtesy of a good finish in an oloroso octave cask  we have a Balmenach 8 year old. 
Up again both in terms of age, and cask influence is this Benrinnes. A deeply characterful new make from the word go, this has had a lengthy spell in a hugely active sherry hogshead, and is brimming with Christmas spices, leather and tobacco. Bottled at 51.5% ABV.
Finally in our run of Speysiders, and for this week is a Glenrothes at 13 years of age, finished in (you guessed it) oloroso octaves for superb richness and depth. Sherry really, really does make things all very nice doesn't it? Luckily we've got lots and lots of stock coming your way of this ilk. Must be Christmas or something. Bottled at 60.4% ABV.
Until next week then folks…
*Or, to take an alternate view, it's not a bad thing at all as it opens up a customer base that you didn't have to your distillery's particular profile, and you're delighted. Sort of depends on how big your brand is, what your market-share is, and how protective you are over your brand. This is why you'll see some distilleries as independently bottlings regularly, and others absolutely never.