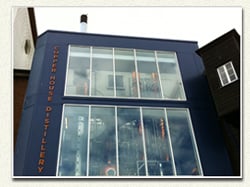 It all began a few weeks ago…
We received a brochure through the door at MoM towers from Adnams Brewery, advertising the range of wines they sell under their own label. More often than not, generic marketing materials such as this would end up swiftly filed under 'B', but in this instance, we had a quick flick through as Adnams are a pretty superb brewery, making one of our absolute favourite beers 'Broadside' – a 4.7% abv bitter that's arguably one of the best on the market in the UK. It was only upon turning to the centre page of the brochure however, that we came across something that made us do a double-take. A chuffing great Carl Still sitting in front of a huge window looking out over the beautiful seaside town of Southwold.
On the page, there were a number of distilled products advertised – a couple of nice looking Barley Vodkas, a couple of Gins, (all very well and good we hear you say, but there are no shortage of boutique-y gins and vodkas these days). And so to the point – there was one product in the line-up that stood out like a sore thumb – Oak Aged Vodka.
After we'd realised what we were dealing with, and the initial excitement had worn off, we made a call to Adnams' charming spirits rep. Simon, who informed us that yes, they had made some 'barley vodka' (The first distillation run was in October 2010) and yes, it was currently maturing away in oak casks in their cellars, and would we like to come up and have a bit of a look?
Erm… that would be a resounding 'yes' then.
Upon arrival, head distiller John McCarthy gave us a tour of the (computer-controlled, impeccably clean) brewery. The wash for the stills is made in much the same way as Adnams' beers, using the same yeast strains (Saccharomyces cerevisiae), local barley, and fermentation vessels (I was swiftly corrected for using the term 'Washback' – they're 'fermentation vessels' here thank you very much
).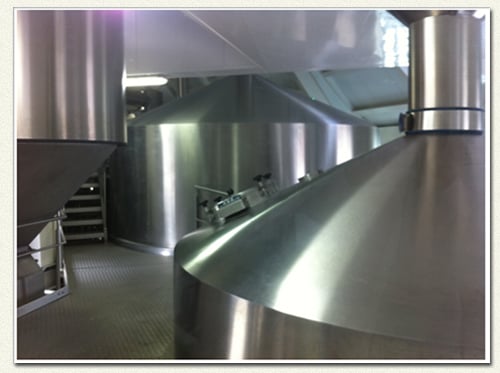 Production is in batches of c. 250hl, and once complete, is sparged using continuous water (as is prevalent in beer production) rather than first, second and third waters…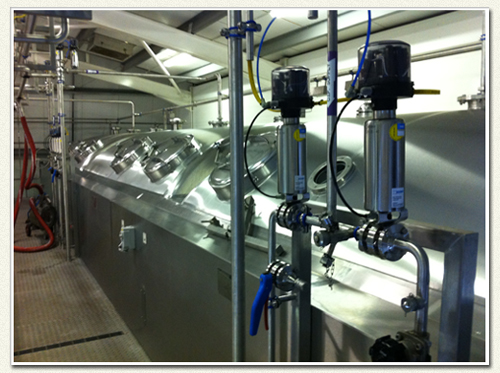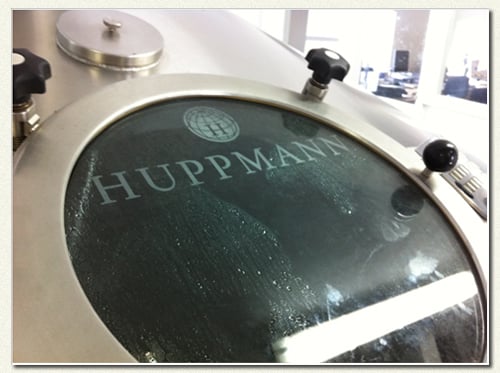 The fermentation is temperature controlled (23 degrees Celsius throughout), and is pretty much done in about 72 hours. The wash is then left in the fermentation vessels for (approximately) a further 4 days to ferment further and develop complexity. As Head distiller John puts it, "we're in no rush – we let the flavours develop fully". It would be wrong to compare the techniques used here with those used in those employed by more traditional distilleries (no temperature control, shorter fermentation times), as clearly the process wasn't designed for whisky, it was designed for beer, and then adapted to whisky production. There's no doubt however that John considers himself very lucky that he has the tools (and budget) available to make decisions about fermentation control and wash maturation time that really wouldn't be available to other distilleries.
We were offered several different spirits to try. Full tasting notes for the white spirits (exceptional in case you're wondering) are on the product pages here:
Adnams North Cove Oak Aged Vodka
Adnams Longshore Premium Vodka 50cl
One other spirit of note (not yet available) was the Broadside Ale 'Eau de Vie' (made by distilling fully hopped, fully matured Broadside Ale) – tasted fresh off the still. A distinctly hoppy nose, with a complex and unctuous palate, backed up by a sweetness that's carried through from Broadside's intense maltiness (Broadside only has bittering hops, no flavouring hops, so the effect is definitely a malty beer, rather than a top-note-heavy hoppy beer). A superb drink all on its own, but the plan is apparently to mature the spirit for a few months in brand new French Oak casks prior to release. Where do I sign for my case please?
Whilst we're on it – a word about casks… Most distilleries will fill the bulk of their product into re-used or re-built casks from the Bourbon industry (primarily because they're reasonably cheap at about £70 a pop). At Adnams, not a single bourbon cask has yet been filled. Every single run has gone directly into brand new casks made from either French or American Oak, with a medium-full toast (but untoasted cask heads). If the picture about the way the project is being approached isn't already clear from the description of the production process and still design, the fact that all the Oak is brand new is a pretty clear indicator of what's to come in tasting the product…
So – on to what we're all really interested in – the maturing spirit…
The distillery currently have a product for sale that offers a glimpse into the future – they're calling it 'North Cove Oak Aged Vodka'. We'll call it what it is – Grain Whisky (Wheat, Barley and Oats) that's been aged for 4 months in Fresh French Oak Casks. We've got our hands on the second, 4 month old batch of this (not indicated on the label, but it's got substantially more Oak influence than the initial batch) – and it's now available for you to buy [here]. See the photo of the difference in colour between the two batches for comparison below. Whilst this categorically isn't indicative of the English whisky that has been laid down, it is a very good way to try an Oak-Aged spirit from the same setup, a good year and a half before the initial single malt release.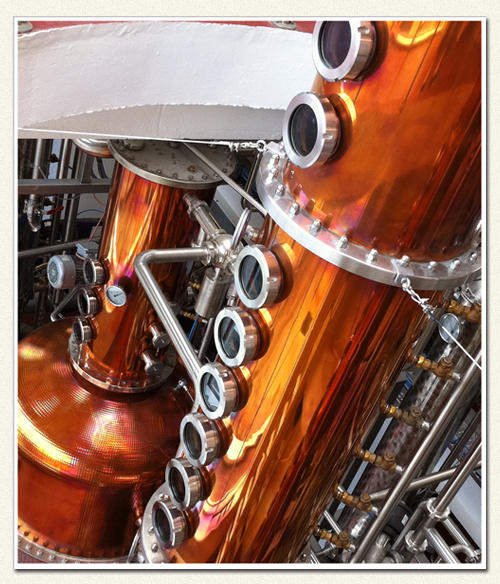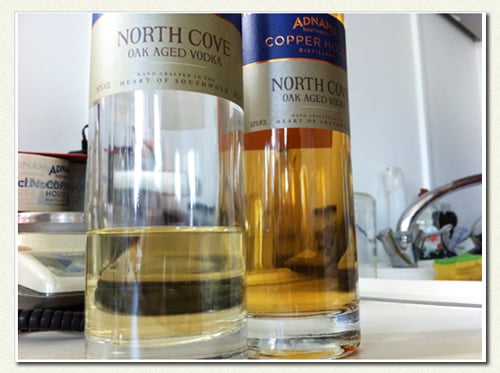 North Cove Oak Aged Vodka – 50%
Nose – Vanilla, Oak, Buterscotch, and a reasonable hit of slightly tequila-esque new-make.
Palate – Very, very smooth and creamy. It's tough to pick out any cereal notes, as the Oak influence is so dominant, but this is definitely no bad thing. The mouthfeel is incredibly creamy, and we can't help but wonder what this would be like in a Vodka Martini. Maybe deserves another post sometime eh?
Finish – Predictably, short and sweet. This isn't a complex whisky, it's more of a pleasing, lightweight snapshot of what's to come.
Overall – A superb glimpse into the future. It's worth remembering that the cost of the liquid that's been put into these casks pales in comparison to the cost of the casks themselves! This will certainly become a collectors' piece once the whisky is launched. Our advice? get in there now!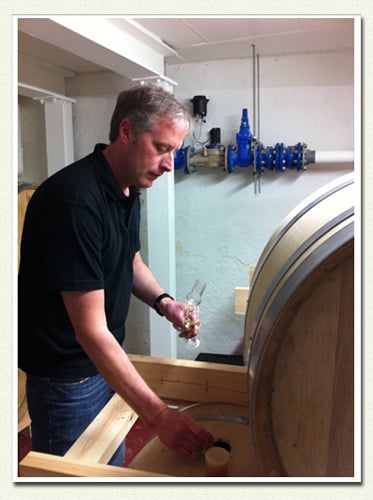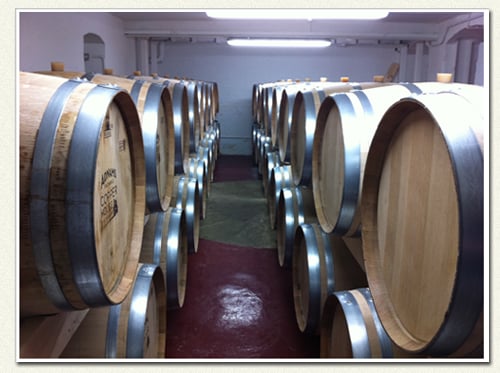 Copper House Whisky – French Oak Matured – 65%ish
 (sample taken directly from cask from the very first distillation)
Nose – first impressions are that this is a very good cask. Superb Vanilla and Butterscotch notes at the forefront (as expected from fresh French Oak), but with undertones of Red Apple and Chocolate (John got Kirsch-soaked Cherries, and we could see where he was coming from)… An absolutely first-rate nose.
Palate – In a word? Stunning. Even at all of 6 months old, it's big, bold and complex. Reminds us more than a little of some of the [very young Chichibus] released by Number One Drinks in terms of its massive, mouth-filling complexity at such an incredibly young age. We're assured that there will be no chill-filtration of the finished whisky, so all this flavour will remain in the final product. Smashing.
Finish – a reasonably long finish, especially for a whisky of only 6 months. No harsh notes at all, just a nicely balanced and full-bodied carry-through, with more of those Vanilla-rich Butterscotch notes developing (and turning slightly more Caramel-y as they tail off).
Overall – pretty darned special really. It's reasonably rare that we in the whisky industry will get to try a whisky after 6 months of maturation. New-makes? Sure… Whiskies after a decade or more? No problem… But rarely after only a few months in cask. We were pretty amazed at how quickly the cask characteristics had imprinted themselves on the spirit, and there's no doubt at all that Adnams are going to have a very marketable product come Christmas 2013.
Copper House Whisky – American Oak Matured – 65%ish
  (sample taken directly from cask from the very first distillation)
Nose – much more fruity, ester-y nose. Fewer Vanilla notes, and more of that Red Apple, Orchard Fruit character. Slight hint of white-wine (put us in mind of a good mineral-rich Riesling), and a good amount of Coconut towards the back of the nose. A little touch of Liquorice Root too?
Palate – definitely not as far along the maturation curve despite being filled from the same distillation run as the French Oak sample. More of the Orchard Fruits, but perhaps slightly under-ripe? A decent level of astringency too. Rather like taking a bite into an unripe plum.
Finish – shorter than the French Oak. I'm trying as hard as possible to remember that this whisky is only 6 months old, The fruit character gives over to grape pips, and banana skins towards the end, but never becomes unpleasant. Again, it's only 6 months old…
Overall – much more along the lines of a 'nicely developing whisky' rather than something which is genuinely good enough to bottle now (as the French Oak was, and yes, we did ask!).
Adnams currently have 60 casks maturing away in the cellars, and plan to produce 45,000 litres of whisky per year from now on. Plans are underway for a traditional dunnage warehouse to be constructed on the same site as their super-green distribution centre just outside Southwold.
Oh yes, and on the way out we were offered some rather delicious liqueurs as a bit of a taste of what's to come on that front – A delicious Limoncello, a nicely spiced Christmas Liqueur (Allspice and Vanilla amongst other ingredients), a superb Sloe Gin with a nice hit of Ground Almond in it, and a tooth-stainingly purple hibiscus liqueur. All absolutely delicious! We'll keep you updated on these, and will have them available as soon as they're out.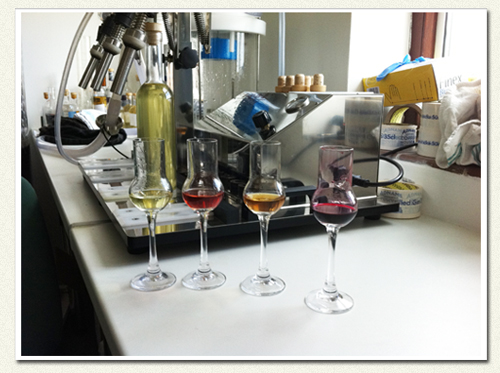 Distillery tours are available – Southwold is about 2½ hours drive (or 2 hours on the train and 5 minutes in a taxi) from London. Tell them Master of Malt sent you, and they might even give you a wee taste of the maturing spirits…
– The Chaps at Master of Malt –