It's St. David's Day so we're taking a trip to Aber Falls Distillery in North Wales. The last time we visted, the whisky wasn't old enough to taste. That all changed late last year, however, so we went back to see if this Welsh whisky lived up to its promise. 
Back in 2018, we headed towards the mountains of Snowdonia to see the Aber Falls Distillery in all its glory. The first new make spirit was just flowing off the stills and we looked forward to the prospect of tasting another Welsh whisky. This year that promise turned into reality as the distillery released its first two expressions, with the inaugural release selling out in 40 minutes. Luckily there's enough of the Autumn 2021 Release to go around.
It's the realisation of a concept that goes back to 2014 for MD James Wright, who had a desire to build an authentic, distinctive whisky distillery like his beloved Springbank that represented its local area while having a global appeal. He seems to have succeeded. While there recently, we saw visitors from the local area and further afield, and Aber Falls now exports to countries including Canada, Australia, New Zealand, Russia and South Africa. 
But does the whisky live up to expectations? Well, yes, in a word. The Autumn 2021 Release is borderline dangerously drinkable and unreal value at £26. Some will be disappointed at the 40% ABV strength and will detect the tell-tale signs of young whisky, but the selection of casks are balanced well to add flavour and depth and you can tell at the core this is a strong new make spirit with a delicate, fruity and versatile profile that's been elevated by the cask selection. 
The Aber Falls way
It's very impressive stuff all around, I can see this being the kind of whisky I'll give to friends who I want to convert to the pleasures of a good dram and at that price it will have return customers and curious newbies alike. It's refreshing to see a distillery get so much right from concept to craft, particularly as things could easily be so different. 
Owner Halewood isn't exactly small fry, and with a site in Belfast coming, Bankhall recently opening in Blackpool and the revival of Crabbie's Distillery in Edinburgh, the company is currently on a mission to have a distillery in every home nation. The worry is that there's going to be a certain uniformity in style and production but throughout the process at Aber Falls you can see choices that are about creating tasty whisky with a distinct sense of identity.
Take the 100% Welsh barley the distillery uses, a malted Laureate variety from Pembrokeshire that costs a lot more than simply sourcing from England. That would have been easier, but that's not what Wright wanted. "Our crop is grown on home soil and that plays a part in the outcome of the whisky due to nutrient and nitrogen levels being different from other areas of the country, which in turn affects the amount of starch and sugars available for making alcohol," he explains. Wright is also currently working closely with Bangor University to research a range of profiles of malted barley and ultimately increase the yield potential in the long term, while grain experimentation was also hinted at (expect 100% Welsh rye, folks!)
Welsh whisky through and through
Every process from milling to bottling is carried out on-site, with 20 tonnes of barley processed each day split into two loads of 10 tonnes. It's stored in 30-tonne capacity silos while 12 mashes are carried out across the week. Long fermentation, 72-90 hours, is carried out in 5,000-litre stainless steel washbacks, favoured because Wright was keen that unwanted bacteria didn't affect the whisky. 
He says they experiment extensively with fermentation, from trialling different yeast strains to varying wash back temperatures, and that's a policy they'll do continuously. "It is vital that we're always looking at different yields and outcomes so we can produce the best quality whisky. We are always looking to achieve consistency and quality on an ongoing basis, but simultaneously, continually looking at what experimental flavour profiles we can achieve".
The aim is to create a spirit that has a lush, fruity tone with sweet cereal notes and a rounded character when it runs off the two copper pot stills made by Macmillan, a 6,500 wash still called Golchi and a 3,600-litre spirit still called Gwirod. The former has a bulb on the shoulder to increase reflux and copper contact. There's also a reflux jacket in which cold water is pumped in, while two copper and two stainless steel condensers offer the unique prospect of creating various new makes of different styles, from heavier, funky spirit to light and clean, key in helping him build an extensive, flexible portfolio.
Generally, Wright and his team will cask the whisky at around 58-68% ABV, depending on the style of new make created. Both European and American oak is used, and Welsh whisky laws allow for a lot of flexibility of wood and profile and cask. The brand has used the likes of Oloroso, PX, Port, virgin oak and even orange wine (that's wine made from oranges), with Wright saying annual costs are around £1m and that there's a 21-year maturation plan in place. 
Traditional dunnage storage is used to encourage more wood contact and the warehouses are about ten minutes from the Menai Straits, which along with being tucked into a mountain valley, creates a unique climate with low humidity to enhance the water evaporation rather than the alcohol and a sea breeze that maintains a consistent temperature. "Our coastal terroir is a real asset, together with the soft Welsh water coming directly off the Snowdonia mountains," Wright says.
Not just another Scotch
It's all part of a vision to produce something that isn't just another Scotch, and being a distillery in Wales offers Aber Falls excellent flexibility and the potential to do things differently. "We're not bound by rules around using specific ingredients, production methods, and wood types. As a result, we're able to ensure that our whisky remains true to tradition whilst diversifying to produce a unique spirit to North Wales," Wright says. "We go beyond imitation and make something that is truly a Welsh whisky, which means a product sourced, distilled, packaged, and sold within Welsh borders".
Part of the long-term plan to build and protect the category is to establish a GI status for Welsh whisky. Wright is keen to respect the history of Welsh whisky, which he describes as "significantly influence" and one that plays a role in the distillery's past, present, and future. "We wouldn't be a genuine Welsh brand without commemorating the heritage of Welsh whisky and incorporating it into our direction moving forward".
Wright wants to be part of the formation of a Welsh whisky category that prioritises things like community and sustainability. So often trendy buzzwords, but they do seem to have real meaning here. The by-products of the distillation process go to the surrounding farms, the visitor centre uses local produce, the distillery's heat source is solar and more electric energy is being worked on, while a hydro plant in the community is also planned. He also works closely with the farmers union when sourcing barley and the distillery hosts a brand new farmer's market, a showcase of local and independent food, drink, arts and crafts, and more.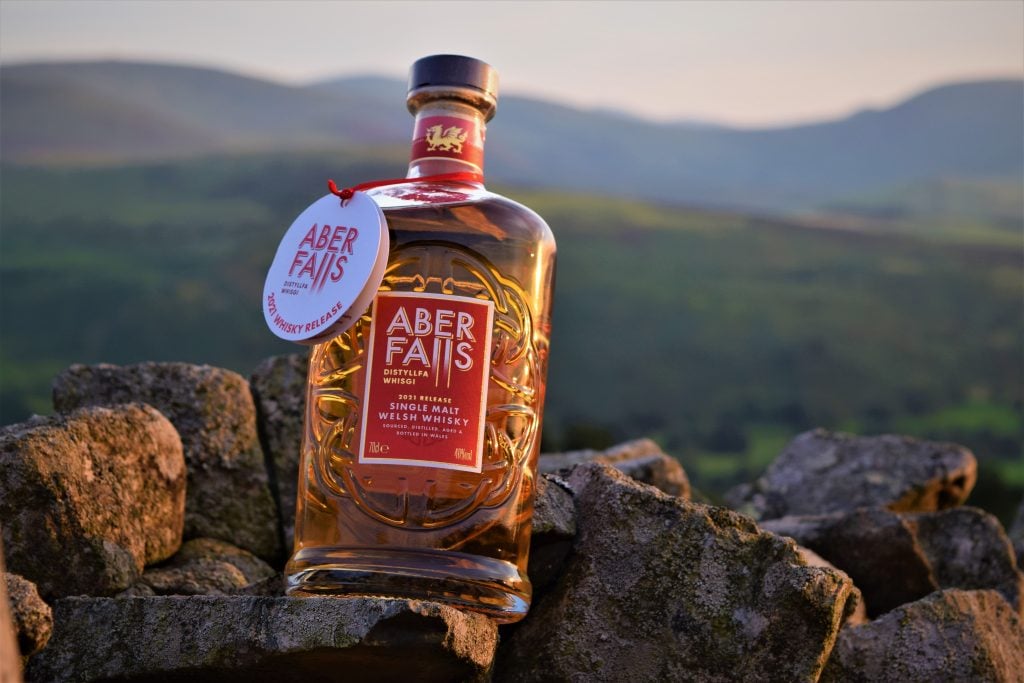 So, if you're yet to give Welsh whisky or this bright young distillery a try, you can be secure in the knowledge they get two big thumbs up from us. We'll leave you with a tasting note for its Autumn 2021 Release, which was matured in a combination of Oloroso, Pedro Ximénez, bourbon, and virgin oak casks and, as we said at the beginning of this feature, is bloody delicious. Enjoy!
Aber Falls Autumn 2021 Release Tasting Note:
Nose: Lots of freshly grated orange zest leads with hints of coffee fudge, sourdough and dates in support, as well as an almost funky, rummy tropical fruit note and just a touch of fresh garden herbs.
Palate: Rich, sweet and with a glossy yet mellow delivery, the palate has more vibrant orange citrus elements throughout as well as darker fruits, slick honey, espresso, and the kind of creamy, nutty note you get from Kinder bars. There's a bit of immaturity in the form of peppery oak but it's a whisper in the backdrop.
Finish: The finish is drier and spicier, with some nuttiness and salinity making things interesting among blackcurrant, ginger snaps and more of that core orange note.