Today we're welcoming a series of exciting bottlings at MoM from that mecca for whisky lovers, the Jewel of the Hebrides itself, Islay, including releases from Laphroaig, Ardbeg, Bowmore, Octomore and, rarest of all, Port Ellen. The collection is called The Stories of Wind and Wave and it's brought to you from the aptly-named Character of Islay Whisky Company.
It can be quite an adventure getting to Islay. Many times Master of Malt team members have tried to reach the island only to be thwarted by adverse weather conditions. And should you be lucky enough to have your flight from Glasgow cleared for take off, the wind-blown descent into the island's airport on the tiny propeller plane can be terrifying for the uninitiated. Or there's the joy of a two hour crossing on a CalMac ferry through rough seas. The fun doesn't stop when you arrive down either, on a visit last year to visit Islay's newest distillery, Ardnahoe, the air was thick with the scent of burnt heather. A combination of high winds, dry weather, and, probably, a stray cigarette end had set much of the south of the island on fire. The air smelt just like Islay whisky. 
For whisky lovers, this very inaccessibility is part of the magic of the island. You have to really want to visit. And the lure is, of course, the extraordinary concentration of distilleries all with their own unique character and the way the whiskies taste of their location, salt, peat smoke and seaweed. There are other peated whiskies from Scotland, but it's the ones from Islay that get all the attention. 
Those names, Ardbeg, Bowmore, and Laproaig, are music to whisky enthusiasts. And aiming to bottle some of that music, if such a thing were even possible, is a batch of rare malts that has just landed at MoM towers. It's from our friends at the Character of Islay Whisky Company which previously released whiskies from anonymous distilleries on the island, but for this batch has revealed where they came from. Which is nice of them. The series is called the Stories of Wind and the Wave and includes bottlings from Bowmore, Laproaig and Ardbeg (see below). Plus still to come some Octomore and something tres fancy from Port Ellen.
The one we're highlighting today is from Laphroaig, the most medicinal of all the Islay whiskies. It gets its distinctive character from only using Islay peat. The distillery has a traditional floor maltings and makes about 25% of its requirements using local Machrie moss peat which cold smokes the barley. The rest of the malt comes from the nearby Port Ellen maltings. Islay peat is largely made from seaweed which is where that love-it-or-hate-it salty iodine flavour comes from. The reason it tastes of the sea is because it comes from the sea, albeit a long time ago. This smokiness is accentuated by taking a late cut, so you get more of that peat smoke. 
The classic expression for lovers of medicinal malts is the 10 year old. But the longer you keep Laphroaig, the less smoky it becomes and the more tropical fruits start to appear. Release No.11693 was distilled in 2004 and aged for 15 years in a refill bourbon cask so you're not getting that much wood influence. It's bottled at 50.2% ABV. All that smoky character is still there but it's been joined by stone fruit and quince (see below for full tastings notes). It's a great dram to launch a series of rare and unusual whiskies that Islay fans will not want to miss. They're the next best thing to a visit to the island itself.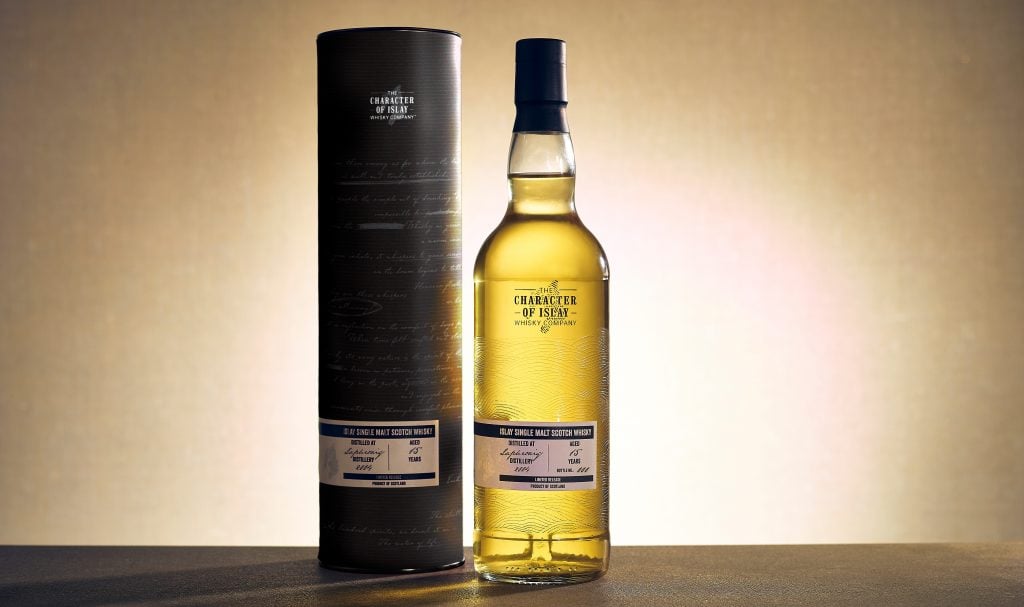 Here is the full range of Stories of Wind and Wave whiskies currently available from Master of Malt:
Laphroaig 15 Year Old 2004 (Release No.11694)
Laphroaig 15 Year Old 2004 (Release No.11693)
Bowmore 18 Year Old 2001 (Release No.11715)
Bowmore 18 Year Old 2001 (Release No.11714) 
Bowmore 16 Year Old 2003 (Release No.11698) 
Bowmore 16 Year Old 2003 (Release No.11699)
Bowmore 16 Year Old 2003 (Release No.11697)
Ardbeg 15 Year Old 2004 (Release No.11673)
Tasting note for the Laphroaig 15 Year Old 2004 (Release No.11693) from The Chaps at Master of Malt:
Nose: Waxy peels, peppermint leaf and smoky black tea with a touch of baked earth to it.
Palate: Sweet smoke with savoury hints of salted butter and cedar underneath, plus stone fruit developing later on.
Finish: Polished oak, a touch of ash and continuing fruity elements.