Peat is frequently used as a catch-all term for 'smoke', but this essential whisky ingredient is far more nuanced than we give it credit for. Here David Miles, senior whisky specialist at Edrington-Beam Suntory, talks MoM through three distinctly different drams made with peat sourced from all over Scotland…
The trinity of partly-decomposed vegetation, dank weather, and a layer of rock close to the earth's surface are the natural phenomena responsible for creating peat – the soil-like deposits that impart a deliciously smoky flavour into our favourite Scotch whiskies. With the country's weather on the cooler, wetter end of the spectrum, it's little surprise that Scotland's many bogs, mires and moors are packed with the stuff.
"Most of the peat used by the whisky industry is somewhere between 1,000 to 6,000 years old," says Miles. "The vegetation that creates the peat will have an influence on the flavour of the finished whisky. If you go back that far in time on mainland Scotland, it was basically covered by the Caledonian forest. This means mainland peat has a woody quality; it's decomposed trees and huge bushes."
Jump north to Orkney or head south-west to Islay and the peat has a very different quality indeed. The Orkney Islands are located at a point where two huge weather systems collide, Miles explains. This means the weather is pretty consistent all year round, with little fluctuations in temperature between winter and summer and near-constant rain. Oh, and the wind blows at around 40mph.
"This means nothing grows tall," says Miles. "There are no trees or big bushes, the only thing that really grows there is heather." As such, Orkney's heather-rich peat gives off very different flavours and aromas when burned. And like Orkney, there are very few trees growing and quite a lot of heather on Islay too – but here, seaweed is the largest influence. "It makes up a much bigger part of the rotting vegetation that becomes our peat," says Miles. 
To demonstrate his point Miles gave us three very different drams that showcase the uniqueness of mainland Scotland, Orkney and Islay peat respectively using their very own floor maltings: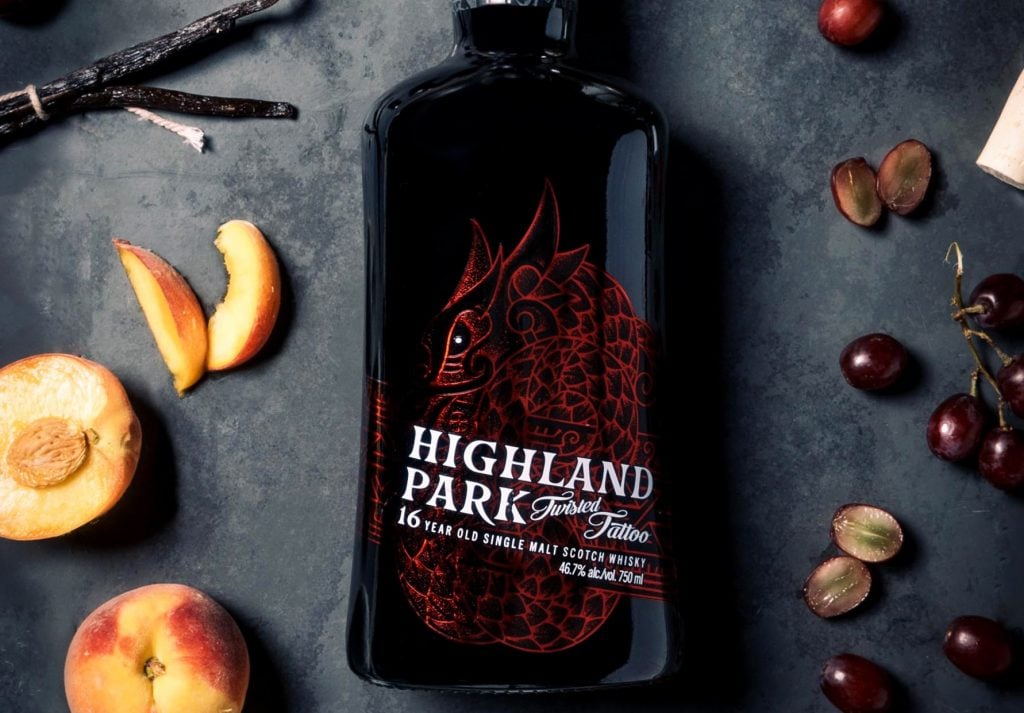 Every bit of peat burned at Orkney's Highland Park is sourced from the island's RSPB-protected Hobbister Moor, resulting in "a very distinctive peat smoke reek" in its whisky, Miles says. "It's the only whisky in the world that is peated with Orkney peat," says Miles. "Every expression of Highland Park has this distinctive quality."
The distillery produces partially-peated whisky – that is, it only peats 20% of the barley it uses; the remaining 80% is unpeated. Being the sister whisky of the Macallan, Highland Park typically ages its whisky in sherry casks. "They're what give Highland Park a huge amount of its characteristics and flavour," says Miles. 
This is where Twisted Tattoo deviates from the norm, having spent its first 14 to 15 years of maturation in old bourbon barrels, before being transferred to Rioja casks. "It gives a very different twist to a classic Highland Park," he continues. "Red berry fruits on the nose; there's a dryness to this whisky – it doesn't have that heather honey sweetness we so often associate Highland Park with. 
"It has a lovely warmth to it, and there's a creaminess to the mouthfeel. That peat note is quite restrained – it usually is with Highland Park anyway – but it's almost as if the wine cask has smoothed a few more of those notes out of it. [Peat] is one ingredient in the whole recipe here, and not dominant at all in any way."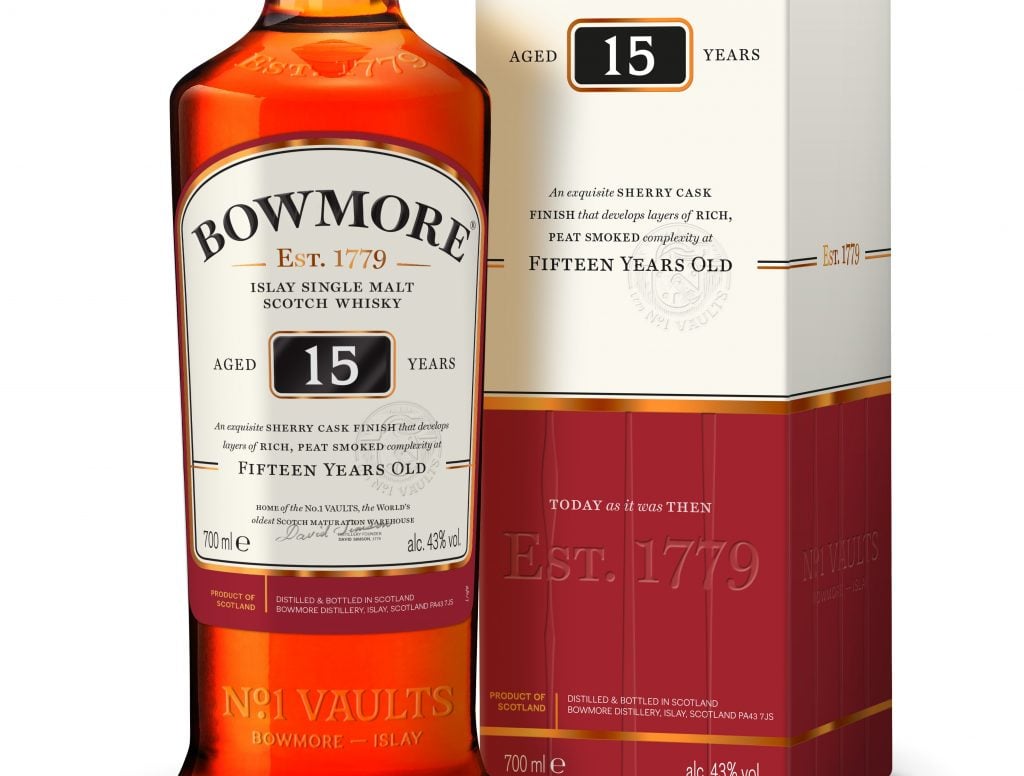 Established in 1779, making it the oldest distillery on Islay, Bowmore produces fully peated whisky. "We peat 20 to 25% of the barley at the distillery ourselves using Islay peat," says Miles. "The other 75 to 80% comes from the mainland and it peated on the mainland, so that woody influence has more of an impact on the flavour of Bowmore."
Owing to this heavy mainland peat influence, the distillery's whiskies aren't a homage to Islay terroir. "That classic Islay peat reek – medicinal notes, TCP, Iodine – is a result of the seaweed being part of the equation," says Miles. With Bowmore, because [Islay peat] is only one fifth to a quarter of the peat influence, it's a background note. It's a subtlety and a nuance." As for the briney, salty quality found in Bowmore? It's a result of its location, he says.
"The distillery is right on the waterfront in the village of Bowmore in Lochindaal," Miles explains. "Our No.1 vaults, the oldest continuously-working warehouse in a distillery in the world, sits right on the seafront. Of course, not all of our casks and barrels are maturing in there, but a number are. When the wind's kicking up, the waves are breaking right over the walls of the vault. The air has a briney quality, so with quite a lot of Bowmore you do get a slightly salty note to it." 
Bowmore 15 is matured for 12 years in bourbon barrels before being transferred to oloroso sherry casks for a further three years. While this approach isn't unheard of, it's unusual for the distillery. "Every Bowmore expression is a combination of bourbon barrels and sherry casks, but they mature separately for the whole time period and then get blended together [at the end]," says Miles. 
This process contributes to the unique character of the 15 Year Old, "a glorious expression of what Bowmore can do", he adds. "It combines the sherry cask richness, the smoke influence, vanilla sweetness from the bourbon barrels – it's all in there but it's balanced and held together. It's not going off like crazy in different directions."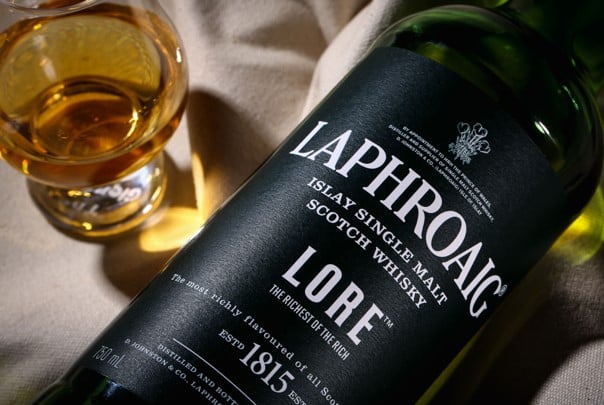 The self-confessed love-it-or-hate-it dram of the whisky world, Laphroaig is all about that Islay peat influence. The distillery cold smokes 20 to 25% of its own barley – the remaining 75 to 80% is peated at neighbouring Port Ellen maltings – all using Islay peat. "You do not see a flame in the Laphroaig kiln," says Miles. "When a flame appears, it's damped down. That cold smoking process helps to give Laphroaig its very distinctive flavour and aroma."
When you get past Laphroaig's initial smokiness, it's actually quite a delicate whisky in some ways – and this is because of its distillation process. One of its seven stills has a unique size and shape, and this brings a different flavour and quality to the new make distillate. The distillers also take "relatively-speaking, a very late cut", says Miles. "The peaty smoky flavour in the distillate comes through later on in the distillation process."
Lore is described by the distillery as 'the richest expression Laphroaig has ever produced'. Where Laphroaig's flagship bottlings are very much bourbon barrel-matured, Lore incorporates a variety of casks. "There are sherry butts, sherry hogsheads, puncheons…," says Miles. "We're using a much wider range of casks than we would use for anything else, and the sherry cask influence on this is much more noticeable, much stronger than in any other Laphroaig bottling."
There are also a huge variety of ages in each batch, ranging from six to 23 years old. "Those older casks give us the weight, the gravitas, the dryness, while the younger casks give vibrancy and lightness," he continues. "On the nose, there's a very distinctive Laphroaig smokiness but it doesn't have the bite you'd associate with, say, a 10 Year Old. There's creaminess first, then you get smoke on the roof of your mouth. You're almost thinking, 'where's the Laphroaig?' and then bang: there's the Laphroaig!"