This week we're shining our giant Master of Malt spotlight (think 20th Century Fox logo) on a new release from Balvenie made entirely from estate-grown barley and kilned using local heather. To tell us more we have brand ambassador extraordinaire Alwynne Gwilt.
The Balvenie Stories range was launched last year with three distinctive whiskies:  The Sweet Toast of American Oak 12 year old, A Week of Peat 14 year old and A Day of Dark Barley 26 year old. Each one highlights an aspect of the rich history of the distillery and some of its long-serving personnel. Alwynne Gwilt from the distillery told us: "At The Balvenie, we are lucky to have an incredibly loyal team working at the distillery, many of whom spend decades or entire careers with us. As such, we have a wealth of stories that go along with that because they know what life was like working in the distillery in the 1970s, say, and how it has developed and changed over the subsequent decades."
One such lifer is master distiller David Stewart MBE who has been with The Balvenie for 57 years. Gwilt told us: "One of my favourite memories of time spent with David is when we were in his lab nosing samples and I asked him what motivates him to keep coming to work after so many years. And he said: 'Because, I can always keep learning something new.' That humbleness, that willingness to be open, is inspiring and I think this whisky with all of its intriguing facets is testament to that ethos."
It's called the Edge of Burnhead Wood, after a wood near the distillery. Doesn't Burnhead Wood sound like the whiskiest wood ever? This expression pays homage to the landscape, the barley and the water of this most beautiful part of Scotland. It's the first ever Balvenie made entirely from estate-grown barley all malted by hand on Balvenie's traditional floor malting.
This love of the landscape goes further because, as Gwilt explained: "We put a layer of heather [collected from Burnhead Wood] on top of the coals as it was going through the drying process." A technique that was done in the past at the distillery. Gwilt elaborated: "Preserving those stories, and those moments in time when we make interesting decisions – such as adding heather to the malt during the kilning process on this new release – is vital to us not only because it represents the legacy of these individuals but also because it speaks to the human element of whisky making." Finally, the water used comes from the nearby Conval hills.
Gwilt then told me a little about the casks used to age the spirit: "In the case of The Edge of Burnhead Wood it has only been matured in American Oak and does not go into a secondary cask for a finish." It's a 19 year old whisky bottled at 48.7% ABV. The Edge of Burnhead Wood is a limited release, much like last year's The Day of Dark Barley, so when it's gone, it's got. 
David Stewart commented: "Stories are the lifeblood of The Balvenie Distillery and are deeply embedded in all the work that we do. The story behind The Edge of Burnhead Wood captures the majestic Speyside landscape and the inventive essence of The Balvenie's loyal and determined craftspeople. In this way, The Edge of Burnhead Wood sums up the spirit of the work carried out at The Balvenie Distillery; The Balvenie remains true to the techniques and stories passed down by its craftsmen from generation to generation, while also looking forward by exploring new techniques, flavours and marriages to develop unique and original Balvenie expressions."
You can learn more by listening to a specially-produced podcast (available here, on Spotify, and can be accessed by scanning a QR code on the bottle) between Stewart and brand ambassador Gemma Paterson. Gwilt described it as: "the perfect escape for a time like this, when sometimes you just need to curl up, enjoy a whisky, and hear a friendly voice." 
The Edge of Burnhead Wood 19 year old is available now from Master of Malt.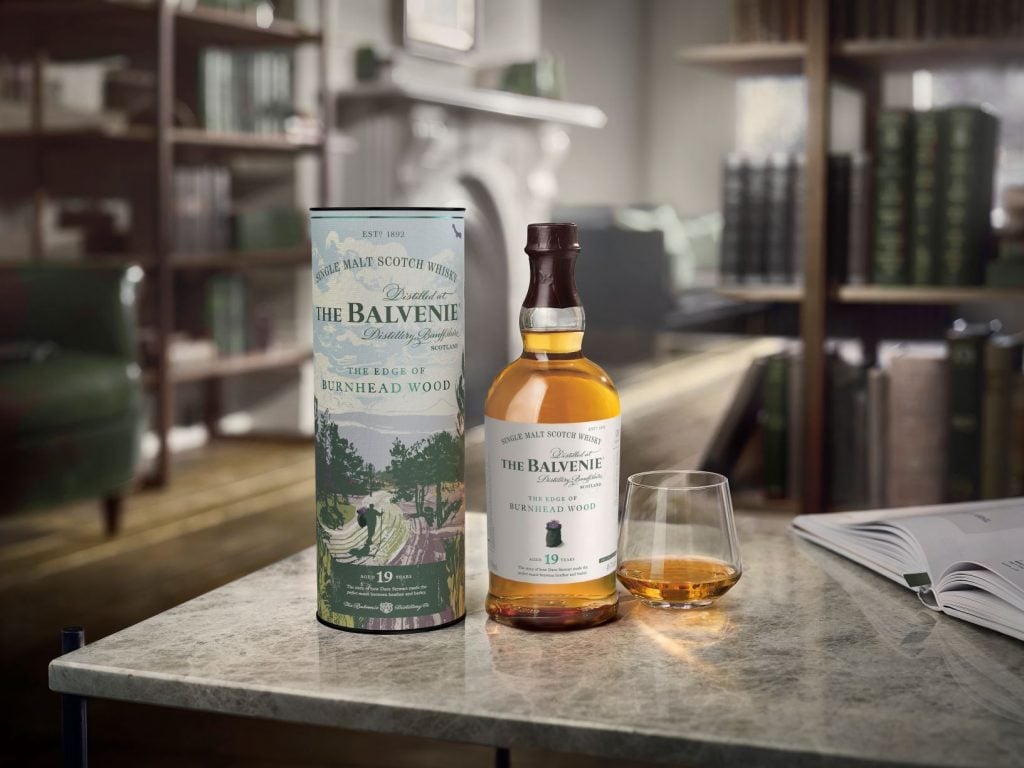 Tasting note by The Chaps at Master of Malt:
Nose: Dried fruit with a dusting of nutmeg, honey on toast, an oily hint or two of roasted barley balanced by citrus blooms.
Palate: More dried fruit – this time Medjool dates and plump sultanas – followed by aromatic oak warmth, delicate heather honey and sugary shortbread.
Finish: More floral wafts of heather and vanilla blossom, plus a final whisper of candied ginger.