When the Savoy's Beaufort Bar revealed its new menu, Interpreted Magic, a drinks-based journey into all things mystical and mysterious, we had to check it out.
The history, drama and romance of magic have a timeless appeal. From Merlin to Harry Potter and even that guy in Camden who keeps winning Three-card Monte against me (I've just realised he's definitely cheating), we just can't get enough of the superstitious and sensational. At the Beaufort Bar in the crazy-famous Savoy hotel in London, this fascination has led to the creation of the bar's latest original menu, 'Interpreted Magic'.
Interpreted Magic is separated into three sections intended to honour the 'three pillars' of magic, which is essentially the three-act structure that occurs in a traditional magic performance: The Pledge, The Turn and The Prestige (more about these later). Every member of the Beaufort Bar team has invented their very own cocktail, with inspirations ranging from Greek myths, fairy-tales and folklore to radical inventors, scientists and some of the world's most famous magicians (there's no Paul Daniels, before you ask). There's also non-alcoholic options and a complimentary food menu by executive chef Fabrice Lasnon.
Head bartender Edon Soddu said he wanted to create a menu that would "bring the guest on a journey". We decided to find out where it takes you.
The Pledge
This section of the menu refers to the first part of a magician's trick, where they build the anticipation in the audience. You, that part where you're distracted by Teller just standing there and not saying a word. Suitably, 'The Pledge' was designed to evoke the excited and expectant mood felt at the start of an evening. It's the part of the menu to head straight for if you're a fan of light mixed drinks, wines and Champagnes (the latter taking advantage of the bar's considerable selection, which boasts plenty of grower Champagnes and English sparkling wines).
Cocktail: Otherside
Description: "Parallel worlds exist across fiction, but have stood the test of time as well as C.S. Lewis' fantasy land, Narnia. Through a wardrobe, his characters experienced a universe of witches and lions, where gemstones can be harvested for their juice, and anyone can be a hero".
Ingredients: Bacardi Carta Blanca Rum, Muyu Vetiver Gris Liqueur, Discarded Vermouth, grapefruit, citric solution.
Garnish: White chocolate spray, gold spray and purple glitter. The latter is supposed to represent the aforementioned gems that make a hero of whoever picks them up. Given I'm the only person around, I'll take that.
Thoughts: One of the better long drinks I've had in some time. The garnish adds a very pleasant aroma initially, but the delicately sweet combination of the rum and liqueurs is the star of the show. The touch of acidity given by the grapefruit is measured perfectly, so often this element is overpowering and unpleasant. Not here. Otherside is fun, intriguing and, most importantly, it sets the tone. Your move, upcoming parts of the menu!
The Turn
The next section, 'The Turn', refers to the part of a performance that's about creating intrigue. The Beaufort Bar has tried to mirror this aspect of the performance with an array of drinks that invites guests to expect the unexpected, from unusual techniques and clandestine flavours. This is the menu for those who desire agave spirits, gin, tonics and fortified wines.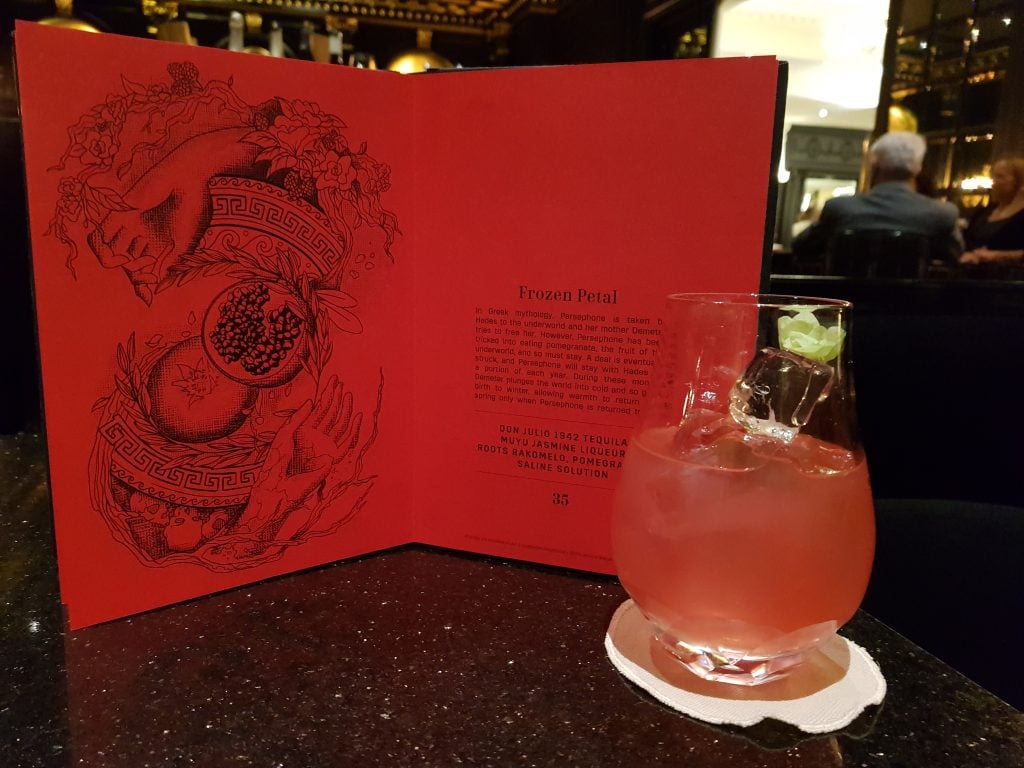 Cocktail: Frozen Petal
Description: "In Greek mythology, Persephone is taken by Hades to the underworld and her mother Demeter tries to free her. However, Persephone has been tricked into eating pomegranate, the fruit of the underworld, and so must stay. A deal is eventually struck, and Persephone will stay with Hades for a portion of each year. During these months, Demeter plunges the world into cold and so gives birth to winter, allowing warmth to return with spring only when Persephone is returned to her".
Ingredients: Don Julio 1942 Tequila, Muyu Jasmine Liqueur, Roots Rakomelo, pomegranate, saline solution.
Garnish: Two floregano flower petals. Minimalism.
Thoughts: First thing's first, the presentation is just so good. It's a lesson in how to be understated. The aroma is enticing, but it doesn't speak to the complexities of the cocktail on the palate. The floral quality arrived first, followed by a genius touch of salinity. The former returns, more perfumed this time before the drink develops with the greener notes from the Tequila. The perfumed element could probably be toned down a touch, but this is still a very good serve.
The Prestige
Last, but not least, is 'The Prestige'. This isn't a reference to the fabulous Christopher Nolan film about magic (definitely worth a watch if you haven't seen it), but to the finale of the magician's act. The pay-off. The bit where we all clap and turn to the person next to us and shout "HOW?!" at their face. This part of the menu features a blend of dark spirits, full aromas and rich flavours, but most exciting of all it takes advantage of the Beaufort Bar's enhanced whisky selection. We're talking rare and old, people.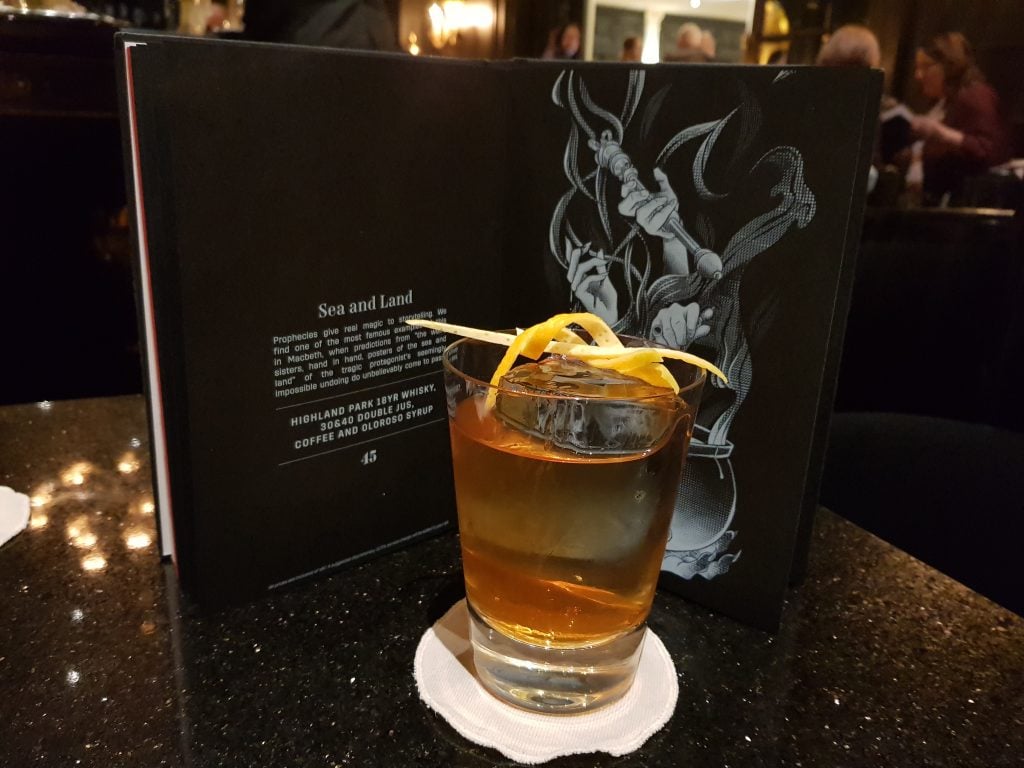 Cocktail: Sea & Land
Description: "Prophecies give real magic to storytelling. We find one of the most famous examples of this in Macbeth, when predictions from the Weird Sisters, hand in hand, posters of the sea and land' of the tragic protagonist's seemingly impossible undoing do unbelievably come to pass".
Ingredients: Highland Park 18 Year Old, 30 & 40 Apéritif de Normandie, oloroso sherry and coffee syrup.
Garnish: An orange peel twist. A very dramatic one at that. Appropriately Shakespearean.
Thoughts: It's an Old Fashioned. A really bloody good Old Fashioned. Some might wince at the spirit of choice being consumed in this fashion (not all single malt Scotch should be drunk neat, folks), but Sea & Land doesn't drown the character of the Highland Park expression. The additions are exceptionally measured and accentuate its positives. It's ridiculously refined and more down-to-earth tasty than it has any right to be. If they had these in Macbeth, there would be a lot less murder and a lot more boozing.
I'm a fan of Interpreted Magic. It's imaginative and fun in a setting which could easily become stuffy with the wrong approach. I would say the drinks speak for themselves, but actually a highlight of the evening was that with each drink I had I was accompanied by an excited member of staff proudly telling me all about their contributions to their cocktail. At its core, it's just good ol' fashioned bartending at its best, realised in elegant, minimal serves. If you were being cheesy, you could say that's the real magic here. But actually it would be that unicorn that ran past me as I was trying to take a photo. Completely ruined the shot. Bastard.