Glenturret, 'Scotland's oldest working distillery', has gone up market in recent years with fancy packaging and a Michelin-starred restaurant on site. But can the whisky match up to the glitzy image? We find out with a little taste of the 2022 Glenturret new releases.
It's been an exciting few years for Glenturret, the Highland single malt that calls itself 'Scotland's oldest working distillery.' In 2018, the distillery was in the Edrington stable alongside Macallan and Highland Park, and home to one of Scotland's biggest whisky-based tourist attractions, the Famous Grouse Experience. A bit like the Jimi Hendrix Experience only with blended whisky.
Then in 2018, we received an announcement that the distillery was up for sale, and in December of that year Glenturret was bought as part of a joint venture between Silvio Denz, CEO of luxury glassware firm Lalique and wine business Art & Terroir, and Swiss businessman Hansjoerg Wyss.
Heading upmarket
Since then Glenturret's new owners have taken the brand firmly up market. Former Macallan whisky maker Bob Dalgarno was hired to create a new core range which was housed in some fancy packaging. And earlier this year, the distillery's restaurant, The Glenturret Lalique, won a Michelin star. 
Clearly the distillery has come a long way since the Famous Grouse Experience but what we really want to know is: are the whiskies any good? Well, in a word, yes, yes they are. Sorry, that's four words. We tasted the entire range during lockdown virtually with Bob Dalgarno and now we've just received samples of the Glenturret new releases which have just been released. These are elegant, beautifully-balanced whiskies. The alcohol levels are just spot on.
Please note links are to 2021 releases which will be slightly different to the 2022 ones we have just tried. Also we haven't as yet got stock of the 7 Year Old Peat Smoked, perhaps my favourite of the trio, but we do have some of the 10 Year Old Peat Smoked which was released last year, and very nice it is too. UPDATE – WE HAVE SOME 7 YEAR OLD, link below. 
Overall, these are high quality single malts which really repaid lingering over. On this sampling, the Lalique team are as serious about whisky as about Glenturret's image. 
Glenturret new releases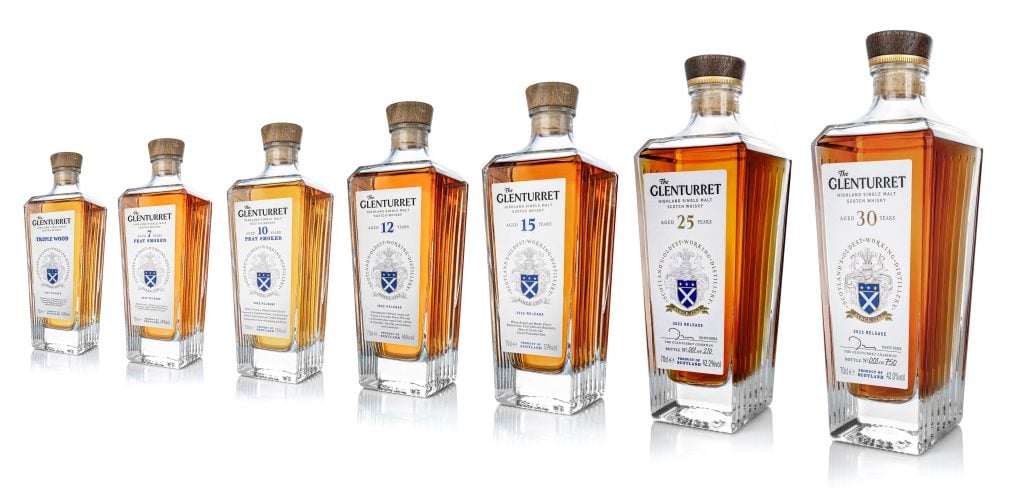 This is a new one to the range, it's aged in American oak sherry-seasoned and refill casks. Natural colour, bottled at 44% ABV.
Nose: Bacon crisps, smoked meats, orange peel with some saline notes.
Palate: Spicy, Szechuan pepper, balanced by sweet toffee notes. The smoke is quite subdued, just a little lurking in the background. It's young and lively but the alcohol is nicely integrated.
Finish: Smoke comes through more strongly with bonfire ash notes and a little sweetness. 
This was matured in a mixture of sherry-seasoned European and American oak barrels as well as ex-bourbon casks before bottling at 45%ABV.
Nose: Sweet vanilla, toffee and honey with orange peel and lemon drizzle cake.
Palate: Sweet, honey, vanilla, a little wood tannin, creamy texture, with peaches and tropical fruit
Finish: Nice length, dark chocolate and toffee. 
This is matured in a combination of American  hogsheads and European oak sherry casks before bottling at 46% ABV with no colour of chill filtering. 
Nose: Prune, apple, peach, and citrus peel with toffee and a touch of furniture polish. 
Palate: Mouth-filling, nice peppery alcohol mixes with sweet toffee, peach and dried fruit notes, plus cinnamon and ginger, 
Finish: Long, that peach note lingers with salted caramel. 
The Glenturret range is available from Master of Malt. Click here to buy.