Good news for whisky lovers and for whisky workers, Glenturret distillery has found a buyer!
We reported back in June that The Macallan owner, Edrington, was selling Glenturret, Scotland's oldest working distillery, as well as the Cutty Sark brand. Last month, Cutty Sark was bought by French spirits group La Martiniquaise-Bardinet, the owner of Glen Moray. Now Glenturret has gone to high-end wine distributor Art & Terroir as it makes its first foray into whisky. It's like its Scotch transfer season.
Art & Terroir specialises in fancy wines and has interests in Bordeaux, including a number of châteaux in Saint-Émilion. The company hasn't even as much as dipped a toe into the whisky industry previously. There is a nice Edrington connection in that the man behind the company, Swiss entrepreneur Silvio Denz, also owns Lalique, the luxury glass maker that makes decanters and glasses for The Macallan. Commenting on his acquisition, Denz said: "We are proud to take ownership of this fine and historic distillery. Glenturret is the perfect choice as we enter the world of Scotch whisky and we are looking forward to working with the existing team to bring even greater success to this superb single malt and to its beautiful Perthshire surroundings." There will be a transition period in which Edrington will provide technical support.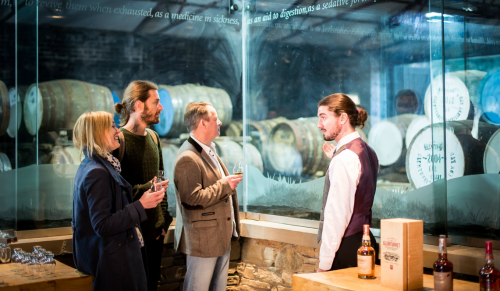 A bright future for Scotland's oldest distillery?
Ian Curle, chief executive of Edrington, added: "When we announced the sale in June, we were clear that we expected that all jobs would be safeguarded and we are pleased that negotiations have settled on a good result for Edrington and Art & Terroir, and one which will protect all our employees at Glenturret. We are pleased to be placing The Glenturret in the hands of Art & Terroir and we know that the distillery will thrive under their management."
Glenturret, home of the Famous Grouse Experience, is Scotland's most visited distillery. The challenge for Glenturret's new owners will be keeping those numbers up once the Experience closes.