Ben Ellefsen is making a call to arms this week to make Martini-March (AKA Marchtini) happen and he's got bags of Bathtub Gin recipes to help. 
What do you mean Martini-March isn't a thing? It could be a thing. 
It should be a thing. Marchtini.
It's been a little over a year since we launched the first-ever Bathtub gin flavour extension, and in the intervening period, we've knocked out a further six, plus a pre-bottled Negroni for your drinking pleasure. Don't say we never do anything nice for you.
Rather than just trawl through these new flavours, I thought it'd be fun to give you a suggested serve for the six* of them that make frankly incredible Martinis. 
The key to the Martini
A well-made Dry Martini really is one of those rarest of things: an establishment-assessing benchmark which can often swing wildly in terms of execution**, whilst being ostensibly a complete piece of piss to make (other examples include but are not limited to Margherita pizza, chicken curry, and a pint of Guinness).
Once you've got the basic recipe/build down, though making next-level Martinis (or variants thereof) at home really can be the work of moments. The basic recipe is:
– Stirring glass & strainer
– Quality stemware (in the freezer for five minutes prior to serving please)
– Good ice (the most important bit is that it's not been stored in the freezer along with a load of strong-smelling food for ages)
– A splash of water if you're using 'sharp' ice (frozen as opposed to defrosting, that 18-20 degree delta makes a palpable difference to dilution)
– Super-fresh citrus for garnish
– Salt
Now the latter ingredient, I appreciate, maybe a surprise. It's a no-brainer if you like your Martinis with olives or dirty, but even when completely eschewing olives as a garnish. I'll always drop a crystal or two of sea salt onto one of the ice cubes***. Salt is quite literally a flavour enhancer, and the fact that it's not going to be overtly detectable in the finished serve doesn't diminish its effects. Try it. Trust me.
Okey-dokey, onto the serves then. I'll run them through from savoury to sweet.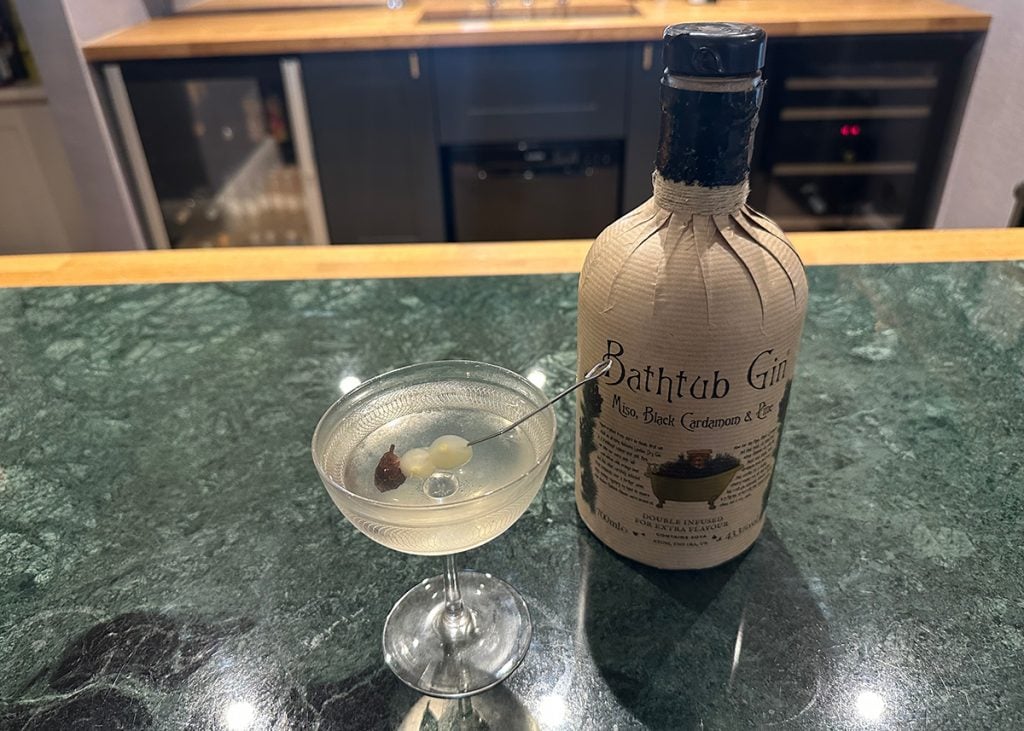 Miso, Black Cardamom & Pine Gibson
This is definitely a left-field flavour, but holy moly does it work. The (real) white miso used in the base not only provides a delicious anchoring saltiness, but it has the aforementioned flavour-enhancing effect and makes not only the additional pine but also the citrus notes in the bathtub base gin pop in a fascinating way. The serve ramps up the black cardamom influence here hugely, but it's present in spectacular fashion in this gin even without the garnish, providing a background depth and smokiness which is wonderful when paired with the miso.
75ml Bathtub Gin Miso, Black Cardamom & Pine
15ml dry vermouth like Dolin 
Ice, stir gently, serve up with two cocktail onions and one black cardamom pod.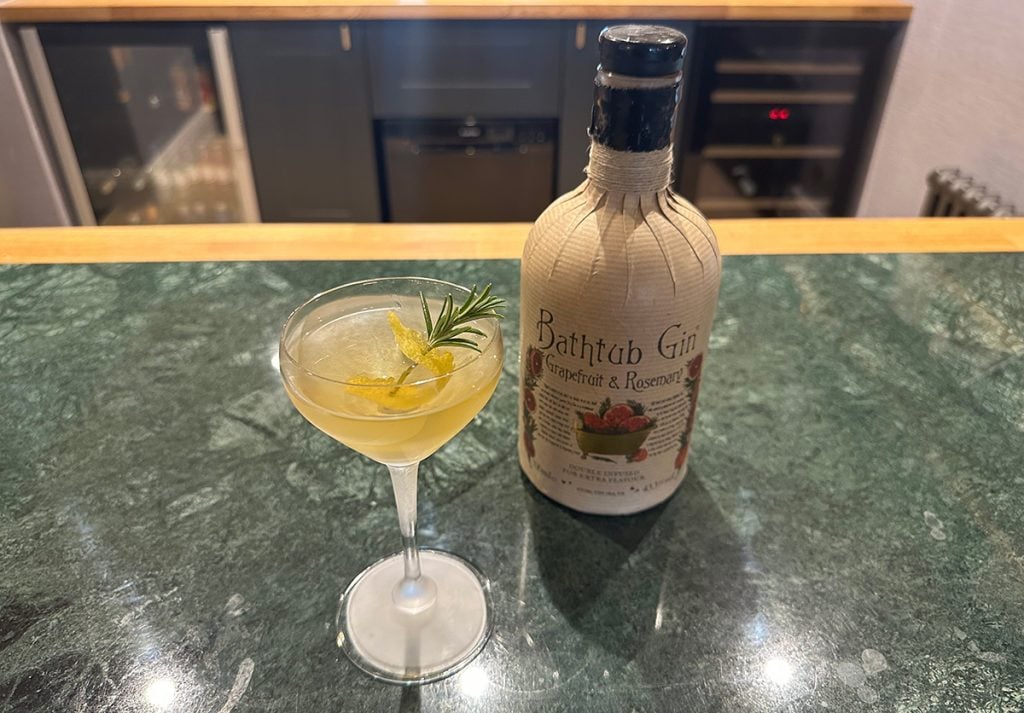 Grapefruit & Rosemary Martini
This flavour was born from a consumer competition where you wonderful lot were encouraged to come up with suggestions for stuff we should make. Grapefruit and rosemary (as well as pairing incredibly well together) were amongst the most-requested flavours, and the result is delicious. The savoury rosemary balances the (powerful) grapefruit notes nicely and maintains balance throughout the gin – which works equally well in sweet and dry serves. I've used lemon as the garnish here as whilst it's obvious, for me personally, grapefruit peel is too much – it has a slightly analgesic quality which kills the drink dead.
Bathtub Gin Grapefruit and Rosemary
15ml dry vermouth
Two crystals Maldon salt
Ice, stir gently, serve up with lemon twist impaled with fresh rosemary.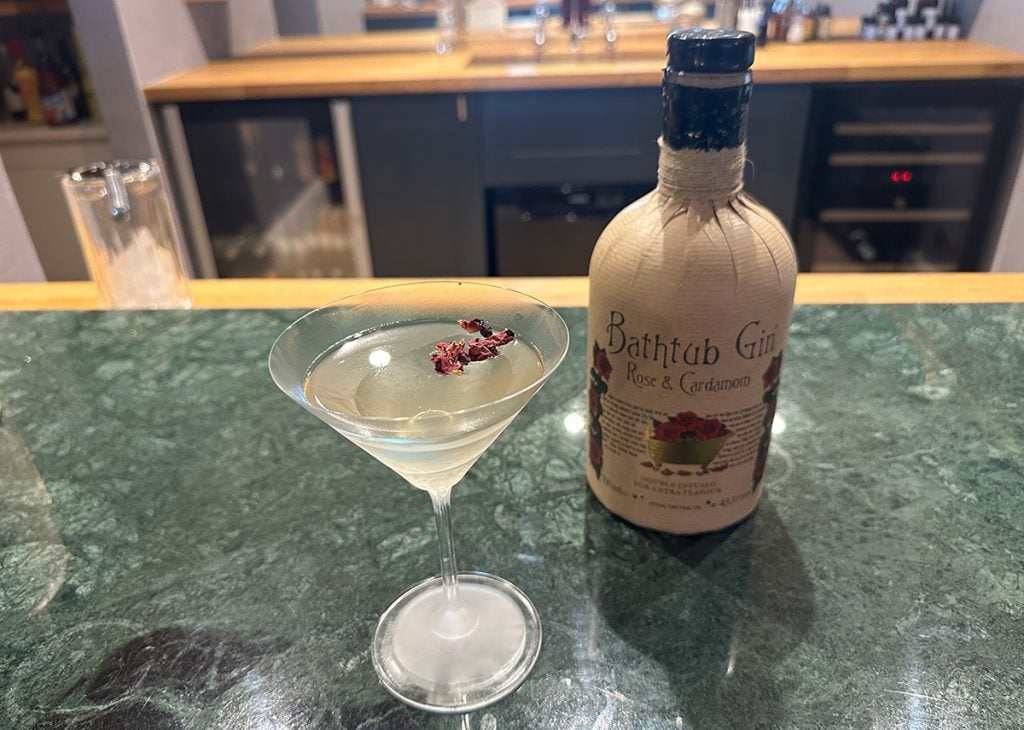 Rose & Cardamom Dry Martini
Hands down one of my discoveries of 2022 were just how well this gin mixes both in Martinis, but also in Negronis. The rose flavour is not (pardon the pun) a shrinking violet in this one – it's a punch you in the face primary flavour, and this serve makes the most of this. Dried Rose petals are available from Amazon, and also in the 'chef's ingredients' bit at Waitrose where they're not only inexpensive but come in an airtight little tub which makes maintaining the aroma/freshness simple as you like.
75ml Bathtub Gin Rose and Cardamom
20ml dry vermouth
Two crystals Maldon salt
Ice, stir gently, serve up with a twist of lemon peel (discarded), and five or so rose petals floated on the surface of the drink.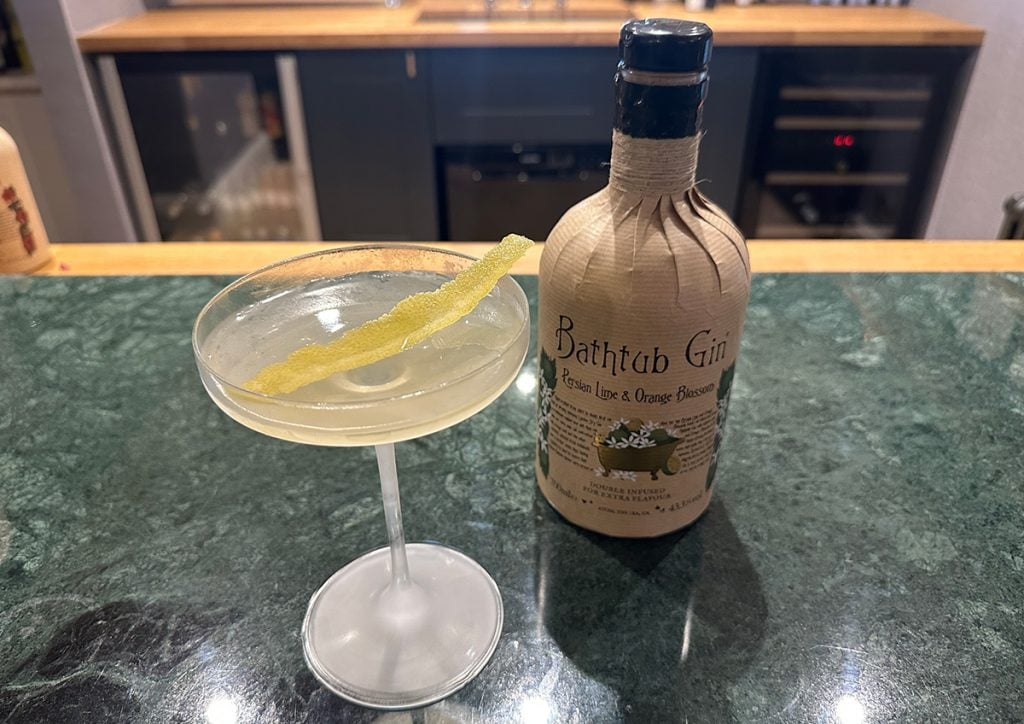 Persian Lime & Orange blossom Köln Martini
This gin, perhaps more than any of the others is really very 'zippy' and upbeat – the lime-zest is prominent (although not in an obtrusive way), and the orange blossom paired with this really alludes to a perfume-esque quality which I'm boosting with a homemade essence made to Tony Conigliaro's recipe from his Drinks book. Now I'm not going to make out that this is an easy one to replicate – the recipe calls for no fewer than seven essential oils, and a micropipette just to make this tincture up, but trust me – it's worth it. It's basically an edible recipe for a Cologne-style perfume, and it lifts Martinis where you're seeking to elevate the gin to another level.
75ml Bathtub Gin Persian Lime and Orange Blossom
15ml dry vermouth
Two drops Köln aromatics****
Ice, stir gently, serve up with lemon twist.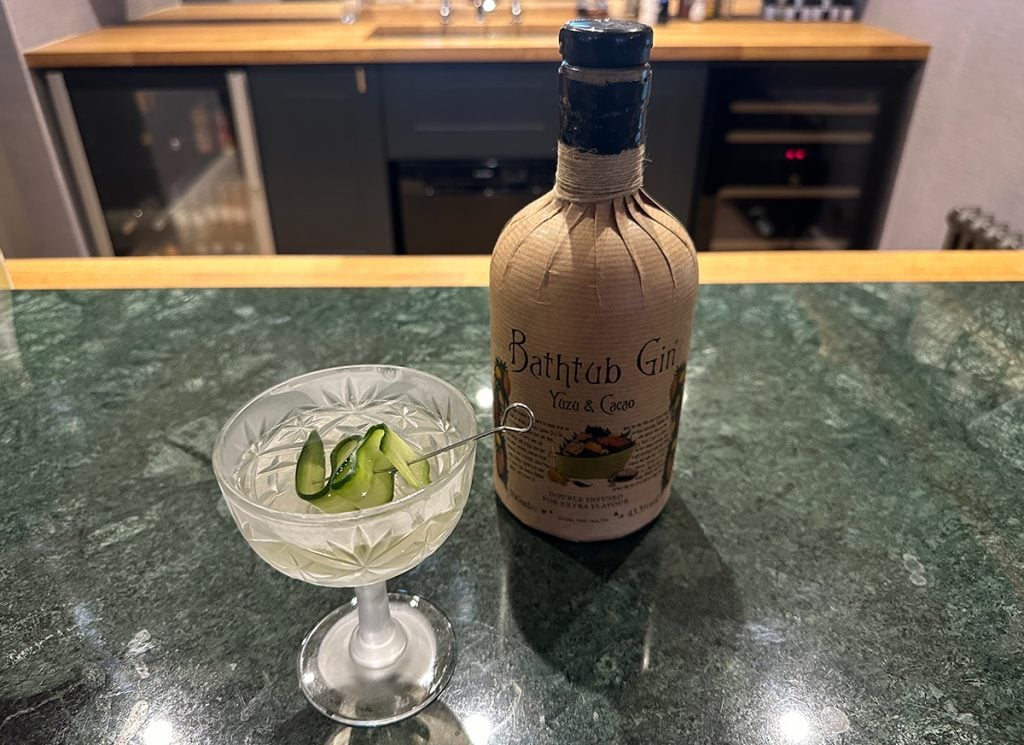 Yuzu & Cacao Saketini
The emphasis of this bottling is the balance between the bright and highly-perfumed Yuzu, and the earthy and grounding cacao notes. We're accentuating this, nodding to the Yuzu's origin with sake instead of vermouth, and adding a tiny bitter boost with some Angostura Cocoa. The umami-boost provided by the sake works well with the Cocoa undertones on this one.
75ml Bathtub Gin Yuzu and Cacao
15ml sake (use the good stuff)
Two drops Angostura Cocoa Bitters
Ice, stir gently, serve up with a strip of cucumber for garnish.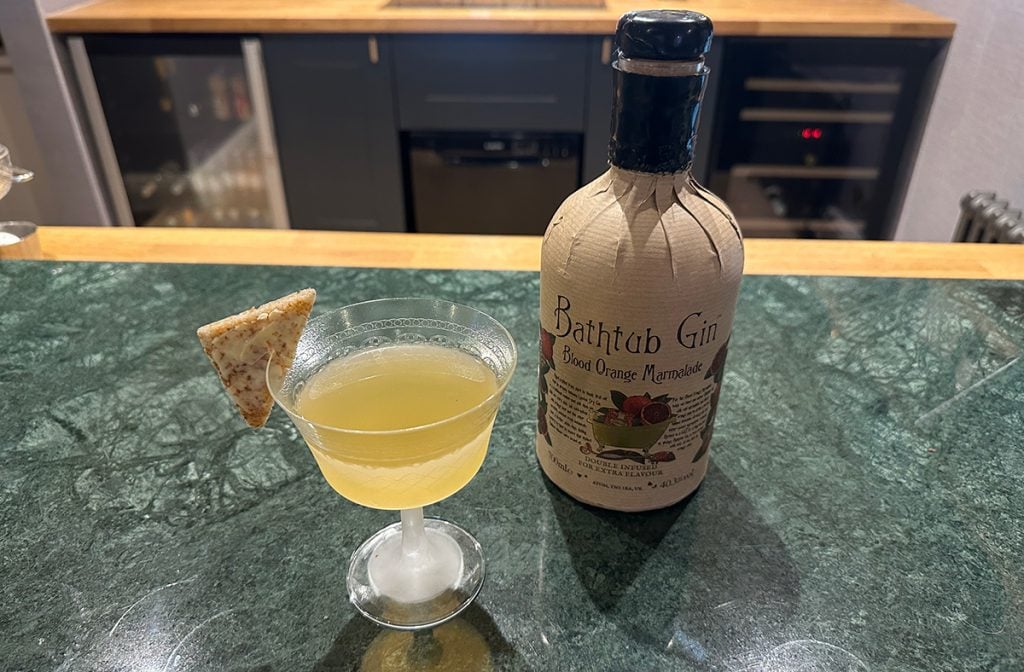 Blood Orange Marmalade Breakfast Martini
Unabashedly indulgent, the Blood Orange Marmalade Bathtub is made using blood orange peel, sure, but a massive slug of real marmalade gives it not only depth of flavour, but also wonderful mouthfeel. The Breakfast Martini is an obvious choice, and the fact that the marmalade's already taken care of is a boon when it comes to speed, especially if you're entertaining.
60ml Bathtub Gin Blood Orange Marmalade
20ml triple sec (Pierre Ferrand is the gold-standard)
15ml lemon juice
Two crystals Maldon salt
Stir, taste for balance, and garnish with toast triangle because Instagram.
*The reason I'm going with six as opposed to seven is definitely that the Damson and Bay is liqueur-sweet, and hence not really compatible with the serve. It's nothing at all to do with the fact that I forgot to order a bottle when I was getting hold of the rest of them to make these recipes. No sir. Not that.
**Special mention here to a local (Michelin-starred) restaurant whose bar interpreted the 'Dry Martini' order such as to serve initially a tumbler-full of Cinzano, and subsequently (upon clarifying the order), a Martini glass full of gin. And ice cubes. And a half-centimetre-thick slice of lemon pips and all. 
***Onto one of the cubes causes it to dissolve almost immediately as opposed to dropping it into the liquid where it takes significantly longer to disappear, not least because the liquid is extremely cold. The last thing you want is a lump of salt sitting at the bottom of your glass as a last-sip-treat.
**** Recipe for Koln Aromatics: