It's International Women's Day! We're celebrating with a week of features championing a host of the drinks industry's leading lights, who all happen to be women. Wondering why we're bothering? Intrigued by the concept? What's all this International Women's Day (IWD) stuff got to do with booze anyway? Pour a drink and read on, my friend…
My name is Kristiane and I'm a whisky-drinking woman (and gin, Tequila… but let's stay on track here). I'm also the editor here at Master of Malt. Just in case you're residing under a rock or you're still snowed in, cut off from civilisation (we shouldn't joke, the Beast from the East took most of the UK out last week), today is International Women's Day. It's hashtags galore, Instagram inspo central, and there's bandwagon jumping left, right and centre. In the very serious current climate of #TimesUp and #MeToo, and the centenary of the 1918 Suffrage Act in the UK, International Women's Day 2018 was always going to be [rightfully] enormous. And ta-da! 8 March 2018 has heralded in the hugest International Women's Day yet.
This is all well and good. But what's IWD got to do with drinks? People of all genders appreciate delicious boozes, right? We've got equality down now. Next issue, please! But let's wind it back a moment. As editor, I wanted to take a moment to explain why we chose to get behind IWD in the way we have. Grab that drink (flavour profile your prerogative, regardless of gender, obvs) and let's get started.
Gender inequality really does persist. From a lack of equality of opportunity at school (think: far fewer girls than boys study those key STEM subjects – science, technology, engineering and maths – beyond compulsory education. This is important; those distillers and blenders don't just grow on trees) to the persistent gender pay gap and culture of harassment and assault in bars, the issue is tremendously complex. And from those three broad examples alone, it becomes clear that equality really is the drinks sector's problem, too.
Now. Let's talk positives. Change is happening. Joy Spence became the world's first female master blender in 1997. 1997! That's only 21 years ago. Since then we've seen tremendous progress. Women can be found leading and influencing right across the drinks sector. And you know why? Representation. At a very basic level, it's difficult to aspire to be what you can't see. As more women come through and progress, they bring others through with them. We're seeing the impact of this at Diageo; from next month women will account for more than 40% of its senior leadership team (the average proportion across FTSE 100 companies is 22%, according to the Department for Business, Energy & Industrial Strategy). This is why championing successful women is critical in achieving full gender parity, and why we've gone all-out on the blog this week.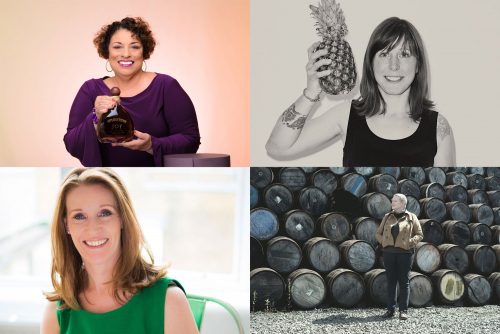 Clockwise from top left: Joy Spence, Hannah Lanfear, Emma Walker and Joanne Moore
But there's still a long, LONG way to go. In January 2018, a bunch of hospitality companies published their gender pay gap data, and it makes for stark reading. Fancy London hotel The Dorchester (with its rather marvellous China Tang bar) was among them. Its mean hourly pay rate for women is 15% lower than for men, according to government figures. Other hotels and service providers had similar stats. This simply isn't good enough.
Gendered violence in bars also needs highlighting. This week I exchanged emails with Stacey Wright, co-founder and campaign manager at US-based organisation Bartenders Against Sexual Assault. She notes a "marked increase" in reports of harassment and assault in recent years, with many coming from bartenders who had been abused by patrons. The organisation is rolling out a peer intervention-based training programme, but this needs buy-in from bar operators, and the rest of us, too. "Our goal is not only to reduce victimisation, but also to reduce perpetration," she writes. "We want the guy who thinks his inappropriate jokes aren't that big of a deal to understand that he is contributing to the problem and not the solution." Let's take this alongside findings from a 2017 DrinkAware survey in the UK which found 63% of female respondents said they had personally experienced inappropriate sexual behaviour in a pub, bar or club.
One answer? "Keep the conversation going," Wright says. "These aren't easy topics or easy solutions, but the first and biggest hurdle is acknowledging it."
Our week-long series of blogs is a tiny drop in the ocean in terms of the work that needs to happen to see true gender equality in drinks, from production and marketing through to the on-trade and just enjoying a tasty beverage. Which, for goodness sake, is what all these amazing drinks are for! As Hannah Lanfear notes in her interview this week, true equality isn't just in terms of gender. There's a LOT of work to do in terms of class, ethnicity and more. The tough conversations go way beyond the lazy use of 'masculine' and 'feminine' tasting notes, and whether or not it's surprising that women drink whisky. Of course they do! Let's be part of the conversations that really will keep the movement towards real change happening. Johnnie Walker blender Emma Walker said in one of our blogs this week that she's never personally been subject to any barriers in whisky. Let's keep talking until that's true for everyone across drinks!