Kate Dempsey, the co-founder of Kinsale Mead, joins us to talk about the long history of arguably the world's oldest alcoholic beverage, explaining why it has terroir and is perfect for pairing with food.
Mead is often referred to as the world's oldest alcoholic drink. The earliest discovery of a drink fermented from honey was in northern China, which dated back to 6500 BC. In Europe, mead residual traces were found in ceramics from 2800-1800 BC. "It's ancient and everywhere that people have managed bees and taken honey they've made alcohol from it," Kate Dempsey, co-founder of Kinsale Mead, explains.
In Ireland, honey bees were said to have been brought over in the 5th century by St Molaige, who was across the Irish sea by his loyal insect friends when he was sent home from Wales to spread Christianity. On The Hill of Tara stood the Great Mead Hall which slept up to 1,000 people. This heritage fascinated the Dempseys. But it wasn't until they stood on the footprint of the Great Mead Hall itself that it dawned on them that mead had been made in Ireland before and that it could be again. They soon added their own chapter to this rich history by founding their meadery in 2016 in Kinsale, a seaside town in Cork. It was the first in Ireland in 200 years. 
I first came across the brand at a Bord Bia event at the Embassy of Ireland and, frankly, all it took to pique my interest was the words 'Irish mead'. There it occurred to me that mead ticks all the boxes for the discerning modern drinker. It has history, provenance, a profile that means it's an excellent alternative to wine if you're looking for a boozy food pairing and is versatile enough to be used in an array of cocktails. Plus, the main ingredient is honey, and who the hell doesn't like bees, for goodness sake?
What is mead?
So, why aren't we all drinking it like the feasting Vikings you probably pictured when you read the word 'mead'? Well, because despite this history and the fact the category is on the rise, there's still plenty of misconceptions. People either don't know what mead is or think it's something it's not. "People often think it's a whisky or a type of beer," Kate says. "There's also those who think because it's made with honey that it's going to be sweet like a liqueur. We have to do a lot of education to make sure people understand what they're drinking". 
Simply put, mead is booze made from fermented honey and water. While various fruits, spices, grains, or hops can be used as ingredients, the majority of the beverage's fermentable sugar should be derived from honey. Much like sherry, the category is very diverse, with styles that range from dry to medium to very sweet and its alcohol content tends to range from 6-20% ABV. 
The most common non-traditional mead is melomel mead, which is made with additional fruit, while metheglins are meads made with herb, spice or flower additions. Meads can also be aged with oak and, as you would expect for a drink with a heritage that stretches across multiple continents, there are plenty of regional styles. 
Making mead
Kate and Denis Dempsey tested out different yeasts, honey and fruits before settling on the recipes that eventually led to Atlantic Dry Mead, the most traditional expression, and two melomel meads, Wild Red and Hazy Summer. For their traditional off-dry honey meads, they'll mix about a third honey and two-thirds water (locally sourced from Innishannon) and pump this mix into a fermentation tank where wine yeast is added. For the melomel meads, the duo place frozen fruit in the fermentation tank in mesh bags. Honey water is poured in, which defrosts the fruit and lets the juice out, although the majority of the sugars still come from the honey. At no point is there any distillation.
The meads ferment in about 3-5 weeks, then the temperature is brought down, the yeast goes dormant and flocculation starts. To combat this, they use a process known as racking off the lees (spent yeast cells), which entails siphoning the cloudy mead into a secondary container where it's filtered. The meads are then left to mature. "The Wild Red is the oldest of the three and is matured in two years, which creates plenty of soft tannins, while Hazy Summer is so juicy and fresh from all the berries that it only needs six months and the Atlantic Dry is left for about 12 months," Kate says.
Wine lovers will have noticed an overlap in production processes and the booze shares another trait with wine, according to Kate. It has terroir. "Mead absolutely has terroir. Every batch of honey tastes slightly different, so every batch of mead will taste slightly different. Factors like the weather have an impact, as does the behaviour of the bees," Kate says. "Take our orange blossom honey, the bees are surrounded by orange groves in which they forage nectar. But the bees may also pollinate flora in a nearby field where there's clover or apples, which will change the profile of that batch of honey".
Kinsale Meads
The highlight of the range for my money is the Atlantic Dry Mead, which balances floral and sweet elements in a beautiful, drying profile that's delicious neat. I was also really impressed with how the melomel meads in Kinsale's collection manage to be vibrant and fruity while retaining that off-dry character and never entering a cloying, overwhelming territory. Below or the full tasting notes, as well as Kate's thoughts and some recommended serves and food pairings.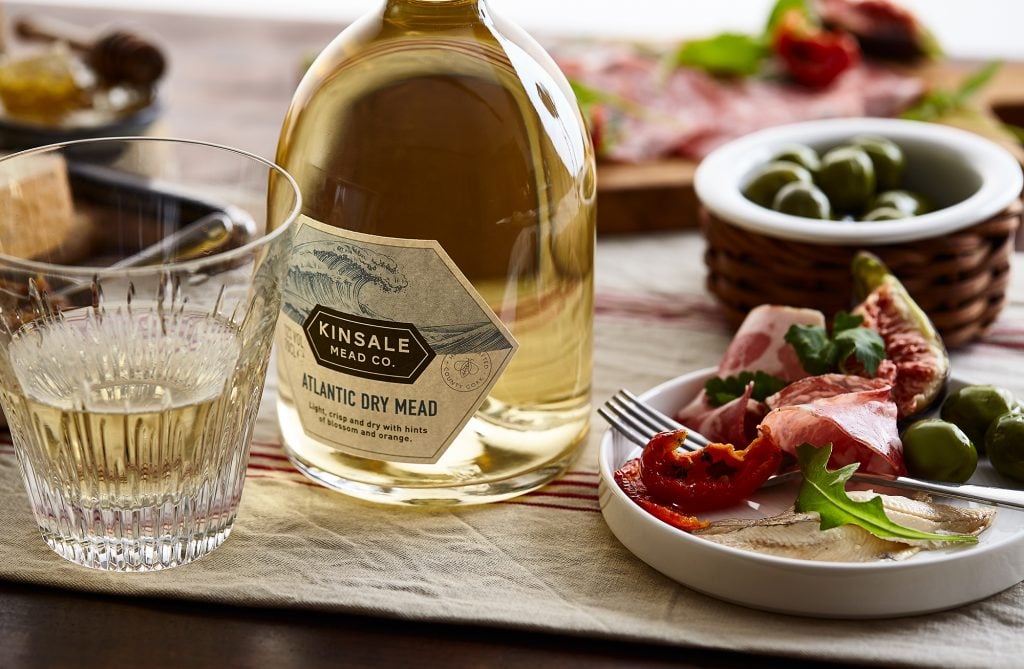 A traditional style mead is made from raw Spanish orange blossom honey, which is mixed with local water and yeast and then fermented before being bottled at 12% ABV.
Kate says: "If you had the honey in front of you could smell the blossom from the orange, which has a complex citrus note. The mead is light, refreshing and best served chilled, over ice or in cocktails like The Bee's Knees. Why wouldn't you want to drink a mead cocktail called The Bee's Knees?"
Nose: A wave of thick, floral golden honey, then cut green apples, summer flowers, marmalade, dried salted nuts and some stony minerality follows. 
Palate: Peach, Conference pear and a little lemon peel provide ripe fruity notes among fresh, nutty and treacly honey and more flint. Lots of those summer flowers and apples are present throughout.
Finish: A little dry and delicately sweet.
Food pairing: Seafood and salty appetisers such as roasted nuts, posh crisps and olives.
Serve: The Bee's Knees. A meady take on the classic 1920's prohibition-era cocktail, create by adding 25ml of Gunpowder Gin, 50ml of Atlantic Dry Mead, 15ml of honey syrup and 15ml of fresh lemon juice in a cocktail shaker. Then, shake well and pour the mix into a coupe cocktail glass and garnish with a lemon twist.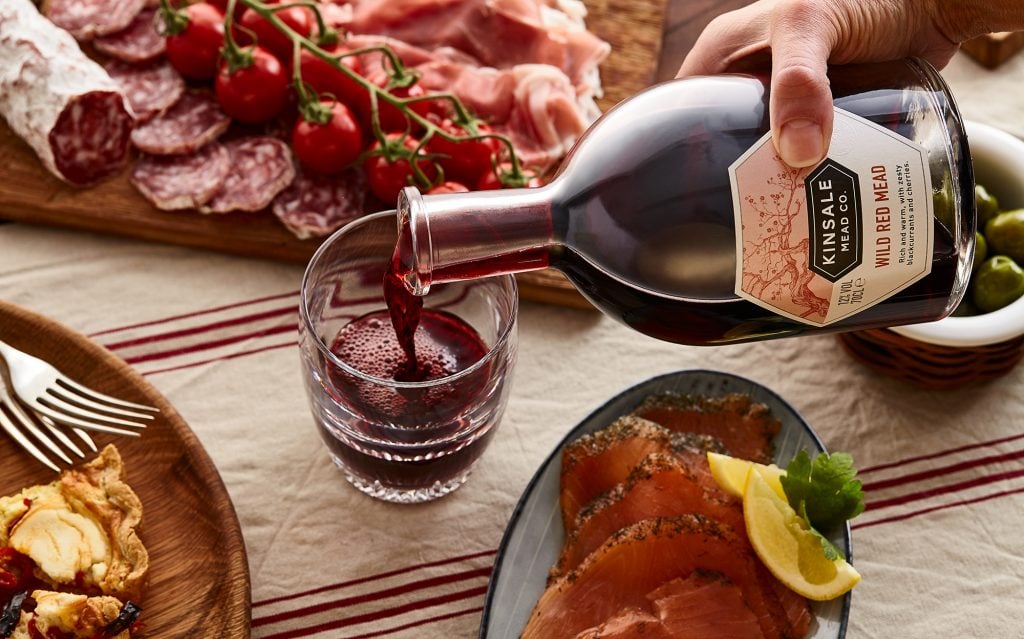 A refreshing melomel-style mead made from tart Wexford blackcurrants which are balanced with dark cherries and tempered with honey before it's bottled at 12% ABV. 
Kate says: "The blackcurrants are from the lovely Des Jeffarers in Ballykelly Farms, Waterford. It's a bumblebee-friendly farm and they're the ones who do the pollination for those particular blackcurrants, which are fantastic. The Wild Red is best served at room temperature and, as we're in the season for mulled drinks, we like to mull it too".
Nose: Rich and incredibly fruity, with thick licks of luscious honey joining sweet blackcurrants, cherries and simmering dry chilli heat.
Palate: Tart, tangy and wonderfully dry, with more juicy black fruits, stony mineral notes and delicate honeyed elements.
Finish: Long, dry and rewarding. 
Serve: Mulled Mead. The perfect drink for cold winter evenings, make this by warming a bottle of Wild Red Mead, 1 cinnamon stick, a piece of star anise and a strip of orange peel gently in a pan. Add a teaspoon or two of honey to taste if needed and be sure to serve in a heatproof glass.
Food pairing: Brown bread, hard cheeses such as Cheddar or Gouda, good quality chocolate, red meat and, Italian tomato pasta sauce.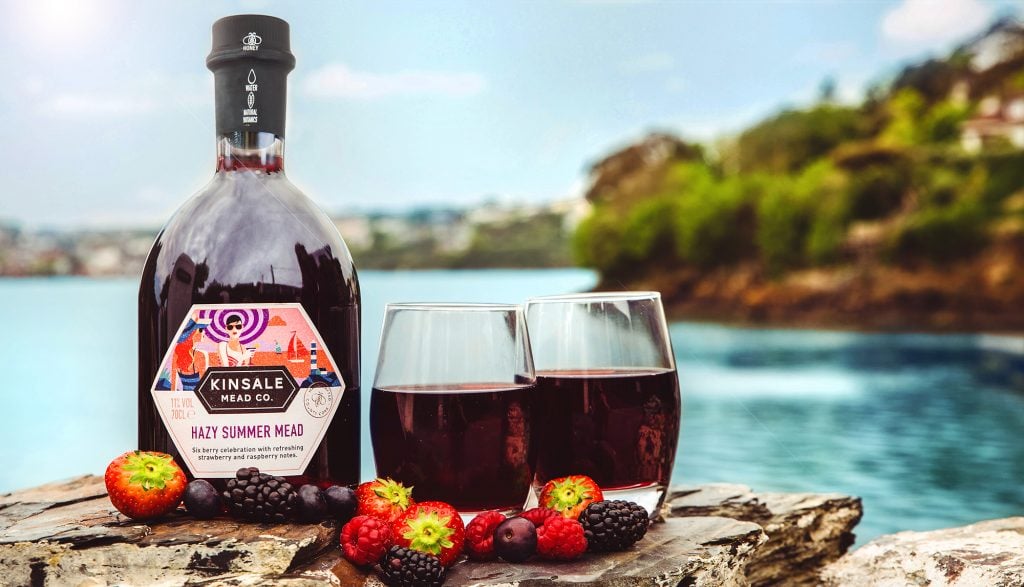 A melomel-style mead made by fermenting six different varieties of ripe summer berries including strawberries, raspberries, blackberries, blackcurrants, cherries and blueberries with Spanish honey.  It's bottled at 11% ABV.
Kate says: "The Hazy Summer is a light and fruity mead made with six different summer berries, so when you smell it you're smelling strawberries and raspberries. It's best served lightly chilled. Last year we had it with our Christmas dinner and those cranberry flavours go really well with turkey."
Nose: Fabulously fruity and juicy with a symphony of summer berries, some flint, floral honey and red chilli.
Palate: Another array of dark and red fruits, mostly strawberry, blueberries with some subtle honey notes in support.
Finish: The berry notes remain in a slightly dry finish.
Serve: The most popular cocktail with the Hazy Summer is a Sangria, which brings a touch of Spain back to Kinsale. To make The Celtic Mead Sangria, combine 25ml of Cointreau, 50ml of Hazy Summer Mead, 35ml of cranberry juice and a dash of fresh lime juice in a shaker with ice. Give it a good shake and pour into your glass and garnish with an orange slice.
Food pairing: Salads, blue cheese, fresh berries, vanilla ice cream, poultry, ham and spicy foods.