As Monday at Fèis Ìle draws to a close, we look back at the Caol Ila distillery open day.
Greetings traveller,
With Annie sadly heading back to the mainland, and Kristy having only just joined us on Islay this evening, it falls to yours truly to fill you in on all the action from Caol Ila day! Following, as it does each year, the lively festivities of Bruichladdich's open day, Mondays at Caol Ila have always been a somewhat calmer affair by comparison in our experience. For many, however, who may have thrown themselves into all the delicious whisky proceedings with gusto, shall we say, this is often welcome! The difference between 2014 and 2018 seemed nevertheless clear to me: the distillery has succeeded in creating far greater buzz with more going on (live bands, food vans, whiskies, cocktails, stands) within a more focused area (the main courtyard).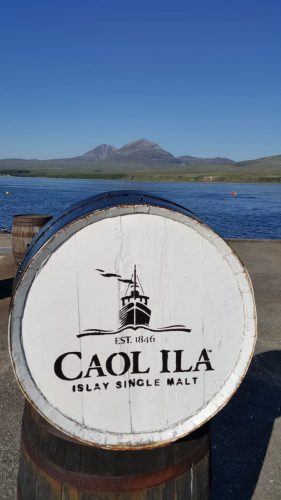 Promised snap of the awesome view across to Jura from the distillery.
Small measures of Caol Ila 12 Year Old and Moch were available to taste for free throughout the day, as indeed were tiny yet refreshing cocktail serves including a rather tasty banana and coconut number.
Once again, various high quality poochies were to be found, and we even met the distillery cat Sushi as the crowds died down. Pleasing.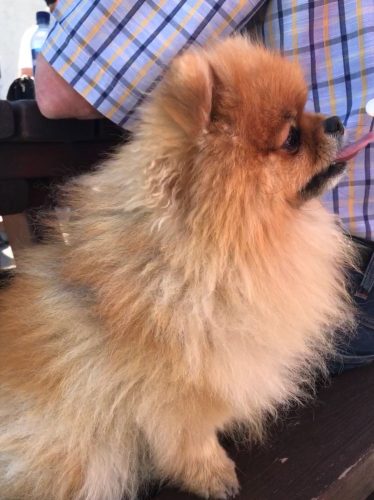 Here's Instagram star Sirius Starlight. No, seriously.
At 14:30 we were lucky enough to join the Manager's Masterclass with charming new distillery manager Pierrick Guillaume who we interviewed later in the day (something to keep an eye out for). "Bam-bam ba ba ba ba ba ba, bame-bam ba ba ba ba ba… Caol Ila!" (If you're wondering what that last bit is all about then check out our Instagram story.)
Kicking off with another chance to taste the classic 12 Year Old, the tasting moved through the sweet Moscatel finish Distillers Edition, the wonderfully complex 18 Year Old (same makeup as 12yo, simply given 6 more years), and a massive custard and almond roulade-driven Unpeated Special Release, before finishing with the stunning Caol Ila 25 and one final treat: an opportunity to taste the sweet and wood-smoky festival bottle aged in American oak refill and rejuvenated casks.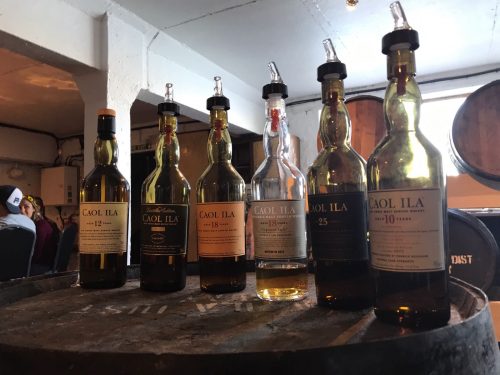 All in an afternoon's work
A final treat for the day was catching the tail end of something billed as 'Whisky and Music Pairing', but might have been better described as an awesome rhythm and blues knees up with Fèis Ìle regulars Felipe Schrieberg and co's Rhythm & Blues Project (you, like us, may have seen his group The Blueswater at previous festivals).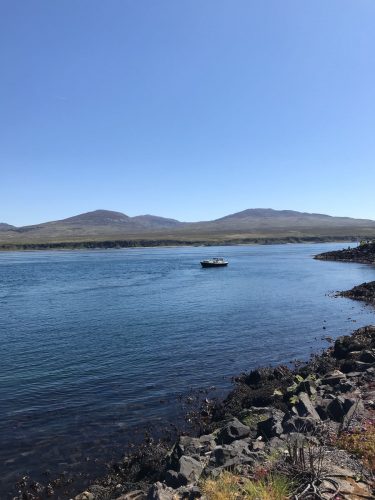 It's pretty, but it's all back uphill from here…
Our work done, Phillippa and I simply had to wait for a lift home. Which we did. Then we waited a little longer. Then we received some pity from Pierrick and his partner Jackie. Then Pierrick and others at the distillery became confused as to why we were still there. Eventually, we decided to start walking toward any potential lift in a vain attempt at feeling proactive. This endeavour seemed to take us right past Pierrick's front door… which he was now coming out of. Sympathy, we think, probably gave way entirely to him simply thinking we were doomed fools by this point. Still we pressed on, and, thankfully further up the road a familiar vehicle came into view. We were saved! Onwards to those good peoples of The Whisky Lounge for a much needed pasta refuel!
Until tomorrow folks.
—
Day three of Fèis Ìle 2018 will see Team MoM trek across the island to Caol Ila, the largest of Islay's eight distilleries.
Caol Ila is a fave of many a Scotch whisky fan, and the distillery itself offers spectacular views across to the Paps of Jura (so expect some of that throughout the day).
If you're on Islay, be sure to come and find us for a delicious (free!) dram, grab a t-shirt, and send us your selfies for a chance to win a bottle too! And if you're not? Well, there's a comp for that too!
You can also follow our fabulous Fèis Ìle activity as it unfolds on Instagram, Twitter and Facebook, before we publish our roundup right here this evening.
Don't forget our Fèis Ìle special offers – check our our Flash Sales for more!
Laphroaig 10 – £5 off
Laphroaig Lore – £10 off
Bowmore No 1 – £10 off
Bowmore 26 Vintners Trilogy – £50 off
Once they're gone, they're gone!