We chat with Philip and Simon Thompson to get the scoop on the Dornoch Distillery's whisky and gin developments
We also taste their range of 10 Experimental Batch Gins, which you can get your hands on right now, exclusively from Master of Malt

It's fair to say that we're excited about what's going on at the Dornoch Distillery. Simon and Philip, the Thompson brothers (no relation to the Thompson Twins), were already running the award-winning Dornoch Castle Hotel Whisky Bar, which specialises in rare old whiskies offered at a fair price. Then they go and announce they're founding a whisky distillery with a plan to "…make a style of whisky which has long been extinct", alongside creating gins from scratch – no bought-in neutral grain spirit used whatsoever. Consider our interest piqued within an inch of its life.
That announcement came back in 2015. Planning permission, building warrants, licences and a successful crowdfunding campaign followed soon after. The Dornoch Distillery was in business, and that business is based in a 19th century fire station on the grounds of Dornoch Castle. Take a look at the picture of the Old Fire Station below and consider that it houses a set of direct gas fired pot stills, a pot-column still, a smaller pot-column still, wooden washbacks, a semi-lauter mashtun and more. Then consider that it also needs to have enough room for humans to exist in there to operate all that equipment. While we can't be sure that they didn't learn any secrets from a notable television doctor and his Police box, I'm pretty sure I heard Philip and Simon whispering about what they were going to do with the Dalek in the boot of their car…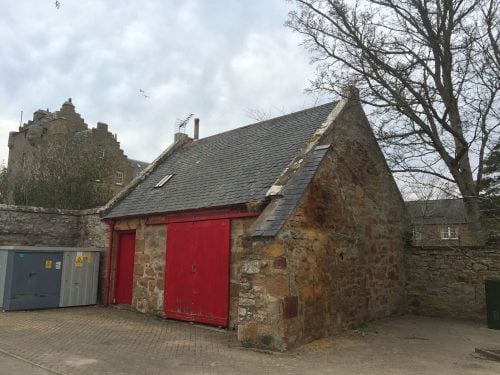 Dornoch distillery's cosy quarters.
They've got their eyes set on making single malt whisky, but as they prepare for that, Dornoch is putting their 2,000 litre pot-column still to good use by making gin – as many distilleries do while waiting for whisky to mature. Unlike many distilleries, Dornoch got to this point through crowdfunding. Talking to Philip and Simon earlier this week, Philip said that, "We didn't want to have any debt in the business, we didn't want to give away any equity. We had lots of guys who offered us lots of money, large sums of money to kind of go off and start a distillery, but we didn't want to be indebted to one or two people or an entity for long periods of time. So, by going down the crowdfunding route we felt that's the sort of the best way to get something started from a relatively small scale."
Mashtun emptyin' within those cosy quarters.
He went on to say that their crowdfunders are "…all very understanding and appreciate what we're trying to achieve. They realise that we're not just doing this to be a quick flash in the pan, make a few hundred thousand pounds on white spirit sales and then start disappearing. We're here for the long term, we want to be making single malt whisky, that's our priority and so being such a long term process I think they understand that we're together, we're all in it for a long period of time."
The brothers are incredibly grateful of the investment from the crowdfunders. Philip told me that along with the rewards mentioned in the crowdfunder packages (which ranged from t-shirts, tasting panel samples, exclusive bottlings all the way to owning a Dornoch octave cask), they want to "…make sure there's kind of little nice surprise bonuses. We do appreciate that if it wasn't for these guys funding us at this point, we wouldn't be doing it basically, we wouldn't be doing what we enjoy. We want to make sure they're well looked after." Simon noted that, "When you've already got a small army of guys who have got your back, these guys need to be sorted out."
Dornoch have also set themselves apart from many distilleries with their tenacious commitment to making their gins from scratch, rather than starting with a bought-in neutral grain spirit. They've sourced organic floor-malted Odyssey barley and are distilling it themselves, allowing them to closely control the spirit's resulting flavour profile – and excitingly, they're putting a fair amount of focus on that. Simon told me that "We're approaching it from a slightly different point of view, whereby we're gonna be slightly spirit purists – what we look for in a spirit isn't necessarily what's going to mix well in a gin and tonic… Our tastes, they're not universal, so we're trying to apply our knowledge and philosophy in different ways, trying to find something that clicks with a lot of people."
Stillin'.
He went on to say, "From just running it on the bar, we found some of the things we like the most have been the most divisive amongst people. Whereas in some of the later batches, we've tried to tune it towards something that would make a better everyday mixer but without going towards a sort of neutral grain spirit likeness, trying to find our balance point between purity and retention of cereal and fermentation based flavours that develop."
Which leads us to the gin. Or should that be gins? Yes, yes it should. They've created ten(!) Experimental Batch gins and will be getting feedback from the Tasting Panel of crowdfunders, and that will in turn help to develop even more gin. When asked why they didn't go down the route of making one gin and producing loads of it to fund the whisky production like other distilleries have done in the past, Philip said, "Because we've fully crowdfunded the distillery, we have a lot of guys who've been involved from the very start in the whole production. We wanted to generate feedback of many different people to help gather information on how we should produce the final bottled gin. So instead of us deciding on that which flavours we like in a gin, it's more of a case of putting it to market and letting the crowdfunders decide how they want us to structure the product. That's kind of the philosophy we've taken from it." It's a bit like a feedback loop of juniper-based goodness.
Each of the ten Experimental Batches are different, and range from slight variations on their core botanical blend (which they created working with a tea blender) to cask aged expressions, to even a megamix of some of their favourite productions. When it comes to the variations on botanicals, the core blend is made in the aforementioned 2,000 litre pot-column still. "We've got a little 50 litre pot-column as well, and we've been doing individual botanicals on there," said Simon. "…We do our core on the big still, and do single botanical batches on the small still, which we can then blend into the batch as we saw fit. So we had almost like a library of single botanicals all lined up on the shelves in the demijohns that we could use, that we could test, to see the qualities that worked best." As for favourites among this library, Simon really liked the raspberries, while Philip was fond of a blend of chamomile and rooibos after it has a resting period.
Look at those botanicals go.
The snazzy labels that adorn the bottles were designed by Katie Guthrie AKA KMG. Philip told me that "Katie is a hero, when we first started working together for our whisky/rum we bottled we attempted to try and guide her with our ideas. We soon came to the realisation that she works much better when you give her free reign or a rough brief. Each design is based on something from Sutherland's past, history or something which relates to Dornoch; old Tom Morris/The Cathedral/the beach scene!" I asked if he would get any of them as a tattoo, he said he would consider getting the Batch 1 as a tattoo as it "…might be a nice way to celebrate everything we have achieved thus far…". I'd go for the sheep on Batch 6 personally, but that's probably something to do with my Somerset heritage.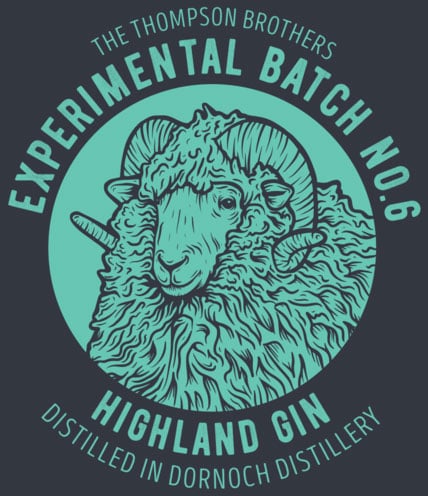 The steely gaze of a highland sheep.
So, I reckon it's high time to taste these gins (and yes, you can get your hands on bottles of these tasty tipples right now exclusively from Master of Malt)…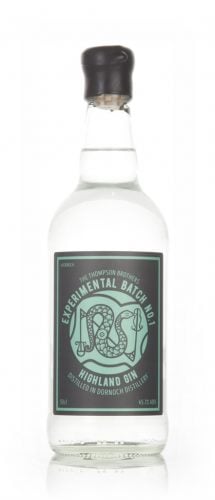 Tasting Note for Dornoch Experimental Batch Gin #1
Nose: Minty and grassy notes develop from the meadowsweet, paired with juicy orange and creamy malt.
Palate: Light and elegant mouthfeel. Sweet liquorice, crushed cardamom seed and toasted marshmallow.
Finish: Oily juniper and well-rounded angelica notes, with anise continuing long on the finish.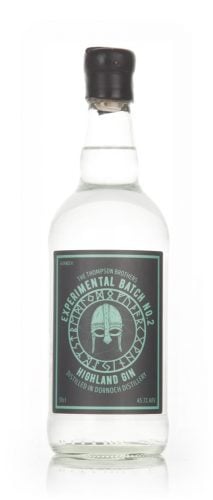 Tasting Note for Dornoch Experimental Batch Gin #2
Nose: Earthy basil is clear as day on the nose. Soft lime and strawberry in support.
Palate: Black pepper comes to the fore, complementing the juniper and acting as a foil to the strawberry.
Finish: Slightly savoury notes arrive alongside aniseed and pine.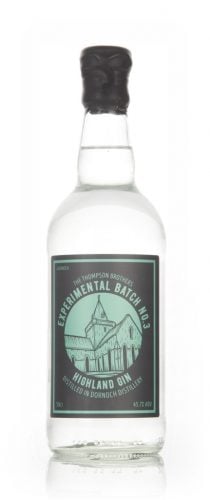 Tasting Note for Dornoch Experimental Batch Gin #3
Nose: Tart raspberry with a good kick of black pepper. Subtly orangey. Malty notes start to appear after a minute or two in the glass.
Palate: Maltiness continues, paired with leafy coriander, pine and sugared lemon peel.
Finish: Quite peppery. A lasting mineral element.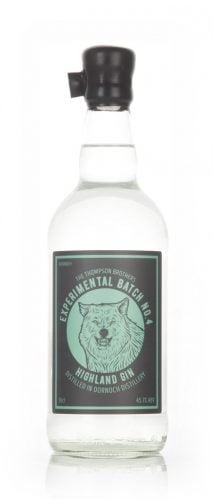 Tasting Note for Dornoch Experimental Batch Gin #4
Nose: Malty and subtly nutty. Brazil nuts? Macadamia nuts? One of those. Continues with a whiff of juniper and caramelised orange.
Palate: Plenty of cardamom and peppery juniper bite to it. Quite genever-like as it develops, with a hint of fruity sweetness.
Finish: Soft digestive biscuit, fennel seeds and a hint of violet petal.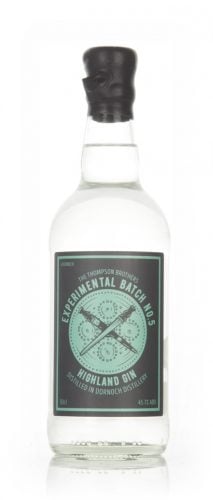 Tasting Note for Dornoch Experimental Batch Gin #5
Nose: Sharp citrus, herbaceous fennel and liquorice. Perhaps a few savoury hints of thyme and toasted pine nuts.
Palate: Lemon is prominent once again, paired with ground ginger and cinnamon. Rather oily and mouthcoating.
Finish: Soft juniper and orange sherbet. A handful of malted barley.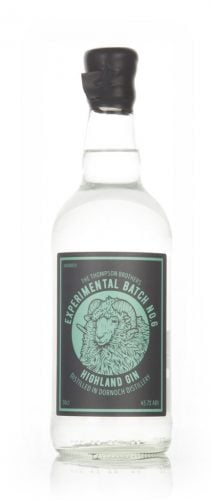 Tasting Note for Dornoch Experimental Batch Gin #6
Nose: Slightly genever-esque – softly malty and sweet. Menthol, Belgian waffle and lime notes develop.
Palate: Honey'd at first, shortly followed by a rush of cinnamon spice. Creamy angelica on the mid-palate.
Finish: A mixture of fresh citrus blossom, black liquorice and white pepper.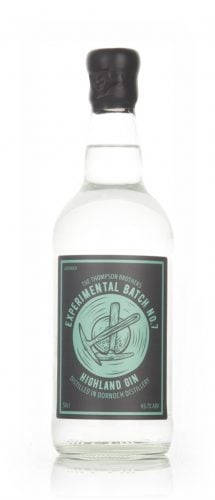 Tasting Note for Dornoch Experimental Batch Gin #7
Nose: Nutty nougat and light lychee sweetness. Familiar notes of pine resin (a bit like a forest in the middle of summer), followed by star anise.
Palate: Jammy orange as it opens. Slow rumbles of peppery juniper and crushed cardamom seed spiciness develop.
Finish: A clean finish of lime 'n' pine.

Tasting Note for Dornoch Experimental Batch Gin #8
Nose: Earthy spice (almost a bit hoppy), complemented by subtle oak elements. Lemongrass and Sichuan pepper.
Palate: Sichuan pepper again! Oily juniper, oak-y cinnamon and orange flesh (leading into a touch of kiwi fruit).
Finish: Warming and a bit chocolatey. Almost rye-like…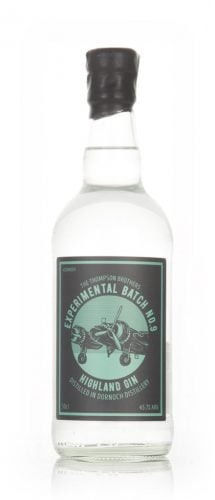 Tasting Note for Dornoch Experimental Batch Gin #9
Nose: Warming malty notes, joined by white grape, anise and fennel. Hearty helpings of cracked black pepper.
Palate: Rather oily mouthfeel. Another punchy hit of black pepper, now with coriander in tow. Lime cordial and sugared lemon peels.
Finish: A peppery tingle goes on and on and on…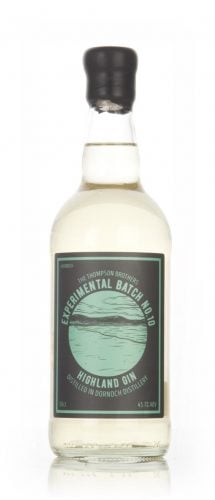 Tasting Note for Dornoch Experimental Batch Gin #10
Nose: Piney juniper, waxy peels and fresh malt. Hints of pink lemonade and a touch of charred, caramel-y oak.
Palate: The maltiness of the spirit really comes through well here. Slight sweetness of vanilla. With even a hint of vegetal vanilla pod too.
Finish: Soft, rounded sweetness with a hint of earthy rye.
Oh, and you can also get your hands on a Drinks by the Dram Tasting set, featuring a 3cl dram of each of these releases too! Handy.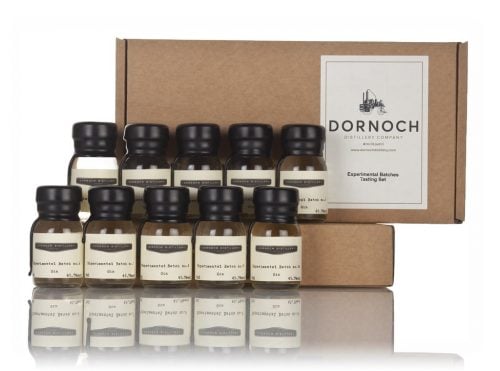 Before I said goodbye to Simon and Philip, I couldn't help myself but ask a few quick questions about the future whisky of Dornoch Distillery and whether there are any secrets they can divulge about the long-extinct style of whisky they mentioned wanting to make in their crowdfunding video.
The aforementioned crowdfunding video.
"Some specifics of it are kind of secret," said Simon. "Anyone can sort of work it out, there are plenty of guys in the industry who know how to do it, the big issue is that in order to make an old style of whisky, say like a 1950s style of whisky, modern distilleries are effectively using just about the same methods, but the materials are the big difference whereby you're looking at the combination of each malt variety in order to generate the flavours, which are quite often yield expensive, I think. So there's no big secret in it, it's just a case of historical direction and experimentation to get on the right track."
Though they can't quite fit a malting floor into the Old Fire Station, they're working with Warminster floor maltsters to source floor malted organic heritage varieties. They've also championed the use of lengthy fermentation times in wooden washbacks, and Phil tells me that they're aiming for a 7-9 day fermentation using brewers varieties of yeast at Dornoch, which certainly is very long indeed.
Steamy.
All in all, if you like people doing things awesomely and for the things that they're doing to relate to spirits, you're definitely going to want to keep your eyes on the Dornoch Distillery's developments. Who knows, they might even end up being time-travellers, which would be exciting.
Sam
Cheers to Simon and Philip for taking the time to chat!