This week we're making a cocktail that everyone is talking about, mainly due to an endorsement from 'House of the Dragon's' Emma D'Arcy. It's the Negroni Sbagliato!
It's a funny thing the internet. A cocktail can be chugging along getting a moderate amount of attention from drinks lovers and bartenders, and then all of a sudden a celebrity will express an interest and boom, suddenly everyone is talking about it.
What is a Negroni Sbagliato?
This happened a couple of years ago when Stanley Tucci made a Negroni during lockdown. It was great to see one of our favourite cocktails getting so much attention even if Tucci rather ballsed the whole thing up. Firstly he shook it and secondly he dismissed plain old Martini Rosso as an ingredient when it's actually brilliant. Now it's the turn of Emma D'Arcy from Game of Thrones spin-off series House of the Dragon where D'Arcy plays Rhaenyra Targaryen. On Tik-Tok this week, the actor appeared with co-star Olivia Cooke and expressed a love for the Negroni Sbagliato ("with Prosecco in it"). Cooke went for the more conventional "gin Martini with a twist." See what all the fuss was about above at 1.55.
Cue, a million people Googling what the hell is a Negroni Sbagliato? Well, we all know what a Negroni is: a mixture of equal parts Campari, sweet vermouth, and gin somehow creates the most delicious thing known to mankind. In the words of the late great Anthony Bourdain: "I'm not a gin drinker. I don't like sweet vermouth, I don't like Campari, but together they form a sinister yet lovely and inspired hell broth. Like a marriage, it's a true ever-lasting love. This is not a cheap date, this is not a one night stand." 
How strong is a Negroni?
Surely such a divine concoction could not be improved upon? Well, a Negroni is pretty strong so it's not the ideal session drink. Assuming your gin is 40% ABV, then with Campari at 26% and vermouth at 15%, you're looking at a 25% cocktail after dilution from ice. One is great, two is better, three is a big mistake.
The Negroni Sbagliato is the answer to the question of what to drink when you want a Negroni but don't want all that alcohol. The word 'Sbagliato' means 'mistake' or 'muddled' and apparently comes from a time when a bartender accidentally grabbed a bottle of sparkling wine instead of gin to put in a Negroni. The rest is history. Funnily enough, it's almost identical to one of the origin stories of the original Negroni. A barman was making a Milano-Torino, a mixture of Campari, vermouth and sparkling water, but was distracted by a beautiful lady. He was Italian after all, what was he supposed to do? Instead of adding soda water, he put in gin, and thus the Negroni was born. Believe that if you will.
However it was created The Negroni Sbagliato is a fine drink and at around 15% ABV after dilution with ice, one that's a bit more manageable should you want to get some work done afterwards. Or ride a fire-breathing dragon.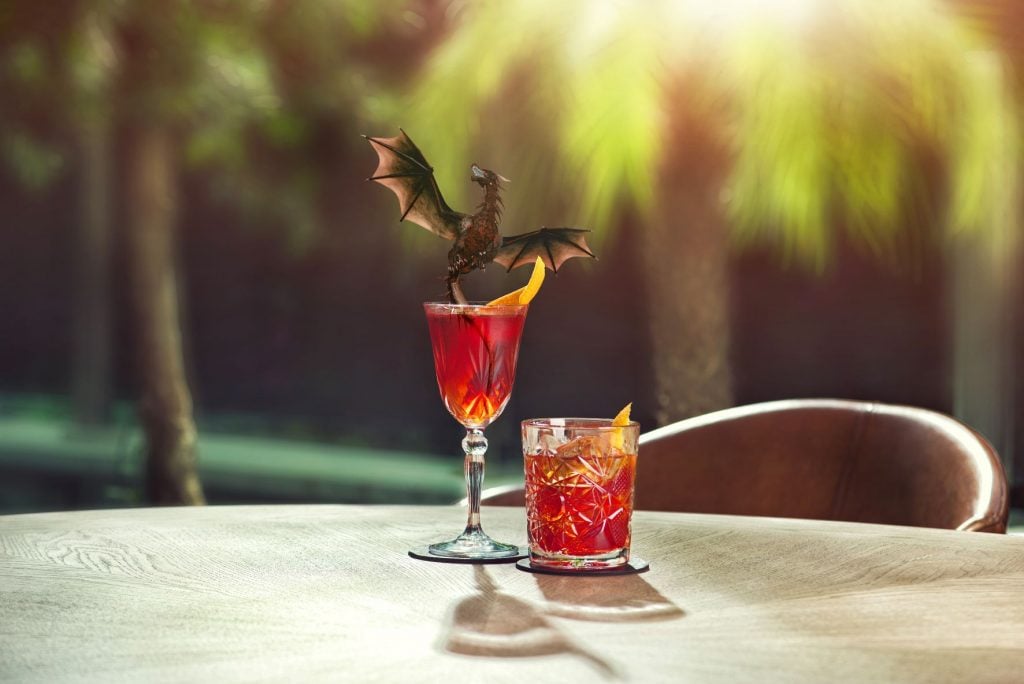 How to make a Negroni Sbagliato
25ml Campari
25ml Martini Rosso vermouth
Prosecco to top up
In an ice-filled tumbler add the Campari and vermouth, give it a good stir to chill and top up with Prosecco and a bit more ice. Garnish with an orange wheel.