Today we're taking a rum-tastic spin on a classic cocktail made with a certain Venezuelan rum. It's the 1796 Spritz.
"The secret behind creating a great rum cocktail begins in the same way that creating any great cocktail should – with a thoughtful balance of carefully-selected, quality ingredients," says Geoff Robinson, UK brand ambassador for Santa Teresa. "To make a great rum cocktail, specifically, I would encourage one to delve a little deeper into what makes that rum in particular unique – as it is such a broad category, there is so much diversity to play with – and then find a way to elevate or complement those special characteristics."
There's plenty that makes Santa Teresa 1796 unique. The single estate Venezuelan rum, which is made using the solera method (most notably used in the production of sherry) from a blend of rums aged between five and 35 years in former American whiskey barrels, has gained as much of a reputation for its smooth, dry and balanced spirit as it has for community outreach programs like Project Alcatraz, which uses rugby to rehabilitate criminal gang members in Venezuela.
The Alcatraz Cocktail Challenge
This initiative has provided a platform for the brand's Alcatraz Cocktail Challenge, in which bartenders from across London, Manchester and Edinburgh are challenged to create and list an innovative Santa Teresa 1796 cocktail on their menu. The only rules were each cocktail should be inspired by Alberto Vollmer's highly successful initiative, Project Alcatraz and £1 from every sale would be donated to charity. "The creations we saw were outstanding, with winning cocktails including the London Edition's Yoann Tarditi's banana bread flavoured The Third Half and Three Sheet's Max Venning's Alcatraz Old Fashioned served in two different iterations – a lighter expression with lemon, orange and kaffir and a darker version with vanilla and oak moss," says Robinson. "This experimentation ultimately works to help improve the understanding of the rum category, and in doing so we managed to raise significant funds for the School of Hard Knocks, a charity that uses rugby to teach positive values and behaviours to give a sense of self-worth and hopefulness for the future."
Robinson, who originally hails from Vancouver, Canada, worked as a professional bartender there at some of the city's best bars before moving to London to establish himself in the UK bar scene. In 2018 he became involved with Santa Teresa, at a time where the industry was anticipating the premiumisation of rum. It's been a long road, however, as Robinson explains: "There is definitely a lack of knowledge about rum, along with a great many misconceptions – and it is completely understandable why! Rum was born out of a long history of adventure, exploration and, indeed, naval imperialism and piracy, and has never had an overarching set of regulations about how it can or should be produced, nor how we define and label it. As such, it is no surprise that people on both sides of the bar are confused!"
Rum's versatility
Rum's advantages lies in its versatility in cocktails, from classic serves to original creations. "Consumers and bar professionals alike are starting to realize that rum is not singular, and so consists of far more than the general associations that we make," says Robinson. They are starting to understand that rum is more than just light rum, Daiquiris and tiki, all wonderful things, but also encompasses aged, sipping rums that can stand shoulder-to-shoulder with any other old-world aged spirits in terms of provenance and craftsmanship that are equally at home in a Manhattan, Negroni or Old Fashioned. Innovative craft cocktails certainly do help rum as a category because they demand the cocktail-maker or bartender has a deeper understanding of their ingredients, and then that they showcase them in unique ways. The future of rum is bright."
How to make a 1796 Spritz
Which brings us to this week's serve, the 1796 Spritz. It's simple to make and elegantly presented, but the most interesting aspect is that it takes a powerful, complex rum and uses it to make something light and refreshing, creating a pleasant contrast in style. "I chose this particular cocktail as it is a light and fragrant serve that highlights the flavour of the rum itself," explains Robinson.
The inspiration is Santa Teresa's Club 1796 event, a series of dinners with the on-trade that Robinson reveals was started to celebrate each other's company in a family-style environment, but also to learn more about rum and the rich history of Santa Teresa. "The 1796 Spritz is always the first cocktail we serve at dinner, and it is the perfect introduction for any imbiber, be they a seasoned rum aficionado, or somebody diving a little deeper into the category for the first time," says Robinson. "We present this cocktail alongside a range of exquisite seafood and sushi, with the umami flavours bought in by the umeshu (Japanese fruit liqueur) complementing the fresh savoury taste of the fish."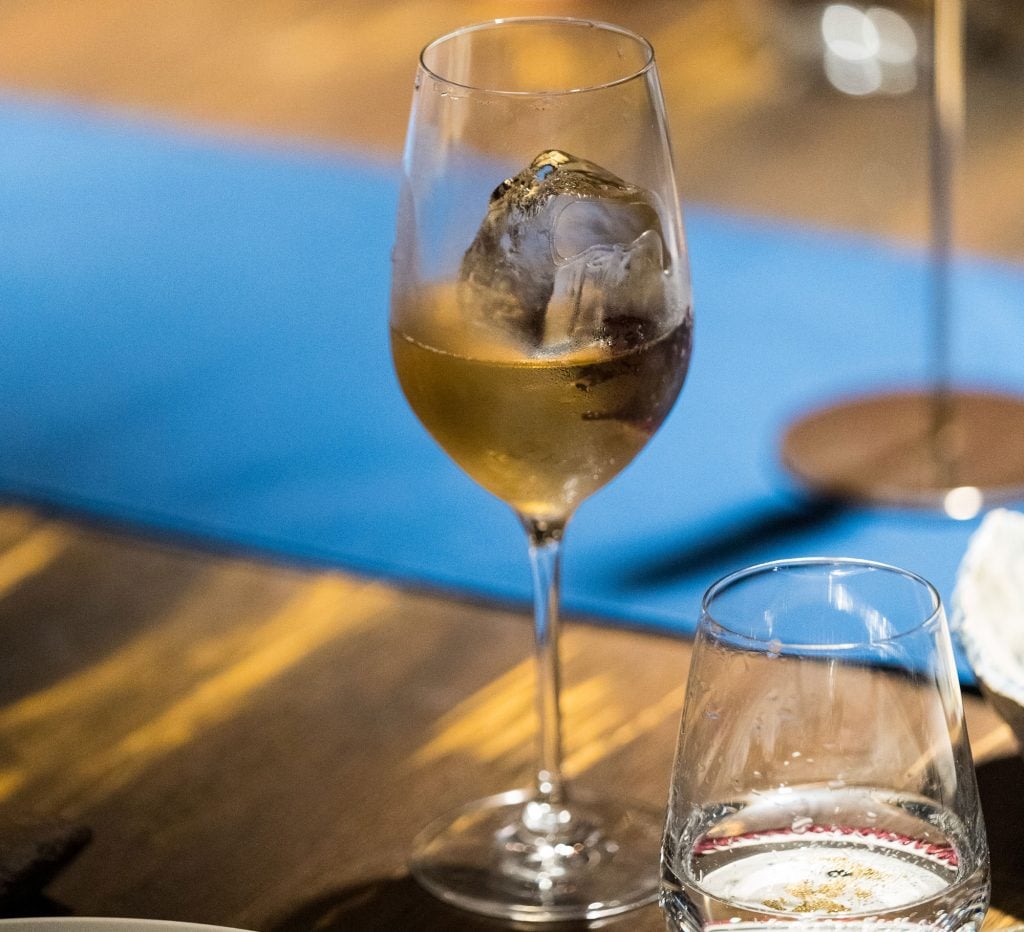 35ml Santa Teresa 1796
5ml Shoya Extra Shiso Umeshu
30ml soda water
30ml tonic water
Mix 1796 and umeshu in a spritz or wine glass over ice and give a brief stir, then top with the soda and tonic. Stir again and garnish with a purple shiso leaf (if you have one, if not a twist of orange peel will do).