This year we're not just celebrating Old Fashioned Week, we're having a whole Old Fashioned Month with Woodford Reserve bourbon so it's the perfect time to take a closer look at the original cocktail.
After years when it was thought, well, a bit old-fashioned, the Old Fashioned is now decidedly hip. A week devoted to its pleasures was started in 2015 by two Frenchmen, Michael Landart from Maria Loca bar in Paris, and Cyrille Hugon, founder of Paris Rumfest. It's now become an annual event with events all over the world and the might of Woodford Reserve Bourbon behind it. So to get you in the mood, find a comfy chair, pour yourself a drink (recipe at the end), and we will take a journey back in time…
Just how old is an Old Fashioned?
Really quite old, though originally it would have been known simply as a 'cocktail'. The oldest mention of the word has been found by top booze historian David Wondrich in a New Hampshire newspaper dating from 1803. A cocktail was a specific kind of mixed drink consisting of a spirit, usually whiskey or rum, with water, sugar, and bitters. Bitters such as Stoughton's Elixir, patented in London in 1712, were all the rage in early America. When new-fashioned cocktails appeared in the mid 19th century made with outlandishly modern things such as vermouth, absinthe, or Curaçao, some old-timer said something like, "enough with all these contemporary concoctions, I want an old-fashioned cocktail, dammit!", and the name stuck.
Great, I'll grab the fruit bowl
Originally the only fruit would have been a piece of lemon peel. In The Cocktail Book published in 1900, there are recipes for brandy, rum, whiskey, and Holland gin Old Fashioneds. They are all made the same way: take a lump of sugar, add a little hot water and crush, add ice, booze, bitters, a piece of lemon peel and stir until all the sugar has dissolved. This is a classic Old Fashioned, an old-fashioned Old Fashioned if you will.
During Prohibition, bartenders began adding fruit to their Old Fashioneds, probably to disguise the taste of dodgy spirits. American cocktail books following Repeal in 1933 all list fruit such as orange, lemons, and maraschino cherries in their recipes.
Many people disapproved of these new-fashioned Old Fashioneds. Crosby Gaige, author of The Cocktail Guide and Ladies' Companion, wrote in 1944: "serious-minded persons omit fruit salad from Old Fashioneds". Bernard de Voto in his book The Hour: A Cocktail Manifesto wrote, "a cocktail does not contain fruit juice." The British, however, ignored all these exciting new developments and continued making the Old Fashioned the old-fashioned way. Too bloody right.
Perhaps it was all that fruit, or perhaps it was the rise of first lighter whiskies such as J&B and Cutty Sark, and then vodka in the 70s and 80s, but by the 1960s, the Old Fashioned was decidedly old fashioned. It was what your parents drank. Brown spirit cocktails were out, and, that most American of whiskeys, rye, nearly died out.
The Old Fashioned is back!
In the mid-2000s, American bartenders began to rediscover their rich spirits heritage. The revival of American whiskey, specifically rye, was on the back of classic cocktails such as the Old Fashioned and the Manhattan. New whiskey distilleries were opening in America, and all over the world. Established drink brands, especially Scotch and Cognac, were throwing off their rather old-fashioned image and embracing cocktails. The scene was set for an Old Fashioned revival.
Distillers love the Old Fashioned because it shows off the complexity of the spirit. Bartenders love the Old Fashioned because it is infinitely adaptable. You can use any spirit – rye and bourbon are the usual choices, but other whiskies, rum, or brandy can be sensational; you can even use unaged spirits such as Mezcal, or a smoky Islay as seasoning. It's fun to play around bitters, like orange or chocolate, to accentuate different flavours. You can experiment with sweeteners. I've had Old Fashioneds made with PX sherry or maraschino cherry juice. And finally garnish with a piece of orange, lemon, or grapefruit peel, or (let the purists be damned) orange and lemon segments, and a maraschino cherry.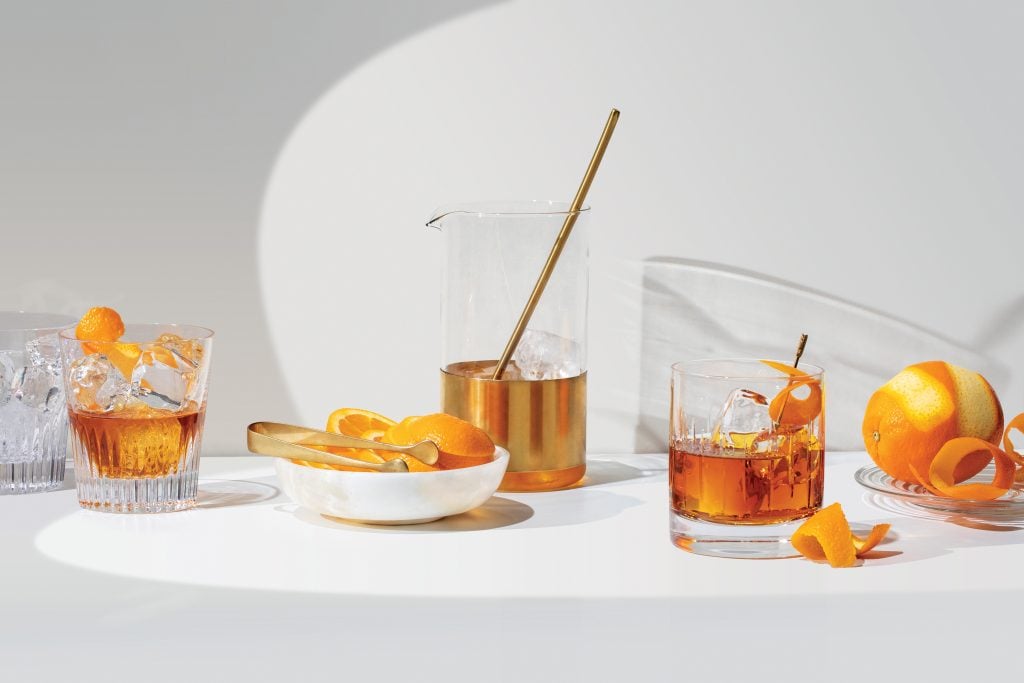 How to make the ultimate Old Fashioned
I'm a bit old-fashioned when it comes to making an Old Fashioned, so I'm using a classic bourbon Woodford Reserve which is smooth but 18% rye gives it a nice spice too. Then I like to use orange bitters and PX sherry instead of sugar syrup (but if you don't have it, just use simple syrup and make to taste). If you haven't tried this, you're in for a treat. For me, it's the ultimate Old Fashioned.
Here's the recipe:
80ml Woodford Reserve Bourbon
2 teaspoons of Gonzalez Byass Nectar Pedro Ximénez 
2 dashes of Fee Brothers Orange Bitters 
Add the bourbon, bitters, and one teaspoon of sherry to an ice-filled rocks glass. Stir for 30 seconds and taste, add more PX sherry if required. Express a piece of orange peel over and drop it in.