We cast our MoM-branded spotlight on Citadelle Gin, an expression created at a Cognac house, that predates the craft gin boom. Its founder Alexandre Gabriel explains why he created a gin in the first place, the 18th-century recipe he based it on and his patented brand of gin distillation.
Given that he runs his own Cognac, rum and gin brands, you might think it's hard to pin down Alexandre Gabriel. But, in my experience, the restless innovator is always happy to make time to chat about booze. Before I ask a question, he informs me he's just spent the morning planting juniper trees at the Bonbonnet Estate and that he hopes the juniper and lemon supply for Citadelle Gin will be totally self-sustainable within five years. He's been planting juniper berries since September 2017, inspired by the fact that the south west of France was known for its juniper berries during medieval times. He then explains that as someone one grew up on a farm he's attached to the idea of growing what he needs, organically, of course. He already grows his own grapes for his Cognac.
In the midst of this discussion, Gabriel moves onto the topic of expansion, explaining that his other hobby is architecture. "We are expanding the distillery at the old estate at Bonbonnet. We do everything ourselves. The stonemasons are the guys who fill the barrels at Maison Ferrand. We're putting nine pot stills in, old Cognac stills that I found that date back to the 1950s and '60s and we are refurbishing them as we speak. Right now we are using our Cognac stills off-season to distil Citadelle," he explains. I still haven't actually asked a question at this point. "We are going to be able to use an economical system for our cooling water. Instead of using an inverter to cool it down and waste energy, we're going to use warmer water and install long pipes so that we reuse that water in our greenhouse to grow the lemons that we need for Citadelle. More juniper berries, more stills, more experiments". 
We're ten minutes in and I already know this is going to be a productive interview. But you don't expect any less from Gabriel, as you'll know if you've read our previous features on Pierre Ferrand and Plantation Rum. Today, however, the focus is on Citadelle Gin. In my opinion, it's his most intriguing brand. Why? Because it's a premium French gin brand that was released back in the '90s. It's hard to put into context now given gin's boom in the last decade how crazy you would have sounded pitching this idea. Gabriel remembers the feeling well. "It was like a moon landing! There was nobody on the gin planet. In 1996 I thought the world was waiting for an artisanal delicious gin. It was not!"
In the early days of Citadelle, Gabriel recalls a group of students proposing to do a business case on the brand. Naturally, Gabriel accepted, hoping their acumen would provide some insight. Their analysis? "There is no way this can work," Gabriel says, laughing at his own expense. "This kept happening. I remember our importer in America looking at me like I must have gone mad. A French gin?! This decision was made purely out of passion and it was almost disastrous to our business. I have made many mistakes and I hope I am going to make less," he says. "It looked like Citadelle wouldn't work because it was out of time and it was financially painful. But, in the end, the two wrongs became a right. Now there is a new gin every week, right!?"
Citadelle Gin didn't thrive so much as survive in the early days, slowly building a reputation and fan base for its fresh, clean and delightfully mixable profile. Gabriel is particularly grateful to the influence of Ferran Adrià of El Bulli fame. "In about 1997/98 Adrià was on TV. He said that Gin and Tonic is a gastronomic act and a beautiful aperitif and that you should use a great gin. He whipped out a bottle of Citadelle. We were like 'wow'. That made a difference," Gabriel recalls. "This guy is the one that put the Spanish Gin and Tonic, which conquered the world, on the map. He really did, I was there and I saw it, and he never took credit for it but he really did. Then in the US, the New York Times wrote a beautiful piece in 1999 called something like 'Citadelle storms the gate'. It was half a page and that was a big push for New York. Every bit counted for us". 
But before the days of trying to convince customers to give French gin a try, Gabriel had a much bigger stumbling block. He had to convince the authorities to give French gin a try. The Appellation d'Origine Contrôlée (AOC) regulations stated that the brandy can only be distilled between November and March. After that stills must be locked up and put into hibernation for seven months. From the outside, that might seem perfect.  The region's copper alembic stills and distillers have six months of the year free to distil something else and you don't have to waste money creating a new distillery. But nothing's ever that simple, as Gabriel found out quickly. Distilling gin in Cognac stills wasn't simply frowned upon, it was outright banned. The Bureau National Interprofessionnel du Cognac (BNIC) had never received a request for this to change and probably never thought anybody would ask. But Gabriel is not one to follow conventional wisdom or pay much heed to what he believed were antiquated laws.
What followed was a struggle in which Gabriel lobbied to make his gin, arguing that there was historical precedent for this act. Extensive research uncovered that historically gin was produced in pot stills over a naked flame, which is exactly how Cognac pot stills were designed. "I don't know about you but when I am pissed at something I work even harder! France is a very bureaucratic country. I was told there's no rule that allows me to do this, but I was much younger and rebellious in nature and I said there's no rule that says I cannot", he said. Eventually, "after five long years, I finally received the AOC approval to distil gin in Cognac in 1995!" 
Gabriel's keen interest in history also led him to an 18th-century French distillery that inspired the Citadelle name and influenced the profile of the gin he would eventually make. "I tried to absorb everything I could about gin. I've always been attached to the idea of revitalising artisanal spirits that are a part of French heritage. We know the ancestor of gin was inspired by the Dutch, but at the time the Netherlands was a huge area that included parts of France and Belgium. I hired interns, I still do this a lot, to go through all the archives in the main cities. One day they discovered in a church an archive with a whole documented history of every parchment about the first official genever distillery in France," Gabriel says. "I still have all the copies. It was established in the citadel of Dunkirk in 1775 on Louis XVI's authorisation to smuggle gin to the UK. The distillers, Carpeau and Stival, used 12 copper pot stills to distil their gin and multiple botanicals like exotic spices alongside juniper berries. It was actually transported in barrels too. We uncovered some of their recipes. It was an inspiration and I thought the name was cool. Luckily it was not patented anymore!"
While some inspiration for Citadelle Gin came from this historical booze, Gabriel already had a style in mind: a classic profile that was fresh, thirst-quenching and most importantly juniper-forward. Good thing he's growing so many of his own. "I wanted Citadelle to be fully integrated with many other elements that give it a rich mouth-feel and a great complexity. The apex of the triangle would be the juniper berries, the second element being citrus, lemon with a little bit of orange in our case and then the third element is the warm wind of exoticism, in our case nutmeg, that true gins should have," says Gabriel. "We're lucky because the Cognac stills have a very low swan neck which extracts a lot of the essential oils of the botanicals and it gives you a viscosity effect that balances the freshness of the product and the citrus-feel. I knew I would get that luscious effect from the distillation methods, it's very slow, that's the only downside to it".
Citadelle Gin is crafted using a unique technique called progressive infusion, which Gabriel describes as being a similar process to making tea, except you brew different elements at different times in the teapot. In the case of Citadelle Gin, the elements refer to the botanicals: French juniper berries, orris root, French violet root, Moroccan coriander, almonds, Spanish lemon peel, Mexican orange peel, angelica from North Germany, Indian cardamom, Indian nutmeg, cassia bark, Sri Lankan cinnamon, Mediterranean fennel, African grains of paradise, cubeb from Java, Chinese liquorice, cumin, French anise, and savory. "Each botanical is infused in neutral alcohol of French wheat for different lengths of proof and time, according to its aromatic function," Gabriel explains. "While some require a strong degree of alcohol and a long infusion such as juniper berries, others infuse better in a weaker degree of alcohol, in a shorter time like star anise". 
The infusion process lasts three to four days, during which the botanicals are added in successive steps while the degree of alcohol diminishes. "We lower the ABV with pure water, the same water that we use to bring down the ABV for Cognac, in which all the mineral elements have been eliminated through the reverse osmosis process. At the end, once the 19 botanicals have been infused, the ABV is about 30-35%. We set 20% of the infused spirit aside before sending it to the distillery and we infuse three extra botanicals, yuzu, cornflower and genepi from the Alps," Gabriel says. "We then take the infused spirit to the distillery and we distil. Since the spirit has already been distilled at least three times, we only have to do one distillation. We do not keep the heads, we keep the heart and a large part of the seconds as well". 
This atypical process of progressive infusion is actually a patented technique, something which Gabriel had never thought of doing until a figure within the government recommended it. "There's a lot of pride in the French gastronomy and we were told our process should be recorded as a French method. Also, if we did it we could be involved in the French research and development programme," he explains. "This afforded me the chance to hire a young guy from my village, Nicolas, who did a PhD thesis on the terroir of the Cognac. We've given this guy training and it's been great to have him on my side since then. By the way, the patent is fully open, I'm not gathering any money from it. If you want to use it, it's Patent No. 17 58092".
The process of creating gin clearly still excites Gabriel more than two decades later. "The potential to explore an array of aromatics that were different from the ones I grew up with is very attractive. But also, look at the regulations on how Cognac is made. It's 23 pages long. With gin, it's more like a page or half a page, so the only real limit is your imagination which is very exciting when you come from the Cognac world. I am trained classically in Cognac so I am playing Bach, if you will, so when I make gin it's like getting to play rock'n'roll or jazz instead. That freedom is wonderful," Gabriel explains. "When we made Citadelle Réserve we aged it in acacia barrels, a style my grandfather taught me. But if I do that in Cognac… I'd be looking at five months! Yet, we know that classic Cognacs from the 1900s were aged in chestnut barrels thanks to English archives. It's illegal now. Crazy right?"
He first released Citadelle Réserve back in 2008. Once again, this puts him ahead of the curve in the craft gin game, as there weren't many aged gins around back then. But Gabriel is quick to clarify that it wasn't his idea. Instead, it was inspired by another round of research into the history of gin. "I'm ashamed to say, it didn't come to my mind until I was reading this old document from the archives about gin being shipped gin in barrels. It was really late at night and I immediately ran to our barrels and started pouring gin in a Cognac barrel," he explains. "It was the first revival of the yellow gins that I know of. Some people followed suit, but it's still very niche as a category". 
Acacia wood was just a starting point for Gabriel's cask experimentations. At Maison Ferrand, you'll find barrels of wild cherry woods, chataignier (chestnut) and murier (mulberry), as well as French oak having contained Pineau de Charentes or Cognac. All have been used to make editions of Citadelle Réserve, and spirit from all these wood types have been blended in the egg. What egg? The huge wooden egg on site. No, seriously. It's a patented wood receptacle in which aged Citadelle Gins are blended, making it the first and only gin in the world to use this method. "We call it 'the ovum'. When I saw this egg I fell in love. It's a slow and constant blending process designed to integrate the different wood essences," Gabriel explains. "At 2.45 meters high and with the help of natural convection, the gin inside is in a state of perpetual motion, reducing oxygenation, and preserving the palette of aromas and evaporating volatile aromatic components".
Gabriel's desire to explore and test the limits of gin led to the creation of the limited edition Extreme Collection. The first was Citadelle No Mistake Old Tom Gin, made with caramelised Caribbean brown sugar that was aged in the barrel with its cask-aged Citadelle Réserve. Wild Blossom followed, a gin inspired by his mother's love of herbal infusions that was distilled wild cherry blossom petals and aged in cherrywood casks for five months. "They keep me sane. Take 'Saisons of the Witch', which I made by roasting my juniper berries and distilled it with the other botanicals to create a slightly smoky, roasted pepper gin. We sell it only on the estate and we made a few hundred bottles, but I love it," Gabriel says. "Right now I can tease that we've got a new aged gin expression on the way and, also some breaking news, we have a gin maturing in 100-litre vats made from juniper berry tree. All this crazy stuff that I'm having fun with is all part of that new frontier of gin! Then 2021 will be the 25th anniversary of the launching of Citadelle, so the 25th anniversary will come with some surprises as well". 
The freedom of distilling gin does have its drawbacks for Gabriel, who's very passionate about gin being a juniper-forward spirit in profile. "I disagree with people just adding the flavour of fruit into a gin. I am older now, I have learned to be respectful. I know the flavoured and coloured gins are growing extremely well, but that's a direction that I'm not interested in. To me, it is to gin what the marshmallow-flavoured vodka was to that category. We have to be careful as producers because it can dirty the name of gin," Gabriel reasons. "I'm a purist that way. I have been cautious of exploring and pushing boundaries, even though I am usually considered the guy who is always pushing things. But an approach that is motivated by purely commercial goals is a problem. We are confusing people. We have to be careful that gin isn't looked at as a different category. The real definition is that gin is a spirit with the dominant flavour of juniper berries".
Despite his reservations about the flavoured category, Gabriel remains optimistic that gin has got a very exciting future. "Gin has been around for a long time and has gone through a renaissance, a revival that I would never have expected in 1996. But there is still a great interest in gin that's not going away too quickly. I know England and Spain were the precursor and have been crazy about it for a while but the French are just getting started," Gabriel says. "People are really excited about gin because of the possibilities that the producer, and therefore the drinker, can explore. That's the beauty of gin".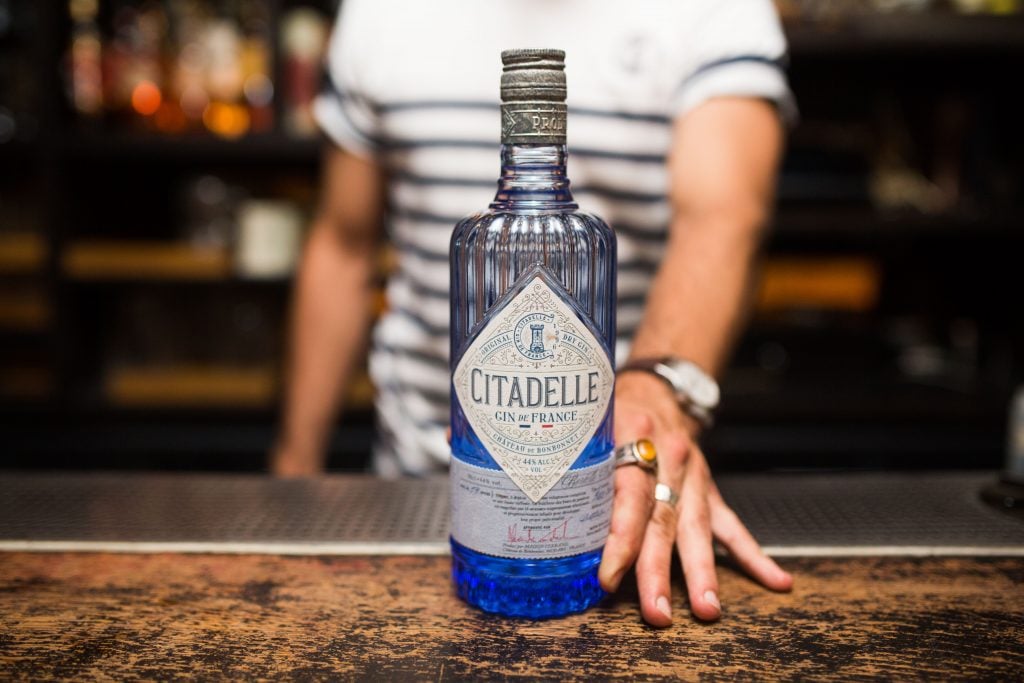 So how to use Citadelle Gin? Gabriel has a few thoughts: "I love a G&T and with Citadelle it's incredible, but my little sin is actually a Gin Reserve with just a glassful of dry Curaçao," he says. "Not the blue stuff, we make an original curacao made with real orange. I also love a gin martini with a great vermouth like Dolin and of course I love a French 75". My advice would be to explore and experiment. It's what Alexandre Gabriel would do. 
Citadelle Gin Tasting Note:
Nose: Bright, piney juniper is at the forefront, with warm citrus from orange and coriander in support alongside some green cardamom and fresh flowers. In the backdrop, there are deeper, spicy notes of nutmeg, cinnamon and grains of paradise, which are joined by a slight nutty quality and the sticky sweetness of liquorice. 
Palate: The juniper is front and centre once more, but it's joined by spice from cracked black pepper, the floral sweetness of Parma Violets and a savoury, woody quality. It's a rich and full-bodied palate that features orange peel, cumin, star anise and cardamom throughout. 
Finish: Dry and a little peppery at first, the finish then develops with plenty of aromatic baking spices, fennel, more liquorice and a sweet hint of angelica.
Overall: A complex, intriguing and well-integrated gin that does a particularly good job of balancing floral and spicy notes.
Citadelle gin is available from Master of Malt.