Master of Malt travelled to Scarfes Bar to speak to bar manager Martin Siska and head bartender Greg Almeida about how they and their dynamic bar team brought together mixology magic and mischievous artwork to create this year's menu…
What's better than art? Art that incorporates alcohol – that's what. Which is precisely what inspired the team at Scarfes Bar at the Rosewood Hotel, London when developing the 2018 cocktail menu.
It's a creative take on pop culture with 18 crafty creations based on the satirical work of the bar's namesake, renowned British artist and caricaturist Gerald Scarfe. Presented in the style of a beautifully vandalised copy of The Bartender's Handbook of Fancy Cocktails & Concoctions, the new menu features drinks inspired by key cultural figures and events in recent British history from 2001 to 2018.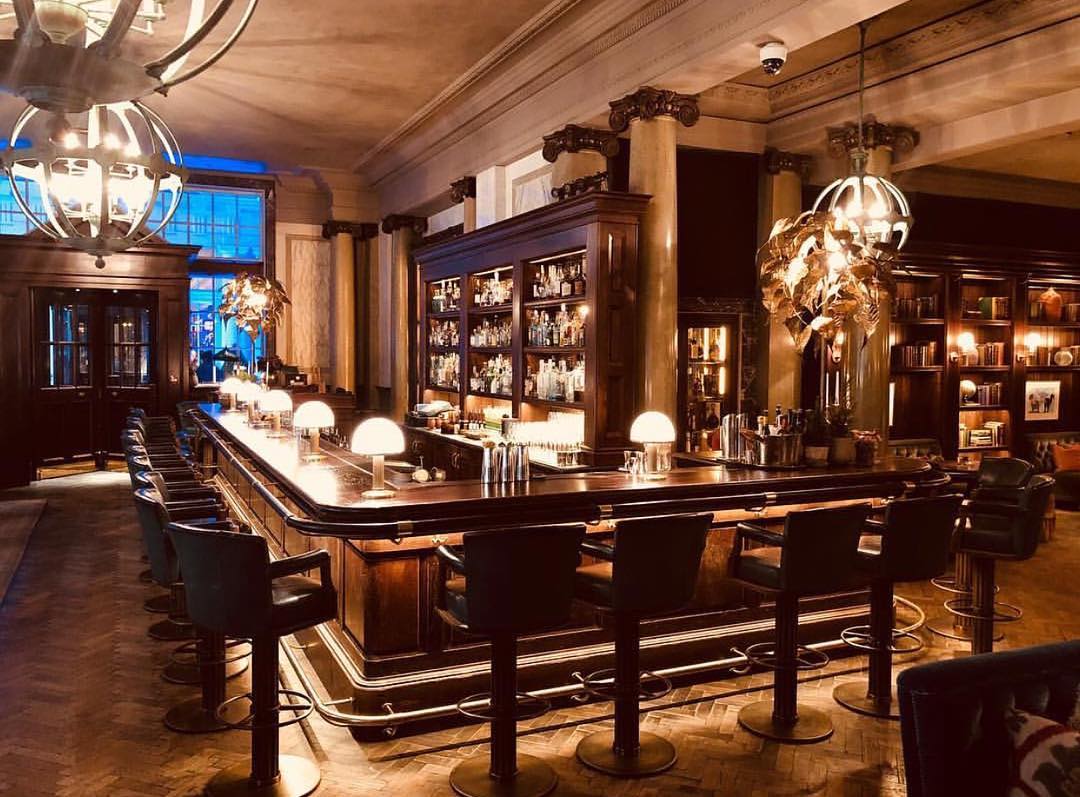 Scarfes Bar at Rosewood London
Making a menu: Scarfes Bar-style
The entire project, from researching to developing the drinks, took the bar team about eight months to complete. Given that the menu features many of Scarfe's most recognisable sketches, as well as some never-before-seen caricatures, a great deal of care of attention was administered to ensure they would be brought to life in liquid format with accuracy, style and humour.
Siska explained the in-depth work that accounted for the research phase. "We made a list every year of things that happened and discussed ideas with the bartenders and Gerald, who we actually saw in his studio." Once a character or theme was chosen, an element, such as a quirk or a familiar association of the subject, was highlighted on the menu to narrow down what kind of ingredients should be used. "We tried out new ingredients and techniques because that's always the point of a new menu: to try and reinvent yourself and take yourself out of the comfort zone you've been in for the last year," Almeida explained.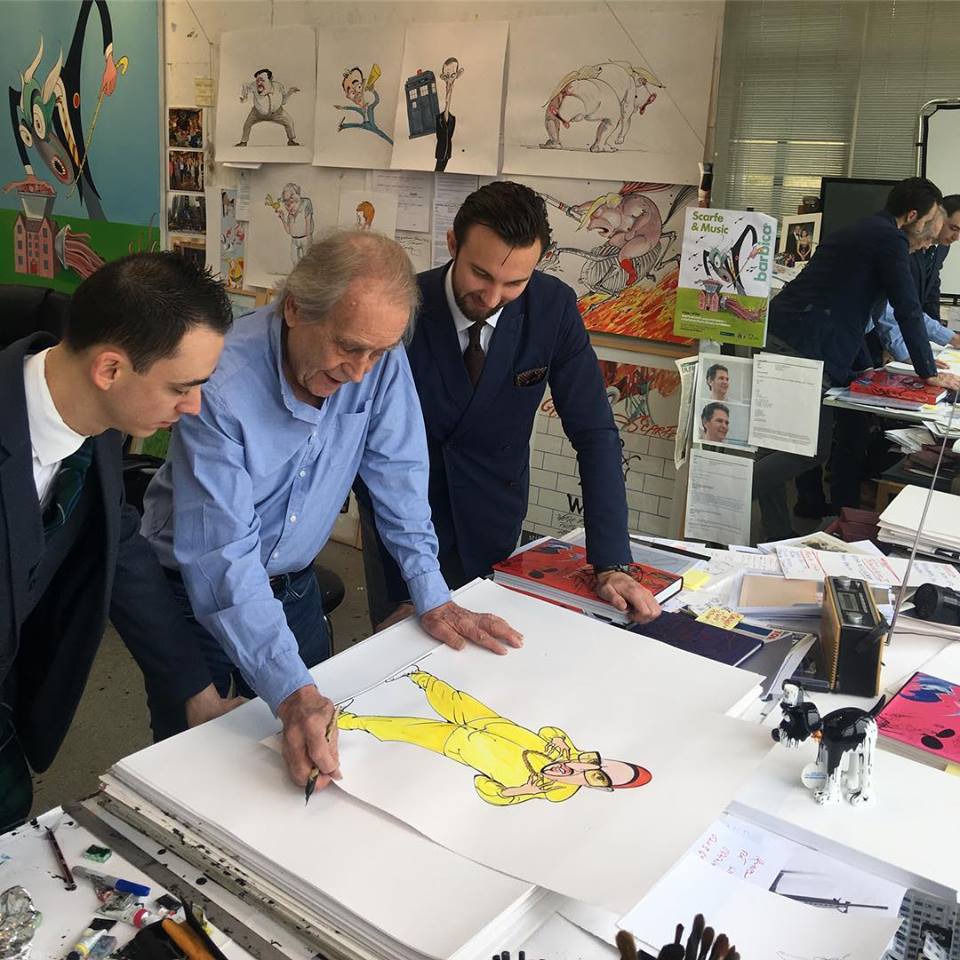 Scarfe, Almeida and Siska working on the new menu
While people can expect new combinations and general cocktail wizardry, to balance the personalities of the bar and the chosen icon, Almeida was conscious of the need to keep things (relatively) simple. "There is nothing hidden, you will be able to taste everything on the menu because we focus on three or four flavours," he says. "We feel that if people can't detect the flavours you're working with then you're missing the point."
The Scarfes Bar Cocktail Menu
Scarfes Bar: The Cocktail Menu
So now we know how and why the menu was created, there's only one thing left to discover – what's in it. Well, here's a whistle-stop tour of what to expect, before we run through a select amount of serves in more detail later…
Cocktails on the menu include the Zingy Stardust (2002), a tribute to the late, great David Bowie and a twist on a classic Gimlet. Wildlife luminary Sir David Attenborough is also celebrated with earthy sensation The Naturalist (2006), while Paul McCartney is immortalised by the foamy, coffee-flavoured Macca-iato (2007). Further serves such as On Yer Bike (2008) portray current Foreign Minister Boris Johnson in a tangy shrub cobbler, before a homage is paid to the late musical sensation Amy Winehouse in milk-punch style Back to Black (2011).
A seasonally-changing G&T twist named Patronus (2010) honours novelist JK Rowling before a celebration of British brilliance is extended to the citrusy, grassy Drop Shot (2012), a tribute to Wimbledon winner and professional tennis player Andy Murray. The 'Most Influential Entrepreneur' of 2015, Sir Richard Branson, is personified in the Mai-Tai inspired Neck-It (2015), before Her Royal Highness herself, The Queen, is honoured for becoming the world's longest reigning sovereign in Champagne cocktail Little Cabbage (2017).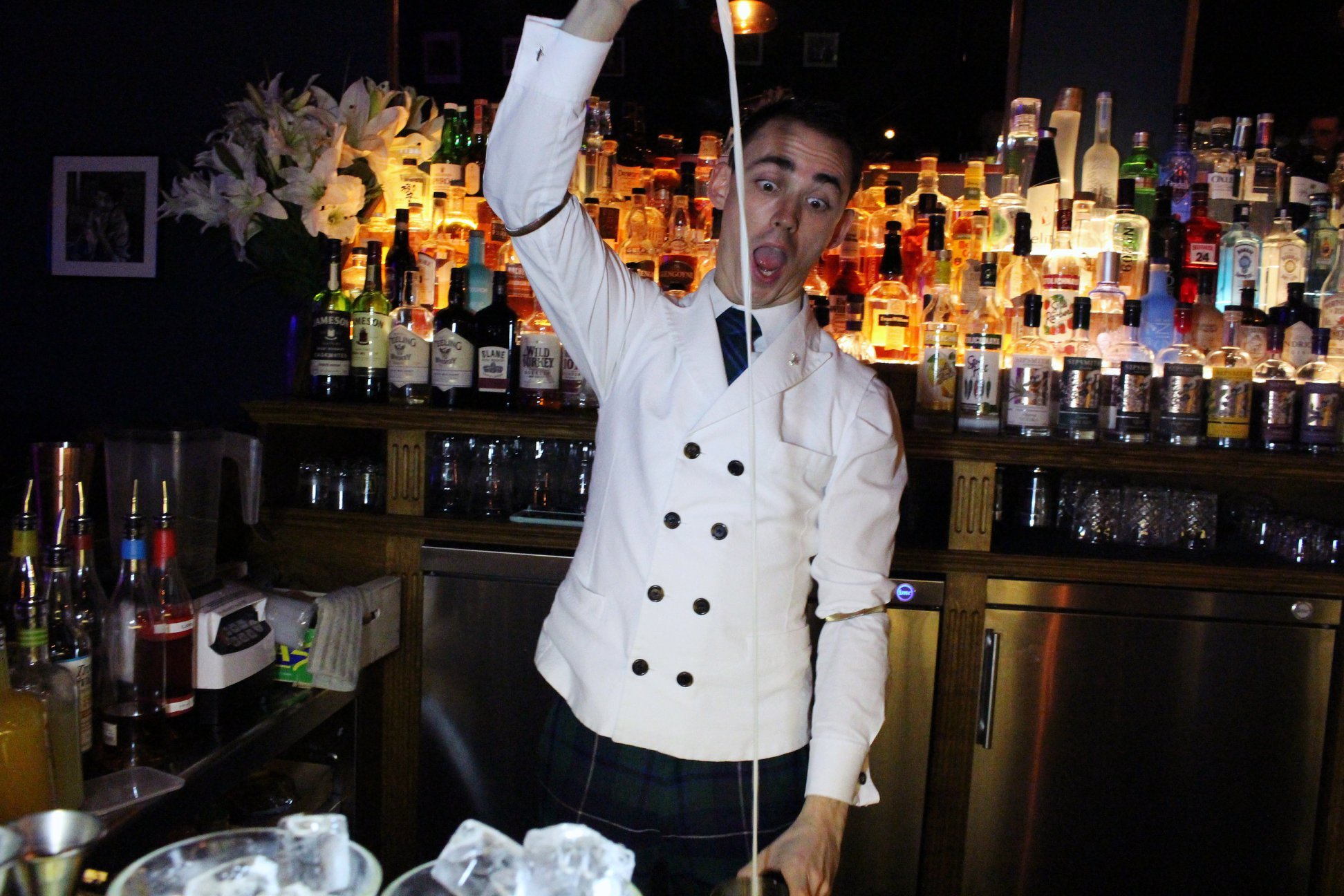 Head bartender Almeida
Three non-alcoholic serves are a new feature on the menu. "We got a lot of requests for them over the last year. People always ask for a healthy drink," Almeida explained. The non-alcoholic cocktails include Doc No.9, named after Christopher Ecclestone who portrayed the ninth generation of The Doctor when Doctor Who returned to screens in 2005. Then there's Silver Spoon, an interpretation of Prince George who was born in 2013, and Toot Toot, which celebrates Sadiq Khan's victory in the 2016 Mayor of London election, which gave him the largest personal mandate of any politician in UK history.
The rest of the menu continues below in more detail (with pictures and everything!), It's a mini-cocktail tour, which we were fortunate enough to experience at Scarfes Bar itself! So, best help yourself to a small glass of Champagne to refresh the palate before we get started…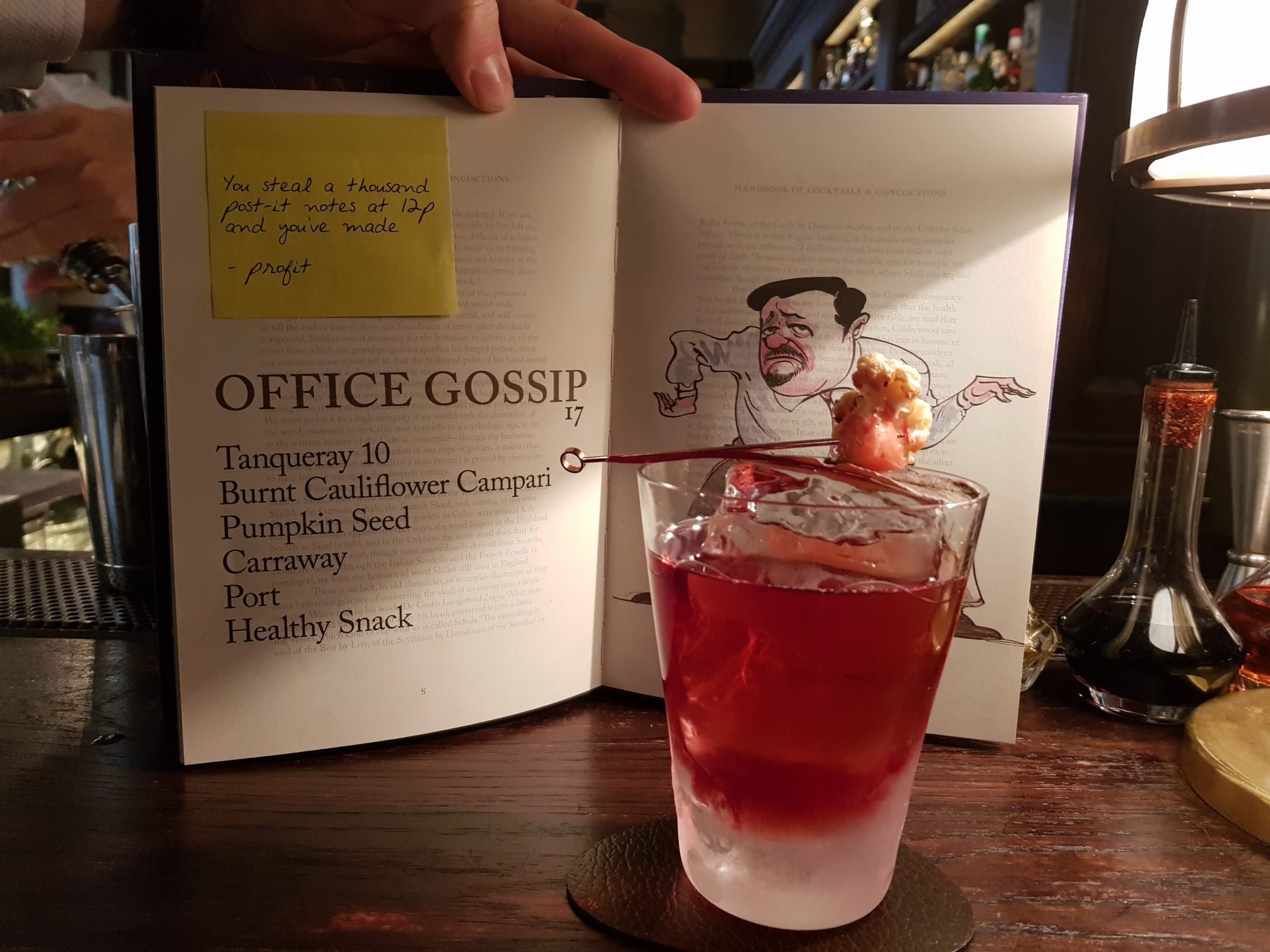 Office Gossips (2001)
The Ricky Gervais-inspired Office Gossips (2001) is a twist on the Negroni that combines fat-washed Tanqueray 10 gin, burnt cauliflower Campari, pumpkin seed, caraway, Port and a healthy snack – pickled cauliflower and single 'bull's blood leaf' garnish. "With the comedy being bittersweet, we thought an aperitif style of drink would make sense," Almeida explained. "Also, through our research, we learned that Gervais is a 'flexitarian', so we tried to focus on the healthy side of things." Immediately the depth of research is apparent and the creativity required to capture the essence of the character in drink form is impressive. I'm sure Texas couldn't do that.
Booyakasha (2003)
2003's cocktail is the 'Booyakasha', which could only be a tribute to Ali G. It's a cocktail that will divide opinion – and that's before people have even tried the drink. "We thought it was quite a big event in British culture. The fact that a guy from London got so big by just being funny is something we wanted to focus on," Almeida explained. "I love it for the caricature and that I was allowed to name it Booyakasha". Scarfes is clearly a bar with a sense of humour, and it's a welcome approach.
The team found that Sacha Baron Cohen, who played Ali G, was a huge fan of margaritas. This allowed Almeida to establish the basis for the cocktail. "It was perfect because people kept asking us for spicy Margaritas.' The drink combines Patrón Silver tequila infused with dried mango with a habanero distillate, Martini Rubino, Canadian icewine Verjus and grapefruit juice, before the glass is garnished with the spectacularly smoky Sal de Gusano (AKA worm salt). This won't appeal to some, so Almeida served the drink with the salt only on one half of the glass, showing its impact on the cocktail. Upon inspection, I heartily recommend you go with the salt.
High Wasted (2004)
Whisky fans will love the choice for 2004, which remembers the launch of The X Factor with the cheekily-named 'High Wasted'. It's something of a homage to pop mogul Simon Cowell and I'm apparently the first to try in its final form!
It's an intricate whisky highball that blends leather-aged Glenfiddich IPA, white chocolate distillate and a tobacco leaf and coconut hydrosol over ice, which is topped up with London Essence soda and a classic mint garnish. "Looking at Cowell himself, we found out that he was a drinker of whisky, beer and a big smoker as well. So we thought we'd go for a whisky highball, which is very trendy at the moment," Almeida explained. It's a fascinating, loving and downright delicious interpretation of a cocktail classic. I could do a joke about it getting a 'yes' from me, but I appreciate with the Texas gag I'm already pushing my luck.
Slumdog Millionaire (2009)
Those with a penchant for the unusual and inspired will have found their match here. Celebrating Danny Boyle's multi-Oscar-winning Slumdog Millionaire success in 2009, the 50/50 combines Ketel One Vodka, R de Ruinart Brut, cardamom bitters, Greek yogurt and turmeric.
There's an obvious Indian inspiration here (if you haven't seen the film, it's set in India. You really should have seen it by now, though) and the aroma is appropriately aromatic and astounding. The delivery is thick, creamy and yet light and refreshing simultaneously. It's unusual but very tasty and definitely worth a try. Siska concurs: "I have tried a lot of things during my career, but nothing like this. The combination of flavours made me come back to it again and again."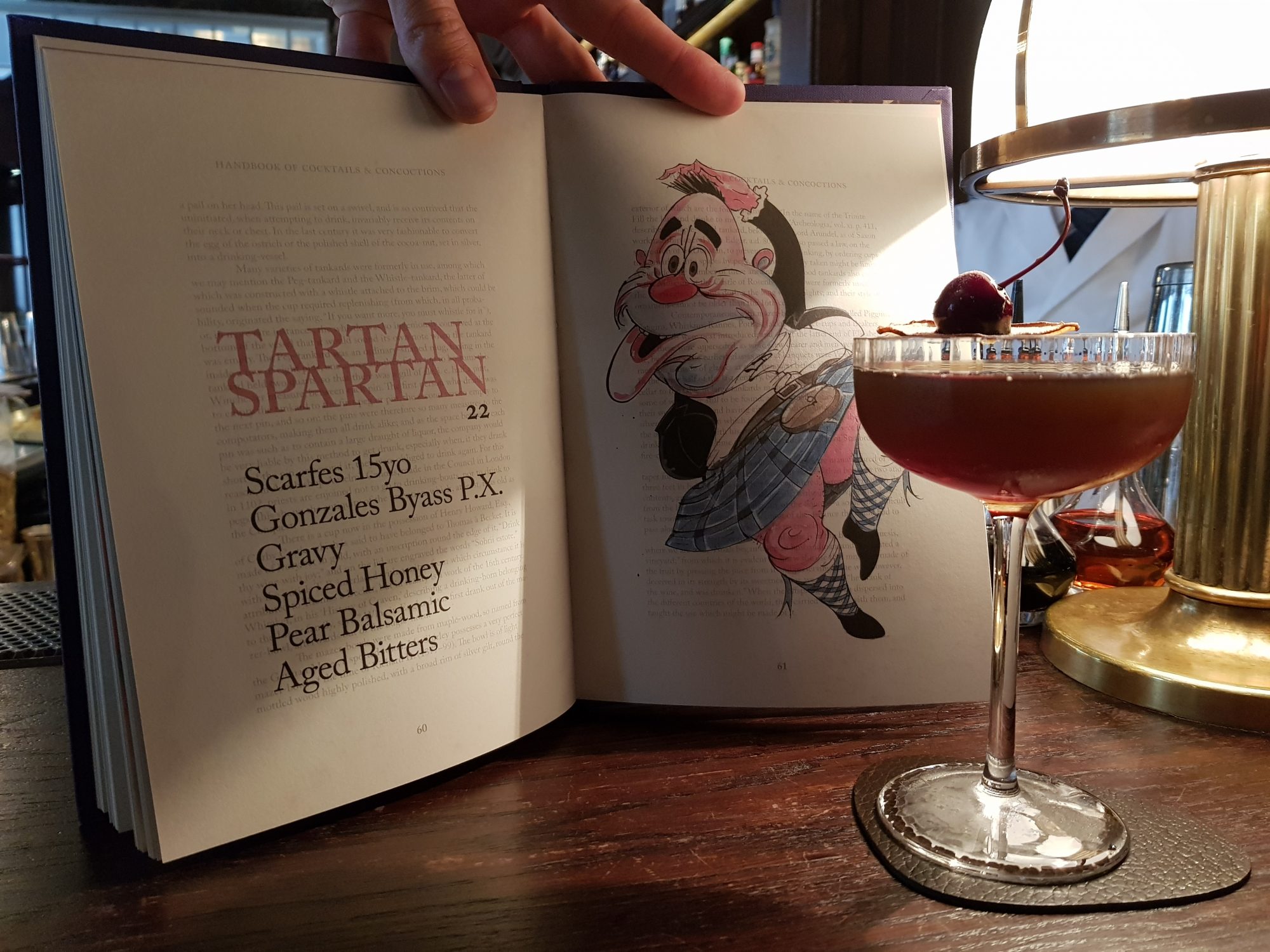 Tartan Spartan (2014)
The next stop on our tour takes us to 2014, the year Alex Salmond resigned after the Scottish independence referendum. The cocktail is called Tartan Spartan and so, appropriately, it embodies Scotland. In his research, Almeida asked a Glaswegian bartender on his staff what he missed the most about his home country. "He said Sunday roast, which was not what we were expecting," Almeida explained.
Never one to shy away from a challenge, the bar ended up creating what Almeida described as a "Rob Roy style of drink that can be enjoyed with your Sunday roast." Whisky geeks will love it too, as the cocktail includes the fabulous Scarfes 15 Year Old, a limited bottling of whisky you can only buy from the bar. This is combined with Gonzalez Byass Nectar Pedro Ximénez, gravy distillate, spiced honey, pear balsamic, and aged bitters to create a Rob Roy-esque delight that's as brilliant as it is bizarre.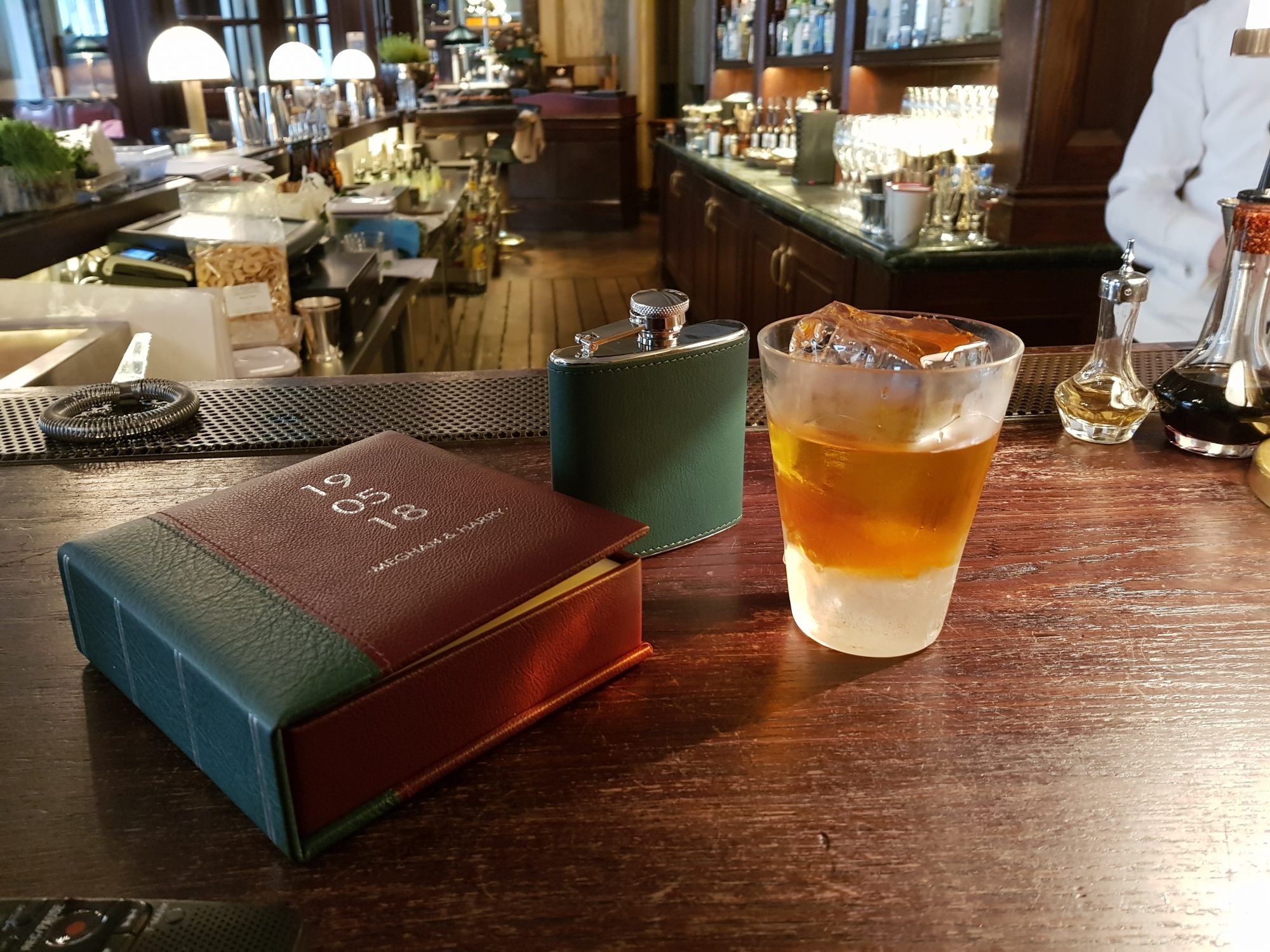 Off the Market (2018)
The tour concluded in 2018 (which was good because I had other appointments, har har har…) which, unsurprisingly, honours the upcoming Royal Wedding of Prince Harry and Meghan Markle. Well, sort of. Off the Market, a stirred-down and serious take on an Old Fashioned is actually more inspired by a different aspect of the festivities. "Everybody is focusing on the wedding, but we're focusing on the funny side, the stag party," Almeida explained with a big grin.
Off the Market blends playful and regal from start to finish, with Royal Salute 21 Year Old (of course) complemented by an auburn twist of vibrant orange ingredients such as saffron, ginger bitters and Carrot Eau de Vie. Figaro fig liqueur from the Algarve completes the cocktail, which is one the most stylish serves you'll witness this year. Once mixed, the drink is stored in a custom-made hip flask craftily hidden within an innocuous-looking book (Almeida says the bar wants to donate one as a wedding present for Prince Harry). It's a fantastic cocktail and a stunning way to end the tour.
Which you will sample at Scarfes Bar?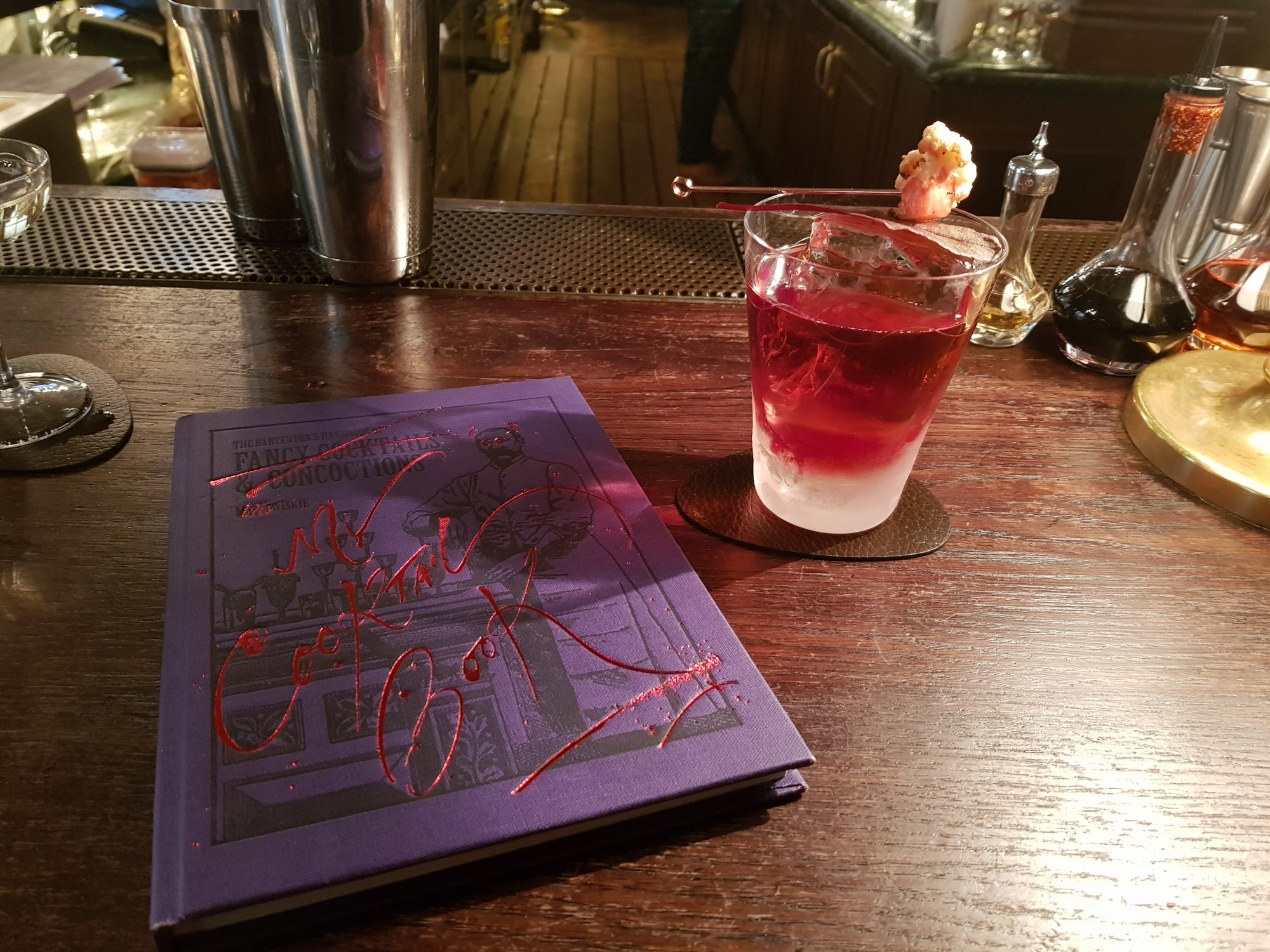 What will your favourite be at Scarfes Bar?
Everything this bar does is ultimately rooted in the great work of Gerald Scarfe, yet the way it's interpreted here makes it a fun and fabulous creation. "What we wanted this year was to give the caricatures a voice, an ability to interact with the guests," Almeida explained. They achieved this through the 84-page illustrated novella, which provides guests with a drinking experience filled with all the craft, passion and humour we've come to expect from Scarfes Bar. We can all raise a mischievous glass to that…
This menu has officially launched so simply head to Scarfes if you want to sample it for yourself. While you're there you will also be able to purchase a physical copy of the menu (trust me, it's worth it), the proceeds of which will be donated to Parkinson's UK.
Which drink would you order and who would feature in your list of icons from 2001-2018? Let us know in the comments below or on social media!