Get your gastronomic groove on and get creative with your BBQ recipes this year with both what you eat and drink.
The BBQ season is here. Grab your charcoal, assorted meats, and comedy apron. While you're at it, make sure you get something delicious to drink. Let's face it, you put so much effort, time, and money into being the grill master and having the finest spread, so why would you then serve anything average to drink? 
We can help make your barbecue unforgettable this summer with a selection of drinks perfect for pairing and sharing, each with a cocktail and barbecue recipe that we've actually made ourselves. Just look at these neat pictures below. That's real food. Here are some top BBQ recipes you'll love.
Four quick and easy BBQ recipes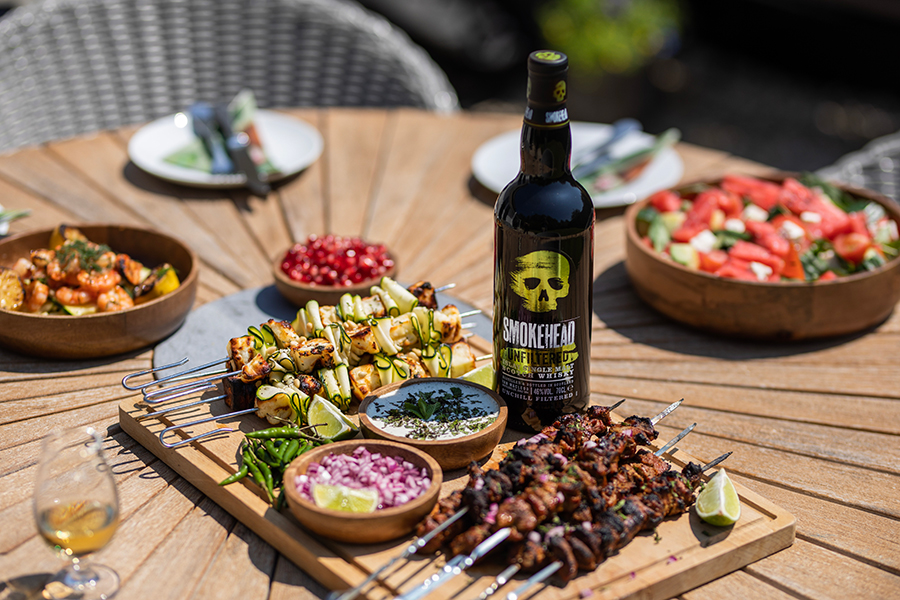 The drink: A big, bold smoky Islay whisky that pairs beautifully with the charred flavours of classic BBQ meats. We've got a lovely recipe for Indian-spiced lamb skewers below as well as a bright, refreshing, and complex cocktail to enjoy: The Penicillin. 
Perfect serve: The Penicillin
50ml Compass Box Great King Street – Artist's Blend
20ml freshly squeezed lemon juice
20ml honey & ginger syrup
15ml Smokehead Unfiltered
Candied ginger to garnish
Combine the blended whisky, lemon juice, and honey & ginger syrup into your cocktail shaker. Fill it with ice and give it a good hard shake, then strain into a chilled rocks glass over a large piece of ice. Then, very gently if it's your first time, pour the smoky whisky slowly over the back of a spoon so it floats delicately on the top of the drink. Garnish with candied ginger on a skewer and enjoy!
Recipe: Indian-spiced lamb skewers with mint yoghurt
Ingredients:
1 kg boneless lamb leg, cut into 2cm pieces

100 gm natural yoghurt

2 tbsp tomato paste

1 tsp chilli powder

1 tsp ground coriander seeds

½ tsp ground turmeric

½ tsp ground cumin

1 garlic clove, crushed

Melted ghee, for brushing

Small green chillies, to serve

Diced red onion tossed in lime juice, to serve

Lime wedges (optional), to serve
Mint yoghurt:
250 gm natural yoghurt

⅓ cup (loosely packed) mint, plus extra coarsely chopped to serve
Preparation time: 20 minutes
Cooking time: 10 minutes
Method:
Preheat a barbecue (preferably charcoal) to high. 

Combine yoghurt, tomato paste, spices and garlic in a bowl and season well to taste. You can then add your lamb and mix well so it is well covered in the sauce. 

Next, thread lamb onto skewers, and grill, turning and brushing with ghee occasionally, until charred and cooked through (6-8 minutes).

For mint yoghurt, blend ingredients in a food processor until smooth.

Season lamb skewers with salt to taste and serve with chillies, red onion, lime wedges and mint yoghurt topped with chopped mint.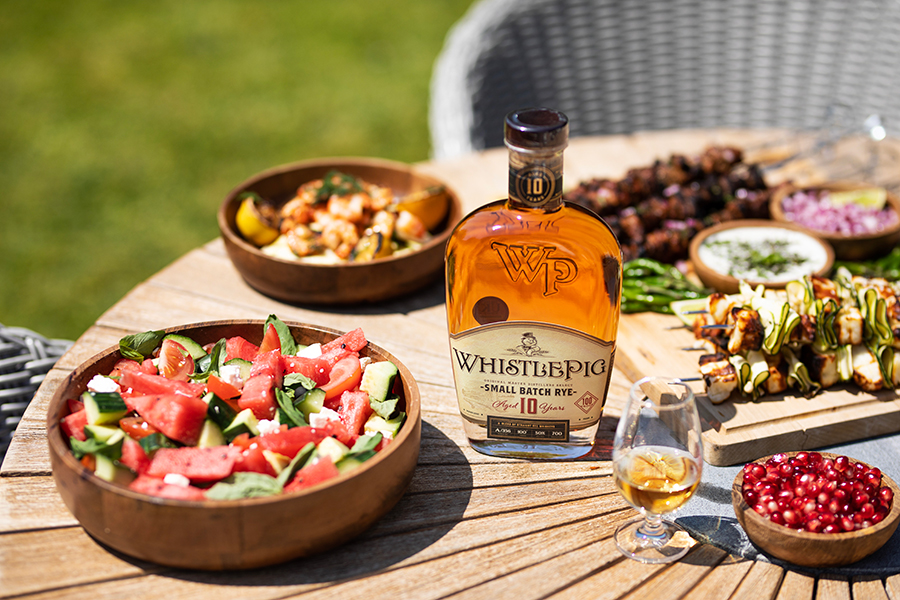 The drink: Rich, sweet, and delightfully versatile, WhistlePig 10 Year Old works in a number of cocktails (like the Old Fashioned we've chosen below) and with all kinds of food. In this case, a fresh and satisfying heirloom tomato and watermelon salad.
Perfect serve: Maple Old Fashioned
50ml of WhistlePig 10 Years Old
10ml of Maple Syrup
3 dashes of Angostura bitters
Stir over ice and strain over a large ice block in a rocks glass, and garnish with an orange peel
Recipe: Heirloom Tomato and Watermelon Salad
Ingredients:
6 heirloom tomatoes, cut into wedges

12 kalamata olives, pitted and halved

¾ small white onion, diced

1 telegraph cucumber, peeled and diced

½ cup basil leaves

2 tbsp white wine vinegar (or to taste)

60 ml (¼ cup) extra-virgin olive oil, plus extra to serve

Crumbled feta, to serve
Preparation time: 15 minutes 
Cooking time: n/a
Method:
Start by cutting all the ingredients.

Once all ingredients have been cut, combine them in a bowl and carefully mix. At this stage do not add the feta.

Once all ingredients have been mixed, transfer onto a platter ready to serve and top with feta.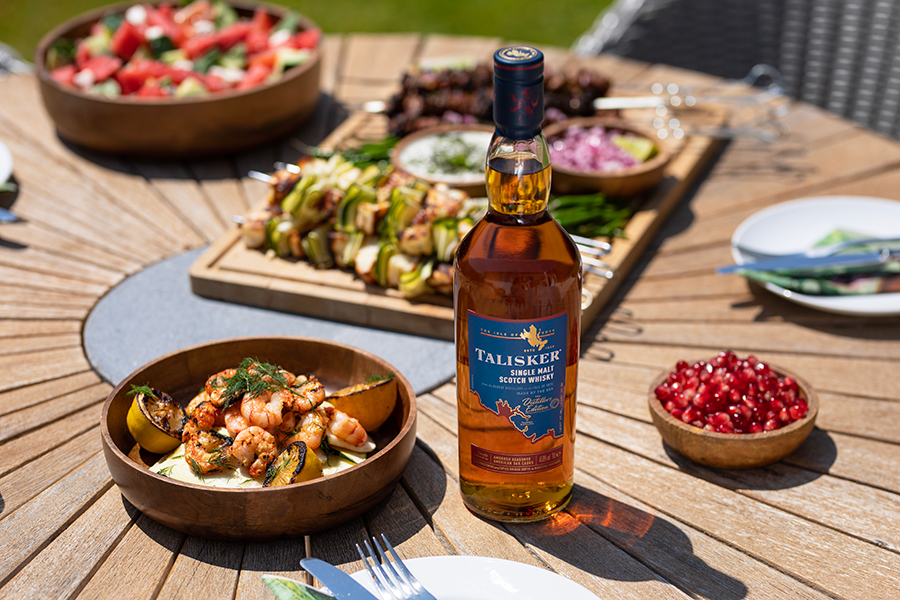 The drink: Pairing seafood with a whisky that's full of coastal vibes is just good sense. Here, the beautiful Talisker Distillers Edition – 2022 Collection shines with this grilled king prawns with dill recipe. For extra marks, get some supplementary oysters, then consume your whisky from the empty shell. 
Perfect serve: Drank neat, particularly from an oyster shell.
Recipe: Grilled King Prawns with dill
Ingredients:
300g king prawns 

1½ tsp paprika

1 garlic clove

½ tsp finely crushed fennel seeds

Lemon juice, to serve

½ cup chopped dill, to serve
Preparation time: 5 minutes
Cooking time: 5 minutes
Method:
Preheat a barbecue to a high temperature. Combine the king prawns with paprika, garlic and fennel seeds in a bowl and season with salt flakes to taste.

Add the king prawns to barbecue and char-grill, turning once, until just cooked and charred (1-2 minutes; don't overcook as it will become chewy.)

Transfer the king prawns to a plate, drizzle over the oil and squeeze over lemon to taste, then scatter with dill.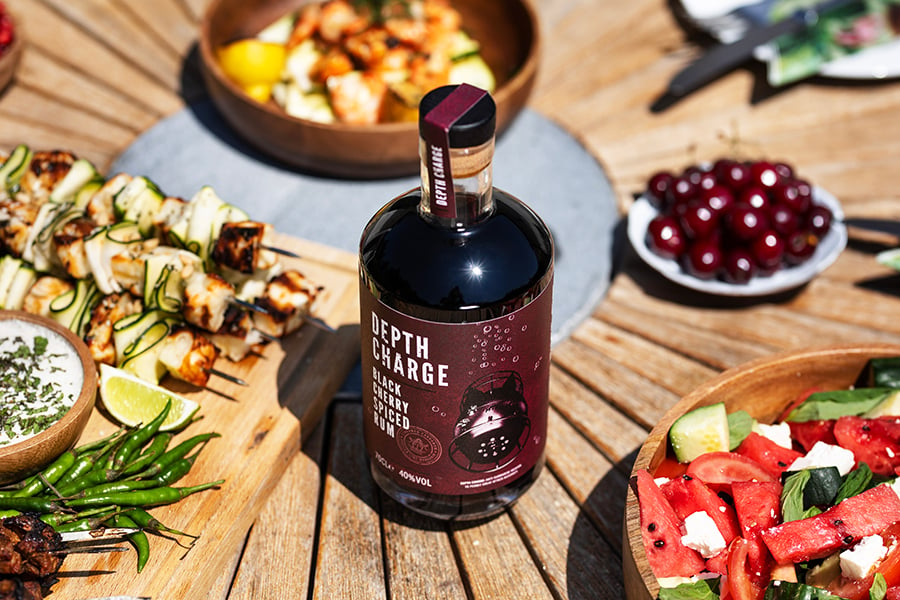 The drink: A bold, sweet, and party favourite flavoured rum here from Depth Charge becomes the perfect boozy dessert in this indulgent Cherry Cola Float recipe. First, you need to eat your veggies, which you'll do happily with these zucchini and halloumi skewers.
Perfect serve: Cherry Cola Float
50ml Depth Charge Black Cherry
Cola to top
1 scoop vanilla ice cream
Maraschino cherry
Ice
Add your ice to a Highball glass, pour in the rum, and top with cola. Give it a stir, and add a scoop of vanilla ice cream on top, and a cocktail cherry if you're feeling particularly fancy.
Recipe: Zucchini and halloumi skewers with mint dressing 
Ingredients:
450 gm halloumi, cut into cubes

4 zucchini, thinly sliced lengthways on a mandoline

Olive oil, for brushing

40 gm (¼ cup) roasted pine nuts

2 tsp roasted sesame seeds

Lemon wedges, to serve
Mint oil
50 ml extra-virgin olive oil

1 garlic clove, crushed

½ tsp dried mint

2 tbsp fresh mint, finely chopped
Preparation time: 25 minutes
Cooking time: 10 minutes 
Method:
For the mint oil, combine oil, garlic and dried mint in a small saucepan and stir over medium heat until fragrant (1-2 minutes). Cool and stir through fresh mint before serving.

Preheat a barbecue to a high temperature. Thread zucchini onto skewers, alternating with halloumi. Brush with oil and grill, turning occasionally, until charred and halloumi is hot (2-3 minutes).

Transfer skewers to a platter. Pour over the mint dressing, scatter with pine nuts and sesame seeds, squeeze over lemon and serve.