Ever had a gin with botanicals such as bourbon vetiver, gunpowder tea, squid ink, moon rock or Jaffa cakes? These expressions feature such delightful and peculiar ingredients and more.
Remember when we cast our big MoM-branded spotlight on ten gins that have the most intriguing ingredients? Well, it turns out there is a seemingly never-ending supply of bottlings that feature botanicals of all profiles and styles from all around the world. So we've decided to once again point you in the direction of those that benefit from the selection of strange and sublime ingredients. Here are 10 more gins with wonderfully unusual botanicals.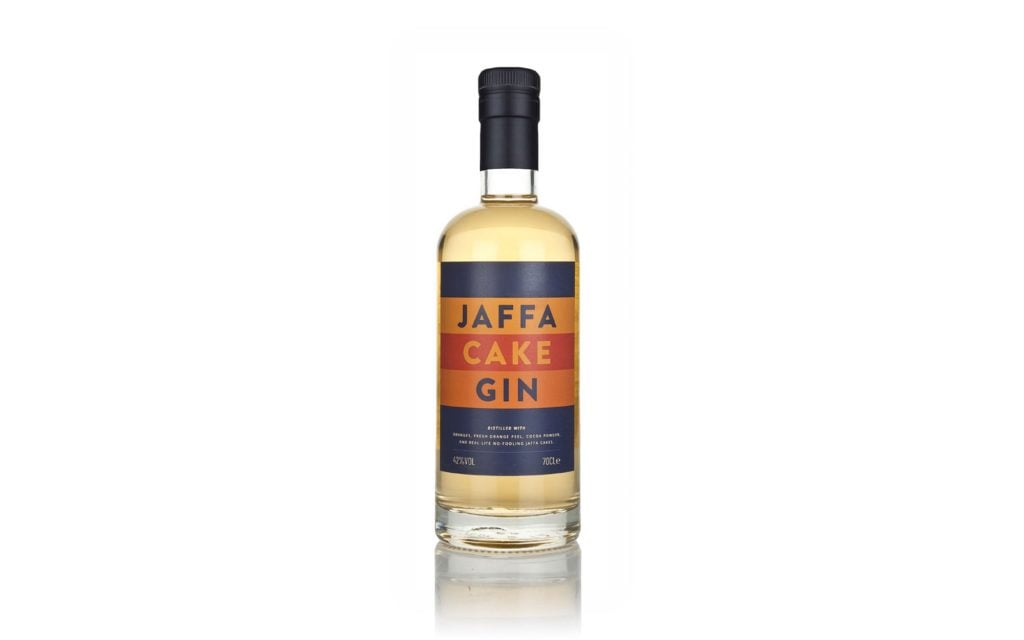 While some people would waste time asking if Jaffa cakes are biscuit or cake, wisdom prevailed at least with the creators of this beauty, who put the bickering aside and instead turned the irresistible chocolatey-orange treats into gin. Along with oranges, fresh orange peel and cocoa powder, actual Jaffa cakes were popped into a vacuum still to make an expression that will make one of the best Negronis you'll ever taste, made all the easier by this Jaffa Cake Gin Negroni Bundle…
What does it taste like?:
Zingy orange (marmalade-esque), rich and earthy chocolate, vanilla-rich cake, a touch of almondy-goodness and a solid backbone of juniper. Also, Jaffa Cakes!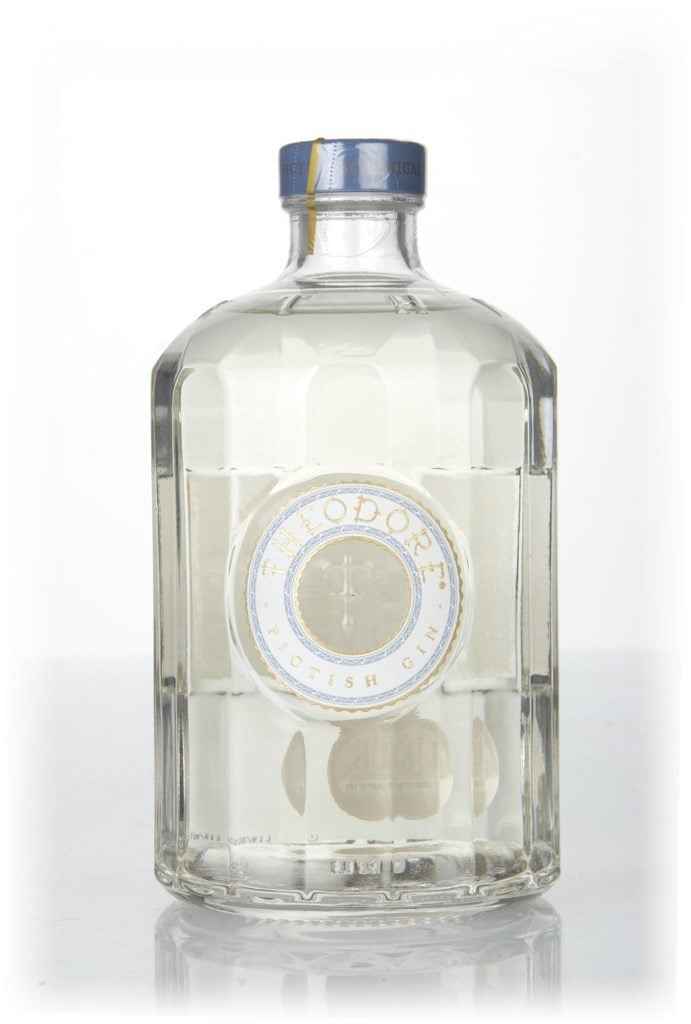 A tribute to a tribe who are thought to be some of the very first settlers of Scotland, Theodore Pictish Gin contains 16 botanicals including some delightfully strange examples such as pine, damask rose, pomelo and bourbon vetiver. These ingredients were distilled using an old charentais still, just to add to the intrigue and delight of this expression.
What does it taste like?:
Damask rose and oolong tea make a floral bouquet, with both fresh and dried spicy ginger warmth, alongside notes of citric pomelo and crisp pine needles, smoky bourbon vetiver and hints of vanilla.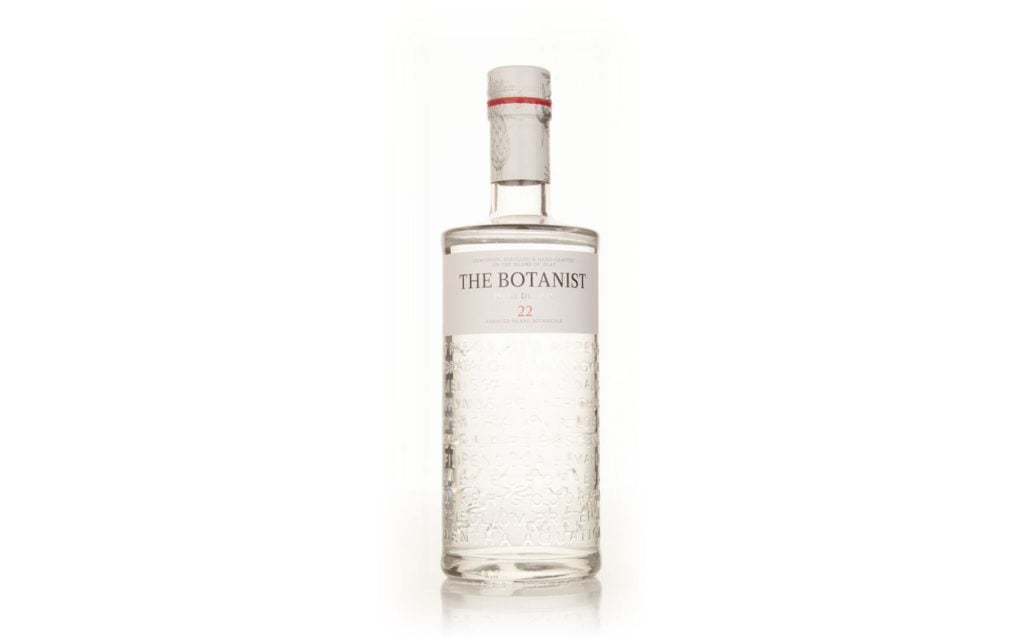 An Islay gin created at the Bruichladdich distillery, The Botanist features a huge 31 botanicals, some of which are native to Islay and a fair few of which you'll struggle to find in other gins. The full list of botanicals is as follows: angelica root, apple mint, birch leaves, bog myrtle leaves, cassia bark, chamomile, cinnamon bark, coriander seed, creeping thistle flowers, elderflowers, gorse flowers, heather flowers, hawthorn flowers, juniper berries, lady's bedstraw flowers, lemon balm, lemon peel, liquorice root, meadowsweet, orange peel, orris root, peppermint leaves, mugwort leaves, red clover flowers, tansy, thyme leaves, water mint leaves, white clover, wood sage leaves. Did you get all that? Please don't make me repeat it.
What does it taste like?:
Enough botanicals to make us wish we had five noses. Big notes of citrus, delicate menthol and flowers everywhere!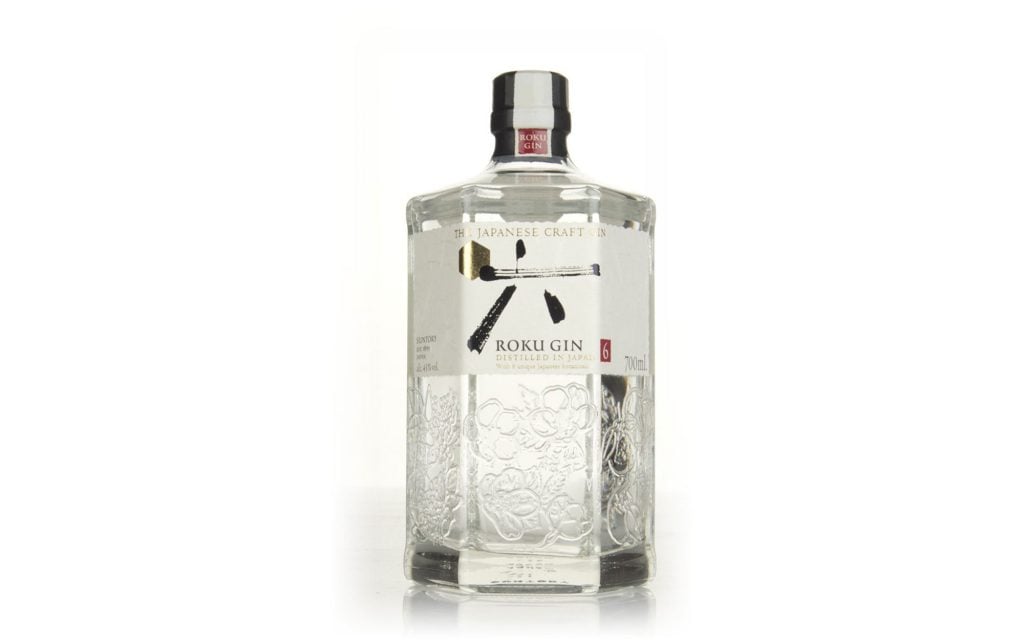 The first gin from Japan's legendary Suntory features six Japanese botanicals that provide a whistle-stop tour of the four seasons. If you've never tasted the likes of sakura leaf and sakura flower (spring), sencha tea and gyokuro tea (summer), sansho pepper (autumn) and yuzu peel (winter), then Roku Gin should make the perfect introduction. 
What does it taste like?:
Earthy and vegetal, with a light whisper of fruity sweetness hiding underneath. Peppery notes develop on the finish.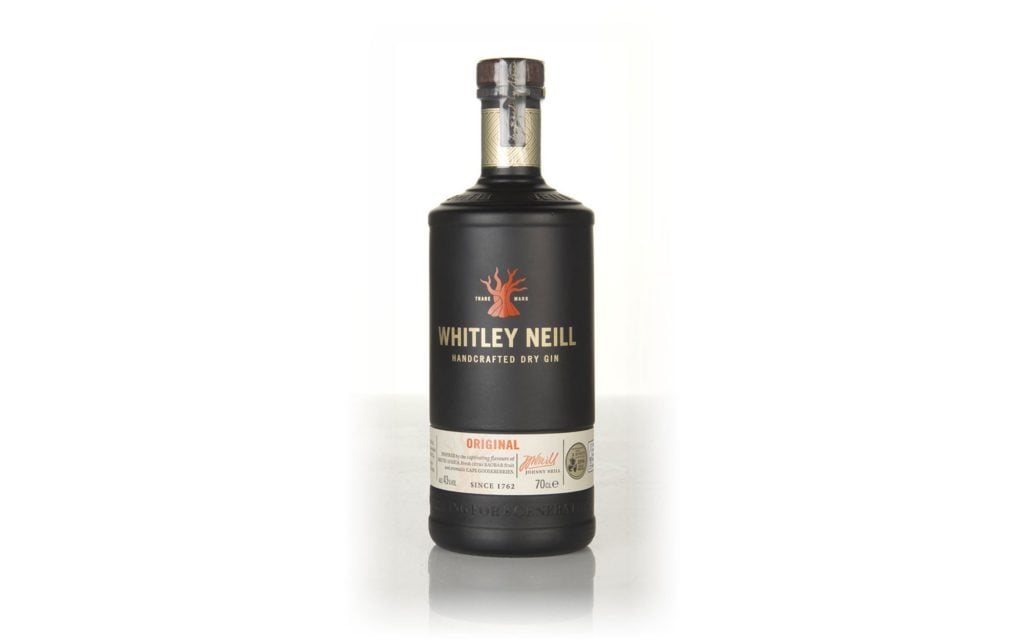 Whitley Neill Handcrafted Dry Gin
Whitley Neill's core bottling has proved exceptionally popular, with people enjoying its unique botanical blend, which comprises of African ingredients such as extracts from the Baobab Tree (known as the Tree of Life) and Physalis fruit. This London dry gin was distilled in a one-hundred-year-old copper pot still, just in case you thought its charm belonged solely to its botanicals.
What does it taste like?:
Juniper upfront, with hints of perfumed, coriander leaves, calves leather, cassia bark, cut herbs, acacia honey, exotic spices and citrus.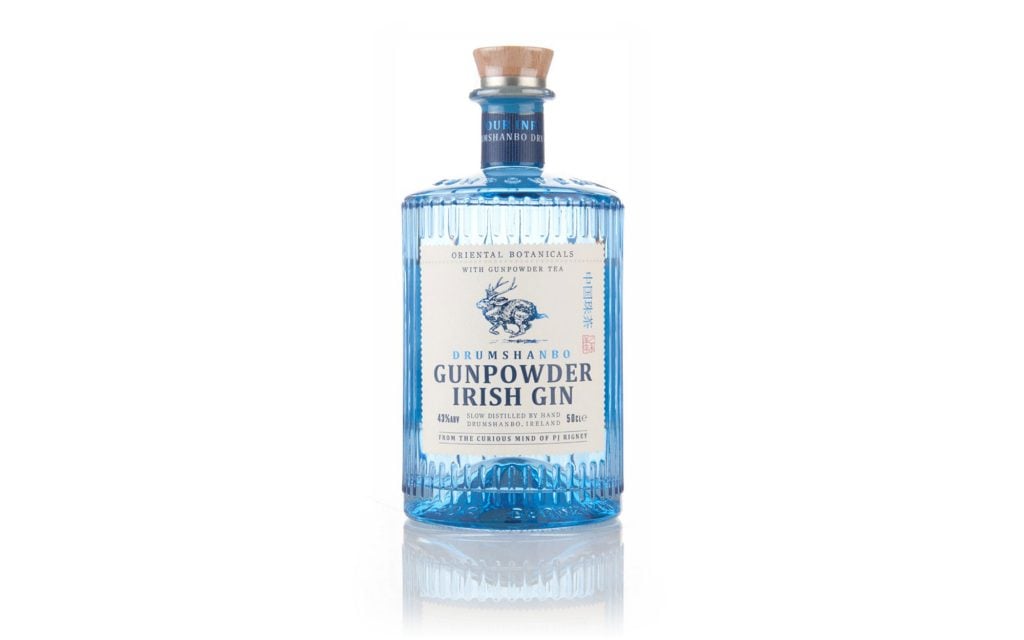 The Shed distillery may not have been around long but it has already made some terrifically tasty spirits, such as its first Irish whiskey, Drumshanbo Single Pot Still Inaugural Release and this wonderful Irish gin, the brilliantly named Gunpowder Gin. Its name comes from its signature botanical, gunpowder tea, which is vapour infused alongside lemon, lime and fresh grapefruit and distilled with juniper, angelica, orris, caraway, coriander, meadowsweet, cardamom and star anise.
What does it taste like?:
Bright citrus and green tea notes are complemented by the spices.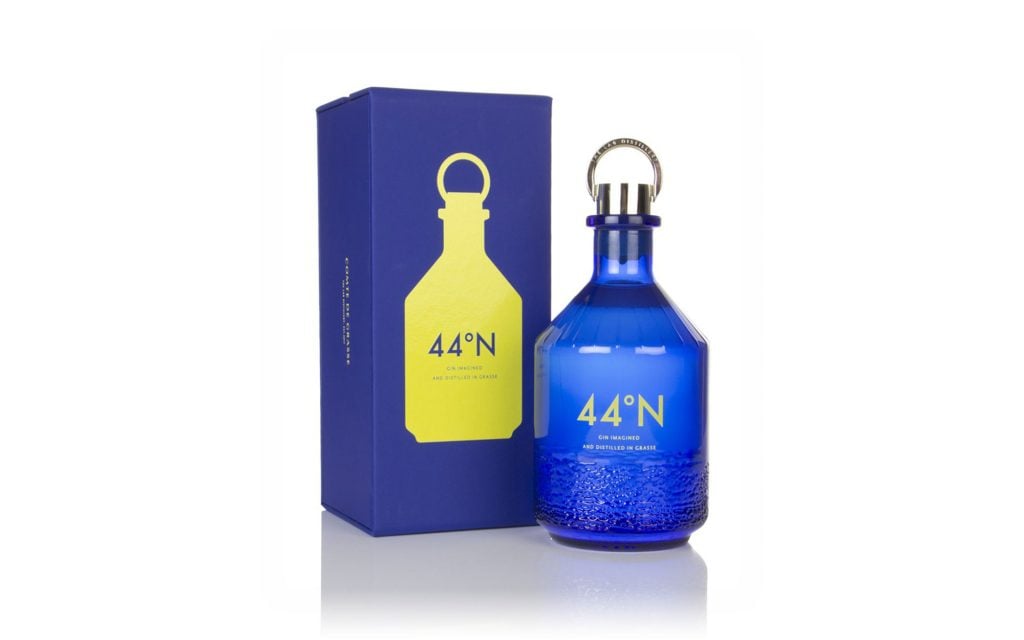 French distiller Comte de Grasse's inaugural gin, 44°N is a truly unique bottling, made using ultrasonic maceration, vacuum distillation and CO2 supercritical extraction. The spirit was inspired by perfume production methods and features an extensive list of botanicals that pay tribute to this, including mimosa, patchouli, everlasting (a golden flower), horse parsley, cade (a species of juniper), samphire, verbena, lavender, grapefruit and Sichuan pepper.
What does it taste like?:
Woody juniper and a pinch of salt, with a burst of sweet and bitter citrus followed by an aromatic floral bouquet, a creamy note on the finish supported by warming pepper spice.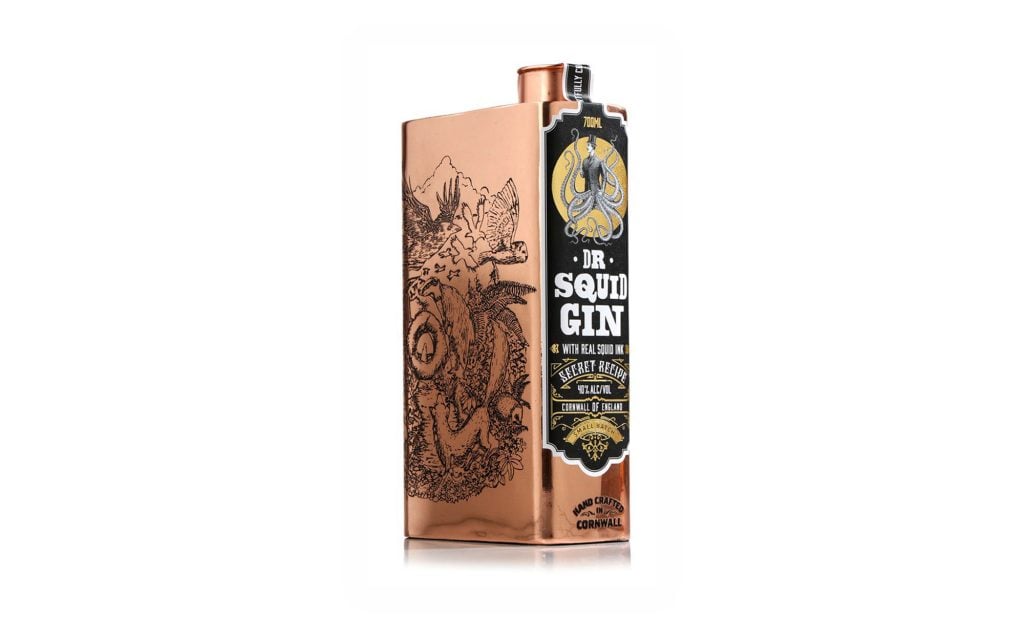 The Pocketful of Stones Distillery in Penzance has crafted using this gin using genuine squid ink! It's an ingredient that's become very popular in cuisine, so it's no surprise to see it enter the world of gin. You won't be surprised to learn that this is a rather savoury expression, with a coastal feeling to it along with a few touches of citrus and spice. It also comes in a charming copper flask, engraved with all sorts of flora and fauna and what looks like the eponymous Dr. Squid on the label. Oh, and your drink will also turn bright pink if you mix in some tonic water. How cool is that!
What does it taste like?:
Savoury kitchen herbs, fresh lemon zest, meadowsweet, woody juniper, a touch of sea breeze, spring blossom and pine.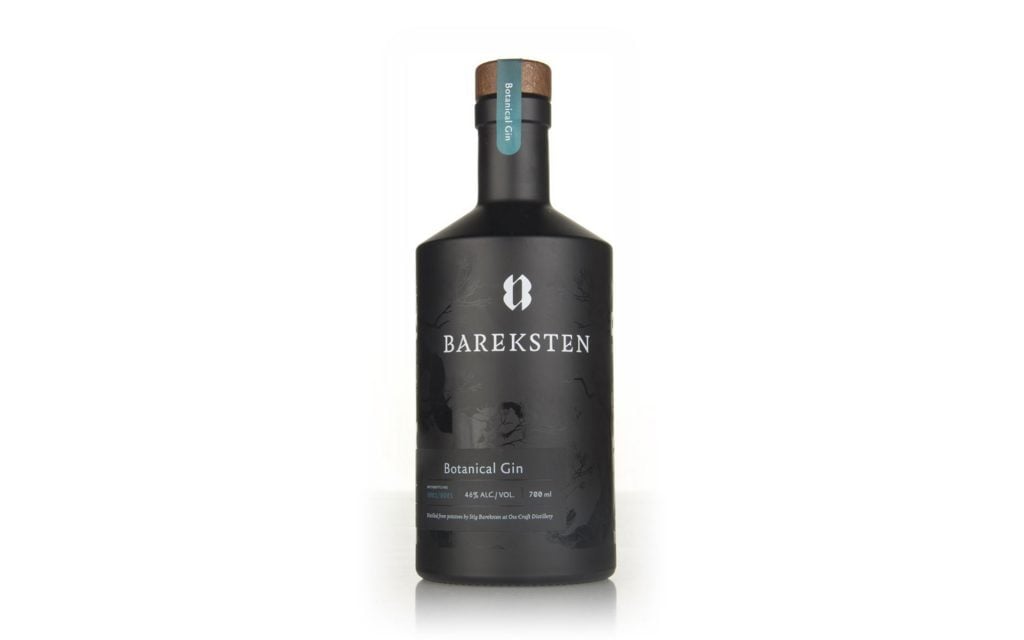 If you've ever wanted to taste Norway in a glass (admit it, you definitely want to) then your best bet is to try Bareksten Gin. The botanical list for this one goes on and on. There's juniper, coriander, blueberries, grains of paradise, fennel, rose hips, lime peel, rose flowers, cinnamon, caraway, cardamom, angelica, lemon and orange peel, orris, rhubarb, aniseed, nutmeg, red clover, lavender, chamomile, mint arnica flowers, elderflowers, lingonberries… Creator Stig Bareksten even uses a botanical GPS marker for each of the ingredients that are foraged.
What does it taste like?:
Earthy and oaky, with a bright hint of caraway shining through.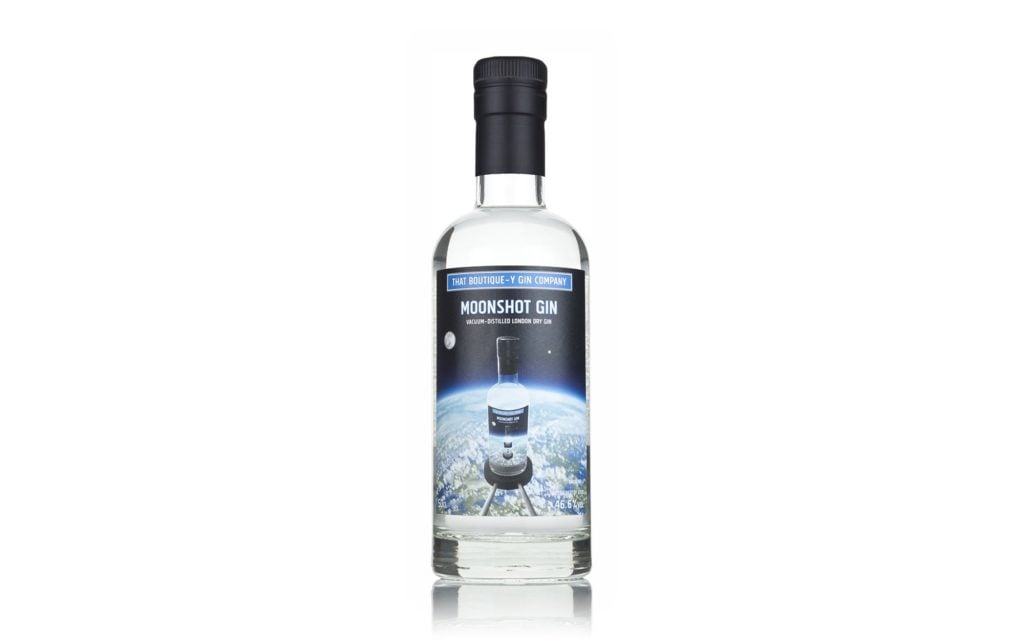 Moonshot Gin (That Boutique-y Gin Company)
That Boutique-y Gin Company's space-age sensation doesn't feature many botanicals you'll be unfamiliar with, but it is the only gin we know that was made solely with botanicals that have been sent to space! Juniper, coriander, cubeb pepper, fresh lemon peel, chamomile flowers, cardamom, dried bitter orange peel, cinnamon, liquorice root, angelica and moon rock from a lunar meteorite (!) were all sent into the stratosphere at an altitude of at least 20km where they were exposed to extremely low pressures before being bottled.
What does it taste like?: 
Candied peels, starfruit, warming juniper, lemon thyme, cassia, black pepper, lemon sherbet, coriander seed, ginger beer and grapefruit.