As the weather heats up, Millie Milliken takes a closer look at her favourite soft drink – the iced tea – and asks the experts how to incorporate it into your cocktails.
Did you know that it wasn't until 2012 that 'iced tea' appeared in the Oxford English Dictionary, along with other new entries such as 'ice wine', 'bike courier' and 'Darwinic'? Neither did I, and yet long before then I'd enjoyed the cold tea beverage in Florida, Malaysia and all across Europe – in fact, I'd go as far as saying that when it comes to soft drinks and cocktail lengtheners, it's my numero uno.
In Australia, they call it 'sun tea', leaving an infusion of tea and water in the sun to brew over time before chilling it down with ice. Some countries sweeten it, others don't. In Thailand, they include condensed milk to make it creamy. And let's all take a moment to hail bubble tea, an iced milk tea traditionally served with tapioca pearls that originated from Taiwan.
Despite its surprisingly recent acceptance into official English parlance, the iced tea dates back to as early as the 1700s, where English and American cookbooks feature cold green tea in boozy tea punches. According to Revolution Tea, one such version was the 19th-century Regent's Punch named, of course, after George IV.
Fast forward to today and bars across London and beyond and the appetite for using iced tea in cocktails seems to be mounting. From whisky specialist Milroy's using it in one of its pre-batched cocktails, to a signature serve at Black Rock; a mezcal serve at Silver Linings and a peachy number at FAM Bar, fans of iced brews have never had it better.
Time for a brew
Perhaps iced tea's most traditional guise is that of the sweetened cold black tea, most associated with the southern states of the USA. One of the earliest recipes for this iteration – and one that originated outside of the southern States – was from Mrs Mary Lincoln, the head of the Boston Cooking School in 1884. Her recipe called for cold black tea to be poured over cracked ice, lemon and two sugar cubes.
Methods of making iced tea have somewhat evolved since then. "I started making iced tea for David Chang at Momofuku, we're talking 12 to 15 years ago," says Henrietta Lovell, arguably the doyenne of tea and the founder of Rare Tea Company, a specialist in loose-leaf premium teas sourced from all over the world. Frankly, what Lovell doesn't know about tea isn't worth knowing. She had just started selling tea in America and was focusing on hot tea, but Chang had other ideas. "He said, 'I understand what you're doing and I love your tea, but I don't want to serve hot tea, I want to serve iced tea – and not shit iced tea'."
So, they started work on a serve to go with a pork bun. They worked for a long time using an oolong tea and discovered the best way in which to get the flavour stability was through cold extraction (essentially extractive a substance or flavour using cold water). Why not just make a hot brew and let it cool? "When you put hot water on tea, you break down the cell structure [of the leaves] so within 20 minutes the flavour is dissipating… With cold extraction you get complete flavour stability as you don't break down the cell structure," explains Lovell. The same can be said of alcohol extraction and Lovell has been working hard since to encourage bartenders to adopt this proven and successful method ever since.
Lovell's go-to recipe is to take 5g of Rare Tea Company's loose leaf Early Grey per litre of cold water and leave it overnight. Strain it off in the morning and you'll get a really refreshing, stable iced tea. If you want to mix it in cocktails, take the quantity up to 7g-10g per litre – "you'll get a really intense rich flavour which you need to build more body into it for a cocktail".
Feeling peachy

(and the rest)
When it comes to tea, spirit and flavour combinations, the options are endless. For Lovell, there are some favourites, like Jasmine tea and gin or rooibos with mezcal. Kuba Korżyński, general manager at whisky den Black Rock cites rooibos' deep and rich aromas as to why it works especially well with smoky whiskies. Philip David, one half of bottled cocktail company Distill + Fill, "tequila is phenomenal with tea, bringing out those green and grassy notes."
Having spent time in New Zealand and tended bar, David has always been fascinated with using tea in cocktails – most recently in the company's new Afternoon Tea (which combines gin, rose vermouth, Monin raspberry iced tea syrup, fresh grapefruit juice, water and bitters). For David, having that tea flavour in a syrup is the easiest way to ensure consistency and balance.
There does seem to be one flavour that regardless of the spirit used reigns supreme: peach. According to the recipes that flurried in from bartenders on request on an industry Facebook group, peach was undoubtedly the star of the show, whether as the flavour of the iced tea or a standalone ingredient (as evidenced in two of the recipes at the end of this piece). "I essentially spend a lot of time trying to make things that taste like peach iced tea," admits Tatjana Sendzimir of FAM Bar. "One of my favourite things is Snapple Peach Iced Tea – although I also like Lipton Peach Iced Tea too."
A current cocktail on the agave-specialist bar's menu is the Peachy Keen, a mix of Metaxa, Peche, camomile iced tea and soda. Sendzimir tried it with black tea but the flavour was too harsh, with the lighter more floral camomile being the more balanced option. Iced green tea and matcha is another favourite, while she is also experimenting with trying it in a shorter, Martini-style serve.
For Lovell, one of the biggest benefits of using iced tea as a mixer though is that it doesn't have any sugar in it, so you can decide what other part of your drink can bring the sweetness.
Take

a

leaf
Black Rock's Korżyński took me through two iced tea serves on the menu at Black Rock Tavern. First up was Toki Mizuwari(ish), inspired by the 'mizuwari' method of cutting whisky with water, which mixes Toki whisky, blueberry liqueur, green tea, sugar and acid. "We infused the green tea in overnight for six to eight hours as a cold brew to bring out the more delicate flavours in the tea," explains Korżyński. The result? "This cocktail is quite clean with the green tea, while the flavours of the whisky ad the fruitiness of the blueberry brings it all together."
The bar's signature serve though is the East London Iced Tea slushie, combining Johnnie Walker Black, Rinquinquin peach liqueur, cold brew black tea, sugar and acid. Where green tea is delicate, the backbone of a black tea was necessary to match the flavours in the Johnnie Walker Black. "Cold-brew black tea is richer and deeper in flavour and goes nicely with the smoky flavours in the Johnnie Walker as well as the peach flavours – this is just a really nice, boozy peach iced tea."
Whichever way you use iced tea in your drinks at home, Distill + Fill's David is an advocate of using it as often as possible, for one simple reason: "What is tea? Essentially an extraction of flavour into water – everything we do in cocktails is essentially that."
Three recipes from the experts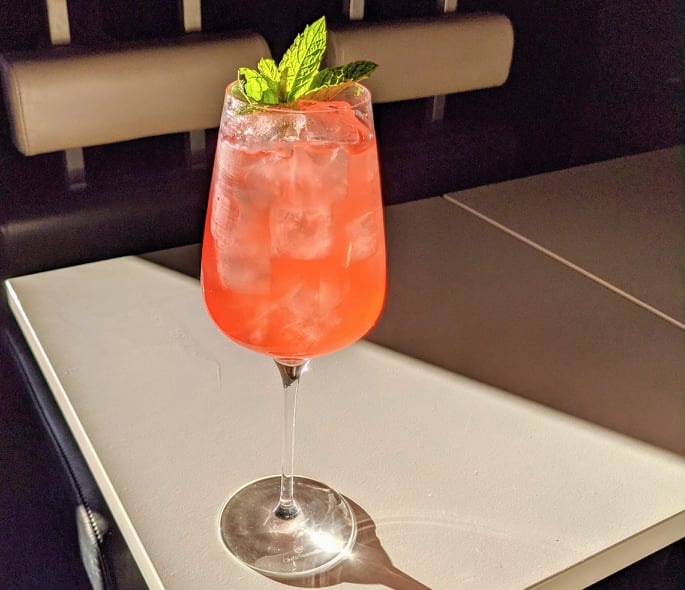 Peach, Max Hayward, Lab 22

Using Assam tea and local peaches, Hayward has created this serve that brings peach Melba and Aperol spritzes to mind 
12.5ml Grey Goose Vanilla
25ml Martini Fiero
50ml homemade peach iced tea*
75ml prosecco
75ml soda
*Peel 500g of fresh peaches, chop and add to 750ml water in a pan. Bring to the boil, then simmer for half an hour on low heat with the lid on. Take off the heat and crush the peaches in the water. Give it a stir and leave for an hour. Strain the mixture and add sugar (2:3 ratio sugar:water) and stir until dissolved. Steep Assam tea (1g per 100ml) in cold water for 30 minutes. Add the tea to the peach syrup at 1:1 ratio).
Build first three ingredients over ice and top with prosecco and soda.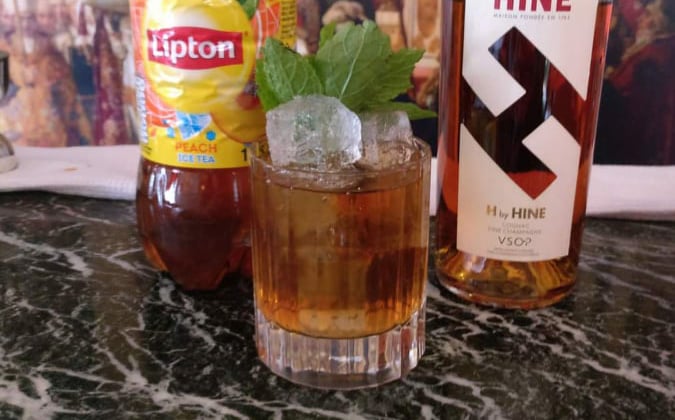 Instant Georgia, Gergő Muráth, Trailer Happiness

While working with some fellow bartenders on some simplified versions of classic cocktails using easily accessible ingredients, Muráth took the Georgia Julep as a starting point to create this fun little number
50ml VSOP Cognac
125ml Lipton Peach iced tea
Sprig mint
Build in a highball glass with cubed ice and garnish with a sprig of mint.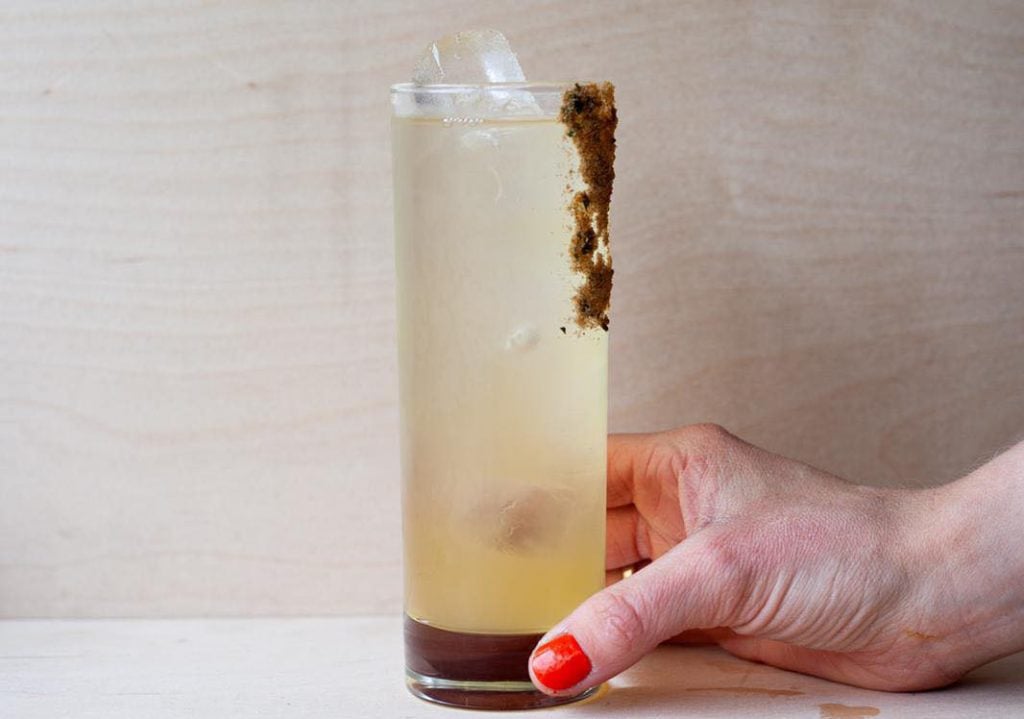 AMBER, Alex Farrow and Zoé Donadio, Silver Lining
Part of the orange wine bar's monthly changing cocktail menu, ECHO, which sees every cocktail designed to mimic the experience of drinking different styles of wine, AMBER was created by the duo to mimic an orange wine
50ml mezcal blend
40ml peach and rosemary cordial
60ml cold brew green tea*
1 dash gentian liqueur
*Add two green tea bags to 1L of filtered water and brew in the fridge for 24 hours
Build over ice in a highball glass and top with green tea. Optional garnish of powder made from leftovers of cordial productions (dehydrated and blitzed with 1:1 sugar).