It's a special (nearly) St. Patrick's Day edition of What we loved with single pot still whiskey from Blackwater, a Tequila cask blend from J.J. Corry, and a peaty Waterford Irish whiskey to enjoy.
With St. Patrick's Day coming up on 17 March, this week's edition has something of an Irish flavour. A few people from MoM attended the annual event at the Irish Embassy in London where some of the country's best distillers show off their wares. It's always a bit of a highlight of the year, as you can see below.
On the blog this week
But before we dive in, it's time to take a look at what went on on the blog this week. You won't be surprised to hear that there was something of an Irish theme here too. We kicked off the week with a competition you won't want to miss, the chance to win a year's supply of Spot whiskeys. We mixed up a Tipperary cocktail while Adam donned his corduroy jacket with leather elbow patches to explain two concepts crucial to understanding Irish whiskey, single pot still and triple distillation. But it wasn't all about the Emerald Isle, Ben was back to show off his impressive range of new flavoured Bathtub Gin, we looked at a special Glenrothes 15 year old bottled by Adelphi and Alex explained why whisky makes the perfect Mother's Day gift for your mother. 
Right, here what we loved this week:
What Henry loved this week
Manifesto mashbills 
The first place I headed was the Blackwater table to taste the much-talked about, not least by our own Ian Buxton, releases from noted controversialist, Peter Mulryan. Sadly Mulryan himself was not there but I did get to try his whisky (ever the maverick, he spells it the Scottish way). These come in a pack called Dirtgrain Manifesto Edition featuring four whiskies made to historic mashbills including oats, rye and wheat alongside the more usual malted and unmalted barley. These are punchy, spicy whiskies that don't taste like anything else you've ever tried. My favourite was the creamy, spicy Mashbill #03 made with 50% malt, 35% laureate barley and 15% husky oat, and aged in a bourbon cask. There will be more limited releases before a core Blackwater whisky emerges in 2024. That should be worth waiting for. 
Tequila cask finishing done right
A lot of whisky producers have experimented with Tequila and mezcal casks and many have tasted, at least to me, a bit like a dog's dinner. That green agave note is a hard one to balance. But last week I finally found a convincing example called J.J. Corry The Battalion – Batch 3. It's a 60% grain and 40% malt with just the grain component spending time in Tequila casks adding a floral, green note that doesn't overpower the creamy, spicy flavour of the blend.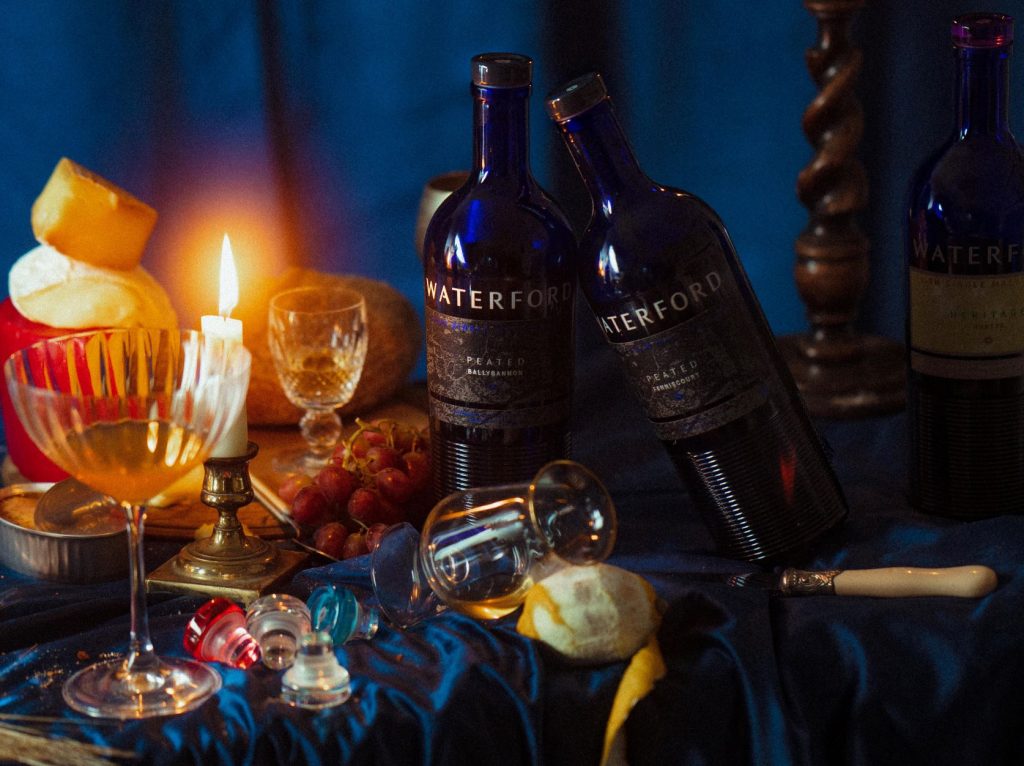 What Adam loved this week
Feeling the power of Fercullen
The Powerscourt Distillery were also present this year and let me tell you, they're one to keep an eye on. There was an array of its Fercullen whisky to try, like the fine value 8 Year Old, a blended whiskey that you could have a lot of fun with as it stands up in cocktails beautifully. But the upcoming Fercullen Falls, produced at the distillery (the first whisky from Wicklow for over a century) is what really excited us. Not least because it's Powerscourt through and through, but also because it's a harmonious blend of grain and malt full of warming spice, creamy vanilla, and those fresh orchard fruits I always associate with a classic Irish whiskey. Look out for it when it arrives on our shelves.
The promise of peat
Making nothing quite so typical is Waterford, with its double distillation and commitment to terroir. Everything on this stand was all about the grain, the farmers who grew it, and the impact of place on a whisky's flavour (they also spell it without the 'e'). But what really intrigued me was Waterford Peated – Ballybannon 1.1, because despite the distillery focus being on the intricate differences in field and grain and how that affects the character of the whisky, there's also an underlying Waterford Distillery character I think. One that really comes out in force when you taste a peated whisky after several non-peated samples. Rich malty barley, obviously, but also baked apple and oily citrus, I reckon. Another thing I'd say about Waterford, the ambition is amazing, but we probably don't talk enough about how impressive that liquid is at the age it's bottled. The barley bunch are on to something, aren't they?
The peaty potential of Irish whiskey was also very much on my mind after visiting the Sliabh Liag stand. Sitting pretty on the north west coast of Ireland, this brand has big ambitions to make whisky the way it would have been made in this area for centuries: with peat. While the distillery is still in the early stages of production, we've had some glimpses into what to expect, including from the fine The Legendary Dark Silkie Irish Whiskey. The new kid on the block, The Legendary Midnight Silkie Irish Whiskey, had plenty of peaty personality too as well as featuring five different cask types: oloroso sherry, bourbon, red wine, virgin oak, and imperial stout casks. It's very well balanced given those are some big flavour combos to put together and it's interesting to see them really getting a grip of the peaty side of things quickly enough to feel comfortable to do some cask play. Another distillery I'm expecting big things from.
The cream of the crop
Last year when I visited this event I was taken by Five Farms Irish Cream Liqueur and curious about the ways brands like this would emerge in a category so obviously dominated by Bailey's. So much so I did a whole blog on it. This year they were placed next to Coole Swan's stand, in what you could have called the coole cat's corner. Both are beautiful, ridiculously drinkable, well-made spirits that remind me that the Irish drinks category doesn't just have whiskey to shout about. We tried to get on the gin wagon, and did a pretty good job too, but while I love my poitín, it's Irish cream liqueur that has the real potential to push Irish drinks on. Find someone who doesn't want to drink liquid caramel, honestly.