Co-founder of Three Spirit, Dash Lilley, joins us to talk about innovating rather than imitating, prioritising environmentally-friendly methods and why low-to-no alcohol brands are here to stay.
Low-and-no alcohol has made quite a mark in the last couple of years.  Sales are up year on year, it was the star of Imbibe 2019 and there is no shortage of companies ready to take advantage of consumer's increasingly mindful approach to how and when we consume alcohol. Three Spirit knows that as well as anyone. With three expressions, The Livener, Social Elixir and The Nightcap, it has established itself as one of the most intriguing new forces in this category, creating plant-based drinks that can't easily be compared to any alcoholic equivalent and, fundamentally, taste really good. 
The brand was founded in 2018 by Tatiana Mercer, Dash Lilley and Meeta Gournay. Lilley, who spoke to me as part of our Sober October coverage, says that they were intrigued by the new category and felt there was room to do something different. "So often no-alcohol options are presented from a negative point of view and are about the removal of alcohol. We're not against alcohol. We love it and celebrate its history, characteristics, complexity and how it can make you feel. Capturing those moments which are associated with alcohol and creating drinks with interesting ingredients that stood on their own two feet was our aim. And to innovate, rather than imitate".
During the development process, the trio put together a team of plant scientists, phytochemists, herbalists and some of the best bartenders in London, namely Tristan Stephenson and Thomas Aske of Black Rock fame. "What we do really well is bring together different areas of expertise and put great people in the same room. We found people that could help us build flavour through a combination of natural ingredients and compounds," says Lilley. 
Three Spirit Drinks: how it's made
For months the founders experimented with hundreds of different ingredients, many of which have been used historically as health tonics and remedies. Inspiration is as diverse as the ingredients themselves, from alternative medicine to ayurvedic traditions from China and South America. The variety creates a sense of intrigue, mostly because I guarantee you won't have heard of at least one of the 60-or-so key ingredients, but also because they provide the drinks with a sense of history and place. "In my view, non-alc doesn't have a heritage to draw from. Most spirit brands rely on tradition and history, but our category is brand new. That's a wonderful opportunity to tell a story. We like talking a lot about the heritage of the ingredients and how some of these ingredients have been used traditionally where they originate from," Lilley says.
There is no singular production process for converting this staggering range of ingredients into Three Spirit drinks. Lilley says the brand avoided going solely down the distillation route as that would limit their ability to produce interesting liquids. "There's only so much that you can do with any one process, so we utilise multiple processes. Some of our ingredients are distilled. Some are infused. Others are dehydrated and extracted into a dried powder form. Some are tapped straight out of a tree. Extraction is where a lot of the magic takes place. The end process is a careful process of blending these individual components," he explains. 
The major appeal of Three Spirit drinks when I first tasted them was how they replicate the mouthfeel booze has better than any non-alcoholic bottling I've tried. "People underestimated its importance. You need to be creative with how you create your own viscosity," Lilley explains. "We play with different heat drivers, like green chilli and cayenne pepper, so the heat and spice add texture. Ingredients like Szechuan pepper also coat the mouth, while others like maple create a luxurious long mouthfeel".
Three Spirit Drinks: the range
The range kicks off with The Livener. It's made with ingredients like guava leaf, Siberian Ginseng, Panax Ginseng, apple cider vinegar, green tea, cayenne chilli, Schisandra berries and The Guayusa, an Ecuadorian tribal stimulant. "It's bold, vibrant and best served at the beginning of the night in a spritz style," says Lilley. Next is the brand's first expression, the delightful Social Elixir, a drink made with ingredients such as cacao, lion's mane mushroom, damiana, tulsi herb and molasses. "This our session drink. We wanted to create something versatile with a slightly sweet, sour, bitter and savoury profile," Lilley explains.
The final bottling is The Nightcap. The ingredients in this one include valerian root, melon hüll hops, lemon balm, turmeric, ashwagandha (an evergreen shrub grown in India, the Middle East, and parts of Africa), birch water, Sichuan pepper and black pepper. "You can imagine having this one sitting in a hotel bar at the end of the night. The ingredients have these amazing relaxing properties that are meant to calm the mind but also soothe the body. It makes an amazing Old Fashioned and as a drink to pair with dessert when you're out for dinner," Lilley says.
However you decide to enjoy your bottles of Three Spirit, it's worth pointing out they come with a disclaimer: you don't get profiles as individual and intriguing as this brand creates without making something divisive. Which is exactly how Lilley likes it. "I feel quite strongly that non-alc spirits should be challenging and polarising. You shouldn't really know if you like it or not. Because that's how alcohol makes you feel the first time you try it! I'd be surprised if the first time you tried whisky or beer you thought it was delicious," he explains. "Like with coffee, you have to develop a taste for functional liquids. I don't want everyone to love them; if everyone loved them then they'd be a soft drink".
Three Spirit Drinks: here to stay
Three Spirit may be unconventional in much of what it does, but one thing it has in common with many new brands is that it prioritises environmentally-friendly methods, from zero-plastic recyclable packaging to ensuring its drinks are vegan. The brand will need as many points of difference as it can get. With rising demand comes the aforementioned influx of new companies all vying for a share of an inflated market. Lilley understands the difficulties this poses, particularly in this economy, but is optimistic for the category. "There's a really good selection of people out there, with lots of variation. People are reframing old, existing and wonderful traditions to fit a new consumer and a new demand. I can't imagine going to many bars that now wouldn't offer a non-alc beer, for example. This category is here to stay". 
The brand is developing a couple of extensions for The Livener and The Nightcap as well as several new products at the moment, which are in the prototype stage. Lilley teases that a fourth expression in the very early stages of development by saying he's been doing "a lot of research in Japanese heritage, history, ingredients and storytelling".
As a drinks writer, low-to-no alcohol options don't tend to be my regular order. But Three Spirit is of the few I'd happily indulge in. I'll always have time for something with a unique and interesting profile. There's room for personality and innovation in this new category, as Three Spirit demonstrates. You don't have to buy-in to the functionality of the ingredients, but you should embrace the flavours. The tasting notes (below) were probably the most challenging I've done since I've been at MoM because so many ingredients are new to me and there are no easy comparisons to make. Some further sampling may well be required (I'll soldier on…). But I suggest you have a taste and draw your own conclusions. You can pick up the expressions on this neat little page.
Three Spirit review: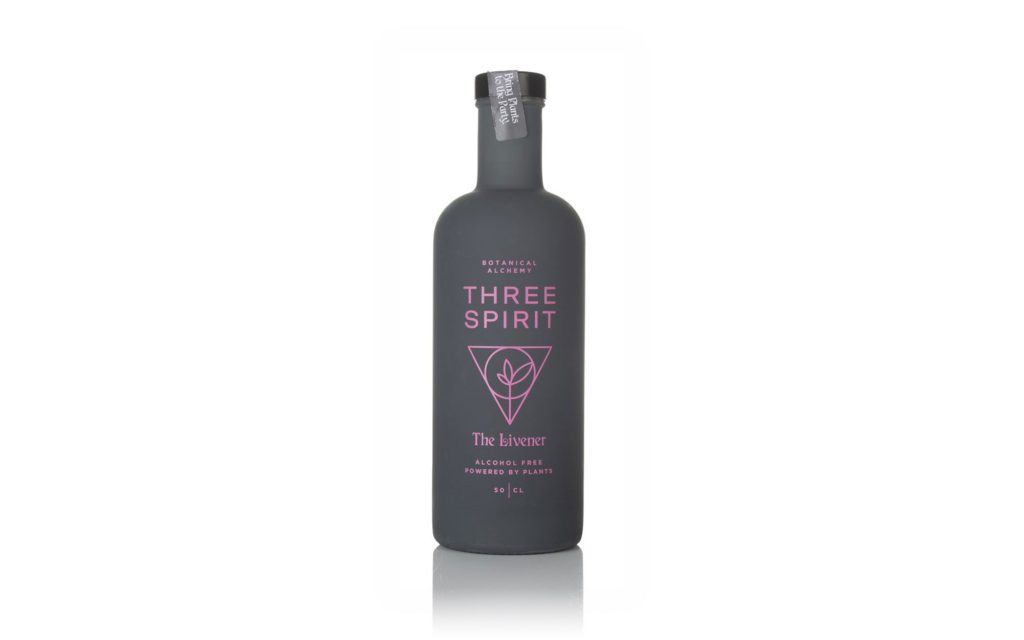 Nose: The nose is full and rich with a fiery backdrop. Vibrant citrus competes with an earthy, aromatic blend of spice and heat which rushes to the forefront of the nose. Juicy watermelon adds a beautiful contrast, as does the tart apple cider vinegar and a salty, umami quality that reminds me of miso paste.
Palate: Like biting into a fleshy red fruit that's a hybrid of berries, chillies and more watermelon. There's a honeyed sweetness here too and a slight grassiness in the backdrop along with a woody, earthy and warming element.
Finish: The cayenne chilli heat and flavour lingers with plenty of fruity sweetness,
Overall: A cold shower but in drink form, this is an expression that lives up its name. Its individual profile is really enjoyable and surprisingly mixable.
Suggested serve: The Pla[n]tonic.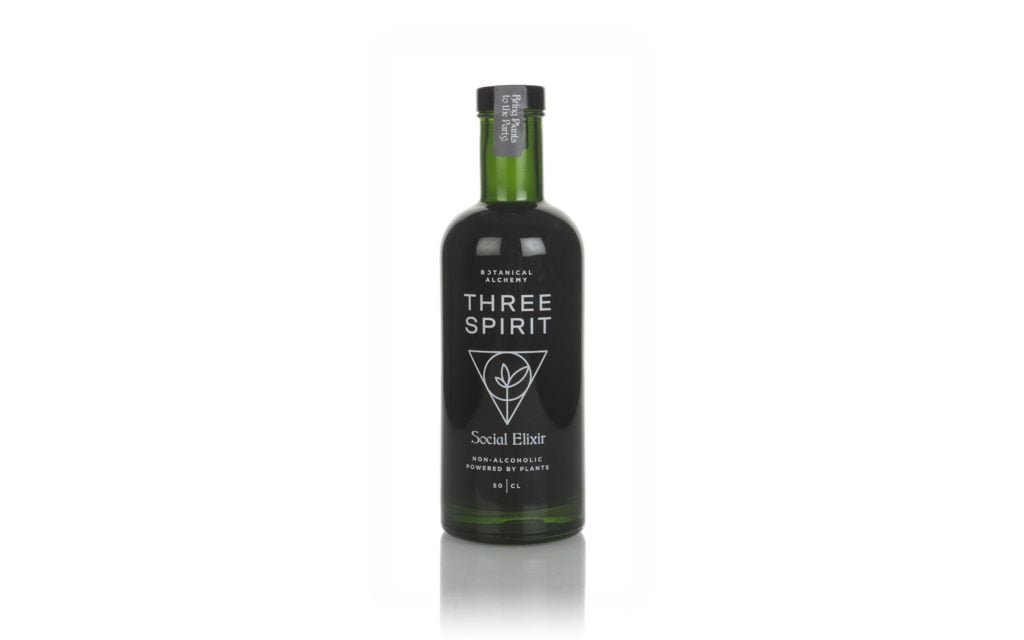 Nose: Chocolate, espresso and a rich, sweet hit of molasses leads in a dark, thick and creamy nose. There's a hint of green tea, black pepper, damp earth and toffee.
Palate: Much more savoury and herbaceous than the nose, the palate also has a sweet floral element. The combination of coffee and dark chocolate returns but is more bitter this time, which is lifted by some of the brightness the vinegar brings, a salty, umami quality, caramel and more damp earthiness.
Finish: Slightly sweet and savoury and a tad salty and then a little bitter, this is a finish that lasts and laps around all the qualities of the palate and nose.
Overall: Intriguing with every sip, I found it really hard to stop myself pouring another glass and having one more exploration. I think this is the most divisive drink, which is strange or perhaps fitting given this was Three Spirit's first foot forward. It's almost got an IPA quality to it, although I'm not sure that's enough to make it a session drink, to be honest. For that, it will need to be mixed. I really enjoyed this but it will be too bizarre for some.
Suggested serve: Herbal Stimulant.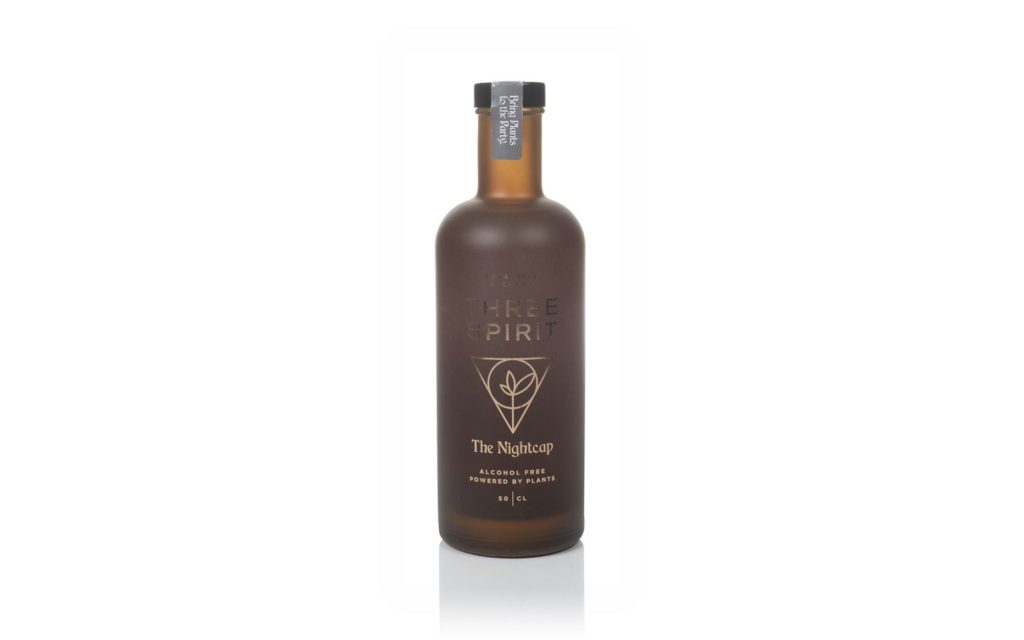 Nose: Overall the nose is thick, nutty and sweet with maple, vanilla and a touch of ginger at its core. There's also a grassy note that you'd recognise from hops. Then the unmistakable numbing quality of Sichuan pepper, as well as a warm citrus glow. Also, there's a metallic element and some sweet floral hints. 
Palate: Much more sweet than the nose at first with cantaloupe, red grapes, baking spice and more vanilla. The birch water and a hint of citrus act as a lengthener and lifts some of the more indulgent flavours. Some woodiness brings a different level of depth. It's a very mellow, smooth palate.
Finish: Very much like the palate, the flavours layer over each other before fading slowly. There's more of that nutty sweetness and some aromatic nutmeg.
Overall: Probably my favourite of the three, The Nightcap works perfectly in its role and seems tailor-made for an Old Fashioned. I really love how each flavour makes its own mark while still complementing the other elements.
Suggested serve: Nightcap Old Fashioned.