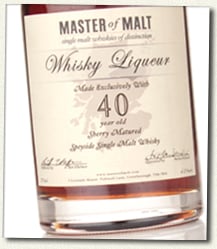 We hope you've had a wonderful Easter! It's been a very eventful past couple of weeks for everyone, and we've certainly had more than our fair share of barbeques, cocktails and general revelry (there was some kind of wedding on at the weekend, apparently).
In other news, we have some new products to announce (for real this time, this isn't another April Fool), and we're sure they'll be the topic of much enjoyment, discussion, and possibly even a little controversy.
For today folks, we are thrilled to bring you history's oldest whisky liqueurs, ever.
After the unprecedented success of our 10 year old whisky liqueur based on a rather delightful sherry-matured Speyside single malt, we decided to up the ante and have created a 15 year old Single Malt Whisky Liqueur, a 21 year old, a 30 year old and, wait for it… …a 40 Year Old Single Malt Whisky Liqueur (the oldest whisky liqueur in the world!).
So, just how did we create the world's oldest whisky liqueurs?
The launch of these new liqueurs marks the culmination of months and months of hard graft. We decided upon a selection of roughly 20 different flavours to choose from (these included such classics as the irreplaceable cinnamon, the inimitable "orange peel", cloves, peach, cardamom and many more). We also had a huge shortlist of different whiskies of various ages and styles, and we painstakingly narrowed it down to 4, judging them on overall character and richness of flavour.
We then had to carefully try each whisky with every one of those different flavours, to find which combinations worked best. The most important thing for us was that each of these liqueurs shone out as being like whisky with a little seasoning, and not an over-flavoured, sickly concoction for those with a sweet tooth. A key part of this was subtle use of flavour, just the right amount of sweetness, and nothing else. We wanted the four fabulous single malts to stand out – these are whisky liqueurs for single malt connoisseurs after all.
And just how do these marvellous liqueurs taste?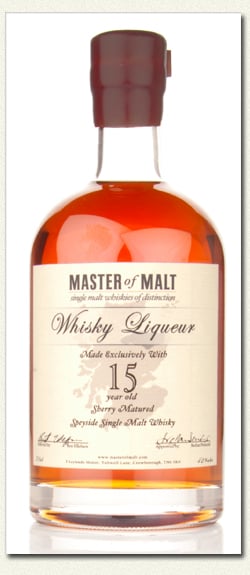 Master of Malt 15 Year Old Speyside Whisky Liqueur – £39.95
Nose: Lovely grape notes, very soft and supple, with juicy sherry shining through. This is made with two kinds of orange peel, cloves and cardamom. The spices shine through beautifully, with an almost medicinal quality (a hint of lemon-flavoured lozenge perhaps). Honey after a time, and beautiful barley malt.
Palate: Fantastically rich. The malt takes pride of place, with gorgeous Oloroso sherry proffering up a supple, mouth-filling quality. The cardamom sits well, and you get a hint of Cola bottle sweets and liquorice from it.
Finish: Long and thick, there is just the right level of sweetness, and it ends on wonderfully moist notes of Christmas pudding with warm brandy butter.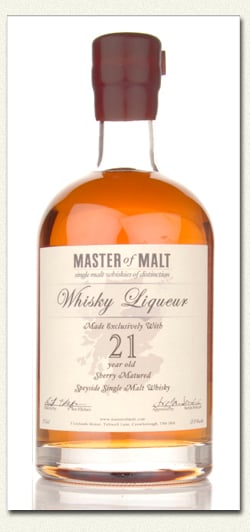 Master of Malt 21 Year Old Speyside Whisky Liqueur – £59.95
Nose: The sherry-rich quality of the malt, mixed with hints of old wood and an array of tropical fruits make this stand out. The 21 year old is based around three fruits: grapefruit, peach and orange, and the nose is a tropical cocktail.
Palate: Creamy, with sweet peach notes and a tangy edge from the grapefruit. It nearly makes you think of ice-white beaches and palm trees. But yet there's still that rich, utterly Speyside malt whisky underneath. Hints of manuka honey and pepper develop in the glass, with a little agave nectar too.
Finish: Amazing length, with olde worlde sweet shop flavours on the tail (think milk bottle sweets, rose-flavoured Turkish delights and coconut ice).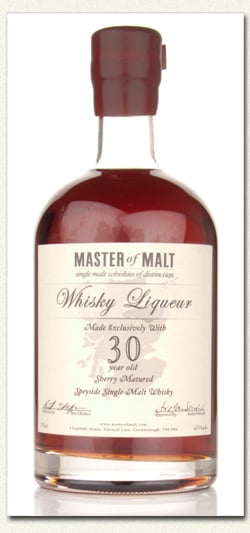 Master of Malt 30 Year Old Speyside Whisky Liqueur – £109.95
Nose: A melange of fruits, certainly spicier than the 21 year old. With a much more zesty/citrusy character. There's even a hint of Demerara rum. We'd describe this as suave and stylish; a whisky cocktail for a black-tie night of jazz and saying pretentious things about modern art.
Palate: Wonderfully spiced. We get oodles of Big Red Cinnamon Gum (a popular treat from across the pond, it tastes as you'd imagine it. For a more Brit-friendly descriptor, think Cinnamon Grahams.) The fresh Oloroso sherry notes from the malt are like poetry, and the mix of spice and whisky is intense.
Finish: Long with huge cinnamon and orange peel notes on the finish. It's a little like a Scotch Old-Fashioned, and all the better for it!
And finally, what you've all been waiting for…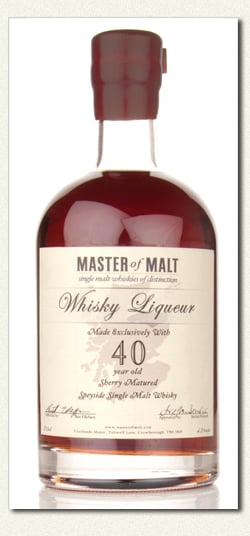 Master of Malt 40 Year Old Speyside Whisky Liqueur – £219.95
Nose: At first nosing it's hard to tell this as a liqueur. Perhaps it's just the slightly accentuated spices that give it away. This has all the hallmarks of one of Speyside's all-time great sherried 40 year olds; its rich leathery tones, its highlights of sweet sultanas, dates and spices, and its musty, heavy notes of oak and other fragrant woods including pine and cedar.
Palate: Spectacular. There's no other word for it. It boasts a hugely fruity, utterly staggering level of richness. Mouth puckering, juicy sherry, oily malt, and that aromatic quality of a good, old Riesling, then something akin to rye-spices, and a buttery intensity. Calves leather, date and walnut cake and big hits of cinnamon.
Finish:Intense cinnamon and clove notes, Golden Syrup, gingerbread, huge malt.
Overall: The 1967 Shelby GT 500 Mustang of whisky liqueurs. We've even nicknamed it "Eleanor".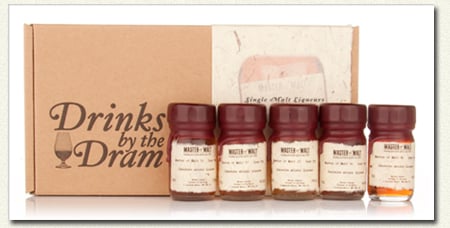 The Tasting Set… – £29.95
To taste all four of these incredible whisky liqueurs, as well as our already popular 10 year old Speyside Liqueur, you can buy a tasting set for just £29.95.
– The Chaps at Master of Malt –