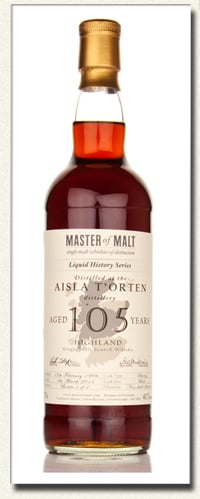 There are few moments like this in history; moments which involve something daring and utterly extraordinary. Moments that no one will ever forget.
For us, the Chaps at Master of Malt, this might just be our biggest moment yet…
We've discovered the world's oldest whisky. What's more, it's more than a century old. This, ladies and gentleman is an absolutely spectacular achievement, and one that will hopefully go down in the annals of whisky history.
We are proud to announce…
A 105 Year Old Whisky, distilled in 1906.
It's hard to believe a whisky could survive so long in an oak cask without dropping below the 40% abv mark, yet this malt stands strong at 40.7%. But before we go into more detail about the whisky, allow us to tell you a little history about the distillery, and how we came across this miraculous find.
We were first written to about 8 months ago by Allie Sisell, a historian who lives in Aberdeen. Allie [pictured left] was renovating his house (which dates back to the 17th century), when he discovered what looked to be a dusty, very haggard-looking wooden barrel, hidden behind some old family heirlooms in his basement. Upon closer inspection, he found it contained an alcoholic liquid, and that's where we come in. Allie Sisell wrote to us, saying he had discovered this rare barrel in the back of his basement [pictured below]. Stamped upon it were the words "AISLA T'ORTEN", and the date "1906".
To be perfectly honest we didn't quite believe his letter. After much investigation, our whisky tasting team identified the name as the
Aisla T'Orten distillery, but they told us that no one had ever bottled any of its whisky. We called Mr Sisell and asked him to send us a sample for analysis. Only after careful study would we know for certain whether or not the cask was genuine.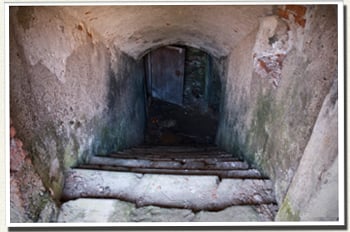 You see, the Aisla T'Orten Distillery (pronounced "EYE-luh totten") was only in existence for a single day. The distillery was founded on the 17th February 1906, by an exciseman named Aethenias Simonvent. Gathering his life savings, Mr Simonvent joined a small conglomerate of local businessmen to build a distillery close to the River Shiel in Acharacle. Famed today as a fishing spot, back in the early 1900s the Shiel was to provide the lifeblood of the distillery: its water.
Construction began in early 1904, and whilst halted by two particularly harsh winters, the buildings and equipment were finished by January of 1906. Contained within its two medium-sized stone buildings were two stills: a wash still and a spirit still (fitted with an unusually tall lyne arm and a rectifier). The capacity has been estimated at roughly 50,000 litres per annum.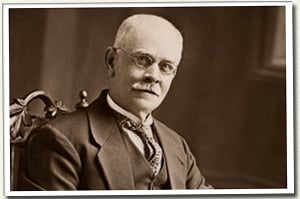 On the 17th February 1906, Aisla T'Orten's stills ran for the first time and only time, producing a single ceremonial cask, documented in Aethenias Simonvent's [pictured right] diary. Tragically, after the cask had been moved to the distillery's single ricked warehouse, a fire broke out, destroying most of the buildings. Whilst no lives were lost, the distillery and its contents were completely destroyed. Sadly, Aethenias passed away just 3 years later at the age of 78.
After extensive (and believe us, we mean extensive) research, we can confirm that the cask in Allie Sisells's cellar is genuine. We offered to purchase it, and were delighted our offer was accepted, and that brings us to today.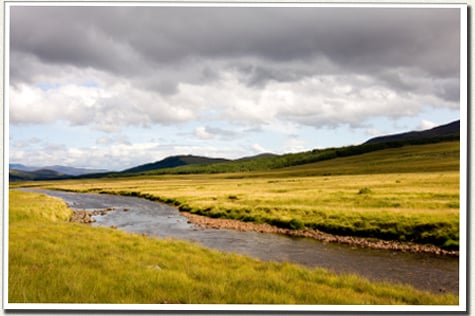 Amazingly, the cask was almost unbelievably well-preserved inside the cellar, and save for some very minor aesthetic wear and tear, the wood itself has not been damaged. It was a sherry butt, of truly exceptional quality, with incredibly tightly-grained oak.
[pictured right: the site of the Aisla T'Orten distillery]
After exhuming the contents we were left with just 762ml of spirit. We bottled 700ml, and after tasting 12ml, we carefully bottled the remaining 50ml for future generations (we've stored it in a private safe at an undisclosed location).
There was much debate about whether or not we should sell the bottle, but in the end we decided it was the right thing to do, and so today we are officially launching the world's oldest whisky, and quite probably also the most expensive spirit in history…
We present…
Aisla T'Orten 105 Year Old 1906 "Liquid History" (Master of Malt)
The spirit was carefully nosed and tasted by one of our in-house whisky experts. Here are the notes…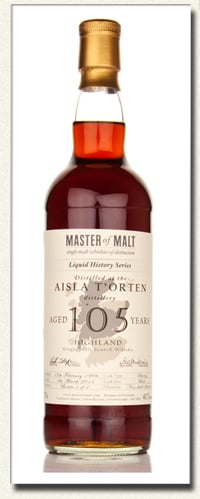 Nose: The most unique bouquet I've ever experienced. This whisky is robust, powerful, melodious, and utterly graceful. A sublime mix of heady Oloroso, caked with an oaked intensity which peaks on wood varnish, coffee beans, black pepper, potpourri and butterscotch. The malt is so muscular and the grains of the oak are so very well refined. I am completely blown away, I'm left speechless.
Palate: Heaven is spelt "T-O-R-T-E-N". This conjures up flavours from yesteryear. It is history in a glass. An eruption of rich calves' leather and mahogany, it reminds me of that extraordinary feeling of stepping into the Sistine Chapel; it has a true sense of provenance. There is smoke, but it does not overstep its mark; there is thick, creamy malt, but it is not cloying; there is sherry, but the whisky is not too dry. There is an array of vanilla, exotic spices such as cardamom and nutmeg, there are hints of toffee, cut hay, and sweet chestnut. And these flavours continue to develop over the palate.
Finish: To say this was long would be an understatement. This whisky lines the mouth, and trails gracefully like silk, with buttery, creamy sweetness, and notes of rich Christmas cake and walnut oil.
Overall: There are but a few moments in life when you are taken aback. When you experience something the likes of which few others will ever know, the likes of which you yourself will never know again. This is one of those moments. This is heaven.
As with our other releases, we have chosen not to spend money on packaging, and instead we have bottled simply, in the no nonsense style we bottle our 50 year old, and other single cask releases.
We are selling the single bottle of Aisla T'Orten 105 Year Old 1906 for £870,000 – a price based on the historical records of the cost of building Aisla T'Orten distillery (adjusted for inflation). Whilst a frankly titanic price for a bottle of whisky, we hope the buyer will appreciate the rarity of the bottle, the cost of building the distillery to create a single bottle, and the fact this is quite literally liquid history.
To view the 105 year old Aisla T'Orten, click here.
– The Chaps at Master of Malt –