On the Nightcap this week there are more virtual booze activities, a new fascinating dram from Glen Moray and the smashing of a world record…
It's Friday once again! Apparently, today is National Doughnut Day 2020 in the United States and many American doughnut stores will be offering free doughnuts today. This is all the excuse I need to help myself to some baked goods. If you're not reading this edition of The Nightcap with a freshly-prepared doughnut or pastry of any kind, then you should remedy this situation as soon as possible. Also, you should have something boozy to hand, it is the weekend!
On the MoM blog this week we kicked things off by declaring that deals of the day on the weekend were officially back on, then Nate Brown triumphantly returned to explain why The American Bar at the Savoy is still one of the world's finest bars. Annie then tasted three distinctly different drams made with peat sourced from all over Scotland before turning her attention to The Rum With No Name… Henry, meanwhile, spoke to Mark Harvey from Chapel Down about English wine, COVID and more, before exploring the history behind the terrific – and trademarked – Dark 'n Stormy cocktail and kept the rum theme going by making the delicious Salcombe Whitestrand Rum our New Arrival of the Week.
We'd also like to say congrats to Akash Kumar, who won last week's virtual pub quiz! Thank you to all who entered, the answers to last Friday's quiz are listed below, as always. For those who fancy their chances at besting this week's edition of the MoM pub quiz, it will be on our blog from 5pm as always.
'Hidden treasure' now on sale from Glen Moray
When Dr Kirstie McCallum took over as head of whisky creation at Glen Moray last year, her first task was tasting the inventory. Tough job. One of the things she found in Warehouse 1 was seven European oak hogsheads that had been seasoned with sweet Madeira and then filled in 2006 with new make. She described the find as "hidden treasure" and decided that this nearly 14-year-old whisky was so special that it should be bottled on its own. The result is the Madeira Cask Project, the latest bottling to join the Curiosity Range. She commented: 'Single malt whisky matured in Madeira casks has been prized in the industry before, but typically the casks have only been used to 'finish' more conventionally matured whisky. That's what makes this new expression so very special. Our new make spirit has been slowly mingling with the luxuriously sweet flavours of Madeira for nearly 14 years, giving a depth of flavour and an intense character that couldn't otherwise be created." Having tried a little dram, we couldn't agree more. It's loaded with banoffee pie, cooked pears and dark chocolate with a finish that goes on for a good half an hour. Only 1468 bottles have been filled and for such a rare, special whisky, the price is not outrageous, around £65. Even better, it's just arrived at Master of Malt. 
The First Scottish Rum Festival Goes Virtual 
This year was due to be the very first Scottish Rum Festival in Edinburgh. Well, if you thought certain worldwide events were going to hold back the distillers, you'd be mistaken. For its first year, it's going virtual! Get your diaries out and clear Friday 24 July for trade delegates and Saturday 25 July for public ticket holders for some rum fun. Public tickets are £34.95 and you can nab one here. You can expect a delicious selection of talks, tastings and more through a series of live streams with Scotland's leading rum distillers and blenders. Plus, with your ticket, you'll be sent a festival tasting pack to accompany the session! Among the many names you'll find Brewdog Distilling Co., Ninefold Distillery, Glasgow Distillery Co. and Deeside Distillery. "We're now entering an exciting time for the country's growing rum scene, to be explored by consumers and producers alike," said James Withers, CEO of Scotland Food and Drink. "The Scottish Rum Festival will showcase the new wave of distillers and blenders that are putting Scotland firmly on the global rum map, while raising money for a vital cause." A fiver from each ticket will also be donated to The BEN, Scotland's drinks and hospitality charity. A little something to look forward to!
Rare bottles go under the hammer for the Drinks Trust
Regular readers will know that we love a good auction story at Master of Malt, Macallans going for £1000s, that sort of thing. But auction stories are even better when there's a good cause involved. From 7-16 June a cellar-load of rare wines and spirits donated by members of the Worshipful Company of Distillers will be going under the hammer on Whisky. Auction with all the proceeds going to the Drinks Trust. Money that's especially needed in this incredibly difficult time for the drinks and hospitality industry. Highlights include a 1963 Bowmore, a 1973 Glenrothes and a private label Highland Park 1990 bottled in 2015. Rum lovers will drool over a whole barrel of 1998- distilled Caroni and there are some pretty fancy wines too such as a Drouhin Chambolle Musigny Les Sentiers 1990. Alongside all the swank there's plenty of interesting bottles for those with shallower pockets. You can preview the whole mouth-watering selection here. So open your wallet, dust off your credit card and get bidding. It's all for a good cause. 
Beer Day Britain goes virtual on 15 June
On Monday 15 June, Britain's National Beer Day was supposed to take place, where the nation comes together to celebrate the fabulousness of the humble brew at pubs, breweries and beer festivals. Like many other things this now isn't possible, but also like many other things, it's been moved to the virtual realm instead! From pub quizzes to virtual tastings, there will be a whole load of online events to join in with, all leading up to the annual National Cheers To Beer at 7pm. "The public has been so supportive of their local breweries during lockdown and Beer Day Britain is a good opportunity to celebrate the love they have for their favourite beers," said Jane Peyton, beer sommelier, writer and instigator of Beer Day Britain. "But it is also a chance for pubs to get involved and remind everyone of the warm welcome and unique atmosphere that awaits when they can reopen to serve that much-longed-for pint." This will be the sixth year of the celebration, so pour yourself your favourite brew and get involved, not forgetting the all-important #cheerstobeer toast!
And finally. . .  Manchester Gin sets new World's Biggest Gin Tasting record
Manchester Gin had a pretty good week, smashing a world record and raising an awful lot of money for vulnerable homeless people during the pandemic. The "Stay Home" tasting experience was live-streamed on Manchester Gin's social channels on Saturday and an incredible 1,856 people, including Phillip Schofield, turned up, smashing the existing record which stood at 796 drinkers to become the 'World's Biggest Gin Tasting'. Best of all, the brand, who are offering 20% off online orders to NHS staff and key workers, donated 20% of profits to Big Change MCR, raising a cracking £2,778. Founders and master distillers, Seb Heeley and Jen Wiggins, led the session which explained how they create their award-winning range. "Seb and I were beyond thrilled to learn that we had in fact beaten the existing World Record and raised £2,778 for charity," said Wiggins. "Manchester and the rest of the UK are a resilient bunch who, even in these most difficult of times, have come together and raised a fantastic amount of money for charity, all whilst raising a glass and having some much-needed fun".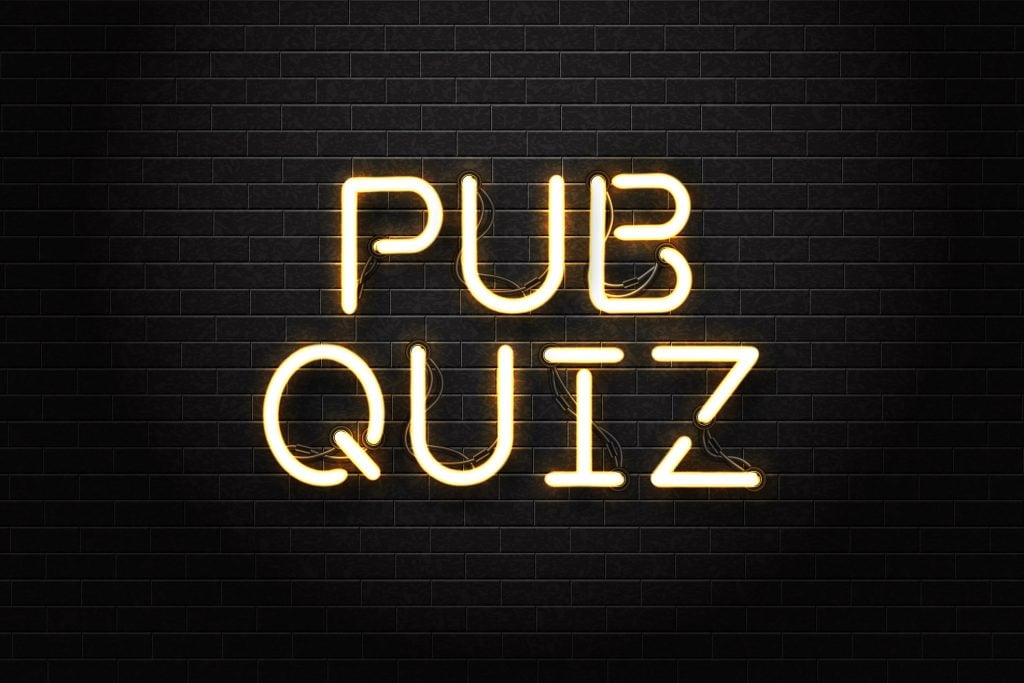 Pub Quiz Answers
1) In 'Escape (The Piña Colada Song)', aside from the eponymous cocktail what other drink does the singer mention?
Answer: Champagne
2) Which 80s pop star released a rose wine last year called Hampton Water?
Answer: Jon Bon Jovi
3) Calvados brandy is made from which fruit?
Answer: Apple
4) The Beefeater Distillery is in which London borough?
Answer: Lambeth
5) In 'Family Guy', what is Peter Griffin's favourite beer?
Answer: Pawtucket Patriot
6) In the film '13 Going on 30', what cocktail does Jenna Rink order when she says: "I'll have a ——. Not virgin. Wanna see my ID?"
Answer: Piña Colada
7) In "Brideshead Revisited", Charles Ryder and Rex Mottram drink two Grand Cru Burgundies over dinner in Paris?
Answer: Montrachet and Chambertin Clos de Bèze
8) Production of sherry is concentrated between towns which form what shape when lines are drawn between them?
Answer: Triangle
9) Which cult film is this quote from: "What? You think a first-class girl can't drink?"
Answer: Titanic
10) In 'The Big Lebowski' which supermarket chain does the Dude visit to buy his White Russian ingredients?
Answer: Ralphs