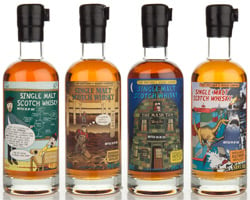 Well that last batch of Boutique-y whiskies certainly sold quickly. Terrifyingly quickly in fact.
Apologies to all those who didn't get one from the first edition of the Ardbeg, Macallan or Caperdonich – but fear not – the second batches of all of these are now here, and available for purchase. You'll notice that all three of them have the new batch number, new ABV, and a minor change to the illustration on each of the labels just to keep it interesting. You'll also notice that the Caperdonich is cheaper than last time. Don't say we never do anything nice for you.
We're working on getting you another Port Ellen release* – more details on this as and when we're successful.
So – now on to the next whiskies to be added to the series. It was pointed out to me today that completely by accident, we've selected 4 Speyside Whiskies, all beginning with 'a' and 'b'. Not planned, just a weird coincidence…
The first in this release of 4 whiskies is Benrinnes: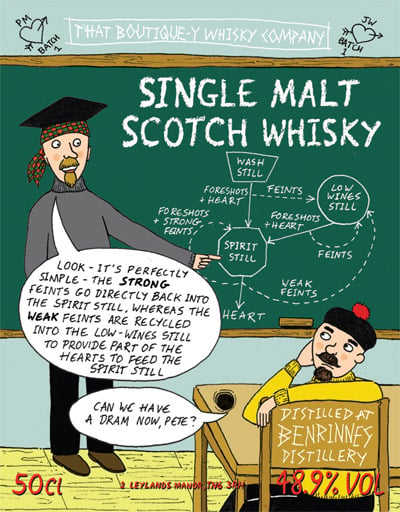 48.9% abv – 202 Bottles – £43.95
Those of you whose whisky-geek-o-meter is fully set at 11 may recognise the two characters as Pete McPeat and Jack Washback – made famous by Serge Valentin of the incomparable review site – www.whiskyfun.com – if you haven't already, you absolutely must all bookmark this site, and follow Serge on twitter @whiskyfun.
But what's going on on this label, I hear you cry? Pete and Jack are having a (somewhat one-sided) conversation about the absolutely fascinating** distillation process employed by Benrinnes up until 2007/2008.
Nose: A fat aroma of stewing peaches and lychees dominates the nose with side notes of a just opened packet of juicy sultanas and moist fruit cake. Positively enchanting!
Palate: Silky and oily with reduced tropical fruit juices, fireworks, grape juice and a sprinkling of cinnamon and nutmeg.
Finish: Lingering firework smoke, rhubarb, passion fruit and peaches in a full-bodied and fruity finish.
Next up is Benriach: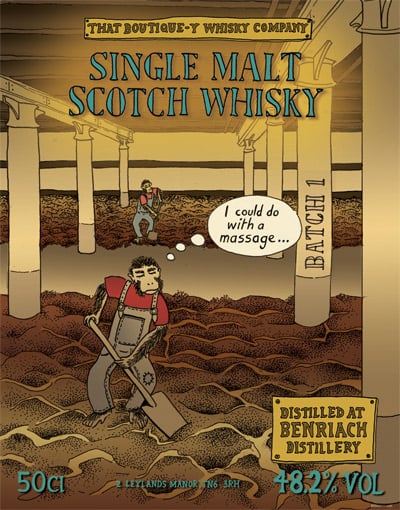 48.2% abv – 140 Bottles – £49.95
This label is a portrayal of the floor-maltings at Benriach (they are one of the few remaining distilleries to malt a proportion of their own Barley), and the associated condition 'Monkey Shoulder' that comes with turning the barley by hand. Monkeys. Monkey-shoulder. See what we've done there. Monkeys they are.
Nose: Big fruity cherries, marmalade, a hint of red vermouth followed by subtle toffee and old leather. Then, just out of reach, is a little bit of peat just to remind you of BenRiach's other personality.
Palate: Red cherries, strawberry coulis leading to floral heather and a (very small) pinch of peat.
Finish: The finish is soft and gentle with a sugar syrup quality flecked with strawberries and raspberries with the briefest suggestion of crushed black pepper.
Penultimately, we have Aberlour: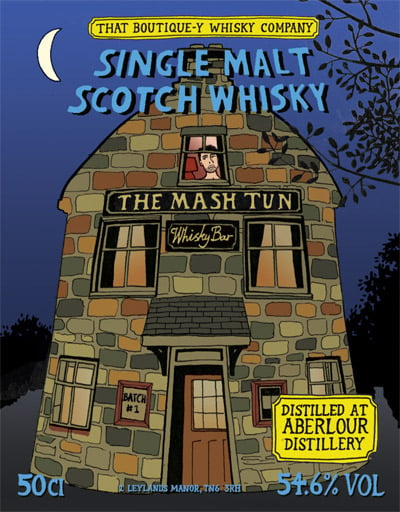 54.6% abv – 175 Bottles – £43.95
This label is a portrayal of the world-famous 'Mash Tun' Whisky bar in Aberlour. For any of you planning a trip to the Speyside region – it's an absolutely fantastic bar – and one of the few in the world to have a full collection of Glenfarclas Family Casks, not to mention the fact that it has rooms above. I'm delighted to introduce it to you. And it, to you. But hang on a second – who's the swarthy-looking, older than his years figure lurking in the top window of the hotel? What's he doing up there? Why does he look afraid for his life? Some things remain a mystery.
Nose: Raisins and dried apple lead to cox apples, cloudy apple juice, ground ginger and roast cocoa beans with maybe the slightest hint of smoke.
Palate: Rich, fruity and mouth-filling, with additional notes of ginger, barley and bitter dark chocolate.
Finish: The finish is substantial and well-rounded with burnt dry fruits, autumnal berries, Pink Lady apples and brandy cream flavours.
For the final label, we're going to the Aultmore.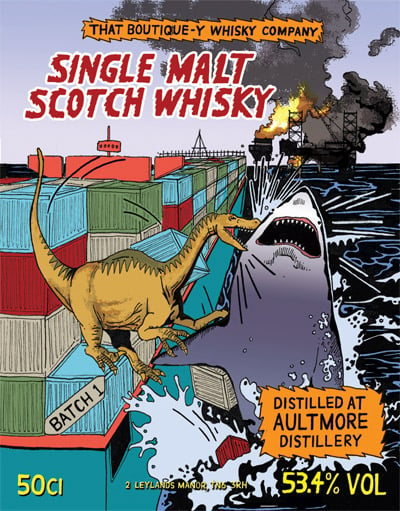 53.4% abv – 422 Bottles – £34.95
Now, for Aultmore, I searched high and low, asked all and sundry for interesting stories, facts or legends surrounding the distillery and turned up precisely nothing. So you've got this. A Velociraptor fighting a shark.
I of course fully expect to be inundated with exciting stories about Aultmore now that I've said this, but have no regrets. None I tells ya.
Nose: Vanilla oak notes, followed by lemon zest and greengages. As the whisky opens up intense notes of cloves and lime zest reveal themselves.
Palate: The palate is layered with mixed spices, sweetened with creamy vanilla, and highlighted with notes of greengages and citrus peels.
Finish: The finish lingers with refreshing menthol, deep dark chocolate and tingling white pepper.
Ben.
*What's that officer? No –this is my cask of whisky. Why am I busily loading it into a hatchback right next to Diageo's store house you say? QUICK LOOK OVER THERE IT'S LORD LUCAN!!
**not at all fascinating