From seasoned spirits producers to bartender-created brands, the quality of pre-mixed cocktails has never been better. Today, our new contributor Lucy Britner catches up with a few of the people behind the products to see what makes them so tasty 
Once the preserve of the train journey, pre-mixed cocktails have come a long way. And with a summer of weird indoor, outdoor, don't-get-too-close-to-me drinking on the cards, pre-mixed cocktails in a bottle or can provide the ideal solution. While the canned G&T is a (pretty great) staple, the world of pre-mixes grows ever more sophisticated every day. So, to get an idea of what's set to tickle the summer tastebuds in terms of cocktails pre-mixed, MoM caught up with seven producers to chat flavours, serves and the ideal snacks to go alongside.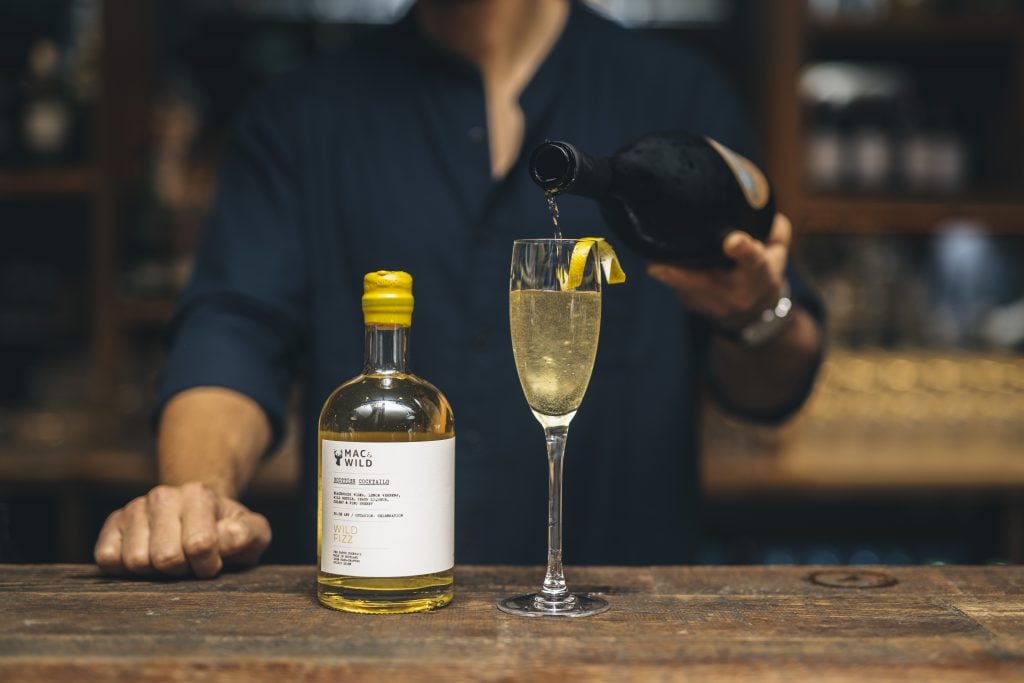 This pre-bottled cocktail from Scottish restaurant group Mac & Wild packs a summer punch with Blackwoods Vodka, lemon verbena, wild nettles, peach liqueur, celery and fino sherry. "Wild Fizz was conceived during a summer walk a few years back along Edinburgh canal," says head of cocktails, Luke Leiper, who created the range at the company's Edinburgh base. "There are lots of wild botanicals that grow there including verbena and nettles. Initially I picked them both for teas but started experimenting with vodka infusions. Peach worked really nicely… but I wanted it to be even fresher and settled on celery to achieve that."
Leiper enjoys Wild Fizz topped with prosecco or tonic in a chilled flute glass with fresh lemon peel zested on top. Snack-wise, he plumps for a selection of charcuterie from Edinburgh company East Coast Cured. 
Highgate's very own micro distillery, Sacred, has taken each ingredient from the classic Negroni cocktail and developed all-natural English equivalents. Sacred co-founder Hilary Whitney says the mix sees equal parts of classic Sacred Gin, Rosehip Cup and English Spiced Vermouth "combined in the bottle to allow the ingredients to marry and mellow". 
"We call the Rosehip Cup the English alternative to Campari – the beautiful colour comes from grape skins and rhubarb juice," Whitney says. English Spiced Vermouth, meanwhile, is made with English wine from The Choirs in Gloucestershire. Whitney suggests serving with olives, cheese or cured meats at picnics and parties "virtual or otherwise".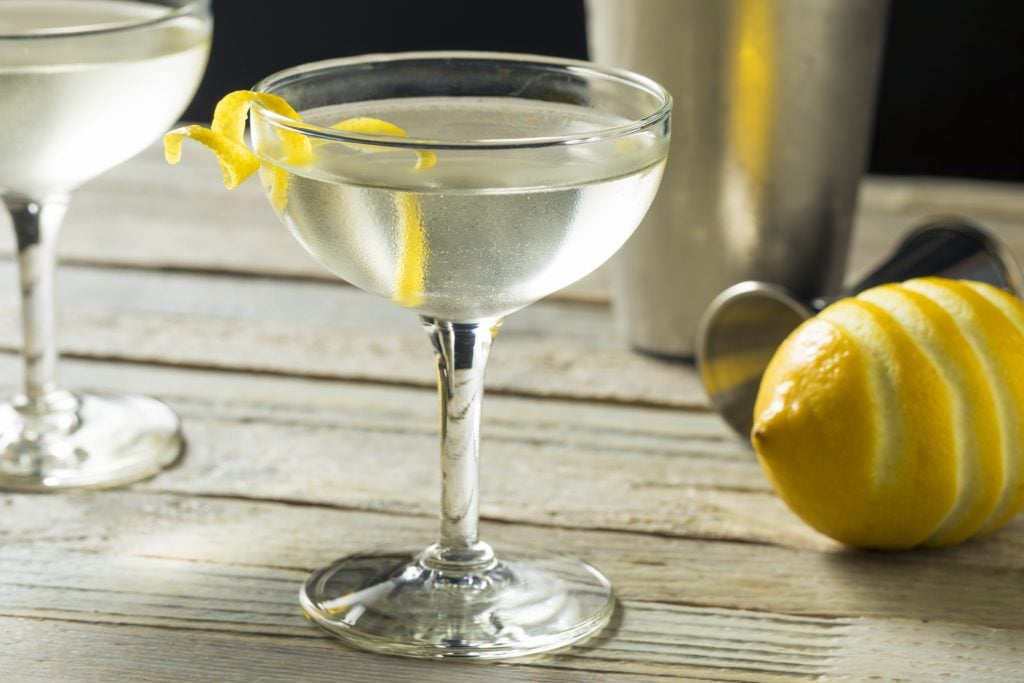 Can't decide between a gin Martini or a vodka Martini? Don't bother making a choice; drink a Vesper instead. The drink du jour for Britain's best-loved secret agent, the Handmade Cocktail Company's Vesper is made with premium English gin, vodka, vermouth and bitter aromatic wines. It's described as "dry, juniper-led nose with tangy light citrus and hints of geraniums, cream soda, cereal, sage and a little grating of nutmeg". The palate meanwhile is tangy and tart, with zingy lemon top notes. 
To invoke your inner Bond, add a healthy measure to a large, ice-filled glass or shaker. Stir for a minute or so (or have it 'shaken, not stirred' if you'd prefer). Strain into a chilled Martini glass, garnish with a strip of lemon peel and serve with one raised eyebrow a la Roger Moore.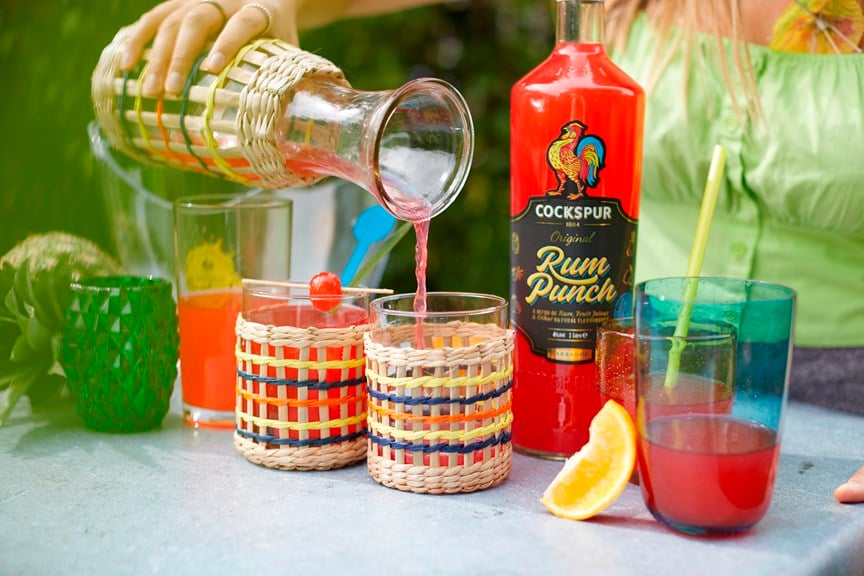 "Our Cockspur Rum Punch very much replicates the crowd-pleasing rum punch that comes hand in hand with any social occasion in Barbados," says Steve Wilson, CEO of Woodland Radicle Ventures, the company that owns Cockspur. The drink is a blend of tropical juices including pineapple, orange and coconut with a hint of Caribbean spice and a generous glug of Cockspur rum. 
Ideal for outdoor summer drinking, the Bajan characteristics lend themselves to spicy food pairings. "Hot and spicy chicken wings go very well with it, I also love rum drenched prawns with coconut, lime and chilli," adds Wilson.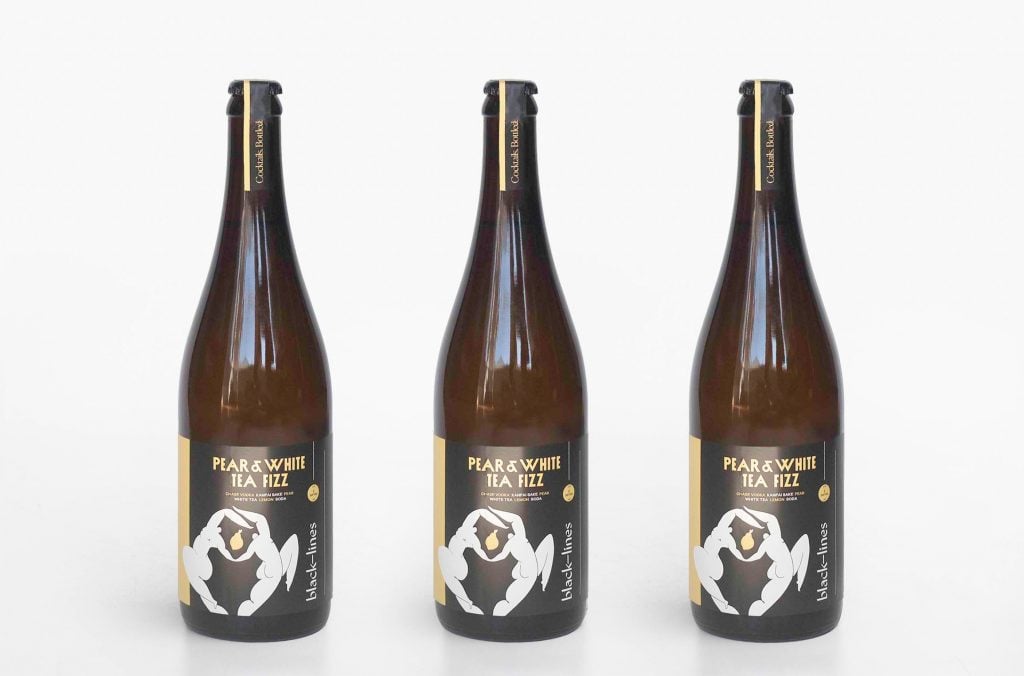 "We wanted to design our own drink and after a summer's afternoon eating pear ice lollies and drinking iced tea we thought the flavours complemented each other really well," says Morgan Ward, head of sales and business development at Black Lines. "That set the wheels in motion and we started experimenting and testing the flavours with a variety of spirits." Black Lines eventually settled on Chase Potato Vodka combined with Junmai Sake from Kanpai, the UK's first sake brewery. Ward says the sake brings a dry finish to the drink. 
Good drinks deserve good snacks and when it comes to what to eat with Pear & White Tea Fizz, Ward's suggestions are a far-cry from a bag of vending machine salt & vinegar on the platform at Clapham Junction. "We recently collaborated with Brindisa, the Spanish deli based in London, and we included a tin of their famous Perello Gordal pitted olives with every order," he says. "I'd recommend snacking on these whilst you enjoy the Pear & White Tea Fizz – the balance of saltiness from the olives and sweetness from the drink is a real winner."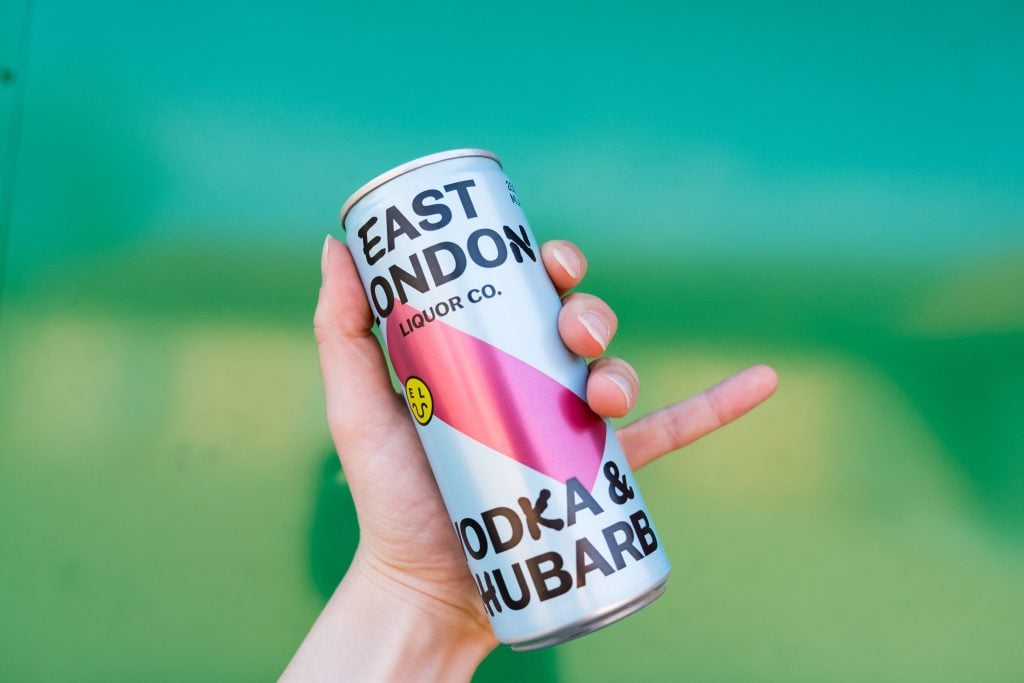 ELLC Vodka & Rhubarb pre-mixed cocktail cans see pressed rhubarb juice meet a little apple juice before being blended with East London Vodka and filtered water. The drink is then carbonated to the "perfect level" of fizziness. "Using British wheat for our vodka gives a creaminess that blends perfectly with our rhubarb soda," says James Law, who developed the recipe and is a big fan of rhubarb's famous tart tang. 
Law recommends enjoying the drink with roasted and salted almonds "straight from the bag". Good man.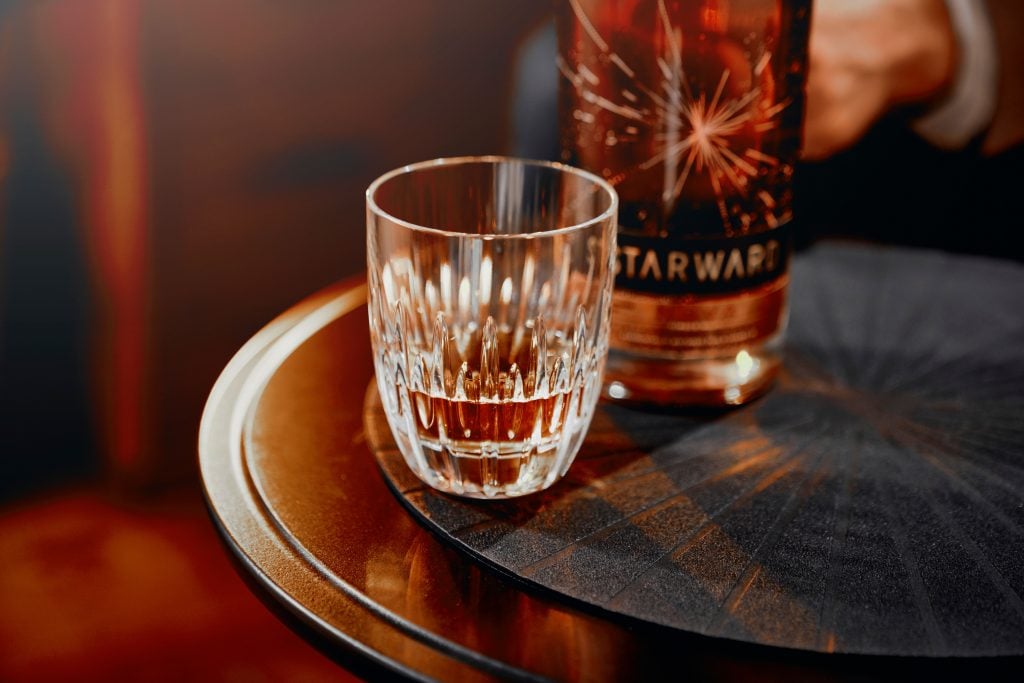 Australian whisky producer Starward describes the (New) Old Fashioned as "a BBQ-ready distillery batched cocktail". The classic was created by the Starward team of bartenders and it strikes the balance between sweetness and aromatic spice. The cocktail also highlights the use of ex-red wine barrels, used to age the whisky, and adds an Australian twist with Starward's own blend of wattle seed bitters (wattle seeds come from Acacia and they have a nutty, coffee, chocolate aroma.)
For a foodie fix, the gang suggests a barbie: "Try it with duck, steak, sardines or barbecue chicken."
Lucy Britner has been a drinks journalist for 15 years. Her work has appeared across numerous publications and she was one of the founding editors of World's 50 Best Bars. She holds a WSET diploma in Wine & Spirits and in 2019 she received the honour of becoming a Keeper of the Quaich.