To make a liqueur as aromatic and delicate as a fine perfume, says bartending icon Salvatore Calabrese, you need to include a rather rare and historic ingredient in the recipe. MoM learned the story behind his latest creation, Acqua Bianca, made in collaboration with De Kuyper Royal Distillers…
It reads like something out of a clickbait article – 'this liqueur contains ONE WEIRD INGREDIENT you would NEVER expect' – but in the case of Salvatore Calabrese's new liqueur, it's absolutely true. Alongside lemons from the Amalfi coast, bergamot from Calabria, cidron (one of the oldest varieties of citrus), from Asia, and another, rather unique ingredient in the bottle: ambergris.
Known among bartenders as 'The Maestro', Calabrese first came across the substance – the details of which we'll delve into shortly – in an antique cocktail book. "I looked at an old recipe from the 1700s, Planters Punch," he explains. "And there was one ingredient that really sparked me, and that was ambergris. And I thought, what is ambergris? There was no word of it in any cookbooks or in any liqueurs. That intrigued me."
When Calabrese started to research ambergris, he discovered that it's "very much used for fine perfumery". Not only do the world's leading perfume houses use ambergris – incorporating the ingredient explains why their scents are so damn expensive. Also known as 'floating gold', ambergris is a waxy byproduct expelled by sperm whales. One that is unbelievably good at binding, elevating and extending aromas.
The sperm whale diet mainly consists of cephalopods, such as squid and cuttlefish, which are partly made of an indigestible protein called chitin. Over time, this protein builds up in the whale's digestive tract, where it binds together and forms a mass. (A very valuable mass, at around $20,000 per kilogram). 
This lumpy mass is then expelled one way or another – experts don't know which end it emerges from – before it floats through the ocean and, eventually, onto shorelines. For centuries, clever perfumiers have collected it to extract ambrein, an odourless alcohol that intensifies and lengthens their signature scents.
For Calabrese, it was a lightbulb moment. "I've been a bartender since 1966," he explains. "I know most of the liqueurs, and every liqueur is always the same, strong flavours. Either citrus, minty or herbal or bitter notes, chocolate, nutty, coffee. But what is missing? The aroma." 
Take a nut-flavoured liqueur, for example. "When you try to smell it, the gentle note of the nuttiness is there but it's not present," Calabrese continues. "When you start to drink it, the nutty flavour appears in the middle palate. That's when you start to figure out what you're drinking."
Working with De Kuyper's master distillers, he set about creating a uniquely aromatic liqueur with all-natural ingredients such as lemon, bergamot, peppermint and rose that "explodes" with aroma and flavours when you taste it. "It's not sticky, it's quite fresh in your palate; intense but delicate," Calabrese explains. "That's what makes a great liqueur. It's what makes fine spirits and fine wines." 
In a nod to the recipe that inspired Acqua Bianca, the quirky bottle – created by Salvatore's daughter Francesca Calabrese and her design agency Five Foot Eight – resembles a book, with the label as the spine. Look closer still and you'll find a tiny jigger in the 'A' letters, while the 'Q' looks a little like '2' – as in, H2O. 
Despite our probing efforts, the full recipe and details of the production process remains a closely-guarded secret. But we're willing to accept that in this instance, ignorance probably is bliss. It tastes good, and that's enough. 
When he first started research and development for the project, around two years ago, Calabrese set out to "create a liqueur that was the real centre stage of any cocktail". With Acqua Bianca, he's done just that. Below, you'll find a selection of easy-to-make Maestro-approved tipples to recreate at home…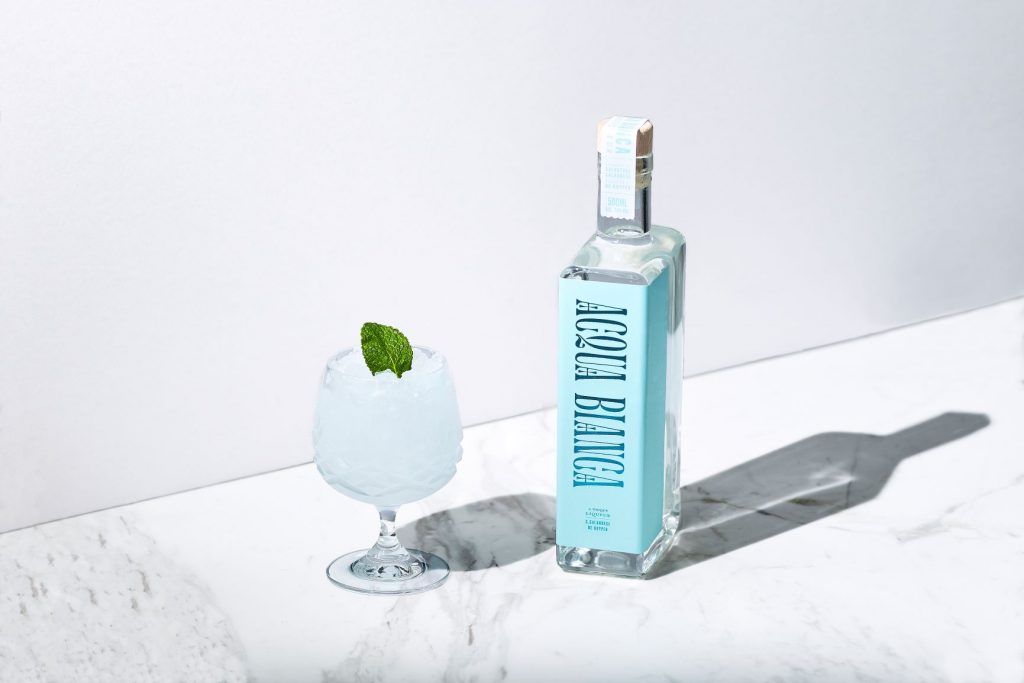 Acqua Bianca Frappé:
50ml Acqua Bianca
Pour Acqua Bianca into a balloon glass or an old fashioned glass and fill with crushed ice (see picture above).
Spritzer Fresco:
25ml Acqua Bianca
15ml Italicus
15ml Pink grapefruit juice
Prosecco
Pour Acqua Bianca, Italicus and pink grapefruit into a large wine glass filled with ice, and top up with Prosecco. Stir and garnish with a twist of lemon.
Sal's Stinger:
40ml Hine Cognac VSOP
20ml Acqua Bianca
Pour all ingredients in a mixing glass filled with ice. Stir and strain into a chilled coupe glass.
You can find Acqua Bianca at Master of Malt.