The launch of new Irish whiskey Roe & Co also sees Diageo return to Irish whiskey and the George Roe name return to bottles, plus there's a new distillery in the works! We spoke to Roe & Co brand ambassador Peter O'Connor to get the full lowdown.

There are at least four stories in one here so let's take a quick look at each before we get a bit more detail in our interview with brand ambassador Peter O'Connor. The new release Roe & Co Irish whiskey – available now – is a blend of single malt and grain Irish whiskeys matured in ex-bourbon American oak casks, with a high proportion of those being first-fill. Priced at around the £30 mark it's bottled at 45% abv, non-chill filtered and aimed at the 'premium' market with cocktails very much in mind (as we'll hear from Peter shortly). Diageo, of course, owned Bushmills for years from 2005 onwards but agreed to sell it to Casa Cuevo towards the end of 2014, which has meant they haven't had a stake in Irish whiskey – the fastest growing spirits category in the world – for the last couple of years.
The new brand takes its name from George Roe & Co, with George Roe's distillery once the biggest in Ireland and probably the world! Located in Dublin alongside those of contemporaries John Jameson and James Power, Roe's distillery sat in The Liberties next to the Guinness brewery. All that remains of that distillery now is the 150 foot high St. Patricks's Tower originally built in 1757, once the tallest smock windmill in Europe (the blades were removed long ago), and a pear tree planted c.1850. The windmill would have supplied power to the distillery and even fell into Guinness ownership during the 20th century, so it's fitting that the new distillery will be built very nearby in a former Guinness power house at St. James's Gate. The new distillery will produce single malt and should open in 2019.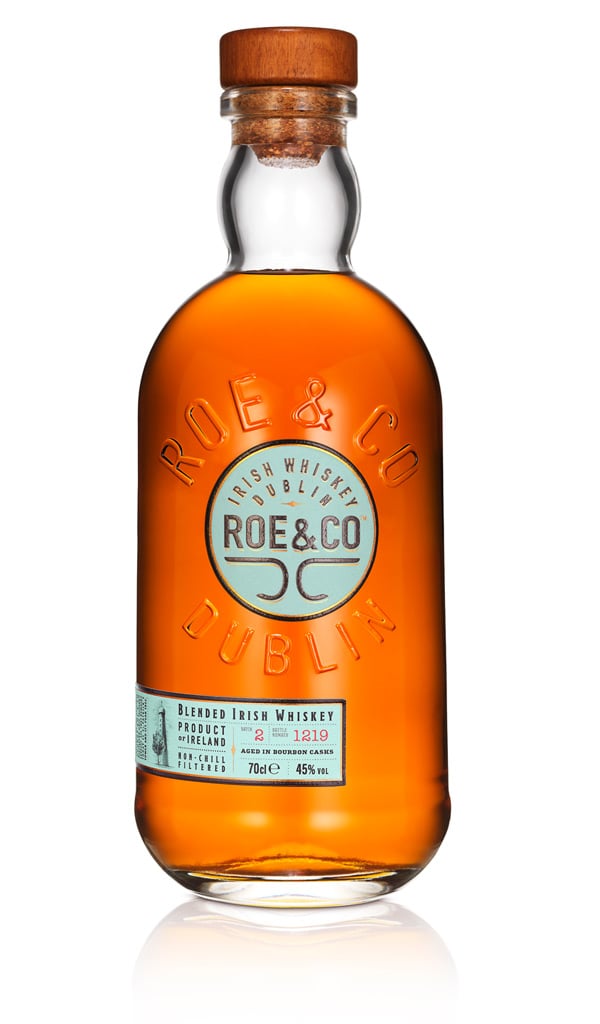 Roe & Co Irish whiskey
Let's find out more from Roe & Co brand ambassador Peter O'Connor…
Jake: Let's start with the new whiskey – pear notes seem to make up a key part of its profile, which is rather serendipitous given the surviving 1850s pear tree at the old distillery site (which also features in the branding).
I'm interested in the process of how the whiskey came together. I understand that Caroline Martin and her team went through dozens and dozens of trials and prototypes – were those pear notes always a deliberate consideration?
Peter O'Connor: I was brought into it about 18 months ago, more around my expertise working with bartenders all over the world, but Caroline Martin (Diageo Master Blender) had been working previously on that. Over the last year or so, I've been talking to her and getting an understanding of her process and how we came round to Prototype 106 (the final prototype that we went with). She started off with pot still whiskeys, single grain and single malts up to around the time I came in…
Ah, interesting…
Yes, she was working with all three to start with on the blending process and when I came in they were sending me prototypes and I worked with different bartenders and what we were looking for was a whiskey, an Irish whiskey, that really held up well in cocktails. It was a process of back and forth – that's how we went with the 45% abv first of all, but then she started using a lot more single malt. It was just, not coincidence, but the blending process. That orchard fruit – that kind of pear note and apple note that I get and a lot of people get – comes from the malt that's used and it was just a beautiful character. We knew about the pear tree prior from doing our research around the George Roe distillery so it fitted in nicely. We never aimed to have a whiskey that had pear notes per se, but it is quite common as you know in single malt Irish whiskey, so it was just a lovely kind of nod to the old distillery and we built that as part of our story then going forward.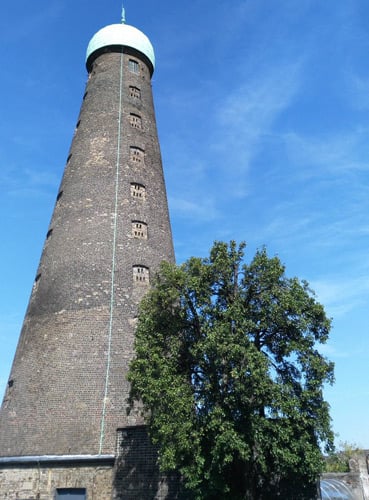 St. Patricks' Tower and the ol' pear tree
You've touched upon the length of the process already, of creating a new whiskey and brand – I've read that it's taken a couple of years to all come together?
Oh it has, yeah. From looking into the past and looking into "Okay, what does Irish whiskey stand for?" Where is the actual opportunity here? Is it in standard? Is it in premium? That kind of research before any prototypes or I was brought in. I was probably brought in about six or seven months after Caroline so the two years was a collaboration of Caroline's 106 different prototypes, the innovation team researching Irish history and whiskey, and how Roe & Co would sit into that going forward in this new golden era of Irish whiskey.
Obviously the time scale is interesting given that it's also just over two years ago that Diageo was selling Bushmills. It begs the question of whether this was always part of the plan and whether you had your eye on certain parcels of stock either just before or just after that happened?
At the time we sold Bushmills I was just back from the US. I was based over there for four years as Master of Whisky. Bushmills was very, very close to my heart so I was disappointed to see it go, but I totally get it – working on the Diageo Reserve portfolio and the Reserve team for six or seven years now – I totally understand the reasoning behind it. It was strategic for Diageo, getting the ownership of Don Julio as part of that sale agreement was massive – absolutely huge for them – as well as the (Mexican) distribution rights for Smirnoff. Now, honestly – and hands up – I have no idea if it was in the pan, I kind of doubt it because when John Kennedy (President Diageo Europe, Russia and Turkey) went to the innovation team it wasn't around standard whiskey, he wanted to go into that premium section of luxury brands. Looking at our portfolio we have fantastic vodkas, rums, gins, tequilas… The one thing we were missing was Irish whiskey and Irish whiskey is the fastest growing whisk(e)y category at the moment globally. Looking at it from my end, as a brand ambassador, it would be very silly not to go into that.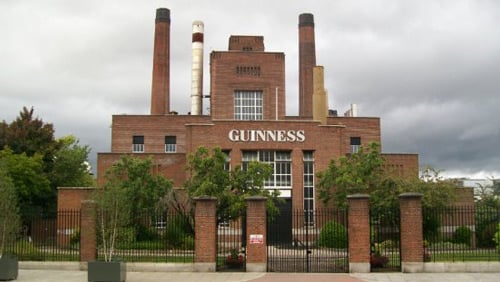 The old Guinness power house that will become Roe & Co's St. James's Gate distillery
Can you talk us through the planned setup of Roe & Co's future Dublin distillery at St. James's Gate?
It is license pending at the moment, but that should all go through in the next few weeks. Over the next two years there's a €25m investment going into it. The site itself is the old Guinness power house, which hasn't been in use in the last ten years or fifteen years or so, so it's great to have a site already there. By the first half of 2019 or so we'd love to open a three still distillery producing, at the start, 500,000 litres a year with a potential to grow that. It will be a full, 100% single malt distillery with a visitor experience built in around it. That's the overview of it and there'll be other attractions around it, the Guinness Storehouse, Teeling, Pearse Lyons – it's going to start opening up a lot of tourism and bringing a lot more people into that area all going well.
Presumably it's all triple-distilled single malt?
Yep, all the whiskeys used are triple-distilled, but from the St. James's Gate distillery we'll only be producing the single malt.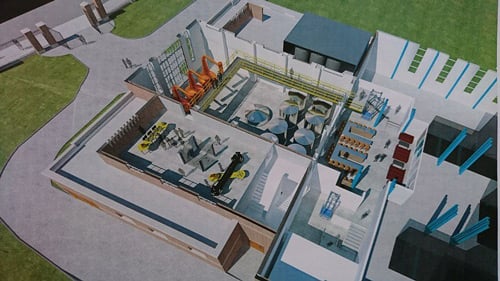 An artist's impression of the new distillery
You've touched upon the capacity there – is the hope that St. James's Gate will be providing the full malt requirement for Roe & Co going forward?
Oh, absolutely. That's the plan. There will be room to expand, when I was speaking to Colin O'Brien there and we were looking at capacity – this is the opening capacity. You don't want to project too much and you don't want to project too little, and I think there is a huge opportunity to grow and expand that in time.
At the moment there are quite a few distilleries (both new and planned) around that kind of capacity. What would you say is going to set Roe & Co's distillates and whiskeys apart from the many other projects that are popping up all over Ireland?
I've spoken to Caroline about this for her insight as well because I kind of know how I'd like to see Roe & Co going forward with a point of difference to any other Irish whiskey out there. I do believe that the difference with Roe & Co as now (and will be in the future) is the blending expertise that Caroline and her team bring (and hopefully our own Master Blender will bring in time when the distillery opens up), but also the maturation process. 100% American oak, the majority being first-fill bourbon. You know, we're looking for that depth of flavour and that was our vision all along, to have this Irish whiskey that would hold up really well in drinks, be beautiful neat or with ice or water. I think that's what makes us different right now as well, we saw that during our launch event where we had over 300 bartenders from all over Ireland and Europe the big talking point was how well Roe & Co stood up in the cocktails, and that's what we set out to achieve.
Is the plan to introduce single malt line extensions in due course?
It's my hope, definitely, at some stage. I think we'd all like to see an extension of Roe & Co going forward, but the focus at the moment and for the first few years when we open is getting Roe & Co out and into the likes of the US and Asian markets, but at the moment we're focusing on Europe. You need to wait your eight, nine years whatever it might be. There's nothing built into the plan, put it that way.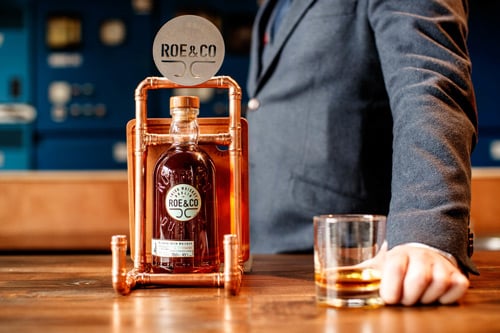 Having worked for Diageo for a number of years, you must be delighted that they're back in the world of Irish whiskey! Can you tell our readers a little about your background and perhaps a little about what you'll be up to with Roe & Co in the coming months?
I started off in the industry when I was still at school as a part time job like a lot of bartenders, worked bars in Dublin and fell in love with the trade – absolutely loved it – and always wanted to progress. At the age of 22 I was working at one of Dublin's best cocktail bars then I decided to travel – Australia, south east Asia – working bars over there and then was lucky enough in 2005/06 to run Ireland's biggest cocktail bar at the time, The Morgan Hotel in Dublin. We had the biggest sales of Ketel One I think in Europe at the time and when Diageo acquired Ketel One they asked me to join as a brand ambassador for Ireland. Whiskey was always my passion and I worked with Bushmills whilst I was with Diageo here in Ireland and was then transferred over to the US to join the Master of Whisky team and I spent four years with them. In 2015 I moved back to Ireland to take over the Reserve portfolio so three years Reserve and two years Roe & Co.
It's been great to help develop an Irish whiskey. The main focus for Roe & Co for us is to build it, and working with bartenders is something I'm very passionate about. Even when we were developing it we were bringing Irish bartenders into the actual conversation or on the project itself and getting their feedback. The markets we're really looking at are European cities – Berlin, Munich, Amsterdam, London, Dublin… and working very close with these guys, letting them use the liquid and get to understand the whiskey, but also creating this bartender family with Roe & Co where we can connect with them all over Europe.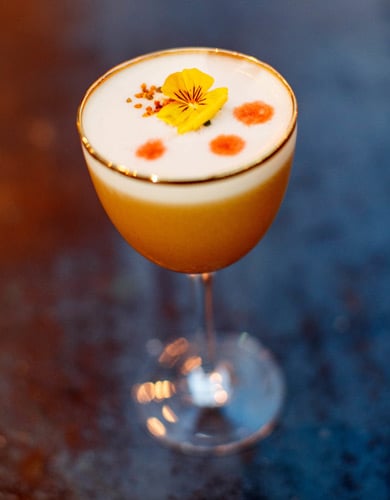 Roe & Co Peaches and Cream
by Kenneth Herlihy & The Bar Team at House Dublin
50ml Roe & Co
30ml Fresh peach
25ml Lemon juice
1 Barspoon of lavender infused honey
25ml Egg whites
pinch of Cinnamon
pinch of Chocolate
Shaken and garnished with bee pollen, bitters and a cut flower
When it comes to the positioning of the brand, we've heard Nick Morgan (Diageo's Head of Whisky Outreach) talk about Irish whiskey being "hugely underrepresented" in cocktail culture. So, firstly, is that something you agree with?
Oh yeah, I do agree with that. I live here in Dublin and you see it all the time, you walk into some of the best bars in Dublin or Cork or Belfast or wherever and even if you look at a whiskey sour, 70-80% of the time you're going to see a bourbon being used. A whiskey sour is amazing with a bourbon, but we're in Ireland, why can't we…? When you ask bartenders and I talk to them it's around the whiskey not holding up in a whiskey sour, or a Manhattan or an Old Fashioned. You know, Irish whiskey didn't feature very much when I lived in the US. You've got Jameson, which is absolutely massive and a fantastic brand – it's a shame that most of the time it's consumed in a shot glass; it's not put into a cocktail, it's not stirred down or whatever it may be.
So with the flavour profile that's been developed and the bartending family you're trying to reach out to, you're obviously hoping that Roe & Co can redress this a little?
Yeah, we wanted to be a brand of Irish whiskey that bartenders will actually go to when they want to use an Irish whiskey in a cocktail. I saw very closely over in the US when I worked on Bulleit and we released Bulleit Rye about seven years ago now – the bartenders wanted Bulleit to create a high rye content rye that would hold up well in drinks and we fed that back. The team down in Kentucky created Bulleit Rye and we saw how the bartenders got on the back of it and went "This is a fantastic brand." It's not that we used the exact same concept, but when I came into Roe & Co having worked on Bulleit I saw the opportunity if we get bartenders involved from day one and make it a brand that they really appreciate and have a connection with. Then, yeah, we can help change this overall thing of Irish whiskey not being used by bartenders in cocktails. Hopefully it will have that knock-on effect – Teeling are doing very similar stuff to what I plan to do, which is work very closely with bartenders, so if we all do it hopefully we will change that and bring Irish whiskey into that cocktail culture a bit more.
Great stuff.
Roe & Co Joy Street
50ml Roe & Co
15ml Spiced Pear Shrub
20ml Lemon juice
Soda water top
Bitters
Garnished with dehydrated pear and served in a Roe & Co copper vessel
Now, we've touched on pot still already as well as the obvious links between George Roe & Co and Guinness and therefore Diageo, but obviously The Liberties and Dublin's 'golden triangle' are historically synonymous with single pot still Irish whiskey…
Absolutely, yeah.
So was it quite a big decision to go with a single malt Roe & Co distillery given George Roe & Co was so central to that pot still Dublin legacy alongside the likes of John Jameson and James Power?
As you say, the golden triangle was synonymous with pot still and a lot of distilleries in Ireland were producing pot still back a hundred odd years ago. We looked at it, and again it was that vision that we had, and I remember going back to Caroline a good few times. Even when we went back and said 45% instead of 40% to do that was a big task. So to go with just a single grain and single malt and to have no single pot still whiskey within the blend at all it was one of those things that Caroline looked at, but she had the same vision as I had that we wanted to create this depth of flavour and to do that she had to cancel out the pot still because it wasn't giving anything to what we wanted to do as an end result.
Where the new St. James's Gate will be, we're only a few hundred yards away from the actual site that George Roe stood on. I suppose we never tried to copy George Roe and production back in the late 1800s, it was more inspiration that we got from the actual distillery, the windmill and things like that. I suppose there was a little bit of time going "Hmm, should we?" or "Do we?" but it wasn't about having pot still in as a necessity, it was creating the best blend that would actually hold the flavours that we wanted and the accessibility of it. The best thing to do is leave it with the Master Blender, she's the expert at this, and I think she's done an absolutely wonderful job.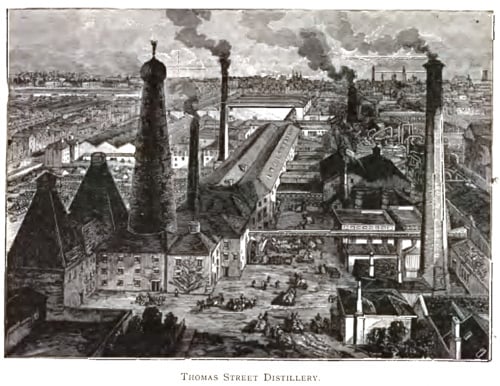 A sketch of George Roe's original Thomas Street distillery including St. Patrick's Tower

Jake