All aboard for a journey into big flavours and idiosyncratic spirits, as we take a ride on the Norwest Europe Express with That Boutique-y Whisky Company. A whole load of whiskies from Austria, Germany, France, and Scandinavia will be arriving at Master of Malt any day now. Here's a little preview of what to expect. 
UPDATE: the whiskies are now available, right here!
Whisky from non-traditional countries, so-called world whisky, has come on massively in the last 10 years. And yet in a globalised economy where materials, knowledge and equipment can travel, there is a danger that far-flung bottlings may end up tasting pretty similar. After all, many new distilleries make very Scotchy-type spirits using stills from Forsyths, Scottish malted barley, Scottish know-how and age in familiar casks. 
Well, if you're worried about whisky becoming homogenous, then you need to take a ride on the Norwest Europe Express. That Boutique-y Whisky Company has rounded up a bunch of idiosyncratic bottlings from northern Europe and Scandinavia. Starting in Brittany, the journey goes through Germany and Switzerland and into Austria. Then it heads north into Scandinavia with great whiskies from Finland, Sweden, and Denmark.
Be warned, there's some pretty wild stuff here. In fact, because one is made from buckwheat, it's not even technically whisky according to European regulations. But nothing will prepare you for Borgen whisky from Austria, a whisky so smoky it makes Ardbeg taste like Glenkinchie. Be afraid, be very afraid. A small cabal of peatheads, however, will love it. Me, my favourites were the Kyrö Malted Rye from Finland and Fary Lochan from Denmark. Let us know what you think below or on social. 
Right here's a rundown of what we've got: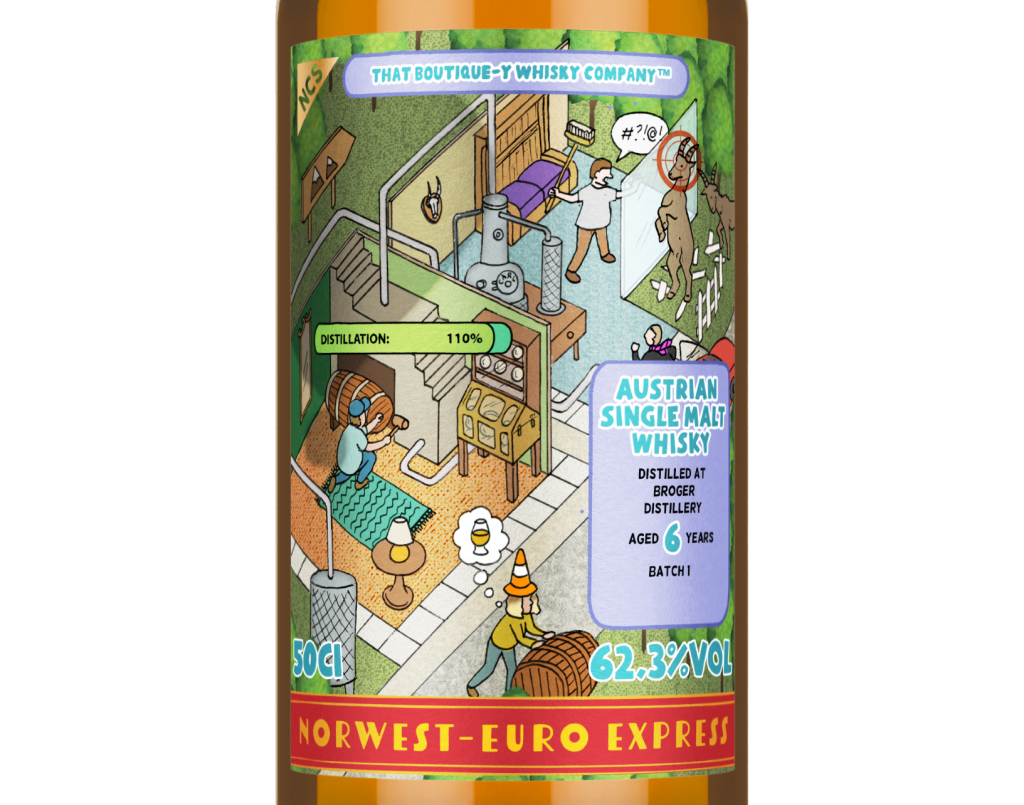 This one should come with a warning like heavy metal CDs used to have in the '80s. It comes from a small family-run distillery in Austria. They use heavily peated malt. Nothing wrong with that but they retain the husks and include them in fermentation. Basically, every bit of smoke goes into your whisky. It's aged in French Limousin oak and bottled at 60.2% ABV.
Nose: Acetone, rubber and burnt clutch. Smells like something that shouldn't be drunk.
Palate: Crickey! It tastes like it smells. My God.
Finish: Mercifully, it does finish at some point.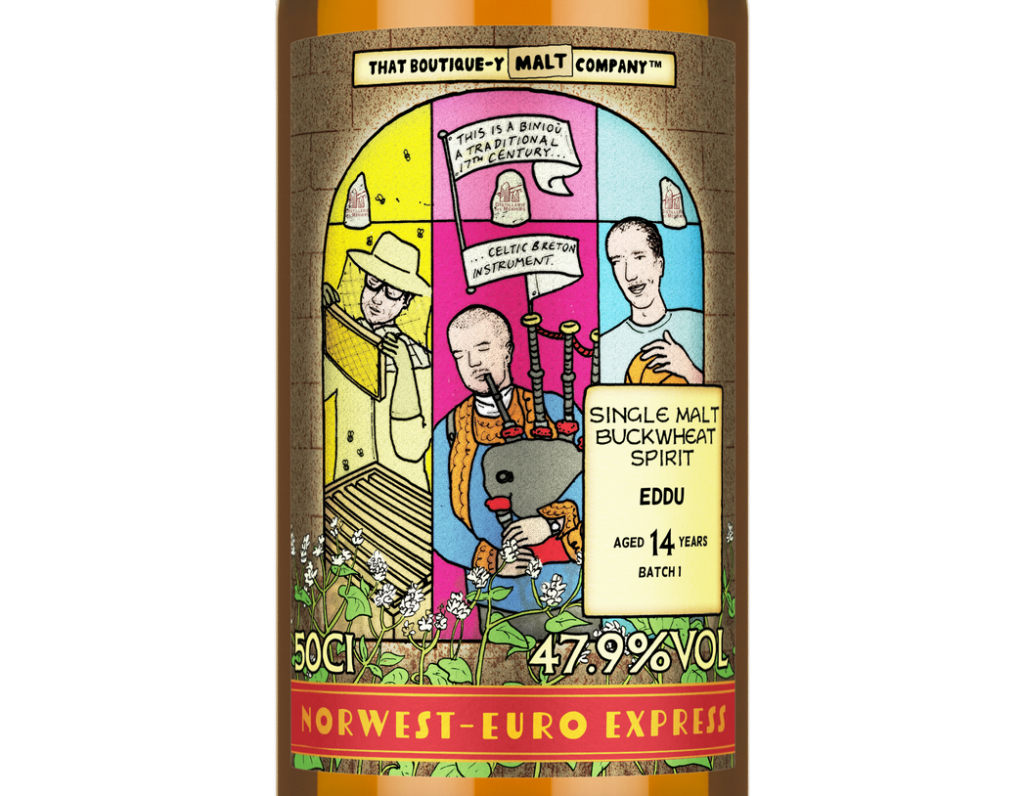 This is not allowed to be called whisky in Europe because it's made from buckwheat which isn't a real grain, it's a pseudo-grain. It's apparently even harder to work than rye. This is made at Brittany's Distillerie Des Menhirs. Yes, like in Asterix. The family have been distilling cider since 1921 but moved into whisky or pseudo whisky in 2002. It's aged in Limousin oak and bottled at 47.9% ABV.
Nose: Cumin on the nose, with sweet ginger and malt, plus grassy notes, vanilla, apple and oaty cereal.
Palate: Creamy, light-bodied, smooth, almost single-grain like whisky.
Finish: Creamy vanilla and a little spicy ginger.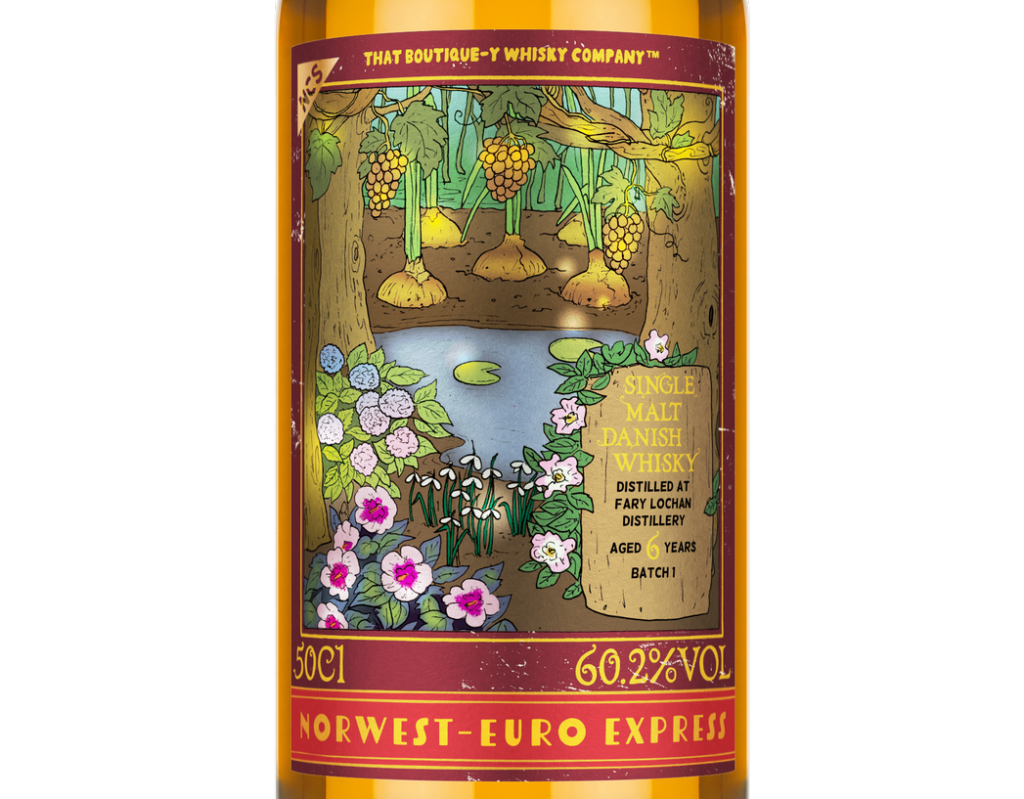 We're heading to Southern Jutland for our next whisky. It was founded by Jens-Erik Jorgensen in 2009. He died in 2016, but it's still run by his family.  This is aged in sherry wood before bottling at 60.2% ABV. This was a great favourite of mine. 
Nose: Tobacco, smoke, dried fruit, pungent spices and a little dark chocolate. 
Palate: Super spicy like rye bread, peppery, malty-sweet chocolate notes with big maraschino cherry fruit and some grippy wood tannin.
Finish: That dark cherry note really lingers.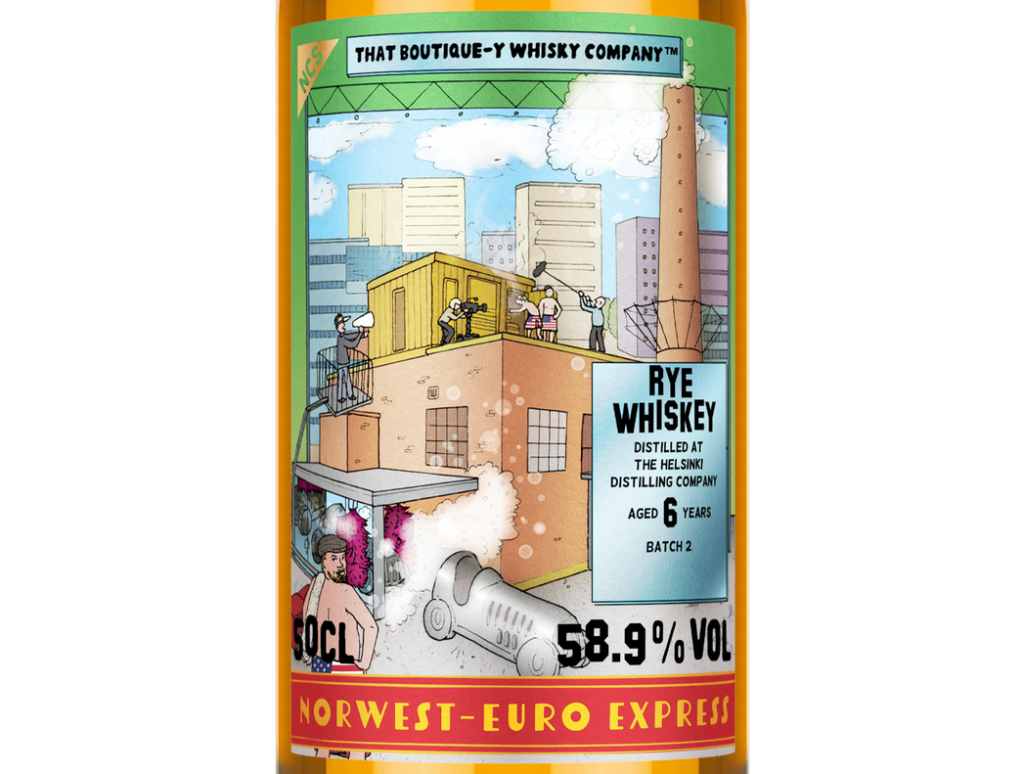 The Finns have taken to rye whisky in a big way. From the Helsinki distillery, this is a 6-year-old rye whisky distilled from 70% malted rye, and 30% malted barley mashbill. It's been matured for the full term in a new charred, (char level 3) American oak cask. The country's cold climate means that this matures slowly so despite the age and the new casks, there's no danger of it getting woody. It's bottled at 58.9% ABV.
Nose: Spicy, malty rye bread with menthol and tobacco.
Palate: Super aromatic, chilli peppers, with strong cereal notes and touch of salt.
Finish: Creamy delicious cereal and spice.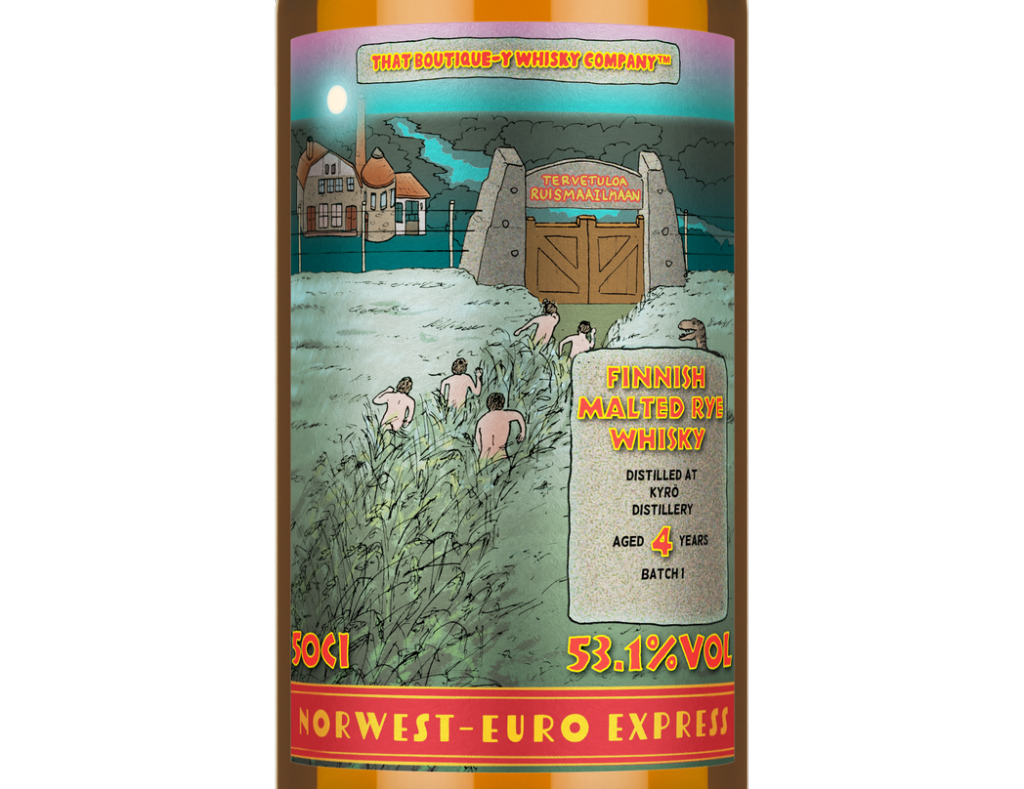 A distillery that probably needs no introduction to Master of Malt customers. But here's a short one anyway: Kyrö was founded in 2014 and since then rye whiskey has become its calling card. It uses 100% malted Finnish rye. Fermentation times are long, around six days, and ageing takes place in a mixture of ex-bourbon and virgin oak casks. This example is bottled at 53.1% ABV. I absolutely loved it.
Nose: Super aromatic, rye bread, malty, you can really smell the cereal.
Palate: Wow! Sensationally spicy, with Szechuan pepper, then the cereal comes in and it's like biting into a piece of alcoholic rye bread. It tastes so alive and full of malty goodness.
Finish: Dark and roasty, like a pint of porter with a shot of espresso in it.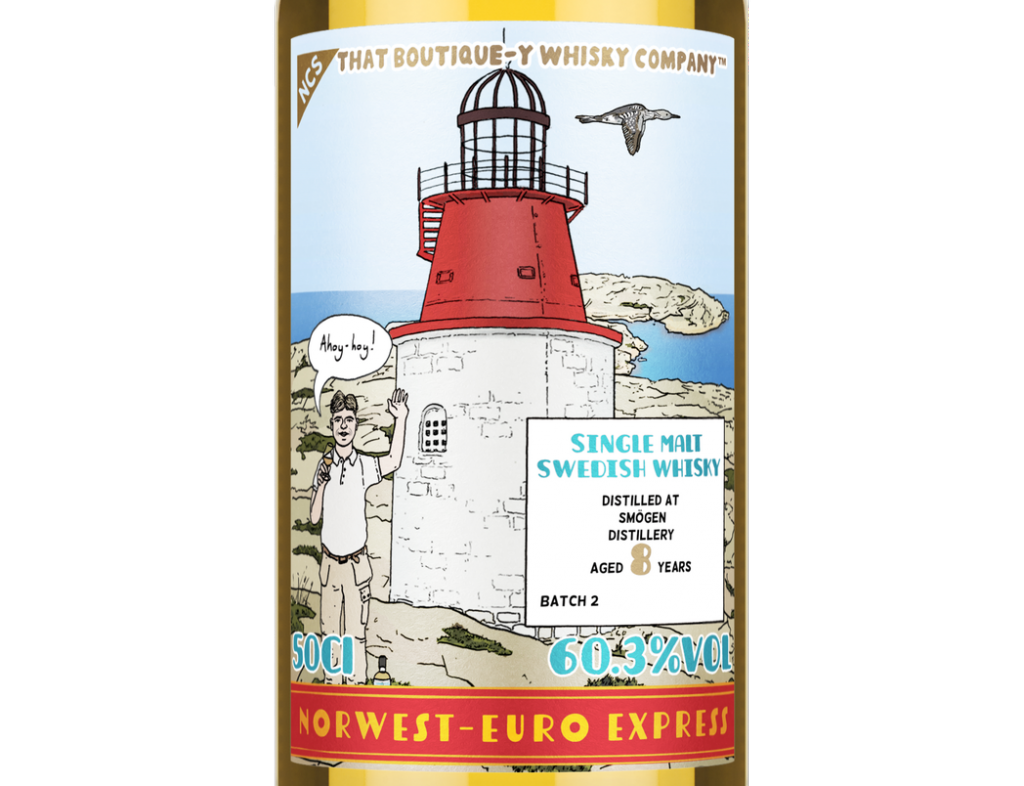 We're heading to Hunnebostrand in Sweden to the Smogen distillery for our next whisky. This 8-year-old was fully matured in a first-fill bourbon barrel, and we've bottled this at natural cask strength, 60.3% ABV.
Nose: Apple and pears, clear clean fruit with gentle wood fire and a touch of bacon.
Palate: Vanilla and apple, with light bonfires, seaweed and black pepper. Lovely balance between fruit and smoke.
Finish: Gentle wafts of smoke.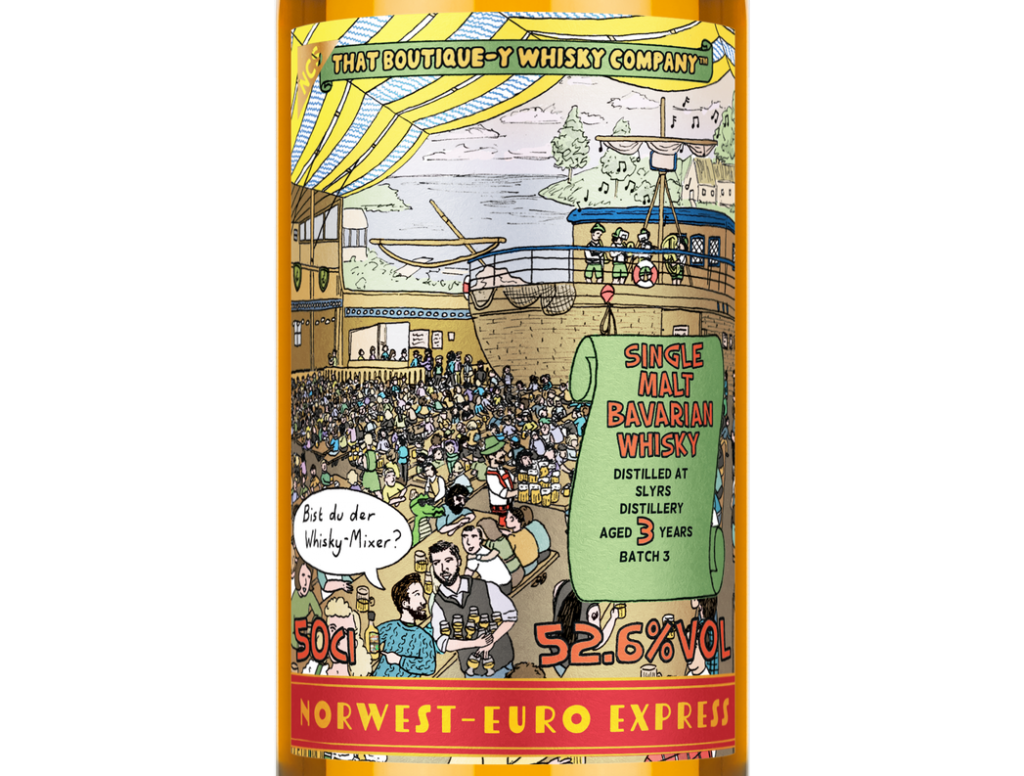 Next stop is Bavaria for the Slyrs Distillery. This is a 3-year-old single malt that has been treated to some pretty severe cask ageing. The team uses an American oak cask with the heaviest char available, also known as 'Crocodile Toast' as the inside of the cask is charred so deep that it resembles the cracked skin of a crocodile. It was bottled at 52.6% ABV.
Nose: Big cherries, and cherrywood, aromatic with spicy rye-like notes, toffee and muscovado sugar. 
Palate: Creamy and peppery, smooth, with chocolate and toffee and clove spiciness.
Finish: Sweet and spicy.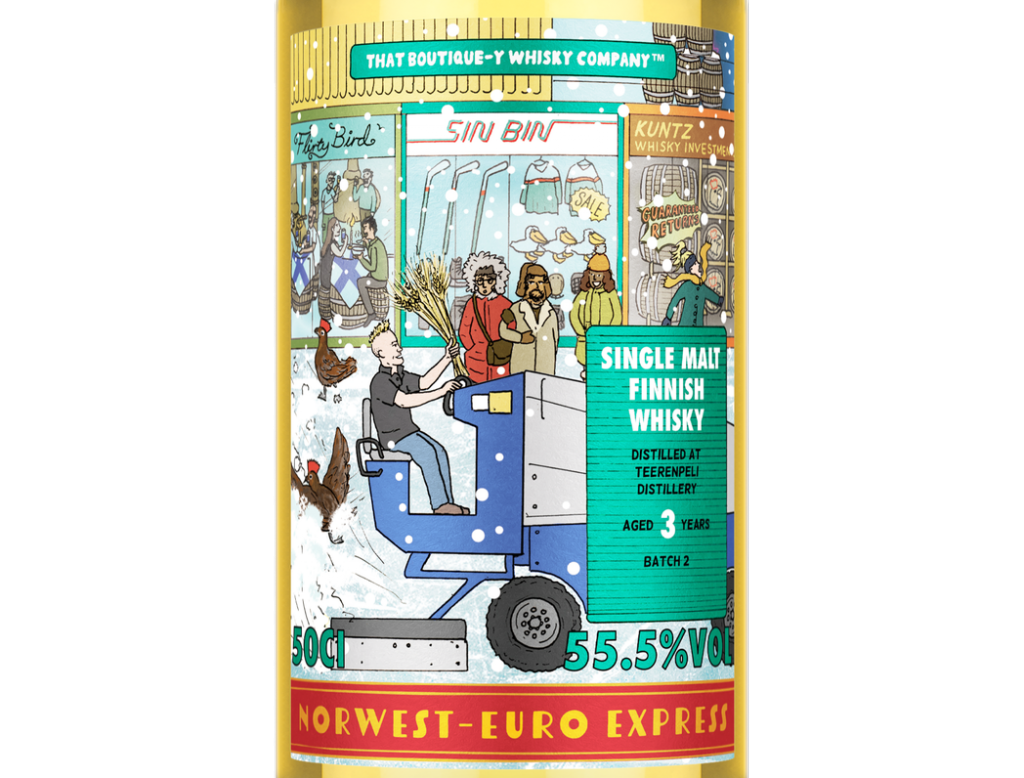 We're back in Finland now heading to the famous Teerenpeli distillery. The name means 'flirtation' but also 'black grouse', apparently. Yeah, it can get pretty complicated in Finland. The malted barley is local. The ageing is pretty local too as it takes plylace in old sea containers which are exposed to temperatures between -35C to +30C. This particular batch was aged in re-coopered American oak ex-bourbon hogshead before bottling at 55.5% ABV.
Nose: Super fruity, apples, lemons, with vanilla, toffee and cream.
Palate: Peppery and then sweet like banana custard, very light smoke.
Finish: Distant wafts of smoke and custard creams.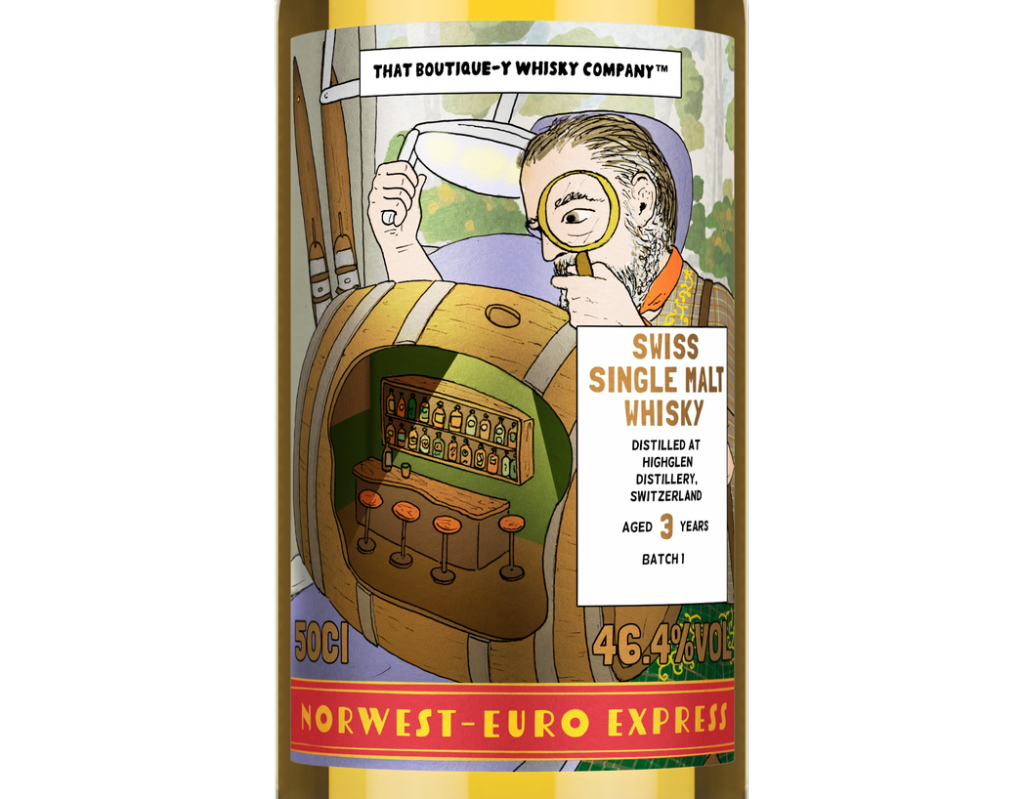 Highglen is a one-man band. The man being local character Lord Gunter Sommer who makes whisky in Switzerland near the border with Italy. Highglen is an appropriate name as the distillery's altitude is twice that of Ben Nevis. He ages the whisky in his own special 100-litre casks made from ex-bourbon staves, and ex-sherry heads.
Tasting notes from TBWC:
Nose: Deliciously complex! Aromas of coffee, light honey on toasted rye bread, dark chocolate, and hints of pine needles and linseed oil.
Palate: Hints of liquorice, dried apricots, creamy vanilla caramel, coffee, and cocoa, alongside a charred wood smoke note. Love this!
These are limited edition whiskies. When they're gone, they're gone.