For Day 16 of our Advent countdown we're looking at the Drinks by the Dram Japanese Advent Calendar. It's Nikka Coffey Grain!
Here's a fun fact about Nikka Coffey Grain, when it was first released, it had some whisky fans scratching their heads as some thought that it might be a coffee-flavoured spirit. Of course, as any fule kno* the name refers to a kind of still, the Coffey still, designed by Dubliner Aeneas Coffey. It allowed alcohol to be made continuously rather than in batches as with a traditional pot still. Coffey's invention wasn't the first, a similar device invented by Robert Stein was already in use, but it worked far more efficiently allowing large quantities of high quality, high strength alcohol to be made quickly and cheaply. 
Old Coffey Stills
The first Coffey still was built in 1830; the stills at Nikka aren't quite that old. The Japanese whisky company has two Coffey stills built in 1963 and 1965 by Blair, Campbell & McLean of Glasgow, a firm that went out of business in 1977. The output from these old stills was used in blends with occasional single cask releases until the launch of Nikka Coffey Grain in 2012. 
The mashbill is 95% maize with 5% malted barley. For fermentation, Nikka uses a range of different yeasts rather than a solitary strain. The new make comes off the stills at between 92-95% ABV. According to Dave Broom's The Way of Whisky, the stills produce five grades of grain whisky: "light, medium, heavy, heavier and super-heavy". So Nikka Coffey Still is a blend of different styles rather than just the same new make. But it is all from one distillery and, indeed, one country. For ageing, Nikka uses only American oak casks. These consist of a mixture of refill casks, remade casks with new tops and bottoms and re-charred casks. 
The aim is to create something like a classic American corn whisky, but lighter and more delicate. Nikka Coffey Grain has proved particularly popular with bartenders. Nikka runs a competition called Perfect Serve at which Coffey Grain is a perennial favourite. As Japan's answer to bourbon, it's excellent in cocktails like the Old Fashioned and Whisky Sours. But I think it's particularly good in a Highball.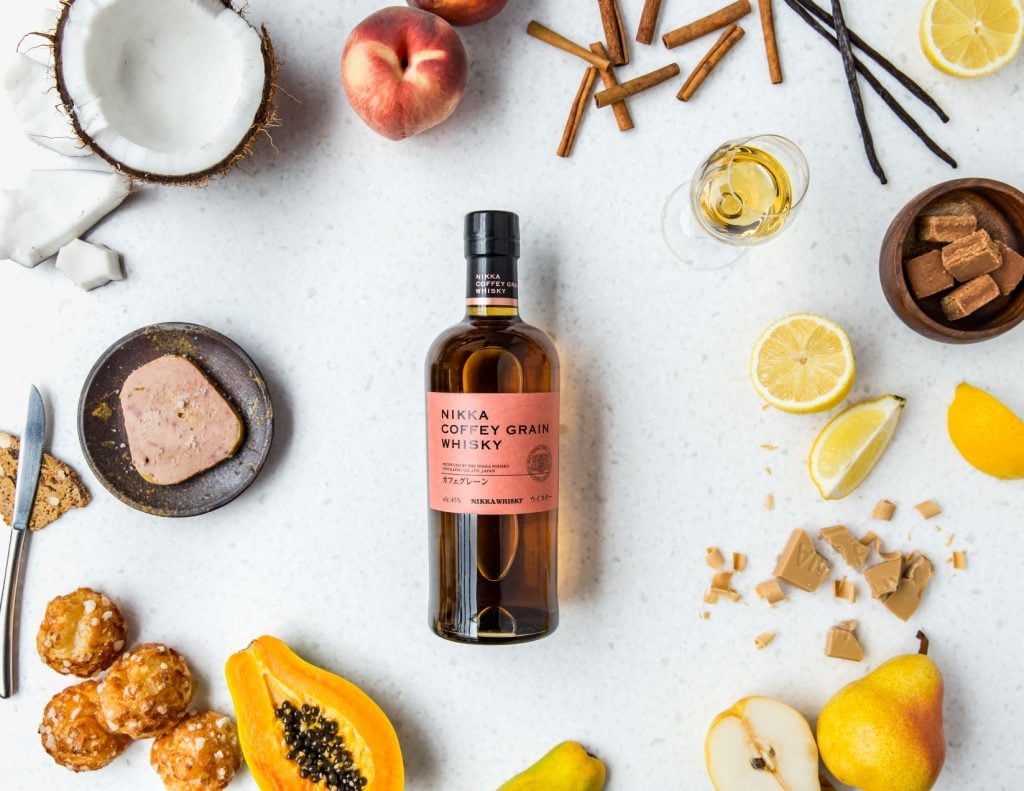 How to make a Whisky Highball
50ml Nikka Coffey Grain
2 dashes of Fee Brothers Orange Bitters
Soda water to top up
Fill a Highball glass with ice and add the whisky and bitters, give it a good stir, top up with sparkling water and stir again. Serve with a twist of orange peel.
Tasting Note by The Chaps at Master of Malt
Nose: Bourbon-like vanilla and corn notes with a herbal hint of chamomile.
Palate: Sweet, fruity flavours of melon, grapefruit and thick syrup, balanced by crunchy biscuits and fresh vanilla.
Finish: The corn notes, sweet and vibrant, last on the finish.
Overall: Fans of grain whisky should be pretty happy with this, as well as bourbon lovers.
We'll be back tomorrow with another Advent dram. Cin cin!