The first main release of whisky from the White Peak Distillery in Derbyshire sold out in a matter of minutes. And now the second is here: it's called Wire Works Small Batch Whisky, and it's unlikely to hang around for long. 
Earlier this year a group of 15 English whisky distilleries got together to form the English Whisky Guild (EWG). Ten years ago such a thing would have been unimaginable with only one producer of any size, the English Whisky Company aka St. George's Distillery in Norfolk.
White Peak Distillery history
Nowadays, however, there are fine producers all over the country from the Lakes in the north to Copper Rivet in the south. One of the most exciting is Derbyshire's White Peak distillery. The inaugural main batch of its single malt sold out rapidly, so we are delighted that a new batch has come in.
White Peak was founded in 2016 by husband-and-wife team Max and Claire Vaughan. Click here to see more videos about the distillery. In 2017, Max and Claire Vaughan created a distillery from scratch at the former Johnson & Nephew Wire Works in Derbyshire which had operated for 120 years until its closure in the mid-1990s. The building's former use inspires the name of their single malt whisky. The setting on the banks of the River Derwent is pretty special too: it's a UNESCO World Heritage Site.
They began making whisky in 2018. We had a sneak peek of their distilling prowess when That Boutique-y Whisky Company bottled a two-year-old malt spirit, but we had to wait until earlier this year for their first proper whisky release though there was a distillery only bottling earlier. 
Wire Works Whisky Small Batch is here
And now, there's a new batch. Its signature flavour profile comes from a mixture of unpeated and very lightly-peated malt (about 6ppm). Apart from malting, everything occurs on-site, from the mashing to the slow four-day fermentation featuring yeast from a local Derbyshire brewery, and the impact its unique Wire Works home has on maturation. Ageing takes place in a combination of American and French oak, with a majority of the casks shaved, toasted and re-charred after previously containing bourbon. This second mainstream release was bottled at 46.2% ABV with any additional colouring or filtration. The result is a whisky with delicate whispers of smoke wafting amongst buttery banana, warming ginger, and creamy vanilla, perfectly complimenting the Wire Works' typical fruit-forward profile. 
We think it might disappear almost as quickly as its predecessor so we're limiting customers to one each. As you can probably guess from the name, Wire Works Small Batch Whisky once it's gone, it's gone.
Wire Works Small Batch Whisky is available from Master of Malt. Click here to buy.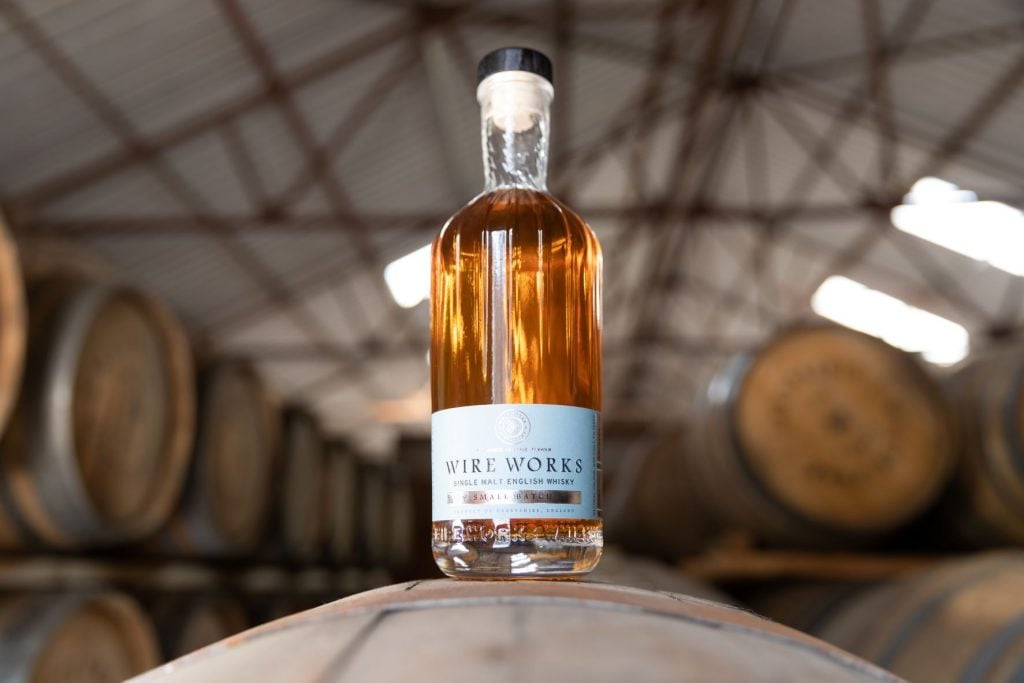 Tasting Note by The Chaps at Master of Malt
Nose: Crumbly fudge and buttered popcorn lead the way with crisp notes of apple and juicy pear. Cream-filled vanilla pastries follow, softening warming prickles of ginger and nutmeg.
Palate: Sweet and fruity with notes of cherry Madeira cake, banana bread, and cinnamon snaps. Creamy, gently nutty malt leads to zesty flamed orange peels, with a hint of smoke in the distance.
Finish: Creamy vanilla custard cushions the warmth of candied ginger and fragrant nutmeg, with smoked liquorice and burnt sugar lingering.