In honour of St. George's Day, we're visiting a distillery named after England's patron saint in the heart of the Norfolk countryside. It's home to those pioneers of English whisky, the aptly-named English Whisky Company. And we've produced some videos so that you too can visit from the comfort of your favourite armchair. 
Driving north to the St. George's Distillery in Norfolk, you can see where the inspiration came from for the whisky because as far as the eye can see across the flat countryside there is barley, acres and acres of barley. It's the nearest that England gets to the great fertile plains of America or Ukraine. According to Andrew Nelstrop, his late father James Nelstrop always had the dream to make whisky. He describes his father as a "restless spirit." The family were originally farmers in Lincolnshire but they moved around a lot with a stint in New South Wales and later his father farmed at Kaliningrad, a Russian enclave on the Baltic. It wasn't easy, according to Andrew, "people kept stealing the light bulbs".
Eventually the family settled into the farming life in Norfolk and that's when the distillery dream became reality. Andrew filled me in: "originally the plan was to build a micro distillery and just make enough whisky to drink himself and supply friends." But back in 2005, the minimum size allowed by HMRC was 1800 litres, "so we had to build a big one", he said. The Nelstrops were in the fortunate position of not needing external investors or to borrow money from the bank. Consequently, they could do things in their own time. "We're a farming family so we have a long term mentality," said Andrew. 
At the time Andrew ran a building company, so they were able to draw up plans themselves. They received planning permission on 5 January 2006, and began work that very day. Stills came from Forsyths of Rothes and the head distiller came from Scotland too, Iain Henderson came down after finishing at Laphroaig for, as Andrew puts it, "a last hurrah." The idea was to create a classic Lowland style single malt. The first release was in 2009. It got a lot of attention. "We were surprised by the level of interest in our first whisky," Andrew said, "We got lucky and were picked up by BBC newswire which led to world wide coverage. " There was a queue of customers two miles down the road, waiting to buy a bottle. 
The other surprise is what a tourist attraction the distillery has been. They originally budgeted for 1500 visitors a year. "By year four we had 30-40,000 visitors," Andrew said. They opened new visitor facilities in 2017. Here the Nelstrop family have shown their rural cunning. The glass was built for the University of Greenwich but it faced the wrong way so was useless. Andrew told me that he picked it up for a song. They now get about 80,000 visitors who just come to the shop and cafe, which has excellent food and local beers, including one from St. Peter's in Suffolk aged in English whisky casks. The shop doesn't just sell the distillery's own products but probably has the best selection of whisky in East Anglia. Around 20,000 people a year take the tour.
Sadly, James Nelstrop died in 2014 but at least he got to taste his own whisky. The site is called the St. George's Distillery but the bottles were rebranded four years ago as the English Whisky Company to differentiate themselves from St. George's Distillery in America. Andrew credits his wife Katy who looks after the marketing side of the business with this strong new look. 
Since 2008, distillation has been in the safe hands of David Fitt. Originally from Woolwich in south London, he was working at Greene King brewery in Suffolk before taking up his role at St. George's. He worked with Ian Henderson for five months to learn how it was done. "If you can make beer, you can distill whisky. Operating equipment is operating equipment," joked Fitt. He brings a brewer's sensibility to whisky making, as we'll find out.
The distillery was making peated whisky when we visited (it makes up about 10-15% of production) and the whole site smelt wonderfully like bacon. Fitt went through some of the technical side of his job. They have a one tonne mash tun and do a seven hour mash between 65 and 85°C (mashing video here). It is cooled and then it's into the 3 x 7500 litre washbacks. They pitch the distillers yeast in early, the idea is to get the fermentation going quickly before any wild yeasts get a chance to work some mischief, something that's a risk in Norfolk's warm climate. They want quite a rapid ferment to create estery flavours of bananas and pear drops. It takes about 48 hours to produce a wash of 7-8% ABV but then David leaves it on the lees (dead yeast cells) for a day or two. This is like they do in Burgundy and other wine regions creating complex flavours like almond and hazelnut. This is another area where the distillery can take its time. There's no hurry to create more spirit. 
There's a wash still of 2750 litres and a spirit of 1800, the smallest that was allowed at the time the distillery was built. The idea is to create a light fruity new make so there's plenty of reflux from the bulge above the base of the spirit still, and the shell and tube condensers (distillation video here). Even with the peated spirit, the cut is taken early so that, as Fitt puts it, "you lose heavy iodine notes and just get bonfire. What's the point of replicating Laphroaig?" Indeed. They produce around 50,000 litres of pure alcohol per year, or "what Glenfiddich makes in 2.5 days," as Andrew put it. 
From those two stills, Fitt produces an extraordinary array of whiskies (as well as a selection of liqueurs). Most of the ageing is in ex-bourbon casks though they do have some sherry, wine, rum and also use some virgin American oak (maturation video here). These various whiskies are divided into two ranges: single malts known as The English, and grain whiskies called The Norfolk. There are also various limited edition whiskies like the Poppy produced for Remembrance Sunday or the Triple-Distilled released last year, many of which are available only from the distillery. I've picked out a few whiskies to try below. Now that they have old stocks, the Original single malt was on fine form with fruit to fore but also the richness of more mature whiskies. I was also particularly taken with the Virgin Smokey, aged in new American oak and bursting with flavours of tobacco, orange peel, and bonfire smoke. 
But, I think the Norfolk range of grain whiskies are the distillery's true calling card. This is where Fitt's experience as a brewer is telling, the flavour coming from the cereal more than the cask. Andrew said: "David has extraordinary taste buds. He has a deep understanding of how different barleys behave. Look at what he does with different cereals in the Farmer's which is made with crystal malt, oats, wheat and rye." I particularly loved the Parched, a tribute to an Irish single pot still made from around 35% unmalted to 65% malted barley. It majors on green apple, rather like Green Spot, but in a lighter zestier style. Then there's the Malt and Rye, perhaps the best non-North American rye I have tried. Norfolk Manhattan, anyone?
Since the Nelstrop family began in 2006, English whisky has become a proper category which, according to Andrew, helps them enormously when marketing abroad. There's now a shelf in a whisky shop for English whisky. But where most English distilleries are still finding their feet, St George's feels like it has very much found them and they're taking increasingly large strides. They have gone from making excellent Lowland-style single malts in England to developing a distinctive home-grown style. 
Here are three to try: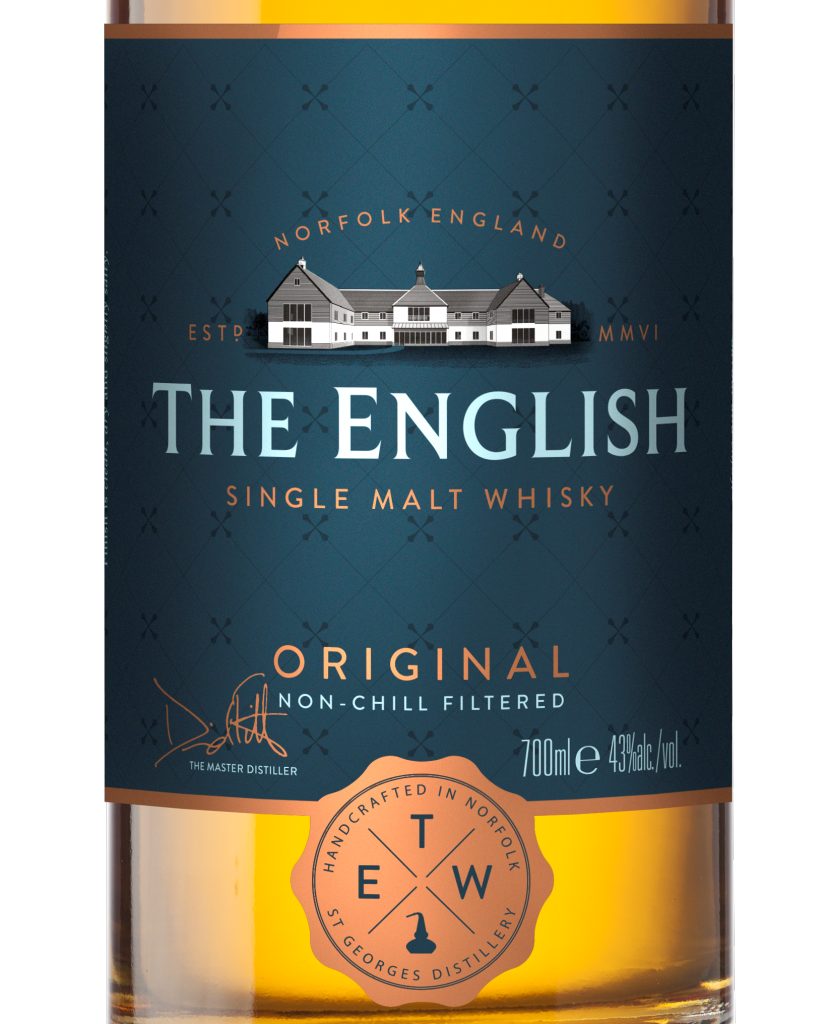 Nose: Zesty orange, vanilla custard, grassy malt.
Palate: Nuttier than the nose, with notes of almond and hazelnut. Milk chocolate, more orange.
Finish: Rich barley and a handful of spices.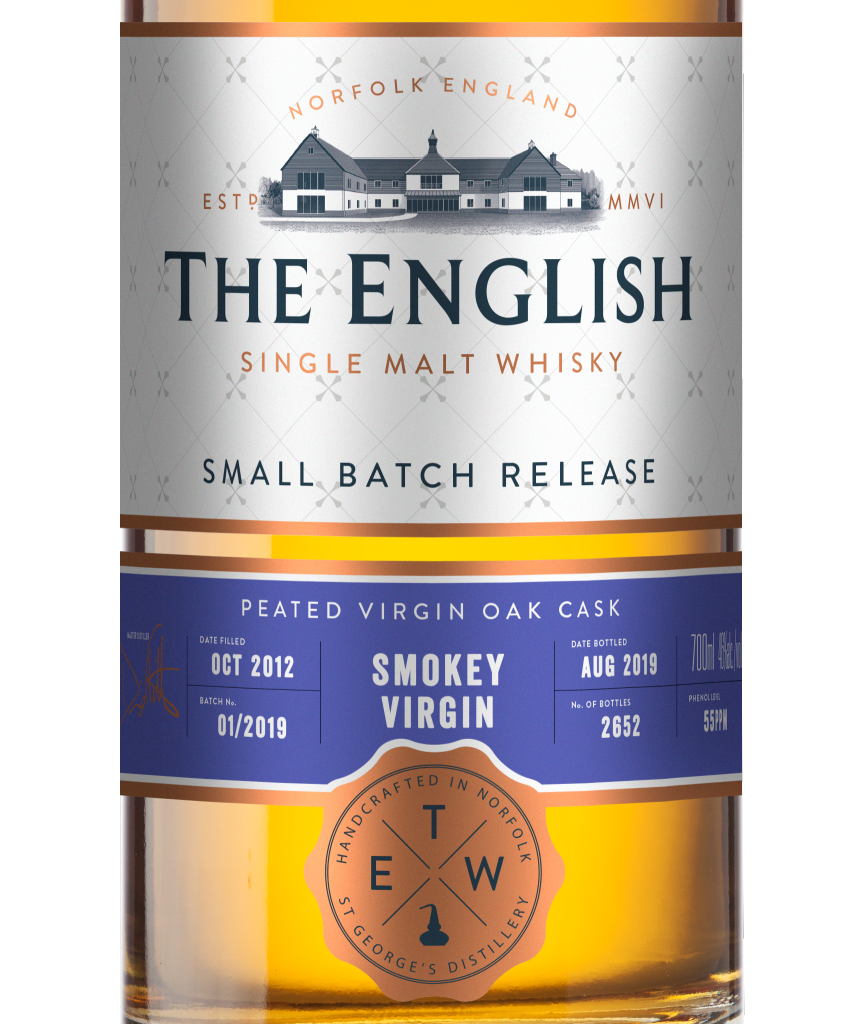 Nose: Rich bonfire smoke, with a touch of oak spice, blueberry loaf cake and vanilla.
Palate: Medjool dates, caramelised nuts and burnt toast, with lots of wood smoke in support alongside milk chocolate.
Finish: A drizzle of honey and dry smoke, with oily citrus peel coming through at the end.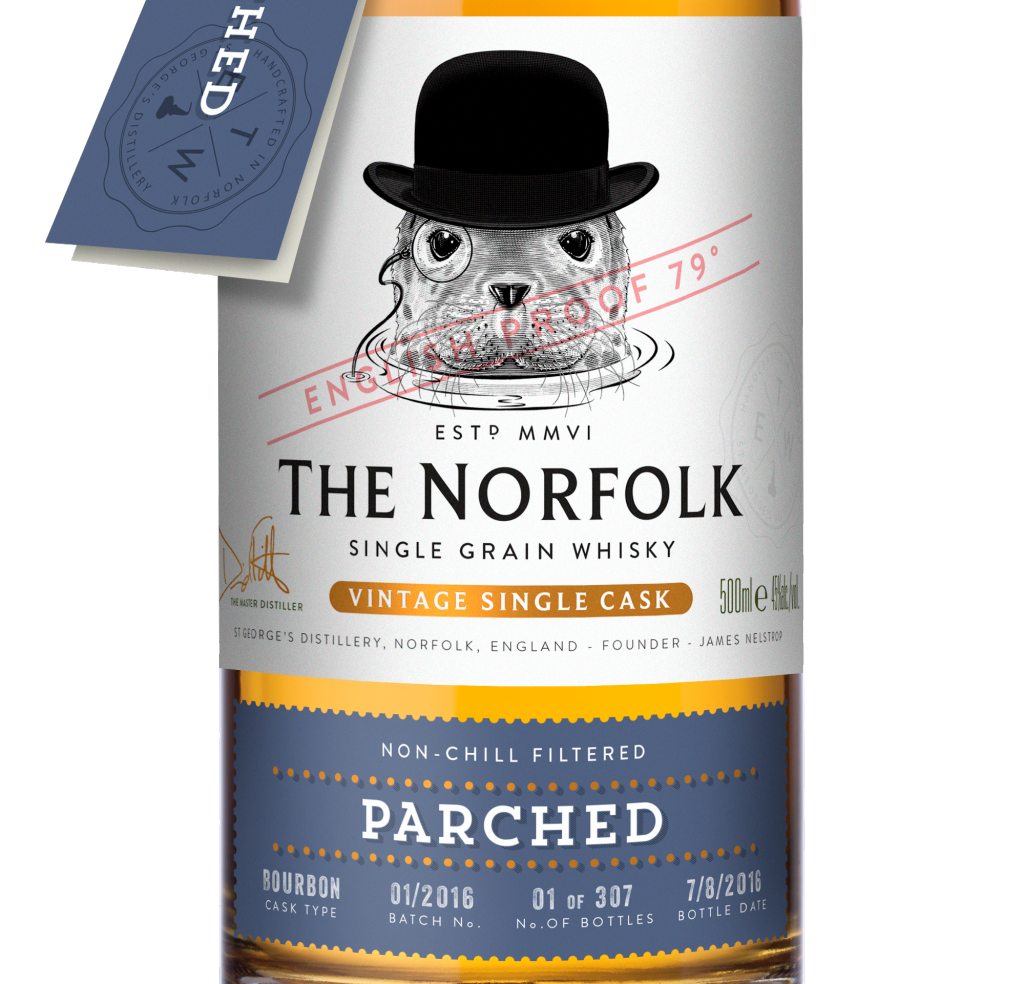 Nose: Melon and honey. Brown sugar, nutmeg and stewed pears.
Palate: Zesty green apple, mint and creamy vanilla with a touch of baking spice. 
Finish: Juicy white grapes and lemon meringue.