Today we're tasting a special Italian vermouth, called Vermouth del Professore Chinato. It's made in Turin and named after the father of mixology, the professor himself, Mr Jerry Thomas!
Jerry Thomas was a bartender, showman and the author of the pioneering Bartender's Guide (1863) aka How to Mix Drinks or The Bon-Vivant's Companion. This book was the first time many classic cocktails were written down and as such he is known as the 'father of mixology', a word that sounds like it was made up in the 1990s but was actually first used in Victorian America. Thomas was also known as 'the professor' and our New Arrival of the Week was created in tribute to him by chef Federico Ricatto, Carlos Quaglia from the Antica Distilleria Quaglia and the team at the Jerry Thomas Speakeasy in Rome. The idea is to produce an old timey vermouth like Thomas would have used in his heyday.
Carlos Quaglia writes: "We wanted to create an 'authentic' vermouth made in the traditional manner, representing the style that was popular in the late 18th-early 19th centuries with superb quality raw materials. We met some of the best craftsmen, still capable of making these unique spirits that seemed to have disappeared, putting plenty of passion into the process".
The Antica Distilleria Quaglia was founded in the late 19th century and is still in family hands. It's based in Turin, the birthplace of vermouth back in the days when the city was part of the Kingdom of Sardinia which included Piedmont and Savoy. The latter is now in France and is the home of Vermouth de Chambery. Piedmont is famed for its wines like Barolo and Barbaresco, and the aim with the Professore range is to make products where you can really taste the wine. Most vermouth nowadays use neutral wine bases but traditionally vermouth would really have tasted of the wines they were made from. To this end, Professore uses classic Piedmontese grape varieties like Moscato, Freisa and Nebbiolo from vineyards in Langhe and Monferrato.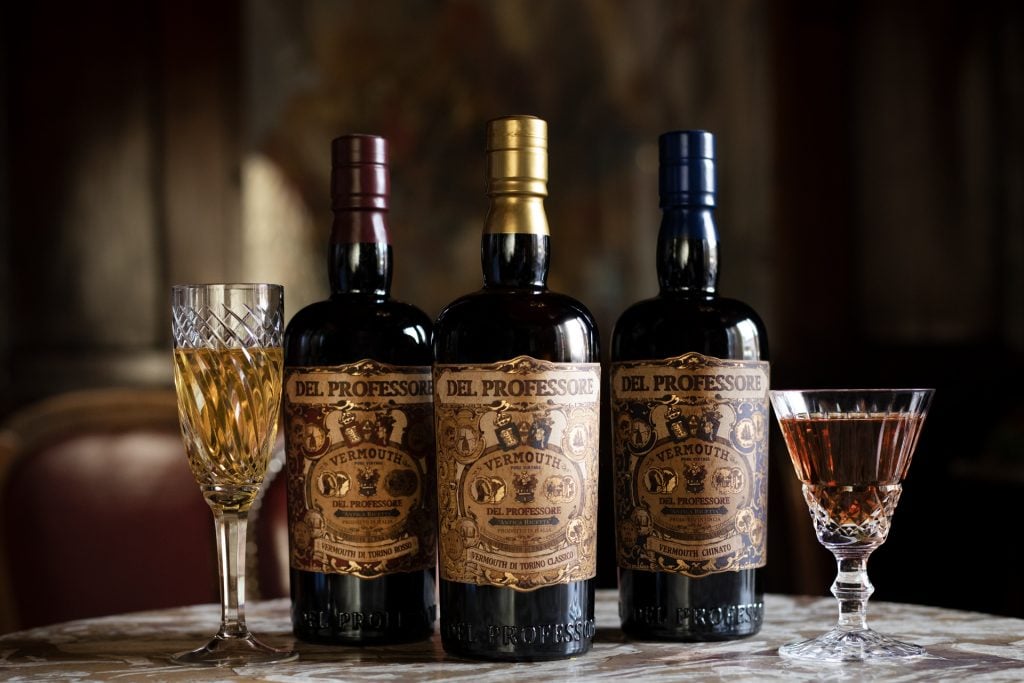 The range (above) consists of a rosso, a bianco, and our New Arrival, a chinato. Chinatos are a sort of halfway house between a vermouth and a red wine. They are traditionally made in tiny quantities by wine producers in Barolo and other parts of Piedmont, mainly for home use. These farmhouse concoctions are a world away from the big brand vermouths that most of us use.
The quality of the botanicals is important too. Much of it is local: the wormwood and juniper from the Alps, and mint, rhubarb and other plants from the plains of northern Italy. Meanwhile the citrus fruit comes from further south, Calabria, but other spices like vanilla, cinnamon, cinchona and cloves come from further afield. Carlos Quaglia writes: "Biodiversity, Piedmontese history and an agricultural culture make for an incredible array of fine raw materials, which express the land from which they hail. Altitude, dry soils, hot days and cold nights: all these have an influence on the local herbs, fruit and flowers, creating highly concentrated aromas. Our distillery, with its own Piedmontese roots, produces and selects some of the spices itself. Others are sourced from small producers whose products express the specific organoleptic characteristics and quality excellence of their places of origin." Only whole botanicals are used, not essences, and the vermouth is made in batches so will change slightly from year to year. 
The flavour is bitter and powerful with lead flavours of orange, wormwood, vanilla, chichona and coriander. It's not your average vermouth. So how best to drink it? It's great half and half with gin over ice in a Gin & It. You'll be pleased to know that the team at Professore has just the right gin, inspired by the great man himself. Or you could drink it neat on the rocks with a twist of orange, just like what Andie MacDowell drinks in Groundhog Day, and raise a glass to world peace!
Tasting Note by The Chaps at Master of Malt
Earthy, oaky bitterness, balanced by soft vanilla, red fruit and a zesty hint of orange oil.
Vermouth del Professore Chinato is available from Master of Malt.