You won't find our New Arrival of the Week anywhere else. It's a Teaninich 11 Year Old 2010 finished in a sherry cask and bottled exclusively for Master of Malt by James Eadie. 
Teaninich (pronounced TEE-ah-nen-ik) is another one of those distilleries, like Tomatin which we featured last week, that produces a lot of whisky but it's not that well-known. If anything Teaninich is even more under-the-radar as its owner, Diageo, only releases a 10-year-old version as part of its Flora & Fauna series. Most of the distillery's production goes into blends like Johnnie Walker though there are also various independent bottlings like this exclusive sherry cask 11-year-old bottled for us by James Eadie. 
The history of Teaninich
The distillery, located north of Inverness near the Cromarty Forth, was founded in 1800 by Captain Hugh Monroe. In the early days, it operated illicitly but in 1817 it became one of the first in the Highlands to get a licence. Business boomed and by 1830 it was producing 40 times more whisky than when it was founded. 
Teaninich was gradually added to over the years until in 1899 it was thoroughly modernised with two waterwheels and later a steam engine. The business passed through various hands before being bought by DCL (Distillers Company Limited – a forerunner of Diageo) in 1933. Between 1971-75 a whole new distillery was built alongside the old one with six stills, and eventually, in 1984, the old distillery was closed down and dismantled.
A distinctive new make
Teaninich's short fat stills produce a very distinctive meaty and slightly sulphurous new make which is much in demand by blenders. Today, it's one of the biggest malt distilleries in Scotland with a capacity for 10 million litres of pure alcohol per year. Even if it's not in single malt form, you've probably experienced Teaninich in Johnnie Walker Red Label. But perhaps because Diageo wants to keep it for blends or because it's not terribly attractive, it remains an obscure distillery. This makes it a gift to independent bottlers like James Eadie.  
The firm has a history almost as long as Teaninich's, founded in 1854 by a Scots brewer called James Eadie ((1827-1904). Its most famous product was blended whisky called Trade Mark X which was one of the first brands to be trademarked back in 1877. It was produced until the late 1940s, then disappeared. However, last year the brand was relaunched by Eadie's great-great-grandson, Alastair Eadie and his nephew Rupert Patrick, along with a range of single malts. 
This 11-year-old Teaninich is part of James Eadie's Cask Finish range and is inspired by the sort of wood the original James Eadie used in the 19th Century, like old sherry, Madeira, Marsala and Malaga casks. In this case, the firm finished a single malt, which was distilled in 2010, for 16 months in a first-fill Amontillado sherry so that those big flavours from Teaninich would be rounded off with a nutty, spice and dried fruit character. Only 321 bottles have been filled from cask #356846 at 54.3%. Oh, and did we mention you can only get hold of a bottle from Master of Malt. Once they're gone, they're gone.
Click here to buy.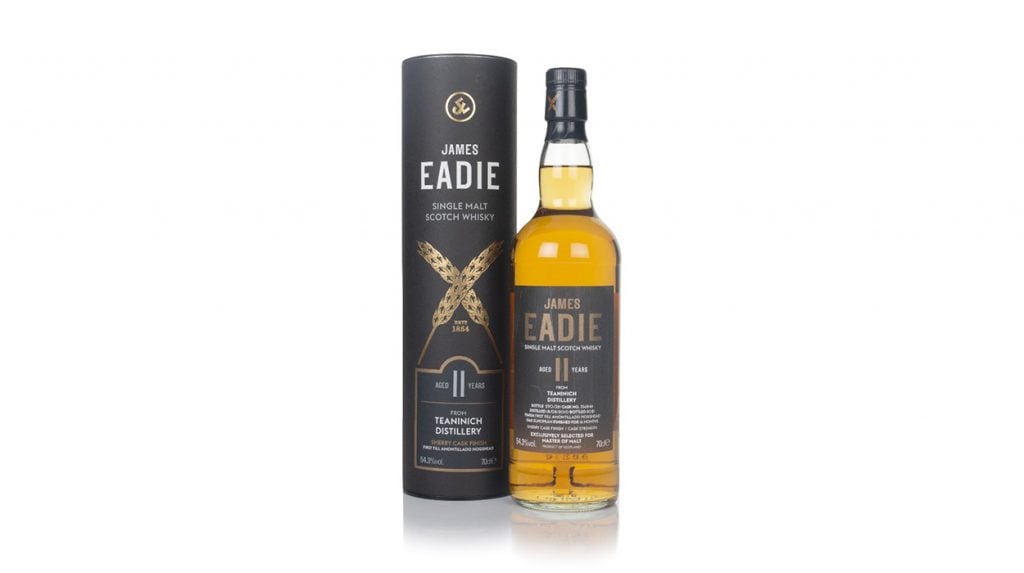 Nose: Caramel latte, tangy orange, walnut, almond, with a touch of nutty bread too.
Palate: Sultanas and raisins, cereal, coconut, fruit salad, a hint of savoury spice (think paprika and nutmeg).
Finish: Slightly chocolatey on the finish, with another helping of almond.